New York Giants:

Amani Toomer
July, 23, 2012
7/23/12
1:22
PM ET
Eli Manning
said he talked to
Amani Toomer
recently and got a good laugh about
Toomer favoring Tony Romo
over the Giants' Super Bowl MVP.
"If you listen to every show or whatever every single person says about me or the Giants and you get defensive about it or it makes you upset, you are going to have some problems," Manning said in a Monday appearance on WFAN radio. "You got to laugh about it."
"I saw Toomer not too long ago," Manning continued. "I walked up to him and said, you know what, I thought
Ike Hilliard
and those [other receivers] were better Giants receivers than you were.
Willie Ponder
was probably a better receiver than you were ... some [of the] old guys. Kind of laughed about it instead of getting upset. There's no point. Amani is a good pal of mine and still is."
Manning also heard
Michael Vick's
recent comments about the
Eagles potentially becoming a dynasty
as well. But Manning didn't reveal much about his reaction to that comment other than saying he heard it.
"Obviously, hey, we got to play football," Manning said. "I know they are a talented team. They got great players and we got some good players on our team as well."
"We'll see Philadelphia down the road," Manning continued. "Right now, just getting ready for training camp and trying to get better."
Manning said he is looking forward to helping his new rookie weapons –- running back
David Wilson
and wide receiver
Rueben Randle
– develop.
"The thing about David Wilson, he's the fastest running back we've ever had," Manning said. "This guy is quick, he's explosive. And that's kind of exciting. Our running backs over the years have kind of been that powerful, big guy."
Manning said Wilson and Randle have to learn the offense, how to adjust when Manning changes plays and how to react to defenses.
"Rueben had a good spring, had a good feel for things, very smooth, catches the ball well," Manning said. "I thought he picked up the offense pretty well for the first time hearing it."
July, 13, 2012
7/13/12
7:27
PM ET
Victor Cruz expects No. 88 to be lined up on the outside on opening night.

After seeing fellow receiver Hakeem Nicks at the ESPYS on Wednesday night, Cruz believes Nicks will be on the field when the Giants host the Cowboys to open the season. Nicks is currently sidelined after having surgery on his foot this offseason and is aiming to be back when the Giants take on their rivals on Sept. 5.

"He looks good. He's walking again on his own so that's definitely a good sign," Cruz said at the Queens Theatre at a Time Warner Cable event to promote "Victor Cruz: Out of the Blue," the wideout's new memoir. "He told me he'll be ready and he told me he'll take training camp to continue rehabbing and continue to get his foot back right, but I definitely expect him to be ready by game one."

BACKING HIS QUARTERBACK: Like all of the Giants who heard former receiver Amani Toomer say Tony Romo is the best quarterback in the NFC, instead of Eli Manning, Cruz questioned why Toomer would make those statements. The receiver actually caught up with the former Giants star at the ESPYS and stood up for Manning.

"I was like 'Toom, what's up man? What you got against us? What did we do to you? Didn't we win you a Super Bowl? Like, come on," Cruz said. "I kept it short and sweet with him because I wasn't too happy with him at the time."

NO BOUNTY: Cruz was asked if he thought the Saints targeted him as part of their bounty program. The receiver said he didn't believe he was targeted, but after reviewing the film, he said "there were a couple of iffy situations."

SALSA ORIGIN: Cruz explained the origin of the Salsa dance, saying that former quarterbacks coach Mike Sullivan told the receiver he needed to do something to honor his heritage if Cruz scored in his first start against Philadelphia.

"My first catch, I'm going up the sideline, shaking two defenders and I'm like 5 yards away from the end zone and the first thing I thought of was not that this is my first touchdown or anything like that. I'm like, man, I have to do this dance now," Cruz said. "I promised coach I would do it so I was like here goes nothing and I put the ball down and I started doing the salsa."

PROPS FROM REVIS: When the Jets played the Giants on Dec. 24, after a week full of trash talk, Jets corner Darrelle Revis asked Cruz to clarify comments he had made, which Cruz did. Cruz went on to score during the game, and when Revis saw Cruz the next night, he gave the receiver credit.

"He was like 'man, you're a heck of a player and keep doing your thing, stay humble, I've been watching you this season, keep doing your thing, good luck in the playoffs,'" Cruz said. "That was cool for him to be humble about it and really respect my game and come up to me as a man and tell me how much he respected my game, as much as I respected his throughout the year, that was definitely a cool moment."
December, 14, 2011
12/14/11
6:07
PM ET
It's double grand.

For the first time in Giants history, the team has two receivers that have topped 1,000 yards in the same season. Victor Cruz had 1,150 yards on the year while Hakeem Nicks just crossed the plateau on Sunday night and now has 1,023. Cruz has set a career-high while Nicks is 30 yards from setting his new high mark.

"A lot of that credit goes to the o-Line, holding up for Eli (Manning) to deliver those passes to us and Eli doing a great job distributing the ball between different targets and we're just coming up and making plays for him," Nicks said.

The Giants are currently one of two teams in the NFL with two players that have topped 1,000 yards, as New England's pair of Rob Gronkowski and Wes Welker both have as well. The Giants, though, are the only team to have two receivers with those numbers, as Gronkowski is a tight end for New England.

In having two guys with 1,000 yards, Nicks believe the playmaking ability of the team on the outside is a key reason why. The Giants are one of the most explosive offenses in the NFL this year, with the most 40-plus yards passing plays in the league.

"Eli has been comfortable, the o-line has been holding up for him," Nicks said of the vertical offense. "Without the o-line, we wouldn't have time to get those deep balls off so definitely got to give a lot of credit for holding up and Eli having time to complete the deep ball."

Giants coach Tom Coughlin, who was not aware of his receivers' accomplishments, is pleased that Manning has been finding different receivers and spreading the ball around.

"Given where we are and how we played and the way in which we attained our production offensively, I'm glad for the distribution, I'm glad for the balance," Coughlin said. "I think as you look at the number of catches, that kind of adds up for us."

Manning, whose 4,105 passing yards are an obvious reason why the team has been able to accomplish this feat, credited the hard work of the offense. Manning has seen firsthand how hard this task is for receivers as even the talented duo of Amani Toomer and Plaxico Burress could not both top 1,000 in the same season.

"The offense, I think we've grown a lot and advanced our offense since those days when those two talented receivers were here," Manning said when it was mentioned that those receivers did not accomplish it. "I'm feeling comfortable and these guys are doing a great job of getting open, understanding our concepts, understanding our plays and going out there and making plays when those opportunities form."

Wide Receiver Mario Manningham, who is fourth on the team in receiving yards with 466 yards, seems to be motivated by his teammates accomplishments.

"Let's roll. Let's keep it going. Let's get more," Manningham said.
December, 4, 2011
12/04/11
2:00
PM ET

With five games left, Giants receiver Victor Cruz is on pace to become the franchise's all-time leading single-season receiver. Cruz, who has 957 receiving yards heading into Sunday's game against Green Bay, is on pace to finish with 1,392, which would surpass Amani Toomer's total of 1,343 from 2002.

"That's crazy," Cruz said of being on pace to break the record. "I don't even know how to respond or how to react to that because it wasn't even in my wildest dreams to even be the all-time leading receiver because that's saying a lot because they definitely have some great receivers here."

Before he can set the record, though, Cruz must first reach 1,000 yards, which he is also on pace to do this Sunday. Hakeem Nicks was the last to do it when he had 1,052 receiving yards last year.

The receiver is averaging 87 yards per game, which becomes even more impressive considering he had just 29 yards through the first two weeks of the season. Based on his last nine weeks, he's recording 103.1 yards per game.

"That would be a dream come true," Cruz said of getting to 1,000 yards. "As a child growing up, my thing was just getting in the league and getting a spot, being in the league and making a team and being out there in any way possible. To be so close to 1,000 yards and being a 1,000-yard receiver and scoring some touchdowns and things like that, it will be awesome and it's just been a roller coaster ride for me this season."

Coming into the year, Cruz was a relative unknown beside his three-touchdown performance against the Jets in the preseason last year. He never thought of trying to have 1,000 receiving yards on the season when he didn't even know his role on the team.

"I was trying to find my niche on this team and just find a place, whether it be special teams or kickoff returns, any way I could help this team and get myself on the field, that's just what I wanted," Cruz said.

Now, he's emerged as one of the top statistical receivers in the NFL this season. This Sunday, Cruz could take a big step toward helping place himself in the Giants' record books.
September, 15, 2011
9/15/11
5:22
PM ET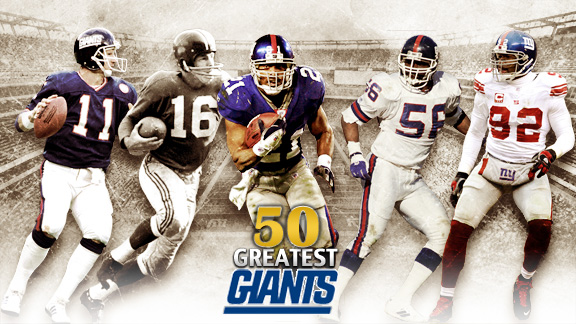 ESPN.com illustration
The list: 50 Greatest Giants

Rank 'Em: Your top 20 »
As the G-Men get ready to play the St. Louis Rams on the next edition of "Monday Night Football," ESPNNewYork.com is proud to announce its list of the 50 Greatest Giants.
Putting this list together was a tall order, considering Big Blue's long and storied history, which includes three Super Bowl wins.
There is plenty of room for debate -- in terms of who we selected, and in terms of what order we placed them in. And we welcome your feedback! Feel free to use the comment feature below.
We wanted to include a wide range, in terms of positions. And we certainly could have included at least a couple more current Giants -- in fact, two of them just missed the cut. But they've got some time left in their careers, and will likely make this list when it's all said and done.
Who are they? We'll, why don't you take a guess?
With that said, let 'er rip! Enjoy the photo gallery, and use our list ranker to assemble your very own top 20.
September, 9, 2010
9/09/10
10:00
PM ET
By
Ian Begley
| ESPNNewYork.com
When Amani Toomer visited former teammate Plaxico Burress earlier this year at the Oneida Correctional Facility in Rome, N.Y., Burress expressed a strong desire to return to football once he gets out of jail next year.

But Toomer thinks Burress shouldn't have to wait that long to be released.

"It's a shame he's still in there," Toomer said on Thursday afternoon. "If he wasn't Plaxico Burress, he'd be out on work release."

Burress, who played with Toomer on the Giants from 2005-2008, was denied a bid for work release by the state Department of Correctional Services on Aug. 31. It was the second time Burress had applied for work release since he began serving his two-year sentence for carrying an unlicensed handgun last September.

"Because he is who is he is, they're keeping him in (prison)," Toomer said. "When they politicize something like this and play with a person's career and life it's unfortunate."

Burress can appeal the decision but otherwise will have to wait until June 6, 2011, before he can apply for another work release. At that time he will be eligible for full release if he gets time off for good behavior.

A New York state prison system spokeswoman told ESPN.com last month that it's rare for the Department of Correctional Services to grant work-release requests. Less than 2 percent of the nearly 27,000 applications received last year were granted.

Burress began serving a two-year sentence last September after pleading guilty to attempted criminal possession of a weapon. Burress carried an unlicensed weapon into a Manhattan night club in November 2008. The gun slipped down Burresss' leg and fired, injuring his right thigh.

Toomer also said Burress told him that it was difficult to be away from his family during their visit. Toomer believes Burress, one of the heroes of Super Bowl XLII, won't have any trouble landing a job in football when he is released – despite the fact that he hasn't played in more than two years.

"He looked like he was in great shape. He's definitely planning on coming back," Toomer said.

Toomer, who was cut by the Chiefs in the 2009 preseason, isn't planning a comeback of his own, but he is still competing.

Toomer will run in the ING New York City Marathon on November 7. He is training with Timex training technology, including a wrist device that allows him to track his heart rate and distance. Timex will donate one dollar for every runner he passes en route to the finish line to the New York Road Runners Youth Programs. Toomer says he is the first former pro football player to run the race since Lynn Swann ran it in 1993. He said he wants to beat Swann's time of four hours and twenty-six minutes.

Toomer says he will work as a commentator for My9's Giants post-game show and as an analyst for the Big Ten Network.

The Giants' all-time leader in receptions thinks the key to Big Blue's success in 2010 will be an effective ground game, something that the Giants sorely lacked down the stretch of their 2009 campaign.

In particular, Toomer believes the Giants need to find a way to help Brandon Jacobs regain the form he showed in 2007 and 2008.

"I think they're trying to find any way to get him (back) to running the same way he ran in (2008) before he got the new contract," Toomer said. I don't know if they've (had) the same Brandon Jacobs that they got before he signed that contract."

Jacobs complained about his reduced role to ESPNNewYork.com after the Giants preseason finale against the Patriots last week. He will likely see his role reduced this year as Ahmad Bradshaw receives the bulk of workload.

Toomer also has paid close attention to the Super Bowl predictions and preseason bravado of Rex Ryan's Jets. He sees them as a "nervous" team that has painted a large bulls-eye on its back.

"I think they're a nervous group, like they're whistling in a graveyard," Toomer said. "With all the talking they're doing, they are making their own road a lot more difficult."

You can track Toomer's training progress for the New York City marathon on the Timex Sports Facebook page.