New York Giants:

Antwaun Molden
July, 31, 2012
7/31/12
2:13
PM ET
ALBANY, N.Y. --
Terrell Thomas
is heading west to consult with Dr. Arthur Ting on his injured right ACL.
Ting performed an allograft reconstruction of the ACL last September and Thomas likely will undergo an arthroscopic procedure to determine the full damage to his knee.
A source said Monday that Thomas' knee has at least a partial tear. Considering this is the third time he has injured his right ACL since 2005, Thomas could miss significant time, if not the entire season. We'll still have to wait for final word.
While we wait, let's take a look at what the Giants might do if Thomas is out indefinitely or for the season.
THE REPLACEMENTS:
GM Jerry Reese knew there was a risk with Thomas' knee. That is why Thomas only got $1 million guaranteed in a signing bonus when he re-signed this offseason, and why the Giants have a $6 million option on Thomas next March. It is also why he brought so many cornerbacks into camp. Here's a look at some of the guys who could start opposite
Corey Webster
:
Amukamara
Prince Amukamara
: Reese says his expectation is for Amukamara to play like the 19th overall pick of the 2011 draft. And if Prince does that, he'll be the starter if Thomas is out for the season. It may take some time, though, for Amukamara to win the job. The lockout last year cost him his first offseason of vital classroom time with coaches. He missed pretty much all of camp and most of his rookie season due to a foot injury. So this is his first true year of NFL training and coaching. He has flashed some of his skills so far with an interception and some tight coverage the past couple of days in camp. Prince is the guy the Giants would like to become the starter, but they won't rush him into that spot.
Coe
Michael Coe
: The veteran cornerback is attempting a comeback from a season-ending shoulder injury suffered last year. He has pretty much been the guy starting at corner when Thomas wasn't on the field in practice during OTAs, minicamp and training camp. Coe is a solid veteran presence and he might be the front-runner for the job until Prince emerges.
Tryon
Justin Tryon
: Tryon is scrappy and quick, works hard and the Giants like him. He is coming off a season-ending broken arm suffered last year. He and Coe have impressed in OTAs and minicamp and he definitely is in the mix to replace Thomas as the starter and could be right there on the depth chart with Coe. Tryon is a good special teams player as well.
Johnson
Bruce Johnson
: Johnson was off to a great start at camp last year before he ruptured his Achilles tendon. He is back and has been working with the second-team defense. He is solid and the Giants have always liked him.
Jayron Hosley:
The Giants drafted Hosley in the third round this year and Reese likened him to
Pacman Jones
on the field, as far as how he plays bigger and stronger than his 5-10 frame. Hosley might need more time to get acclimated to the defense and pro game, but he has flashed speed during camp. He also could be a special teams factor eventually. He suffered a laceration to his knee, though, on Monday and required stitches.
Other options in camp (but more likely depth) include
Antwaun Molden
,
Brandon Bing
,
Dante Hughes
and CB/S
Janzen Jackson
.
Grant
POTENTIAL MOVE:
If Thomas is out for the year and the Giants place him on IR, they could always bring back veteran safety
Deon Grant
. Grant isn't a cornerback, but he was a pivotal piece in Perry Fewell's defense. He would allow the Giants to play their three-safety look again and perhaps use
Antrel Rolle
on slot receivers again if there isn't a cornerback to emerge that they trust against slot receivers.
Last year, when Thomas and so many other corners were lost for the season, the Giants went with three safeties and Grant would provide them with one more guy to help the coverage team. Grant's knowledge of the defense is excellent and he was one of the most respected leaders in the locker room.
The Giants also could wait to see what else becomes available later in camp and if any cornerbacks are released by other teams. If they don't bring Grant back, they could use Thomas' roster spot to keep another safety like
Stevie Brown
or
Will Hill
if Thomas is out for the season.
In the meantime, we'll wait to see the final word with Thomas. Fewell has said in the past that the team had a Plan B in place in case Thomas wasn't ready to come back.
Tell us who you want to replace Thomas if he is out indefinitely below.
July, 30, 2012
7/30/12
6:57
PM ET
The news out of
New York Giants
training camp in Albany on Monday was not good. The team announced that cornerback
Terrell Thomas
, who is attempting to come back from a second tear of the ACL in his right knee, has suffered another injury to that ligament. They have not announced that it is torn again -- only that he'll have arthroscopic surgery to determine the extent of the injury. But should they go in there with the scope and find that it's torn again, Thomas will have to miss the 2012 season and possibly worry about the remainder of his career.
Thomas
"Terrell re-injured his ACL," Giants senior vice president of medical services Ronnie Barnes said in a statement released by the team. "At this point, he will most likely undergo an arthroscopic procedure to determine the extent of the injury to the ACL. However, no decision has been made at this point. Terrell is going to consult with Dr. (Arthur) Ting, who performed an allograft reconstruction of the ACL in September."
The first and most important thing to note about this is that it would be awful news for Thomas personally. The main reason players generally don't come back from a second torn ACL is that most of them aren't able to get through the grueling, one-year rehab for a second time. Thomas did that and went to training camp determined to reclaim his status as a Giants starter and an emerging star cornerback. If he's torn it again, he'll be devastated, and the prospect of a third rehab just for a chance at a comeback will appear staggeringly difficult. No matter who your favorite team is, if you're human, you have to hurt for a guy in this situation. The game is just very cruel.
As for the impact on the team, the Giants are actually fairly well positioned to handle the loss of Thomas again. It's not ideal, certainly, and one of the main reasons they so easily parted company with free-agent
Aaron Ross
(who started in Thomas' place last season) was because of their belief that Thomas would come back healthy. But they always knew there was a chance he wouldn't, and 2011 first-round pick
Prince Amukamara
waits in the wings as the most likely replacement. The Giants also drafted cornerback
Jayron Hosley
in the third round of April's draft, and have depth on the roster in the form of guys like
Michael Coe
,
Justin Tryon
and
Antwaun Molden
.
There's also the chance that they could bring back veteran safety
Deon Grant
, who re-signed during training camp last season once injuries began to deplete the secondary. After Grant signed last year, they were able to use safety
Antrel Rolle
as their nickel cornerback with Grant and
Kenny Phillips
at safety. So keep an eye on that possibility.
As for money, the only guaranteed money in Thomas' new contract,
per Mike Garafolo
, is his $1 million signing bonus. The contract was structured in such a way as to protect the Giants financially in case Thomas got injured again.
Obviously, their preference would be for the news to come back better than expected so they could pay him the full amount of his contract to start and play for them. But right now, it doesn't sound good.
July, 18, 2012
7/18/12
9:00
AM ET
As training camp approaches we're taking a look at the defending champions, position by position.
Position:
Defensive backs.
Projected starters:
CB
Corey Webster
, CB
Terrell Thomas
, S
Antrel Rolle
and S
Kenny Phillips
.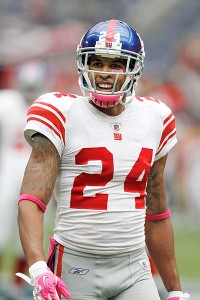 Win McNamee/Getty ImagesTerrell Thomas, who signed a new contract in the offseason, is returning from a knee injury.
Projected reserves:
CB
Prince Amukamara
, CB
Jayron Hosley
, CB
Michael Coe
, CB
Justin Tryon
, S
Tyler Sash
, S
Stevie Brown
.
New faces:
Hosley, Brown, CB
Antwaun Molden
, S
Chris Horton
, S
Will Hill
, DB
Janzen Jackson
, DB
Dante Hughes
and S
JoJo Nicolas
.
Going, going, gone:
CB
Aaron Ross
, S
Deon Grant
, S
Will Blackmon
and DB
Derrick Martin
.
Player to watch:
Thomas. He has been cleared for training camp coming off the second torn ACL injury of his football career. He was having an outstanding camp last year and was poised for perhaps his best season before he suffered his season-ending knee injury in a preseason game. Thomas is motivated to prove that he can return to the level he was at before; if he can, the Giants secondary will be better than it was last season with one of its best tackling defenders back opposite Webster. Thomas may also cover slot receivers as well.
Potential strength:
The secondary will be a competitive unit in training camp and might be deeper than last season if healthy. GM
Jerry Reese
signed Brown, Molden and Horton while drafting Hosley in the third round. Thomas said that Coe and Tryon shined during OTAs and minicamp while getting extra reps in his place as he took things slow with his surgically repaired knee. Defensive coordinator
Perry Fewell
also praised CB
Brandon Bing
for his play during OTAs.
Amukamara should improve in his second season even though he missed most of his rookie year due to a foot injury. And if Amukamara isn't ready for more snaps, veterans like Coe, Tryon, Molden and potentially
Bruce Johnson
, who missed all of last season due to injury, can step up. Due to injuries last season, Rolle had to take on even more responsibilities such as covering slot receivers at times. With a healthier secondary, Rolle should be able to return to playing a more familiar role at safety and be the ball hawk that he yearns to be.
Potential weakness:
Health. Thomas, Coe, Tryon and Johnson are all returning from season-ending injuries. If Thomas struggles to regain his form, the Giants will need someone else to step up. Amukamara required an injection to help strengthen his foot, which kept him out for half of last season. Health is always a concern for the Giants and their secondary. The Giants also lose valuable experience and leadership with Grant still unsigned.
Wild card:
Amukamara. He lost most of his rookie season and valuable experience and coaching due to his broken foot suffered in training camp. The Giants drafted him in the first round in 2011 with hopes that he will become a starting cornerback soon. The hope for this season is that he will replace Ross as the third cornerback, mature and show his first-round pedigree.