New York Giants:

Bruce Johnson
February, 13, 2013
2/13/13
7:32
PM ET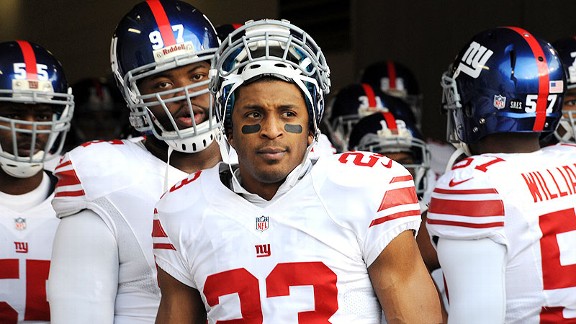 Larry French/Getty ImagesCorey Webster could fall victim to the cap or he may be a cadidate to restructure a new deal.
We've been taking a look toward 2013 with a position-by-position breakdown of the Giants leading into the scouting combine and free agency.

So far, we have analyzed quarterback, running back, wide receiver, tight end, offensive line, defensive line and linebacker. Today is the secondary.
SECONDARY

2012 depth chart:
CB
Corey Webster
, CB
Prince Amukamara
, CB
Jayron Hosley
, CB
Justin Tryon
, CB
Terrence Frederick
, S
Antrel Rolle
, S
Kenny Phillips
, S
Stevie Brown
, S
Will Hill
, S
Tyler Sash
.
Overview:
The Giants lost cornerbacks
Terrell Thomas
,
Bruce Johnson
and
Brian Witherspoon
to injuries before the season started.
Michael Coe
also was placed on IR and later waived during the season. Webster, the team's top corner on the depth chart, got off to a slow start in the season opener against Dallas, and his struggles continued throughout the season all the way through an incredibly difficult game at Baltimore, where he was targeted often. Webster battled through a broken hand early in the season, but he never was able to shake off his struggles in coverage. Amukamara was solid in his first season as a starter and performed like the team's best corner. Hosley, the team's third-round pick, was pushed into action quicker than expected and had his ups and downs. Rolle had 96 combined tackles and two interceptions. Rolle covered slot receivers again at times this season due to injuries. Phillips only played in seven games, as he was slowed by a knee injury. That allowed Brown to emerge as one of the biggest surprises of the season. Originally kept on the team as a backup and special teams contributor, Brown led the team with eight interceptions for 307 yards and became a starter. Hill showed flashes of his athleticism in stints as the team's third safety.
Free agents:
Phillips, Brown (restricted free agent), Tryon.
2013 personnel preview:
Much of the 2013 outlook will be impacted by Webster's future. The Giants hope Amukamara will continue to ascend and play like their top corner this coming season. Hosley got valuable experience as a rookie but might not be ready to start full-time on the outside. He might be best suited for now as a slot corner or an extra cornerback while he continues to progress. The Giants need more speed, athleticism, experience and depth at cornerback. The Giants could sign some free agent corners and possibly draft one as well. It remains to be seen what will happen with Phillips but Brown, who is expected to return, could be the starter opposite Rolle at safety. The Giants could bring Phillips back and have three starting safeties, but it would likely have to be at the right price since they need to re-sign free agents like
Will Beatty
,
Kevin Boothe
and
Martellus Bennett
. The Giants came to a new one-year deal with Thomas, who will be attempting a third comeback from a right ACL injury. If Thomas can make his way back onto the field, that would be a bonus regardless of whether he plays cornerback or safety. The Giants should and likely will take it slow with Thomas. Hill and Sash could fill the third safety spot.
Salary cap situation:
Webster is entering the final year of his contract worth $7 million in base salary. Considering how the Giants have been slashing payroll to create cap space, Webster has been a name mentioned often as a potential cap casualty or as a candidate to restructure a new deal. The Giants, though, don't have enough depth at corner at the moment and releasing Webster would leave an even bigger hole. The Giants, though, will need money to sign or draft more corners. Rolle isn't expected to go anywhere, but he could be a potential candidate to restructure with $7 million in base salary coming this season. Phillips is a free agent and Brown will be a restricted free agent. The Giants are expected to tender Brown if a new deal is not agreed upon.
Tell us what you think of the Giants' secondary going into 2013 and what you want to see happen in the offseason.

August, 25, 2012
8/25/12
9:00
AM ET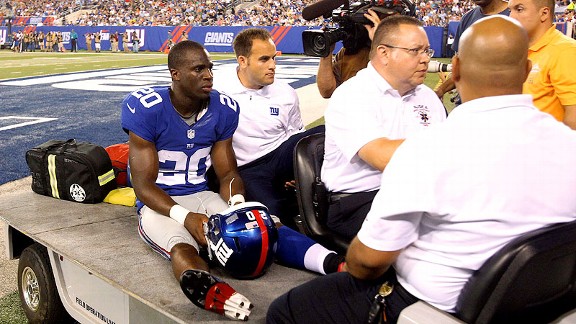 Brad Penner/US PresswirePrince Amukamara is carted to the locker room on Friday night.
EAST RUTHERFORD, N.J. -- So where do they go from here?
The
New York Giants
came into the 2012 season thinking they were pretty stacked at cornerback. But if
Prince Amukamara
doesn't recover from a
mild high-ankle sprain
in time for the team's regular-season opener against the Cowboys on Sept. 5, who starts opposite
Corey Webster
?
"I'm glad it is only an ankle sprain," defensive captain
Justin Tuck
said. "You get carted off, you start thinking the worst. (Prince) was playing well and making strides. I hope this doesn't set him back too much. He is definitely going to be a part of our success on defense, being that second corner opposite Corey. We are going to need him to get back in a hurry. Hopefully it isn't something that keeps him out for weeks."
Rookie third-round pick
Jayron Hosley
had a 77-yard pick-six against the Jets, but did not play in Friday night's 20-17 preseason loss to the Bears due to turf toe.
Reserve
Bruce Johnson
struggled in place of Amukamara. Johnson appeared to draw the ire of safety
Kenny Phillips
after apparently botching his zone coverage against
Brandon Marshall
, who caught a 21-yard touchdown pass from
Jay Cutler
late in the first quarter.
"You gotta be ready at all times," Johnson said. "With me, I didn't think I played all that great. Just technical things, like on that first play I should've put my hands out a bit more. But like I said, I just gotta work on it.
"I'm just out here trying to compete and just get better and do whatever I can do to help this team. Whatever they see fit for me, I'll do whatever I can do."
Michael Coe
and
Justin Tryon
are other candidates who could start if Amukamara does have to miss time.
"Michael Coe seemed to go in and play pretty well," coach Tom Coughlin said. "I didn't think they went after him. Can't really say much about the other guys."
Said Tuck, "I am confident in all of our guys. We got a lot of athletes back there and some of our safeties can drop down and play the nickel and things like that. Obviously Trel (
Antrel Rolle
) has done it and
Will Hill
is stepping up and doing it and we will get Hosley back. I think we will be fine there."
August, 21, 2012
8/21/12
7:00
PM ET
EAST RUTHERFORD, N.J. -- Safety
Will Hill
continues to make plays, and look like a guy who can contribute for the Giants this coming season.
Hill recorded another interception during practice on Tuesday, picking off
Ryan Perrilloux
on a pass intended for
Rueben Randle
.
"Will Hill played very well in the first preseason game, he played well after he got going a little bit in the second preseason game, and he continues to do a good job with the special teams assignments, he's pretty much on all those teams," said head coach Tom Coughlin after Tuesday's practice. "There's definitely improvement there."

Hill, the former high school phenom
who had a rocky tenure at the University of Florida and eventually went undrafted
, is currently listed as one of the Giants' two second-string safeties, behind
Antrel Rolle
and
Kenny Phillips
. And
Tyler Sash
, the other second-stringer, is suspended for the first four games of the regular season.
"It'd be a nice story for the kid," said Coughlin, "if he can put it all together."
• Hill did get beat on the final play of Tuesday's practice, however. The Giants wrapped up the session by working on the two-minute drill, and on just the second play,
Victor Cruz
got past Hill for a catch and touchdown that ended the day's work on the field.
• Cornerback
Bruce Johnson
also had an interception on Tuesday, reeling in a
David Carr
pass intended for
Ramses Barden
.
• Tight end
Martellus Bennett
, a.k.a. "The Black Unicorn," wants everyone to know that he's down to 269 pounds. He sidled over to reporters during practice to share that news. There was some concern about Bennett's weight at the beginning of the summer -- concern that Bennett took issue with at the time.
July, 31, 2012
7/31/12
2:13
PM ET
ALBANY, N.Y. --
Terrell Thomas
is heading west to consult with Dr. Arthur Ting on his injured right ACL.
Ting performed an allograft reconstruction of the ACL last September and Thomas likely will undergo an arthroscopic procedure to determine the full damage to his knee.
A source said Monday that Thomas' knee has at least a partial tear. Considering this is the third time he has injured his right ACL since 2005, Thomas could miss significant time, if not the entire season. We'll still have to wait for final word.
While we wait, let's take a look at what the Giants might do if Thomas is out indefinitely or for the season.
THE REPLACEMENTS:
GM Jerry Reese knew there was a risk with Thomas' knee. That is why Thomas only got $1 million guaranteed in a signing bonus when he re-signed this offseason, and why the Giants have a $6 million option on Thomas next March. It is also why he brought so many cornerbacks into camp. Here's a look at some of the guys who could start opposite
Corey Webster
:
Amukamara
Prince Amukamara
: Reese says his expectation is for Amukamara to play like the 19th overall pick of the 2011 draft. And if Prince does that, he'll be the starter if Thomas is out for the season. It may take some time, though, for Amukamara to win the job. The lockout last year cost him his first offseason of vital classroom time with coaches. He missed pretty much all of camp and most of his rookie season due to a foot injury. So this is his first true year of NFL training and coaching. He has flashed some of his skills so far with an interception and some tight coverage the past couple of days in camp. Prince is the guy the Giants would like to become the starter, but they won't rush him into that spot.
Coe
Michael Coe
: The veteran cornerback is attempting a comeback from a season-ending shoulder injury suffered last year. He has pretty much been the guy starting at corner when Thomas wasn't on the field in practice during OTAs, minicamp and training camp. Coe is a solid veteran presence and he might be the front-runner for the job until Prince emerges.
Tryon
Justin Tryon
: Tryon is scrappy and quick, works hard and the Giants like him. He is coming off a season-ending broken arm suffered last year. He and Coe have impressed in OTAs and minicamp and he definitely is in the mix to replace Thomas as the starter and could be right there on the depth chart with Coe. Tryon is a good special teams player as well.
Johnson
Bruce Johnson
: Johnson was off to a great start at camp last year before he ruptured his Achilles tendon. He is back and has been working with the second-team defense. He is solid and the Giants have always liked him.
Jayron Hosley:
The Giants drafted Hosley in the third round this year and Reese likened him to
Pacman Jones
on the field, as far as how he plays bigger and stronger than his 5-10 frame. Hosley might need more time to get acclimated to the defense and pro game, but he has flashed speed during camp. He also could be a special teams factor eventually. He suffered a laceration to his knee, though, on Monday and required stitches.
Other options in camp (but more likely depth) include
Antwaun Molden
,
Brandon Bing
,
Dante Hughes
and CB/S
Janzen Jackson
.
Grant
POTENTIAL MOVE:
If Thomas is out for the year and the Giants place him on IR, they could always bring back veteran safety
Deon Grant
. Grant isn't a cornerback, but he was a pivotal piece in Perry Fewell's defense. He would allow the Giants to play their three-safety look again and perhaps use
Antrel Rolle
on slot receivers again if there isn't a cornerback to emerge that they trust against slot receivers.
Last year, when Thomas and so many other corners were lost for the season, the Giants went with three safeties and Grant would provide them with one more guy to help the coverage team. Grant's knowledge of the defense is excellent and he was one of the most respected leaders in the locker room.
The Giants also could wait to see what else becomes available later in camp and if any cornerbacks are released by other teams. If they don't bring Grant back, they could use Thomas' roster spot to keep another safety like
Stevie Brown
or
Will Hill
if Thomas is out for the season.
In the meantime, we'll wait to see the final word with Thomas. Fewell has said in the past that the team had a Plan B in place in case Thomas wasn't ready to come back.
Tell us who you want to replace Thomas if he is out indefinitely below.
August, 11, 2010
8/11/10
1:23
PM ET
Giants coach Tom Coughlin knows that in a year where the Jets and Giants are sharing a new $1.6 billion stadium, there is potentially more at stake when the teams match up this Monday in the first preseason game at the New Meadowlands.
However, he said he wasn't going to gameplan specifically for the Jets, because with a full 16-game season to get ready for, treating this game like it counts will ultimately distract from the bigger goal.
"If we did something along those lines, I just don't think it's be smart," Coughlin said. "...You want to win but you're not going to sacrifice the ability to evaluate personnel for that because that's what preseason is."
Coughlin addressed G Chris Snee swelling in his left knee, saying it was something that has to be watched.
On CB Bruce Johnson improving: "He's getting better, confident guy, we need all we can get back there."
He said that the defensive backs as a group were a more formidable group.
"I think they can," Coughlin said, "that's what we're working toward."
On TE Bear Pascoe, the fact that he is on the field with so many injuries is allowing the Giants more time to look at him for the regular season roster. "The more evidence you have," Coughlin said, the better.
He said that the short weeks combined with so many guys out of practice are making for a difficult preseason. "When a guy's working one-a-day and he stays focused on the practice he's not in, he gets the mental reps and he's in all the meetings," Coughlin said. " But when a guys not practicing you hope that he pays the kind of attention necessary but it's an unplanned event."