New York Giants:

Carl Banks
February, 18, 2014
Feb 18
10:00
AM ET
With the NFL scouting combine set to begin this week, we're taking a look at a handful of prospects the
New York Giants
might consider with the No. 12 pick in the first round. Today's entry is someone I don't think there's any chance they'll take, but I guess you never know.
C.J. Mosley, LB, Alabama
Why they'd take him
: They appear to be trying to re-sign linebacker
Jon Beason
before he hits the free-agent market, but (a) they might not be able to do that and (b) it's not as though they couldn't use linebacker help on either side of Beason if they did. The Giants have ignored this position almost aggressively over the past few years and historically don't seem to value it enough to use this high a pick on it. But Mosley is a do-everything linebacker prospect who could anchor the position for them for a long time. It's possible that the way Beason played for them this season opened their eyes to the importance of the position relative to their previous opinion on the matter.
Where he ranks:
Our
pre-draft rankings
have him as the No. 7 overall player and the No. 1 inside linebacker.
Mel Kiper's latest mock draft

has him going No. 12 to the Giants, and Mel knows the history.
Todd McShay's latest mock draft

has Mosley going No. 8 to the Vikings.
Something positive
(via
ESPN's scouting report
): "Upper-echelon range versus run. Consistently makes plays outside tackle box. Very good closing burst. Smooth athlete."
Something negative
: "Struggles to get off blocks versus most offensive linemen when isolated in a phone booth, but is showing improved savvy with more game experience."
History:
The last time the Giants took a linebacker in the first round was 1984, when they took Michigan State's Carl Banks with the No. 3 overall pick. Maybe 30 years is long enough to stick to your guns on something like this, but I wouldn't hold my breath.
February, 11, 2014
Feb 11
2:30
PM ET
Carl Banks
is a former
New York Giants
linebacker and current Giants broadcaster who wears his Big Blue heart on his sleeve and isn't afraid to openly rip players for disappointing performances. Like a lot of fans, Banks gets bitter when things don't go his team's way, and he lashes out. The difference between Banks and most fans is his platform. During the season, he can rip guys on the radio. In the offseason, he can proclaim his disappointment to his more than 23,000 Twitter followers.
Webster
Well, I missed this over the weekend, but apparently Banks used the occasion of the automatic voiding of cornerback
Corey Webster
's contract to
tear Webster apart on Twitter
. Banks' accusations centered on the idea that Webster, who only participated in parts of four games in 2013 due to various injuries, "quit on his teammates."
Banks' first tweet on the matter reads, "
#webster
5mil x 4games played x 0surgeries = GRAND LARCENY! Jesse James used a gun.." and includes a cartoon picture of a burglar in a mask with a huge bag slung over his shoulder. Banks went on to write that "
#Webster
QUIT on his teammates!
#QUIT
" and said that "what Webster did goes beyond the pale. He wouldn't practice or play, mystery injuries each week."
One rule of sports journalism is that it's a bad idea to claim a player's not hurt when he says he is. Webster supposedly had groin problems and ankle problems and barely even practiced after Week 2. I don't know if he was hurt or if he wasn't, but based on the way he conducted himself throughout the season, I'll say he provided Banks and other would-be critics with plenty of material for this type of criticism.
Webster took a pay cut last offseason following a disappointing 2012, and after a considerably more disappointing 2013, I would expect that his time with the Giants is at an end. He was a member of their last two Super Bowl champion teams.
January, 15, 2014
Jan 15
3:00
PM ET
So, yeah. It's happened again. Mel Kiper Jr. has done
his first mock draft

of 2014. And as some prior mock drafts have done, he's projected Alabama linebacker
C.J. Mosley
to the
New York Giants
with the No. 12 overall pick.

Usual disclaimers apply: I respect -- nay,
revere
-- the work Kiper does on the NFL draft. I don't think there's anyone who knows more about it, and I don't believe there's anyone who works harder to make sure that's the case. He's a machine, and nothing I write that disagrees with anything he writes should be taken as any kind of slight against the man, his work or his abilities.
However ...
The Giants have not selected a linebacker in the first round of the draft since Carl Banks in 1984.
Carl Banks. In 1984.
That's 30 years, during which the franchise has been run by basically the same people and under the same philosophy, and it's not a coincidence of history that it's been that long. Especially in the salary cap era, during which teams set their priorities and only allocate high-end resources (meaning big free-agent money and high draft picks) to those positions they feel deserve them, the Giants have consistently undervalued the linebacker position and sought to address it with bargains. Even more recently, as passing offenses have evolved to dominate the game, the Giants (and many other teams) increasingly spend more time in nickel defenses, which require only two linebackers on the field if you're a base 4-3. The Giants simply do not believe linebacker is a position worthy of a first-round pick, so they don't pick linebackers in the first round.
Is Mosley good enough to break that trend? Maybe. Did the extent to which Jon Beason revitalized their linebacker corps this year underline the importance of a high-energy field general at that position? Possibly, but it's worth noting that they only spent a seventh-round pick to get Beason, and that fact actually kind of supports their belief that they can get linebacker figured out without spending major resources on it.
So count me as a doubter that they'll pick Mosley at No. 12.
I think they
should
take the best available offensive lineman there, given the extent of their short-term and long-term needs on the line. Someone like Michigan tackle
Taylor Lewan
, should he fall (which he doesn't, in Mel's mock). But others will correctly point out that their bigger line needs are at guard and center, and can be addressed in Rounds 2 and 3. So what's most likely, in my opinion, is that the Giants take someone like Texas A&M wide receiver
Mike Evans
or North Carolina tight end
Eric Ebron
if one of them is there, to supply Eli Manning with a fresh new weapon on offense. Or they could go defense and snag someone like Florida State defensive tackle
Timmy Jernigan
or Alabama safety
Ha Ha Clinton-Dix
. Those picks would be much more in keeping with the Giants' drafting philosophy than would Mosley.
And hey, you never know. They went 11 years without drafting a running back in the first round before taking
David Wilson
two years ago. And they went 13 years without drafting an offensive lineman in the first round before taking
Justin Pugh
last year. So sometimes trends don't last. But this trend is at 29 years, which puts those others to shame. No offense to Mel or to Mosley, but I have a hard time imagining this.
December, 18, 2013
12/18/13
4:00
PM ET
Todd McShay's first
2014 mock draft

is out, and if you have an Insider subscription you can read the whole thing. If you don't... well, you should. Go sign up. You know want to read a mock draft on Dec. 18. Don't pretend you don't.
[+] Enlarge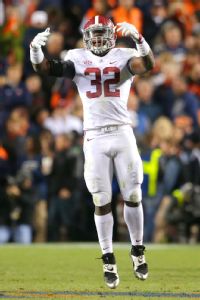 AP Photo/Dave MartinIn his first mock draft, Todd McShay projects the Giants to select C.J. Mosley with their first-round pick.
Anyway, I am authorized to tell you that McShay is projecting Alabama linebacker
C.J. Mosley
to the Giants at the No. 11 pick, which is the pick they would hold if the season were to end right now. Since I think you already know what I'm going to say about this, I'll first offer a bit of Todd's explanation:
The Giants have drafted just two linebackers in the first round since 1980 (Carl Banks and Lawrence Taylor -- I'm not sure why they stopped after those two), but Mosley is worthy of the pick. He's an every-down linebacker who excels in the passing game. His medical history might be a concern (dislocated elbow, dislocated hip, shoulder surgery), but if he checks out he's a good pick here. He has great instincts, good burst as a pass-rusher and can defend receivers one-on-one and cover a lot of ground in the zone.
Thing is, I am sure why they stopped drafting first-round linebackers after Banks in 1984. In the salary-cap era, teams have to set priorities and determine which positions merit the expenditure of significant resources (meaning free-agent dollars and high draft picks) and which do not. The Giants do not believe that linebacker is a position that merits such an expenditure. In an increasingly pass-happy league in which they and other base 4-3 teams are in a nickel defense more often than not (and therefore only need two linebackers and not three), it just doesn't make any sense to use a first-round pick on a linebacker instead of something like a wide receiver or a defensive back or a pass-rusher.
So I don't think there's any chance at all that Mosley is the Giants' first-round pick in 2014. None. I personally think they need to look offensive line in the first round, and Todd acknowledges this as well. He says the reason he didn't hand the Giants a lineman is because he feels their more significant line needs are on the interior and that it doesn't make sense to draft a guard or center as high as 11. And he's right, but I'd take a tackle to increase my overall quality depth and allow me the freedom to move
Justin Pugh
inside, where I think he could be a dominant player.
But that's me, and until last year the Giants had gone 13 years without drafting an offensive lineman in the first round. They don't buck trends easily around East Rutherford.
September, 23, 2013
9/23/13
7:53
PM ET
Former
New York Giants
linebacker Carl Banks called the Giants' performance against the
Carolina Panthers
"truly a disaster" on Monday -- and he was only getting started.

"I think aside from the Xs and Os, I think the most disturbing aspect of it is, in all my years being around this team -- and they've had some bad losses, they've had some highs and lows and some good teams and bad teams -- but I don't think I've ever seen a team just not show emotion, as they were just getting pummeled," Banks said, in an appearance on WFAN-AM 660. "I don't advocate fighting, but show some emotion -- show that you care that your quarterback was sacked six times in the first quarter. Show me -- push a guy, tackle a guy, do something other than just take it."
Banks, a former All-Pro who now serves as an analyst on the team's radio broadcasts, wasn't done there.
"They showed very little toughness at all," Banks continued, "and just the pride that you have to have. And not letting guys just punch you in the mouth, you get up, you let 'em punch you in the mouth again, and they just do it until the game is over with. I mean the game was over, [the Panthers] were still banging Giants, receivers getting knocked all over the place, and there's not one guy that showed emotion, and that's scary. That really is scary."
When asked how this kind of performance, and lack of emotion, could happen, Banks unleashed further criticism.
"Well, they don't like themselves, that's what it really comes down to," Banks said. "They don't like each other, they're not willing to fight for each other. When you have a premier quarterback in this league, and you don't have enough self-respect -- not for him, but for yourself -- to protect him and do your job, I think it speaks volumes. And I think these guys really do need to all stand in (front of) the mirror, and it's gut-check time."
At least one players agreed with Banks -- fellow linebacker
Mark Herzlich
.
"That's what happened. They kept hitting us, hitting us and hitting us and we didn't stop them," Herzlich said. "Carl's right, we need to have more passion, we need to have that fire."
November, 30, 2011
11/30/11
3:50
PM ET
The New York Giants will induct the second class of their Ring of Honor during halftime of Sunday's game against the Packers.

This year's class includes linebacker Carl Banks, tight end Mark Bavaro, linebacker Brad Van Pelt, running back Alex Webster and punter Dave Jennings.

"I'm honored and humbled and I never expected it," Banks said in a news release. "That's not why I played. I played to help my team, but I'm glad it's happening."

This group joins the original 30-member Ring of Honor class that included Wellington Mara, Bob Tisch, Frank Gifford, Mel Hein, Bill Parcells and Harry Carson.

"It's an honor," Bavaro said. "It's great company to be in. It's very fitting I'm going in with Carl Banks. He helped me become a better player by practicing against him all the time."
September, 15, 2011
9/15/11
5:22
PM ET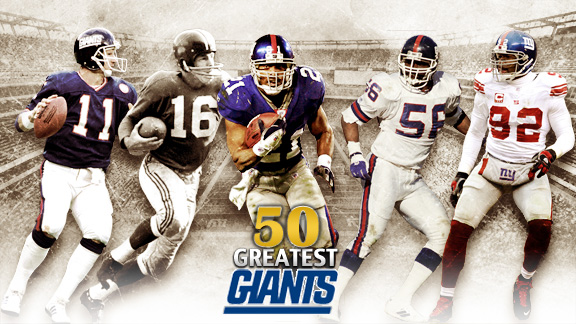 ESPN.com illustration
The list: 50 Greatest Giants

Rank 'Em: Your top 20 »
As the G-Men get ready to play the St. Louis Rams on the next edition of "Monday Night Football," ESPNNewYork.com is proud to announce its list of the 50 Greatest Giants.
Putting this list together was a tall order, considering Big Blue's long and storied history, which includes three Super Bowl wins.
There is plenty of room for debate -- in terms of who we selected, and in terms of what order we placed them in. And we welcome your feedback! Feel free to use the comment feature below.
We wanted to include a wide range, in terms of positions. And we certainly could have included at least a couple more current Giants -- in fact, two of them just missed the cut. But they've got some time left in their careers, and will likely make this list when it's all said and done.
Who are they? We'll, why don't you take a guess?
With that said, let 'er rip! Enjoy the photo gallery, and use our list ranker to assemble your very own top 20.