New York Giants:

Chase Clement
August, 3, 2013
8/03/13
4:55
PM ET
EAST RUTHERFORD, N.J. -- For the third consecutive season, the Giants will have a new starting tight end.
Jake Ballard
replaced
Kevin Boss
in 2011, and
Martellus Bennett
replaced Ballard in 2012. Now
Brandon Myers
, listed as the starter on the first unofficial depth chart of training camp, is the leading candidate to fill Bennett's shoes.
Myers spent his first four seasons with the Raiders after being drafted in the sixth round in 2009. Last year he had 79 catches for 806 yards and four touchdowns, before coming to New York as a free agent. Only three tight ends had more receptions in the NFL last season:
Jason Witten
(110),
Tony Gonzalez
(93) and
Jimmy Graham
(85).
[+] Enlarge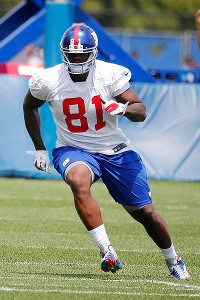 Jim O'Connor/USA TODAY SportsWill Adrien Robinson make strides in his second pro season?
Tight ends coach Mike Pope likes what he's seen from Myers thus far. "Coming here, you'd think, 'He's played in the NFL,' but he came in here with just the right attitude and gets mad at himself when he doesn't execute things the way he knows they should be done," Pope said.
Bear Pascoe
is currently the second-stringer. He only has 26 catches in four NFL seasons (all with the Giants), and is also playing some fullback right now, due to
Henry Hynoski
's injury. But Pope said Pascoe is a key ingredient.
"He is the only guy here really who has playing time [in the system]," Pope said. "Because he's been through it, he can work with these young guys. He's a real valuable asset."
Adrien Robinson
, the team's fourth-round draft pick in 2012, is listed as a third-stringer, along with rookie free agent
Jamie Childers
. Behind those two are
Larry Donnell
, who was on the Giants' practice squad last season, and rookie free agent
Chase Clement
.
Robinson in particular has looked good early in camp, and both head coach Tom Coughlin and Pope have brought up Donnell's name unprompted in the past few days. Pope said Robinson and Donnell will "absolutely" see action this season.
"We want to get Adrien on the field -- he's a terrific target and runs well," Pope said. "We'd like to see if Larry Donnell can make a contribution. Certainly size and talent-wise, he has that. But he missed all the spring and minicamps because of a broken foot, so he's virtually just starting right now."
Robinson and Donnell each had a catch during Saturday's practice. Myers had one, too. Clement had a drop, although the pass was thrown a little behind him by rookie QB
Ryan Nassib
.
It's still early, but you can expect Myers to have plenty of passes thrown his way this year. The question is, will any of these other young prospects emerge as a serious pass-catching threat?
On the other hand, this group might make an even bigger difference in the running game.
"I do think we have, size-wise, the biggest group I've ever worked with," Pope said. "These guys are 278, 280, 282 [pounds], and they can run fairly well. We haven't had that around here since I've been here -- that's since 1982.
"That should add to our running game on the edge, and should enable us to block some of these defensive ends and some of these outside linebackers that are in this league now. Hopefully, with the quickness and speed of our running backs, that can be a huge contribution."
July, 18, 2013
7/18/13
11:14
AM ET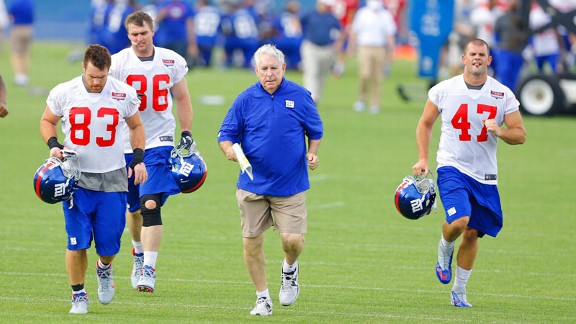 Jim O'Connor/USA TODAY SportsBrandon Myers (far l.) and Chase Clement (far r.) join Bear Pascoe among the Giants' tight ends.
As training camp approaches, we're counting down to camp by taking a look at the Giants, position by position.
Position:
Tight end.
Projected starters:
Bear Pascoe
,
Brandon Myers
.
Projected reserves:
Adrien Robinson
.
New faces:
Myers,
Chase Clement
,
Jamie Childers
.
The departed:
Martellus Bennett
.
Player to watch:
Myers. The Giants lost a lot of potential and talent in Bennett but they replaced him with a tight end that had 79 receptions for 806 yards in Oakland last year. While he likely will not see as many targets with
Hakeem Nicks
and
Victor Cruz
on the field, Myers gives Manning another weapon that defenses will need to account for. The question is whether Myers can block enough to stay on the field.
Potential strength:
Manning needs a pass-catching tight end when defenses try to take Nicks and Cruz away. Tight ends have sometimes come up big for Manning over the years on third downs, on fourth-quarter comeback drives and in the red zone. The Giants have versatility in their tight ends. Pascoe, who excels as a hybrid tight end/fullback, will see more snaps in the backfield filling in for the injured
Henry Hynoski
. Myers has the potential to be one of Manning's best pass-catching tight ends. Robinson's potential is intriguing and his size could be an asset in the red zone if he continues to develop. The Giants also like
Larry Donnell
and Clement, who has drawn very early comparisons to
Jake Ballard
and could be a practice squad candidate.
Potential weakness:
Myers is the fourth starting tight end Manning will have had in as many seasons. Even though Bennett had 55 receptions last year in his one and only season with Manning, the quarterback and tight end often were not on the same page when it came to their timing and routes. Now Manning has to develop a new chemistry and rapport with Myers and potentially the young and inexperienced Robinson.
Wild card:
Robinson. He's a huge target for Manning and that was on display at times during red zone drills in OTAs and minicamp this offseason. Jerry Reese has raved about his potential and nobody has forgotten the "JPP of tight ends" label. Robinson might have an opportunity to show what he can do in camp with Pascoe playing more fullback.
Tell us what you think of the tight ends entering camp.
June, 17, 2013
6/17/13
1:49
PM ET
Now that the Giants are off until training camp, we're taking a look at what the coaches are saying about how their positions looked this offseason in OTAs.

Today, we start with what coach Mike Pope thinks about the tight ends.
The JPP of tight ends:
The tight end people are most curious about is
Adrien Robinson
, the "JPP of tight ends." Robinson has been a project, but Pope likes what he has seen this offseason.
"Adrien Robinson appears to have gone into the land of the believers," Pope said recently. "And yes he has been making some good progress. He is doing a lot of the assignment things correctly. Now we have to get him to adjust to the way the defense is playing on each particular play and to make the best decisions based on how the defense is playing. But he is running well and he has his weight down some.
"The quarterback is starting to find him," Pope continued. "He is hard to miss –- he is the tallest tree in the forest out there. So he is a good target. But we are more than mildly pleased with the progress that he has made from an assignment standpoint."
[+] Enlarge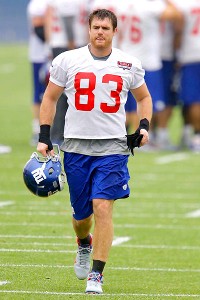 Jim O'Connor/USA TODAY SportsThe Giants are hoping for big things from free-agent acquisition Brandon Myers.
Bear at FB:
With
Henry Hynoski
recovering from surgery,
Bear Pascoe
has filled in at fullback. So Robinson could get more opportunities to play with and behind
Brandon Myers
.
"When we can put Bear in (at fullback) with one of these other guys, now we can do a lot more things as far as open formations," Pope said. "A little more difficult for the defense to predict where they can't just key on one of those guys and say the ball is going there. So that helps us."
Vertical threat:
Pope is eager to see what Myers will do in training camp. He believes the former Raiders tight end could be an option in the vertical game. Myers, who had 79 receptions for 806 yards and four touchdowns last season, was signed to replace
Martellus Bennett
.
"I think at the Raiders he was more of an intermediate receiver," Pope said. "And now our passing game does allow the tight end to get more vertically down the field -– flag routes, double seam routes, post routes. And he appears to have the skills to get those balls. He has a little bit of a jet that can accelerate and go get a ball that is a little deeper. You may not think he is going to reach it, but he has that little bit. So we are very interested to see him in pads."
A new Ballard:
Pope is also eager to see what
Chase Clement
, a 6-foot-5 rookie from LSU, can do in camp.
"When I first looked at him, I had visions of
Jake Ballard
," Pope said. "Just because he was a good blocker on the goal line. They seldom ever threw him the ball. But when the ball was snapped, he had kind of that tough-guy mentality -– old school."
"He is not going to be an all-world receiver way down the field," Pope added. "But as far as being explosive and flexible, and he has pretty good football savvy. There was a little concern about a back injury. We got that looked at and there doesn't appear to be a problem."
How do you feel about the Giants' tight ends and what Pope had to say?
June, 6, 2013
6/06/13
4:59
PM ET
EAST RUTHERFORD, N.J. -- The Giants held their eighth OTA of the spring on Thursday, the final one reporters were allowed to watch, before next week's mandatory minicamp.
Defensive end
Jason Pierre-Paul
wasn't present following his back surgery earlier this week, but he was still
a hot topic of conversation
. Wide receivers
Hakeem Nicks
and
Victor Cruz
weren't present again, either.
The Giants worked a lot on goal-line sets and red-zone packages on Thursday. And there were a few standout plays, and players:
•
Mark Herzlich
had an interception -- for the second straight day, according to coach Tom Coughlin. Herzlich again served as the Giants' starting middle linebacker, and picked off a short
Eli Manning
pass over the middle intended for tight end
Brandon Myers
during a seven-on-seven drill.
Second-year safety
Will Hill
also had an interception, of rookie quarterback
Ryan Nassib
.
•
Rueben Randle
, who is the Giants' No. 1 wide receiver in the absence of Nicks and Cruz, continues to look good. Randle got behind safety
Tyler Sash
to haul in a long touchdown pass near the end of the practice.
Two young tight ends also made nice receptions in the end zone. Second-year man
Adrien Robinson
had a leaping grab (which he made look easy), and rookie
Chase Clement
made a tough catch as well.
Both are big targets -- Robinson is listed at 6-foot-4 and 264 pounds, while Clement is 6-5 and 265. And tight ends coach Mike Pope spoke glowingly about both afterwards.
"Adrien Robinson appears to have gone to the land of believers," Pope said of Robinson, the Giant's fourth-round draft pick in 2012. "Yes, he has been making some good progress."
"When I first looked at him, I had visions of [former Giant]
Jake Ballard
," Pope said of Clement, an undrafted free agent out of LSU. "He was a good blocker on the goal line, they seldom ever threw him the ball. But when the ball was snapped he had kind of that tough-guy mentality. ... He really had a motor."
• The Giants showed a new wrinkle on offense, lining up their top two tailbacks --
David Wilson
and
Andre Brown
-- in the backfield on the same play. Brown served as the fullback, in front of Wilson, and motioned out wide before the ball was snapped and handed off to Wilson.
Neither running back knew the play was coming -- it was given to them on the fly.
"It was actually spur of the moment I think," Wilson said, chuckling. "Cause neither one of us was prepared for it. They were kind of talking us through the play, cause neither one of us knew."
• Center
David Baas
and guard
Chris Snee
were in uniform, but were again limited as they recover from injuries.
Jim Cordle
and
James Brewer
continued to fill in for them at their respective positions on the O-line.
• Linebacker
Jacquian Williams
got limited reps for the first time this spring. Williams is battling back from a knee injury that hampered him in 2012, causing him to miss six games.
May, 30, 2013
5/30/13
3:51
PM ET
EAST RUTHERFORD, N.J. -- The Giants added a pair of players to their roster late Wednesday, signing linebacker
Kyle Bosworth
and tight end
Chase Clement
.
Clement played for LSU but went undrafted this spring, while Bosworth started just five games in three seasons with the
Jacksonville Jaguars
-- not exactly earth-shattering moves.
[+] Enlarge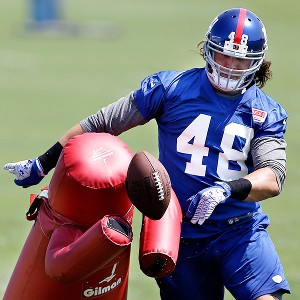 AP Photo/Julio CortezKyle Bosworth, nephew of Brian Bosworth, signed with the Giants on Wednesday.
But Bosworth is the nephew of Brian Bosworth, a.k.a "The Boz," the former All-American and media sensation. So, not surprisingly, reporters flocked to his locker following the Giants' fourth OTA of the offseason on Thursday.
Kyle played in all 16 games for the Jaguars last season, starting five, with 37 tackles and an interception. He was a restricted free agent, but Jacksonville decided not to tender him.
"I was very surprised," he said. "We had a new GM come in, and they said that they wanted to go in a different route."
Kyle said the Giants and Eagles were the first two teams to call once he became available. He worked out for the Giants on Wednesday, and signed Wednesday night.
Coach Tom Coughlin was asked about his two new players following Thursday's practice. "We felt like they made a nice fit," Coughlin said. "Bosworth being a linebacker, special teamer, and Clement being a guy that we can use not only as a tight end but as a fullback-type guy. So multiple position guys."
Brian Bosworth was one of the biggest personalities in sports in the 1980's. He starred at the University of Oklahoma from 1984 to 1986, and is the only player in history to win the Butkus Award -- given to the nation's top linebacker -- twice.
But "The Boz" made even more waves with his mohawk haircut and his controversial behavior, including riding a helicopter to his first NFL practice with the
Seattle Seahawks
.
Kyle has grown his hair long over the past couple years, but says he is very different from his famous uncle.
"I'm a little flamboyant, but on the field," he said. "Off the field I'm very reserved."
Kyle and his identical twin brother Korey both played linebacker at UCLA, but both went undrafted. Kyle has found a foothold in the NFL, but says he has hardly spoken to his uncle since joining the league in 2010.
"It's been unfortunate, because of who he was," Kyle said. "Things happen in family situations, everyone has personal things -- I know he got divorced and he's remarried and he's got things going on in his life.
"Back in high school it was a different story. He was there all the time, he'd be watching the film, watching all the practices and stuff like that, and really getting involved and letting us know different techniques and stuff. But it's been very few [times] in the NFL."
Regardless, Kyle has has already lasted longer in the NFL than his uncle, who retired just two games into his third season due to a shoulder injury.
Now he will try to prove to the Giants that he can contribute at linebacker, in addition to special teams.
Kyle has one other claim to fame. His fiancee is Kara Keough, who has appeared on the Bravo reality show "The Real Housewives of Orange County." Her mother, Jeana, was one of the original stars of the show.
Kyle has never appeared on screen -- but he would like to.
"We tried to do a wives and girlfriends thing with Bravo in Jacksonville," Kyle said. "My fiancée approached Bravo, and we actually had a meeting out in California. But I guess Jacksonville is just not the city to hold a reality show like that."
New York, on the other hand, might be the perfect fit.
"Yeah, I'm all up for it," Kyle said. "I know that there's different restrictions with teams and stuff, you gotta get clearance. But I'm all good for it."
Will Tom Coughlin be? That's a whole 'nother story.