New York Giants:

Cleveland Browns
October, 7, 2012
10/07/12
6:24
PM ET
EAST RUTHERFORD, N.J. -- Perhaps
Trent Richardson
got his candy, as Giants defensive end
Osi Umenyiora
would say.
After talking about potentially having success on the edges against the Giants, the Browns' rookie running back finished with 81 yards and a touchdown Sunday afternoon -- a fine effort, for sure.
To Giants linebacker
Mathias Kiwanuka
, though, that didn't matter much in the end.
[+] Enlarge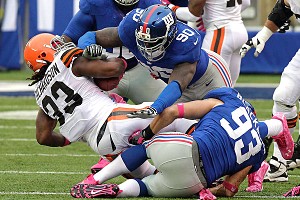 Tim Farrell/The Star-Ledger/US PresswireTrent Richardson
"We won the game," Kiwanuka said. "End of story."
Richardson finished with 128 total yards against the Giants, and averaged a healthy 4.8 yards per carry. But the Giants contained him enough to come away with a comfortable win.
Richardson's comments leading up the game inspired Umenyiora to tell the rookie to try and get his "candy" on the edge, while Kiwanuka told the Newark Star-Leger he would shake the rookie's hand and give him a pat on the butt if he proved it Sunday.
That handshake never came. "He's got to beat us to get that," Kiwanuka said.
Richardson started the talk by saying on a conference call that if the Browns covered the edges and ran hard, he believed they could have success in the running game. The Giants, to Richardson's credit, had been allowing 118.3 yards per game entering the contest.
His comments led to Umenyiora's and Kiwanuka's responses, which gave some bite to Sunday's game. The rookie threw the first punch Sunday by scoring on Cleveland's second offensive play of the game, as he rushed for 15 yards up the middle to give the Browns a 7-0 lead.
Richardson finished with 13 carries for 67 yards in the first half, but his second half didn't nearly match the first 30 minutes. With the Giants opening up a two-score lead, Cleveland had to turn to the passing game. Richardson rushed the ball just four times for 14 yards in the second half.
Instead, the running back became more of a threat out of the backfield during the second half, as he finished up with five catches for 47 yards. Kiwanuka said the team made minor adjustments to correct the problems that had plagued the run defense early on.
While Richardson didn't get the win, Kiwanuka complimented him, saying he played well. Umenyiora was not available after the game because his son had an asthma attack.
"He's a solid player," Kiwanuka said. "No doubt about that. As long as he stays healthy he'll have a long, prosperous career. There's a lot of things that go into being a player in this league and knowing when to say something and when not to is part of it."
Kiwanuka said he did not talk to Richardson after the game, and called the whole thing a "side story." While he had no problems with what the running back said, he gave a reminder that the final outcome of the game is ultimately what means the most.
"You can say whatever you want coming in," Kiwanuka said. "Just make sure you come out with a win if you do."
October, 6, 2012
10/06/12
6:56
PM ET
By
Kim Meyer, Michael Bonzagni
and
Evan Kaplan | ESPN Stats & Info
The Giants will look to get back in the win column this Sunday when they face the
Cleveland Browns
at MetLife Stadium. New York is coming off a 19-17 loss to in Philadelphia, where
Lawrence Tynes
' last-second field goal fell just short of putting the Giants atop the NFC East.
Running the ball was an issue for the Giants in Week 4, as they rushed for just 57 yards, tied for their third-fewest in a game since the start of the 2009 season.


The Browns are 0-4 to start the 2012 season and rookie quarterback
Brandon Weeden
has struggled, throwing three touchdowns and seven interceptions, the second-most in the league. Here are some areas to keep an eye on in Week 5:
• The Giants' run game was quieted by the Eagles in Week 4, as they rushed for 3.0 yards per carry, their fewest in four games this season. Rushing outside the tackles is an area where the Giants have particularly struggled in 2012, as their 63 yards ranks in the bottom third of the league through the first four weeks. In its two losses, New York has averaged just 1.5 yards per carry outside the tackles, compared to 4.5 yards on those rushes in its two wins. The Giants will be facing a Browns defense in Week 5 that has been stout against rushes outside the tackles, allowing 2.9 yards per carry, which ranks seventh lowest in the league entering Week 5.
•
Eli Manning
continues to create big plays this season, excelling on throws of more than 10 yards downfield. Manning threw for 151 yards on such throws against the Eagles and had four pass plays of at least 30 yards in Week 4. Through the first four weeks of the season, Manning has nine pass plays of at least 30 yards, tied with
Joe Flacco
for the most in the NFL. While Manning has thrived on throws of more than 10 yards, Weeden has underperformed on those throws. Weeden has an NFL-worst 13.3 Total QBR on such throws and is completing just 34.6 percent of his passes on those throws, also worst in the league among qualified quarterbacks.
• Though Weeden has struggled on throws of more than 10 yards, he'll be facing a Giants' secondary that has allowed plenty of big plays in 2012. The Giants have allowed 629 passing yards and five touchdowns on throws more than 10 yards downfield, tied for the second-most touchdowns allowed in the league. Partly due to their injury-depleted secondary, the Giants have allowed at least one pass play of 30 or more yards in each of their four games, and are one of eight teams in the league to allow at least seven plays of 30 or more yards.
• One of the Giants' biggest strengths last year was their ability to get to the quarterback with four or fewer pass rushers. The Giants recorded the second-most sacks (34) at the second-highest rate (once every 13.6 dropbacks) when sending four or fewer in 2011. They have not replicated that production this year, recording only three sacks (T-25th) when rushing four or fewer defenders, an average of once every 30 dropbacks (26th). The Giants' three sacks when sending four or fewer pass rushers are tied for their fewest in the first four weeks of the season since the start of the 2008 season.
Fortunately for New York, Weeden has struggled against that type of pressure, posting a league-worst 12.4 Total QBR and averaging 6.2 yards per attempt when facing four or fewer pass rushers, the fourth-lowest rate in the league.
October, 6, 2012
10/06/12
1:32
PM ET
By
Mike Mazzeo
| ESPNNewYork.com
EAST RUTHERFORD, N.J. -- The Giants forced no turnovers and recorded just two sacks in their 19-17 loss to the Eagles last Sunday night.
They likely can't afford their totals in those categories to be that low this Sunday -- even against the 0-4 Browns.
[+] Enlarge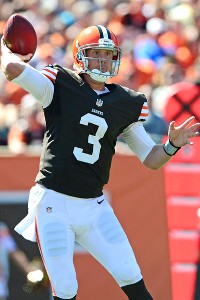 Andrew Weber/US PresswireRookie QB Brandon Weeden has thrown seven interceptions for the winless Browns.
Giants defensive coordinator Perry Fewell and coach Tom Coughlin must figure out how to make life miserable for Cleveland's rookie quarterback,
Brandon Weeden
. And they won't have rock-solid safety
Kenny Phillips
(knee) on the field.
"Containment has been an issue for us," frustrated defensive end
Justin Tuck
said earlier this week. "There's just certain things you can't do with the guys like
(Michael) Vick
and
Cam Newton
when you don't have Trel (
Antrel Rolle
) or you don't have KP (Phillips) back there.'"
Regardless, the Giants' defense needs to play with a chip on its shoulder and step up. Phillips won't be in the lineup, but reserve
Stevie Brown
played well in his absence in Philadelphia.
"To be put in that position and that type of situation, he really didn't have any major errors. He came in and he tackled well," Fewell said of Brown. "Obviously, we would've loved to have Kenny in there because we have some things that we like to do with Kenny specifically. (But) it wasn't that much of an alteration."
In his first four games, Weeden, 28, has thrown seven interceptions. The Giants must find a way -- whether it be with exotic blitzes, stunts or multiple coverages -- to force Weeden to make mistakes. And the Giants must capitalize off of them.
So far,
Jason Pierre-Paul
,
Osi Umenyiora
and Tuck have combined for 3.5 sacks. Even if they're seeing more attention than they ever have, that's not good enough.
"You know, anytime that you've had success and you haven't been able to build on that success early in the season, you're going to be frustrated somewhat," Fewell said. "When teams counter and do something to take you out of your game, you're going to be a little frustrated, but it's a long season.
"The thing we have to make sure is that we play within the framework of our defense, we play within the framework of the team. We're not selfish, we go out and play how we're supposed to play. When you whip somebody, you have to whip them and make a play. Again, we're going into the fifth game of the season. Those things will come, I'm very confident about that."
There's no reason Fewell shouldn't be. Still, this game is essentially a must-win for the 2-2 Giants. And with a brutal schedule on the horizon, their defense has to rise to the occasion and figure out how to make life miserable for Weeden on Sunday.
October, 4, 2012
10/04/12
8:00
AM ET
EAST RUTHERFORD, N.J. --
Cleveland Browns
head coach Pat Shurmur is familiar with the
New York Giants
, even if the Browns don't play the Giants often.
Shurmur spent 10 seasons with the
Philadelphia Eagles
as the team's quarterbacks and tight ends coach between 1999-2008.
Here are some snippets from his conference call with New York/New Jersey reporters on Wednesday:
Q:
After a tough loss against the Eagles last week, what is your overall impression of the Giants and, in particular,
Eli Manning
?


A:
"Ok, thanks for narrowing it down (laughs). Eli, heck, I have a great deal of respect for Eli. When I was in Philly, I was involved in over 20 of these games against the Giants. At any point in the game, Eli can get hot, and he has the confidence to lead his team to victory. I'm sure the guys in the huddle with him know that. You have to play them all the way out, and it's very important that you keep trying to get pressure on him (Manning) because, regardless of the quarterback, that's the best way to disrupt them."
Q:
With
Brandon Weeden
, although he is a rookie, does his age change the "type of rookie" that he is?
A:
"Well he's obviously unique in terms of the rookie status because he's 28-29 years old, but I will say this: There are certain things that although his age has helped him with some of the off the field things that young players deal with, you still have to go through the process of playing; first your opener, then on the road, then at home, before or after a loss, you have to go through the process. I think he's displayed, at least to me, that he's improving. I think now he has to improve and put together a winning performance, much like Eli. I have a great deal of respect for Eli because he's won football games and two championships, so he's found that right combination there in New York."
Q:
Will
Josh Cribbs
play Sunday?
A:
"Yeah, Cribbs, he'll be out there."
Q:
With
Trent Richardson
, what is something you can share with us that most people wouldn't know about him?
A:
"He's extremely tough, he's extremely competitive. I've watched how hard he works. He comes from a winning program so he knows what it takes to win, and he knows how to demand from himself. All the things about process that I just talked about earlier, and I think we've all seen that when he gets the ball in his hands, he can get in the end zone. This league is about scoring points and eliminating scores, and if you have a running back that can get the ball in the end zone, it's a big value."
Q:
Coach Coughlin started his press conference this morning by saying, "Don't be misled by the Browns' (0-4) record." Do you remind your players of that as well?
A:
"I'm pretty much a, 'you are what you are' type guy. I understand what our record is. I understand what this team has and the character that we have. We're going to continue to keep fighting. What's important is that we amp up our effort even more, and each guy feel the pressure to make one or two plays better than the week before. That's the message here. There's no moral victories in finishing close. I make sure our players are reminded of that as well."