New York Giants:

Clint Sintim
May, 29, 2013
5/29/13
3:00
PM ET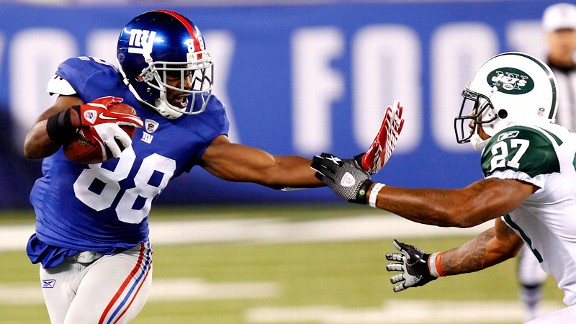 Tim Farrell/US PresswireHakeem Nicks has become the receiver the Giants had hoped for in 2009.
When the Giants re-signed
Ramses Barden
to a one-year deal last week, the 6-6 wide receiver returned to the team that drafted him in 2009.
ESPN senior NFL writer
John Clayton writes about the Class of 2009
and how it has fallen short of expectations. As Clayton points out, with Barden's signing, there are only 60 players from the '09 class still with their original teams.
Clayton writes:
"That number could drop significantly next year because 33 of them are potential free agents. Free agency normally gobbles up a good portion of draftees once rookie contracts expire, but the key to building any franchise is retaining good draft choices. Unless something changes, the 2009 draft will be considered a crack in the building process for most teams."
So that got us thinking about the Giants' 2009 crop and who's left standing from that class. Of their nine picks that year, only four players remain on the roster.
First-round pick
Hakeem Nicks
, one of their two second-round picks
Will Beatty
, one of their third-round picks in Barden and fourth-round pick
Andre Brown
are with the Giants. Second-round pick
Clint Sintim
recently retired due to knee injuries and third-round pick
Travis Beckum
is a free agent on the mend from his own knee injuries.
Nicks turned out to be a gem at 29th overall. Nicks has been the top receiver the Giants hoped he would become. But Nicks has been slowed by injuries and he enters a pivotal contract year. The Giants want to sign him to an extension. If Nicks doesn't sign an extension before or during the season, the wideout will look to play his best, raise his value and try to strike it rich next offseason. It's imperative the Giants keep Nicks with
Eli Manning
.
While Sintim, taken 45th overall, didn't pan out at linebacker, the Giants found an anchor at left tackle in Beatty. The team recently re-signed Beatty to a five-year deal worth as much as $38.75 million. He's been solid and still has room to grow and get better.
Due to injuries and lack of playing time, Barden hasn't realized the potential the Giants saw in him when they took him 85th overall out of Cal Poly. He flashed that potential last year in a start against Carolina with nine catches for 138 yards. But he's been buried on the depth chart and returns this year to provide depth again.
Brown saw his first significant playing time last year and rushed for 385 yards and eight touchdowns in 10 games before breaking his leg. Like Barden, Brown shined in a start against Carolina with 113 yards and two touchdowns. He hopes to take another step forward this season and compete with
David Wilson
for the starting job. The two backs could share carries. Brown excelled as the team's goal-line back last year and should handle those duties again. The confident and charismatic Brown is gunning for some
seriously lofty numbers
.
Here's the Giants' 2009 draft:
1.
(29th) WR Hakeem Nicks
2.
(45th) LB Clint Sintim
2.
(60th) T Will Beatty
3.
(85th) WR Ramses Barden
3.
(100th) TE Travis Beckum
4.
(129th) RB Andre Brown
5.
(151st) QB Rhett Bomar
6.
(200th) CB DeAndre Wright
7.
(238th) CB Stoney Woodson
Let us know how you think Jerry Reese did with the '09 class -- which picks you liked and which picks disappointed you the most.
May, 6, 2013
5/06/13
12:28
PM ET
Clint Sintim
has announced his retirement.
The linebacker, who was drafted in the second round in 2009, wrote on his Facebook page that he is retiring.
Sintim hasn't played since tearing his right ACL and patellar tendon in the preseason finale in 2011. He worked extremely hard to return from a torn right ACL suffered less than nine months earlier in 2010.
Sintim wrote on Facebook:
I never actually announced it but I am officially retired from the game of football. I want to thank everyone who supported me throughout my movement but it was honestly time for me to walk away from the game. Ambition should not be limited to a sport and in my case it is not. "Continue to chase your dreams with the awareness of obstacles....You may not always be able to dictate your path.....but your response to change is always mental!!"---------------->@ClintSintim52
Sintim finishes his career with 33 tackles and one sack.
Let us know what you thought about Sintim and what your hopes had been for him when the Giants drafted him in the second round.
August, 16, 2012
8/16/12
11:10
AM ET
EAST RUTHERFORD, N.J. -- Defensive tackle
Marvin Austin
said his back is feeling better, but he will undergo further tests, according to head coach Tom Coughlin.
Coughlin was asked if Austin has suffered any structural or muscular damage to his back, which was examined Tuesday.
"Structural being what? I mean, they are dealing with some issues there," Coughlin said. "I am not going to tell you exactly what it is. We are going to have to wait and see. He is not going to be able to play this week."
[+] Enlarge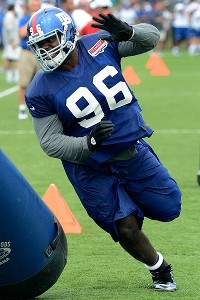 AP Photo/Evan PinkusMarvin Austin
"He said he felt pretty good today," Coughlin added. "A lot of the early symptoms were no longer there. They are going to do another set of tests on him. We are hoping within a reasonable amount of time he can come back and play."
The Giants' defensive tackles have been hammered by injuries. On Thursday, the team waived injured linebacker
Clint Sintim
and injured defensive end
Justin Trattou
to make room for defensive tackle Bobby Skinner, as well as cornerback/returner Laron Scott. The Giants then waived Skinner after one practice and signed former Denver defensive tackle
Marcus Thomas
.
"We found ourselves in need of players at a certain position and we felt it was probably the best way to go for both," Coughlin said. "Clint is probably a ways away. In (Trattou's) case, the doctors tell us he is quite a ways away and we felt this was something we needed to do to bolster the (defensive tackle) spot."
When he met with reporters earlier in the day, Austin said he did not suffer any serious issues with his back.
"I don't think it is going to be something that lags on," Austin said. "That is why we want to get everything right now, so it won't be something that goes on for a period of time."
The Giants practiced on Thursday without left tackle
Will Beatty
(back), linebacker
Michael Boley
(hamstring), linebacker
Jacquian Williams
(hip), cornerback
Michael Coe
(hamstring), tight end
Travis Beckum
(knee) and defensive tackle
Chris Canty
(knee). Coughlin said Beatty's back is still very much an issue.
"They evaluated him last night and they felt like if he kept going the way he is right now, he would have only gotten worse and worse," Coughlin said. "They shut him down."
Sintim, 26, was not going to be able to return for some time. The team's second round pick in 2009 was on the team's PUP list and failed his physical. Considered a long shot to make the team after suffering a torn ACL and patellar tendon last preseason, he hasn't played since last preseason.
Sintim also tore his ACL near the end of the 2010 season. The team drafted him with high hopes out of Virginia, where he had 245 tackles and 27 sacks in 49 games. Sintim played in 24 games in his first two seasons with the Giants and had nine tackles during his career.
It was going to be difficult for Sintim to make the final roster with an already-crowded linebacker unit. The Giants have Boley,
Mathias Kiwanuka
,
Chase Blackburn
, Williams,
Keith Rivers
,
Mark Herzlich
,
Greg Jones
and
Spencer Paysinger
and might still have a tough cut to make down the road.
Trattou, 23, entered camp as a candidate to fill
Dave Tollefson
's role as backup defensive end. But he suffered an ankle/heel injury early in a camp practice and has been out.
Adrian Tracy
figures to back up
Justin Tuck
,
Jason Pierre-Paul
and
Osi Umenyiora
now. The Giants did like Trattou's potential.
The Giants' defensive tackle unit has been in flux all week. The team lost
Shaun Rogers
for the season due to a blood clot in his leg. Backup defensive tackle Martin Parker was waived/injured after he needed surgery for a herniated disk in his back. Austin is sidelined for now and Canty is on the PUP list and may not be ready to start the season.
The Giants signed defensive tackles
Oren Wilson
and
Carlton Powell
on Wednesday and brought in Thomas for a workout before signing him. The 6-3, 307-pound Thomas played his first five seasons in Denver and had 180 tackles, one sack and two interceptions in 34 starts.
"It was a wild week for us, to say the least," Austin said. "It was a tough week for the D-tackle position."
July, 17, 2012
7/17/12
9:00
AM ET
As training camp approaches, we're starting a countdown to camp by taking a look at the defending champions position-by-position.

Position: Linebackers.

Projected starters: OLB Michael Boley, MLB Chase Blackburn, OLB Mathias Kiwanuka.

Projected reserves: OLB Keith Rivers, OLB Jacquian Williams, MLB Mark Herzlich, MLB Greg Jones, OLB Spencer Paysinger.

New faces: Rivers, MLB Jake Muasau.

Going, going, gone: None.

Player to watch: Rivers. The Giants acquired Rivers for a fifth-round pick hoping that the former ninth-overall pick can stay injury-free and show his talent with a fresh start. Rivers enters camp behind Boley, Kiwanuka and Blackburn but could eventually emerge as a starter. Defensive coordinator Perry Fewell said he plans to see how versatile Rivers is and could try him at MLB for some snaps in practice during camp. Rivers is still learning the defense but the Giants hope Rivers gives them another athletic, quick and versatile linebacker capable of playing the run and pass.

Potential strength: The linebacker unit is deep and more versatile than in recent years. It should be one of the most competitive positions in camp as players like veteran Clint Sintim, who is making his way back from a second serious knee injury in as many years, will fight for a roster spot. Fewell has more options at linebacker and says he feels more comfortable with playing three linebackers on the field –- as opposed to three safeties -- than he has in the past two seasons. Boley and Blackburn have become extensions of Fewell and can direct the defense on the field, helping improve the defense's communication which also was problematic at times last season. Kiwanuka is more comfortable with his linebacker/pass rusher hybrid role. Williams impressed during his rookie season and showed he can cover and be an asset on passing downs. The Giants hope Rivers will realize his potential and become a difference maker. Herzlich and Jones provide depth at middle linebacker and can help stop the run when called upon. Fewell has also tried Jones at outside linebacker in OTAs and minicamp as well. Those two and Paysinger are contributors on special teams.

Potential weakness: The Giants had trouble against the run last season and stopping the run will be a point of emphasis again this season. For the past two seasons, Fewell has often employed three safeties on the field. With Deon Grant unsigned and plenty of options at linebacker, Fewell says he is comfortable using three linebackers more often but it remains to be seen how much he will employ three linebackers on the field. Fewell could use Kiwanuka, Boley and Blackburn on running downs. He could also throw Rivers or Herzlich out there to combat the run. Rivers might be able to join Boley and Williams on passing situations. Fewell will try to figure out the right combination in training camp. The linebackers should and likely need to play a much more pivotal role in the defensive scheme than in the past two seasons.

Wild card: Kiwanuka. Jerry Reese likes to refer to Kiwanuka as a "joker" who can play multiple positions. He has improved in his pass coverage and can rush the quarterback from the linebacker position or defensive end. Kiwanuka is more comfortable in his hybrid role and could be used more as a rusher this season with the departure of Dave Tollefson. His versatility can make the Giants defense even harder for opposing offenses to deal with.
June, 19, 2012
6/19/12
3:50
PM ET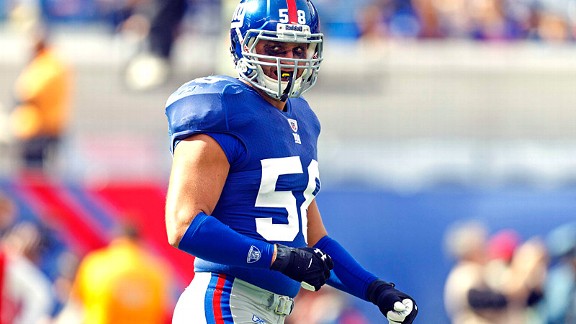 Jason O. Watson/US Presswire
Now that minicamp is over, we're going to take a look at a Giants player or specific unit or issue each day this week. Tomorrow we'll explore Perry Fewell's options for replacing defensive end Dave Tollefson.
SPOTLIGHT:
The Giants linebackers.
THE 411:
Ever since
Antonio Pierce's
injury and subsequent retirement, linebacker has been considered somewhat of a weakness. Fans have clamored for the team to draft or sign a high-profile linebacker. But the Giants put a higher premium on their pass rush and have often gotten by with two linebackers and three safeties in the past two seasons.
This year, the Giants' linebackers unit is deep and it may be the most competitive position in camp this summer. The addition of
Keith Rivers
could give the Giants another playmaker at the position and there are several second-year players itching to prove what they can do with a full offseason of coaching and training.
Mathias Kiwanuka
is getting more comfortable in his hybrid linebacker/pass rusher role and
Michael Boley
and
Chase Blackburn
understand exactly what Fewell wants on the field.
With
Jacquian Williams
,
Mark Herzlich, Greg Jones
and
Spencer Paysinger
all benefiting from a season of experience and now a full offseason of training, the Giants have several young linebackers they are excited about. There will not be enough snaps to go around on defense but several of the young linebackers will continue to play important roles on special teams.
THE COMPETITION:
During minicamp, the Giants started Boley, Blackburn and Kiwanuka in their base defense. The second team consisted of Rivers, Herzlich and Williams for the most part. The third team was Jones, rookie free agent
Jake Muasau
in the middle and Paysinger.
Clint Sintim
has been rehabbing from a second consecutive season-ending knee injury and has been doing running on the side during OTAs and minicamp.
Adrian Tracy
is listed as a linebacker but the team has been utilizing Tracy as a defensive end.
Fewell has declared Blackburn as his starting MLB entering training camp. But the defensive coordinator left the door open for the competition. He says he will experiment with Rivers at MLB a bit to see what the former ninth-overall pick of the 2008 draft can do. If Rivers shines in camp, he would appear to be the most likely guy who could replace Blackburn in the starting trio of linebackers because of his versatility.
The team likes Herzlich, and Fewell mentioned second-year 'backer's good play in practice this offseason. Jones was supposed to compete with Herzlich at MLB but Fewell moved him to strongside with the third team during minicamp. Fewell says he wants to see how versatile Jones is while testing Muasau at MLB. Fewell gushed about Muasau coming out of rookie camp and sees some promise in the Georgia State product.
WHAT THE COACHES ARE SAYING:
Fewell is excited about the potential of his linebackers and says he feels comfortable enough to use three linebackers more this season after relying heavily on the three-safety package of
Antrel Rolle, Kenny Phillips
and
Deon Grant
over the past two years.
"Our linebacking corps a year ago was young and inexperienced," Fewell said. "They were talented but it was an area of concern [last year] because there was no OTAs, no mandatory minicamp. With a year under their belt, with some playing experience, they look bigger, they look stronger, they look faster, they are more knowledgeable. I think we are a better linebacking unit than at the end of the 2011 season."
"I think we have depth and there is real competition for different roles in our linebacker unit," Fewell added. "I am going to have to do a good job of evaluating those guys when we get to training camp and make sure we put them in the proper positions for success."
CAMP PREDICTION:
Blackburn enters camp as the starting MLB and my guess is he will start the season opener because Fewell trusts Blackburn, who is an extension of him on the field. Fewell likes Rivers' potential and Rivers' role could grow as the season moves on. The Giants, though, could go with Boley, Blackburn and Kiwanuka on obvious running downs.
During passing situations, Kiwanuka could move to pass rusher and the Giants then will bring in Williams, who impressed last year with his speed and coverage ability, to pair with Boley. With Grant still unsigned, Fewell could utilize Rivers to go with Boley and Williams and have three quick linebackers out there on passing situations or go with two linebackers and an extra defensive back like safety
Steve Brown
.
The competition among the rest of the linebackers will be stiff, and the Giants will have some tough decisions to make when it comes down to final cuts. Herzlich also contributes on special teams. Jones was a staple on special teams but the team's decision to try him at outside linebacker on the third team and use rookie free agent Muasau as the third-team MLB was a bit curious. Jones started the season opener last year at MLB after
Jonathan Goff
went down with a knee injury. But he naturally struggled after spending the entire training camp as the third-string MLB and having just a handful of practices as the starter. Fewell has said Jones will still get snaps in practices at MLB in camp.
Jones and Paysinger will have to continue to contribute on special teams. The coaching staff likes Muasau, who could land on the practice squad if he doesn't make the final roster. The Giants should take it slow with Sintim in camp after his latest setback.
We'll have to see how many linebackers the Giants opt to keep. Will they carry nine linebackers or more? By the end of last season, the Giants had eight linebackers on the active roster if you include long snapper
Zak DeOssie
.
Tell us what you think of the Giants' linebackers and how you want to see Fewell use them below.
February, 27, 2012
2/27/12
9:00
AM ET
I recently gave my
report card for the Giants 2011
season position-by-position. But because there was only so much space to discuss each position, I wanted to go more in-depth on each position and spin it forward to next season.
Today we look at the linebackers. Tomorrow: Secondary.
LINEBACKERS
Grade: B
During last year's draft, fans wanted the Giants to draft a linebacker in the first round. When they didn't, fans wanted
Jerry Reese
to sign a linebacker in free agency. And when
Jonathan Goff
and
Clint Sintim
went down with torn ACLs in the preseason, the calls for adding a linebacker grew to a deafening pitch.
But in the end, the Giants only added
Chase Blackburn
to the mix late in the season and were able to win a Super Bowl with the linebackers on the roster.
Michael Boley
emerged as one of the most valuable pieces on Perry Fewell's defense. He relayed calls into the huddle and was the Giants' only every-down linebacker. When he missed two games due to injury, the defense struggled badly.
Mathias Kiwanuka
grew more comfortable with his hybrid linebacker/defensive end role and speedy rookie
Jacquian Williams
showed promise. The Giants might not have won the Super Bowl without the late addition of Blackburn, who made the big interception on
Tom Brady
while covering
Rob Gronkowski
.
While the Giants could draft another linebacker, they seem pretty upbeat about the potential about the linebackers from last year's rookie crop. Head coach
Tom Coughlin
mentioned the young linebackers when asked about which young players he is looking forward to seeing emerge this season.
Williams,
Greg Jones
,
Mark Herzlich
and
Spencer Paysinger
saw plenty of special teams action and will receive a full offseason of coaching and training this year after having the lockout shorten their on-the-job training last year.
Goff and Blackburn are unrestricted free agents. Reese and Coughlin have said that they will try to bring Goff, who is still recovering from ACL surgery last year, back. But the Giants could use another veteran linebacker since they won't know how Goff and Sintim will be returning from knee surgery. Also, depending on what happens with
Osi Umenyiora's
contract, the Giants may need Kiwanuka to play more defensive end. That remains to be seen.
Perry Fewell
played three safeties -–
Antrel Rolle
,
Kenny Phillips
and
Deon Grant
–- often to help cover at linebacker. Fewell still might do this next season even with Grant becoming an unrestricted free agent.
Tyler Sash
is waiting in the wings and could become the team's third safety. And if Fewell wants to play three safeties again, he'll go with two linebackers again as well.
What do you guys think the Giants should do at linebacker? Tell us below.
September, 1, 2011
9/01/11
10:34
PM ET
Recap
|
Box score
|
Photos
WHAT IT MEANS:
The preseason is finally over and now the New York Giants (2-2) can start preparing for the season opener against the Washington Redskins on Sept. 11. First, they have to cut their roster down to 53 players by Saturday.
This preseason finale was basically a final audition for many of the backups trying to make the squad. The Giants rested almost all of their starters Thursday night and the second team got experience working against
Tom Brady
and the Patriots' starters.
The Giants' special teams remains a work in progress and health also continues to be an issue, as backup linebacker
Clint Sintim
became the latest defender to go down with an injury.
ANOTHER GIANT INJURY:
Sintim had to be carted off the field with a season-ending ruptured patellar tendon in his right knee. The Giants also say it is likely that Sintim tore his surgically-repaired right ACL as well.
Sintim was making his way back from a torn ACL suffered last December. He was slated to back up
Mathias Kiwanuka
this season. Kiwanuka hopes to be ready for the season opener against the Redskins despite a mild groin injury.
MAKING THE CUT:
There were several players trying to make the team on Thursday night. Sintim's injury opens up a spot for one of the several young linebackers.
Second-team linebacker
Phillip Dillard
got a chance to play against Brady. Sixth-round pick
Greg Jones
, who has done well in camp and contributes on special teams, had a sack and should have had a fumble recovery but watched the ball squirt out from underneath him. Still, Jones likely will make the team.
Spencer Paysinger
, an undrafted rookie from Oregon, has moved up to the second team.
Former Boston College star
Mark Herzlich
got a good amount of work on Thursday. He's hoping to make the squad as a backup linebacker and a starter on special teams. Same goes for sixth-round pick
Jacquian Williams
, who was credited with three sacks. There's also
Adrian Tracy
, who can play defensive end.
It will be a long Friday and Saturday for some of these linebackers with potential.
SPEED KILLS:
One rookie who may have secured a roster spot on Thursday is seventh-round pick
Da'Rel Scott
, who hasn't received a ton of work in the preseason but has shown home-run speed.
The Giants scored their first touchdown against the Patriots with trickery, faking a punt and giving a direct snap to Scott, who blazed his way for a 65-yard touchdown run early in the fourth. No Patriot came within a mile of Scott, who also had a 97-yard touchdown run against the Bears. The Giants also have tried getting Scott in space with short passes.
The Giants already have
Ahmad Bradshaw, Brandon Jacobs
and
D.J. Ware
at running back.
Andre Brown
, who is fighting for a spot as well, had 68 yards on 21 carries against New England. Scott finished with 114 yards on 12 carries.
JERNIGAN'S JOURNEY:
Third-round pick
Jerrel Jernigan
has been having a
Matt Dodge
-like rookie season so far. After muffing three punts and fumbling another against the Jets on Monday, Jernigan muffed another one right into the hands of
Gary Guyton
, who ran it into the end zone. But the Patriots were flagged for illegal formation, nullifying the play.
On the ensuing punt, Jernigan bobbled the catch before securing it and being tackled.
Tom Coughlin
admitted that he hasn't used
Domenik Hixon
as his punt returner in hopes of keeping the veteran healthy. Hixon, who started against New England, is making his way back from a torn ACL last summer.
Jernigan did display his potential when he made an impressive catch in the back of the end zone on a two-point conversion that put the Giants up 18-17 in the fourth quarter. And he later had a nifty 15-yard punt return as well.
MORE SPECIAL INCONSISTENCY:
Kicker
Rhys Lloyd
has a shown a big leg but he missed two of three field goals. He made one from 48 yards out but his misses came from 48 and 49 yards out.
Lawrence Tynes
remains out with a quad injury suffered in the preseason opener.
WHAT'S NEXT:
The Giants have to cut their roster to 80 on Friday before slashing it to 53 on Saturday. After the weekend, the Giants begin preparing for the Redskins and the season opener on Sept. 11.
November, 6, 2010
11/06/10
4:13
PM ET
Tom Coughlin spared the media.

Had the Giants head coach decided to talk about the threat that that Seahawks running back/returner Leon Washington presents as a kick returner, he could've gone on for hours. Way past deadlines for stories.

So he instead just posed a question.

"His kickoff return average at home, do you know what it is?" Coughlin asked. "Forty-four yards. Kickoff return average at home."

Point taken.

The Giants have a huge task ahead of them Sunday in containing Washington in kickoff returns, as the shifty and elusive back leads the league in return yardage. Washington has a NFL best 33.7 yards kickoff return average, to go along with his two returns for touchdowns. He's tied for second all-time in kickoff returns for touchdown.

"You want to keep him from affecting the change in the game," Coughlin said. "Their offense has taken the ball over, I want to say, 10 times in plus territory this year and has scored five of those 10 times. They've benefited from outstanding field position, for sure."

Traded to Seattle from the Jets in the offseason, Washington has been a huge asset for the Seahawks. His two touchdown returns almost single handedly won Seattle's game against San Diego, and he now owns the top two spots for longest kickoff returns in Seattle history.

Linebacker Clint Sintim said that Washington is strong and fast and runs the ball hard, which becomes a tough combination to face. Defensive end Jason Pierre-Paul added that there is great blocking to complement Washington's elusiveness.

"That's going to be big for us, he's actually going to test us," Pierre-Paul said. "See if we can go down there and make tackles and see what our kickoff team is really about."

Kicker Lawrence Tynes called Washington one of the best returners in the game and said he will have to pick and choose when the Giants kick to him. He also talked about mixing in kicks to try to neutralize the former Jet.

"Hitting short kicks, hitting line drives, hitting deep kicks, you have to keep him off balanced, keep the return team off balanced," Tynes said. "Most of the time the call is made from the sidelines, so if you kind of disrupt what they are doing with the type of kick, you can eliminate him."
October, 8, 2010
10/08/10
5:52
PM ET
The Giants are dealing with a host of injuries heading into Sunday's game against Houston. Here are some quick bits about three players who will not be dressing for the game.

Shaun O' Hara: The Giants center told the media he would not talk about his injury. O' Hara has been inactive for the past two games with ankle and Achilles problem, and did not practice all week.

O' Hara tried running on Tuesday and it did not go well, preventing him from practicing this past Wednesday, which he had hoped. Adam Koets has been filling in as O' Hara's backup.

Keith Bulluck: The outside linebacker will miss his second straight game with a toe injury and did not seem thrilled about his progress. Second-year linebacker Clint Sintim will make the start in Bulluck's place this weekend.

"It's not getting me on the field so to me it's not getting better," Bulluck said.

Kevin Boothe: The backup offensive lineman is inching closer and closer to returning to the field after being placed on the Physically Unable to Perform list before the season started after undergoing surgery on his torn pectoral muscle . Boothe is eligible to return after the Giants game against Detroit on Oct. 17, and said that his injury is not an issue.

"We'll see what the trainers say after next week, but I'm preparing as if I'm going to practice," Boothe said. "There's only so much I can do not being able to practice so I try to do as much football stuff as I can by myself."

After the Detroit game, there will be a three-week span for the Boothe to start practicing once again. Once he starts practicing, there will be a three-week window for the Giants to activate Boothe, or keep him on the PUP list for the remainder of the season.

If the Giants decide to bring Boothe back to the active roster, they would have to waive or release another player, or possibly put an injured player (such as tackle Will Beatty) on the injured reserve.