New York Giants:

Coach talk
July, 10, 2013
7/10/13
3:21
PM ET
With the Giants off until training camp, we're periodically taking a look at what the coaches are saying about how their positions looked this offseason in OTAs.

Today, we look at Robert Nunn's thoughts on the defensive line.
Young guns:
Osi Umenyiora
's departure and
Jason Pierre-Paul
's rehab will allow the Giants to take a long look at some of the younger pass rushers they have behind
Justin Tuck
and
Mathias Kiwanuka
.
[+] Enlarge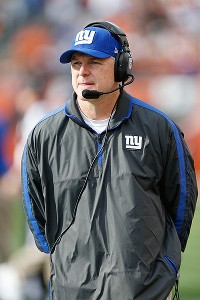 AP Photo/Scott BoehmGiants defensive line coach Robert Nunn will rely on some younger pass rushers this year.
Adrian Tracy
, third-round pick
Damontre Moore
,
Justin Trattou
and
Adewale Ojomo
will compete to be a part of the defensive end rotation.
Tom Coughlin said he was impressed at times with Tracy and Moore in OTAs and minicamp.
"Damontre has come in and has shown flash in some good things," Nunn said during OTAs. "He has a long way to go -- a lot to learn in a short time."
"I'm really pleased with the way Adrian Tracy [has progressed]," the defensive line coach later added. "He is further along right now than he has ever been in his career at this time. He has got to keep moving forward and come in here in great shape, which I know he will. He has proven, as a special teams player, that he has got to go out there and be consistent playing the run and pass on Sundays on defense."
Ojomo's goal:
Ojomo was one of the surprises of last year's training camp. An impressive preseason earned him a spot on the roster. But his inconsistency kept him from playing last year.
"He's got to do other things than just get after the quarterback," Nunn said of the power rusher. "When everybody sees that we're not getting after the quarterback, there's a lot of factors involved. I am not going to get into it too much but bringing in a guy that is just a pass rusher, that wasn't going to be the answer.
"That's the thing that he has got to do, is get more consistent with other things, playing the run, understanding what we are doing with game plans and then helping the special teams. He has got to do those things to get a helmet on Sundays."
Versatile Cullen:
Nunn says defensive tackle
Cullen Jenkins
, the team's biggest defensive addition in the offseason, can be utilized inside to stop the run and on the outside as a pass rusher if need be.
"Cullen has played out there," Nunn said. "When I was at Green Bay with Cullen, we used him inside and outside. And I would feel comfortable to move him around a little bit in emergency situations."
Tell us what you think about what Nunn is saying about the DL going into camp.
July, 5, 2013
7/05/13
10:00
AM ET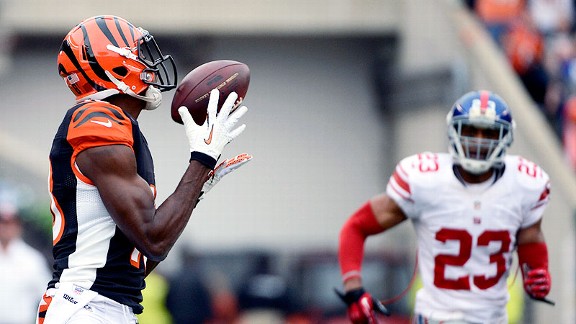 AP Photo/Michael KeatingCorey Webster, who had a difficult season in 2012, has a lot of ground to make up this year.
With the Giants off until training camp, we're periodically taking a look at what the coaches are saying about how their positions looked this offseason in OTAs.

Today, we look at Peter Giunta's thoughts on Corey Webster.
Cornerback Corey Webster made news in March when
he agreed to take a $3 million pay cut
on his $7 million salary in order to remain a Giant going into the 2013 season. Secondary/cornerbacks coach Peter Giunta thinks Webster will be motivated to bounce back from a poor 2012.
"Definitely," Giunta said. "Finishing the way we did, everybody has a real sense of urgency this year to get back to playing the kind of football we did at the end of the 2011 season in that six-game stretch and playing that kind of defense."
The Giants finished 28th in total pass defense last season. Webster, taken in the second round of the 2005 draft,
Prince Amukamara
,
Jayron Hosley
and
Aaron Ross
should form the backbone of the cornerback corps this season.
Terrell Thomas
is rehabbing from his third ACL injury, a difficult situation from which to return to top competitive form.
Giunta also said Webster's broken hand, suffered early in the season, had an impact on his disappointing play later in the year.
"In his defense, he breaks his hand, and it set him back a little bit not being able to use his hands up in press coverage," Giunta said. "He struggled in the end when we didn't have a lot of continuity back there. He did have a tough year for himself."
The Giants need to get better production from their cornerbacks, but the team isn't making a wholesale change in personnel. Now it's up to Webster and his position-mates to ensure that that faith isn't misplaced.
June, 18, 2013
6/18/13
12:22
PM ET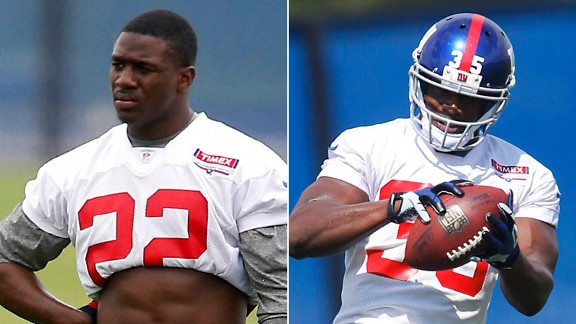 USA TODAY SportsDavid Wilson and Andre Brown will compete for the starting running back job.
With the Giants off until training camp, we're taking a look at what the coaches are saying about how their positions looked this offseason in OTAs.

Today, we look at Jerald Ingram's thoughts on his running backs:
Wilson growing:
David Wilson
and
Andre Brown
will compete in next month's camp to start at running back. Wilson is on track to be the starter, but the running backs are slated to share carries.
Ingram likes what he has seen from Wilson.
"He's in a position to compete to be the guy," Ingram said when asked if Wilson can be the lead back. "He has the talent, has the speed, has a few plays from a year ago underneath his belt. Everything we gauge is kind of like in college with spring ball, but once we put the pads on, we'll see who is physical, who's determined to make plays out there."
"I think he's grown," Ingram added. "He has a fairly good understanding of the offense right now. He's definitely in position to be the guy, but I think just like what we've done in the past here, we're going to be a rotation-type team, and what certain backs do best, we'll play."
Ingram says Wilson has improved with his pass protection, but the running backs coach wants to see how he does in camp in full pads. He also wants to see Wilson become more of a presence with his teammates to help replace the void left by
Ahmad Bradshaw
.
"There are some goals that he has to accomplish for us," Ingram said. "He's definitely on a better track than he was a year ago in understanding our protections and doing those kinds of things. I think we'll take advantage of his natural ability as much as we can."
"We've got a tradition of great running backs here that have established themselves as leaders on this team," Ingram added. "And that's where he's got to be. He's got to be a guy that
Eli [Manning]
can trust in every situation possible, and we'll go from there. But right now I think he's on track."
A complete back:
Brown has recovered from his broken leg suffered last season and has waited a long time for an opportunity to show what he can do on a full-time basis.
Even if Wilson starts, Brown should see his share of snaps, including goal-line touches.
"He's motivated," Ingram said. "He's been waiting a lifetime around here for that. We brought him in here because he can catch the ball, he can run, he can do a lot of things and be a complete running back here. And he's definitely a true every-down kind of guy because he's got size, speed and quickness."
Thunder and Lightning reborn:
Ingram hopes that Wilson and Brown can become the type of tandem the Giants once had in the backfield.
"We like to think that we have the size and quickness with these two guys to be a thunder and lightning-type situation," Ingram said. "And I think we will utilize that this year. How many carries they get will be based on who we play and our objective and our situation."
Tell us what you think of Ingram's assessment and how you think Wilson and Brown should be used.