New York Giants:

DeMarco Murray
November, 26, 2013
11/26/13
8:00
AM ET
Your daily morning check-in on news and notes about and of interest to the New York Giants
The news of the day
: The Giants are always professionals in the locker room, so while they were glum and disappointed Monday, they came out and spoke openly about their circumstances. "We have to deal with reality," coach Tom Coughlin said. "We are what we are. We've created this situation for ourselves." They're not waving any white flags, and you can count on them to play the remaining games on their schedule with a hard and honest effort to win them. But the situation to which Coughlin refers is the extremely uncomfortable one in which the Giants can't afford any more mistakes at all... and would still need a mountain of help even if they managed to be perfect the rest of the way. Coughlin did say he wasn't happy to hear about all the chirping his players did last week and
would address it in a meeting
Wednesday. And he seemed rather aggravated about the Hakeem Nicks situation, which continues to remain
one of the weird mysteries
of this season. He also said Jason Pierre-Paul is
playing hurt
, which it seems as though he'll be doing the rest of the year at this point. Pierre-Paul played fewer than half of the Giants' defensive plays Sunday due to his shoulder injury.
Behind enemy lines
: Impressions from "Monday Night Football": If the Giants can generate a pass rush with their front four, which has been a trouble spot for them for much of this year due in part to Pierre-Paul's health problems, they should be able to cause problems for the Redskins' offense Sunday night. Robert Griffin III just looks horrible. And while he's making more than his share of poor throws and decisions, a huge part of his problem in Monday's loss to the 49ers was a seemingly complete lack of protection. Don't get me wrong: The Giants would still have to score enough points to win, which is no sure thing. Just saying they won't be the only team on the field with big problems Sunday night in Landover, is all.
Around the division:
The Cowboys won the big game against the Giants on Sunday and move into a tie for first place with the Eagles, but that doesn't mean they think all their problems are solved. They want DeMarco Murray to be more aggressive in the way he
finishes his runs
. And they'd like Dez Bryant to be a little bit
less greedy
about the yards he's trying to pick up after the catch. These are contrasting sentiments, but both problems were on display Sunday.
Around the league
: The NFC East has taken a lot of well-deserved abuse for the overall lack of quality it's put on display this season. But
as John Clayton pointed out
in the wake of Sunday's games, no one seems to want the NFC North either. What an opportunity the Lions have blown with Aaron Rodgers injured and the Packers weakened.
October, 15, 2013
10/15/13
8:00
AM ET
Your daily morning check-in on news and notes about to the New York Giants
The news of the day
: Running back
David Wilson
won't require
surgery for his neck injury at this time
, but he's still out at least 3-4 more weeks, and with
Brandon Jacobs
and
Da'Rel Scott
dealing with hamstring injuries, the Giants will work out running backs today.
The one name I heard was
Jeremy Wright
, the former Louisville back the Giants signed as an undrafted free agent and cut after two days of minicamp. Jason LaCanfora of CBSSports.com reported on Twitter on Monday night that
Peyton Hillis
was among the others scheduled to work out today. Usually, the Giants will bring in several guys for workouts at a position of need and pick one (if any) to sign. It's also possible that Jacobs could be ready for the next game, on Monday night against the Vikings, or that the Giants could offer rookie
Michael Cox
his first NFL carries. It's an increasingly desperate situation,
as Kieran Darcy writes
.
Behind enemy lines:
The Vikings are hoping to decide on a starting quarterback for Monday's game by Wednesday of this week, though it's no guarantee that they can. The sense you get is that they'd love for newcomer
Josh Freeman
to be up to speed in time to play this game, but that they have to be realistic about the chances of that happening. Ben Goessling
thinks Freeman is going to get the start
in this game.
Around the division
:
Tough news for the Cowboys
, who lose top pass-rusher
DeMarcus Ware
for a few weeks due to a pulled quad and likely won't have starting running back
DeMarco Murray
next week either. Obviously, the defense works best with Ware in there, but there's a lot of evidence over the past few years that the Cowboys' offense works best when Murray is playing, too. Could be a chance for the Eagles to catch the Cowboys at their weakest and take over first place in the NFC East.
Around the league:
Jeff Chadiha thinks the 6-0 Chiefs could bolster their chances for the stretch run by
bringing back
former Chiefs great
Tony Gonzalez
to help the passing game at tight end. And he's right, of course. Gonzalez would help almost anyone. I just feel it's unlikely that Gonzalez would want a trade. He didn't come out of retirement because he was dying to play again. He came out to play for the Falcons, specifically, because of his relationships there and his belief in their chances to win the Super Bowl. Obviously, those chances are in big trouble now, but even so, I wouldn't assume Gonzalez would just jump at a chance to play for any contender.
September, 19, 2013
9/19/13
8:00
AM ET
Your daily morning check-in on news and notes about and of interest to the New York Giants.
The news of the day:
Lots of talk around the Giants on Wednesday about the pass rush, and what can be done to jump-start a unit that's come up with only five sacks in its past seven games.
I personally think
it's only going to get back to where it needs to be if and when
Jason Pierre-Paul
is back to full strength. And the guy did just have back surgery. It's at least possible that he's never the same again, right? Ohm also checks in on the
"terrible" run game
.
Behind enemy lines:
Cam Newton
struck me as extraordinarily upbeat and positive on the conference call with Giants writers Wednesday. He apparently
struck the Panthers writers that way, too
. Newton appears to be making an effort to be more of an outward leader, which is something the 0-2 Panthers likely could use. The Giants were able to contain Newton when they clobbered Carolina last season, but he presents a dual challenge as a passer and a runner for a team that's struggling even to get to stationary quarterbacks.
Around the division:
The Giants aren't the only NFC East team struggling to run the ball. The
Dallas Cowboys
have struggled to get their run game going behind
DeMarco Murray
, even though Murray seems healthy for a change. They're hoping the Rams, against whom
Murray had his breakout game in 2011
, provide some relief. But the Rams are a bit tougher up front than they were that year.
Around the league:
The stunning NFL news of the day was the
Cleveland Browns
'
trade
of 2012 first-round pick
Trent Richardson
to the Colts for a 2014 first-rounder. Gives the Browns two first-rounders next year, which I assume they'll use to try to secure a franchise quarterback. But what's amazing about that is that they had two first-rounders just last year and used them to get Richardson and quarterback
Brandon Weeden
. With the new coaching staff apparently (and understandably) dissatisfied with Weeden, they end up basically taking a do-over with the Richardson pick. Which is fine, but hard not to feel like two years got wasted in the meantime, right? Anyway, I'm back on "NFL Insiders" today at 3 p.m. ET on ESPN to discuss this and many other topics. Please tune in.
September, 6, 2012
9/06/12
11:45
AM ET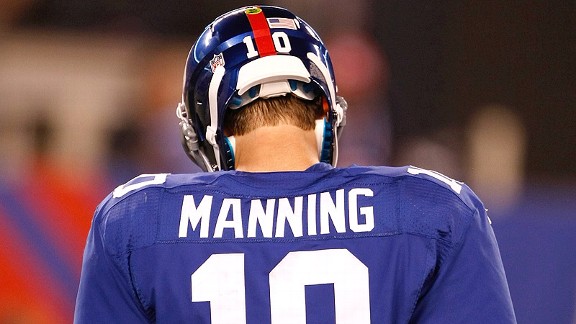 Scott Boehm/Getty ImagesAfter Eli Manning & Co.'s season-opening loss to Dallas, the report card isn't exactly glowing.
Here are my grades from the Giants'
season-opening loss
to the Cowboys.
December, 10, 2011
12/10/11
12:32
PM ET
The Giants have faced Tony Romo before. The same goes for Dez Bryant, Miles Austin and Jason Witten. For the most part, the Giants are very familiar with the Cowboys offense --- except for breakout rookie running back DeMarco Murray.

For the first time on Sunday, the Giants will face Murray, the rookie who has revitalized Dallas' run game and is a candidate for Offensive Rookie of the Year. Murray has rushed for 872 yards and two touchdowns on the year and also has 25 catches for 177 yards.

"(He) plays hard," Linebacker Mathias Kiwanuka said. "Has good athletic ability. Understands protection schemes and those kind of things."

Over the past few seasons, the Giants have seen the likes of Marion Barber, Felix Jones and Tashard Choice in the Cowboys backfield. This year, it's Murray's chance to shine. The third-round draft pick out of Oklahoma has run with the starting position ever since he replaced an injured Jones against St. Louis on Oct. 23.

Murray is a dual threat out of the backfield, providing speed and giving Romo an underneath option if plays don't develop down the field. With Jones now healthy and spelling him at times, it makes the Cowboys very dangerous offensively.

"DeMarco Murray coming out of college was a hell of a player," defensive end Dave Tollefson said. "He was just dinged up. You've seen him get back to that level and they're doing a great job up front, no doubt. They're blocking real well."

Stopping Murray will certainly be a challenge for a Giants rush defense that is among the worst in the league. The Giants give up 127 yards per game on the ground while Dallas is rushing for 114.8 yards per game. Just as recently as two weeks ago vs. New Orleans, the Saints rushed for 205 yards on the Giants.

Giants coach Tom Coughlin said he "really" likes Murray, calling him a physical runner. He said that the strong run game has made Dallas' offense more balanced and the Cowboys are doing some good things in that regard.

Tollefson said that the Cowboys offense has done a great job each week of doing whatever it needed to do to get the win, whether that be emphasizing the run or emphasizing the pass. With so many weapons on offense, Dallas can beat teams in a variety of ways.

Still, for the Giants on Sunday, stopping Murray will be a key to the game. If the rookie has a big day, it could be a long Sunday night for the visiting team.

"It gives them the ability to do things that they like to do," Kiwanuka said of how Murray changes the Cowboys offense. "They like to run the ball and throw the ball when it's necessary. You take a guy like that out, it changes up their tendencies and things they have to do. We have to understand they're going to be more effective than maybe they have been in recent weeks. As long as we do everything we're supposed to do, we should be fine."
November, 18, 2011
11/18/11
1:46
PM ET
»
NFC Final Word
:
East
|
West
|
North
|
South
»
AFC
:
East
|
West
|
North
|
South
Five nuggets of knowledge about Week 11:
Cowboys going conservative?
According to ESPN Stats & Information,
Dallas Cowboys
quarterback
Tony Romo
is throwing downfield with much less frequency over his past four games. In the Cowboys' first five games of the season, Romo averaged 6.6 passes of 15 or more yards downfield per game and had a completion percentage of 48.5 with three touchdowns and two interceptions on those throws. But in the past four games, he's averaging only 4.5 such attempts per game and completing 61.1 percent of them with five touchdowns and just one interception. So while he's still taking his shots downfield, Romo seems to be doing so more judiciously and with greater effectiveness.
[+] Enlarge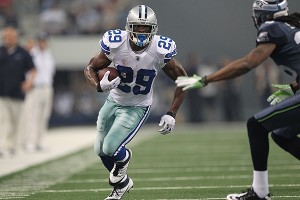 Matthew Emmons/US PresswireDallas running back DeMarco Murray has 601 rushing yards over the past four games.
Run game a team effort
: A big part of the reason Romo hasn't had to go downfield as much is the emergence of rookie running back
DeMarco Murray
, who has 601 rushing yards over the past four games. But it looks as though improvements on the offensive line have had more than a little bit to do with Murray's success. Stats & Info says Murray's 3.3 yards per carry after contact on runs between the tackles is the best such average in the NFL this season, and his 4.0 yards per carry
before
contact on runs between the tackles is also the best. So he's hard to bring down, sure, but they're also opening up nice holes for him.
Bag the blitz:
The Cowboys ought to be able to pressure
Washington Redskins
quarterback
Rex Grossman
into mistakes out of their base 3-4 defense. Of Grossman's 11 interceptions this season, nine have come in situations when the opposing defense sends four or fewer rushers. The Cowboys have nine interceptions as a team this season when rushing four or fewer, which is the fourth-best figure in the NFL. With
DeMarcus Ware
coming off the edge, they don't need much help getting to the quarterback. And it appears Grossman is the kind of quarterback who will force a throw and make a mistake even when faced with minimal pressure.
Home away from home:
Counting playoff games, the
Philadelphia Eagles
have won four straight road games against the
New York Giants
. That's their longest road winning streak against the Giants since they rattled off eight in a row from 1974 to 1981. Eagles fans and Giants fans alike will remember the last time these teams met in the Meadowlands as the game in which the Giants blew that huge second-half lead and
DeSean Jackson
ran a punt back with no time left on the clock, delivering a victory that propelled the Eagles to the division title and helped dash the Giants' playoff hopes. This season, though, it's the Eagles who blow the fourth-quarter leads (in five of their six losses), and Jackson has been a non-factor in the return game as well as the passing game.
Two-minute Manning:
Giants quarterback
Eli Manning
has four touchdown passes so far this season in the final two minutes of either the first or second half of a game. ESPN Stats & Information says that's tied with New England's
Tom Brady
for the most such touchdown passes in this league this season, and that since the start of 2008, no quarterback in the league has more touchdown passes in the final two minutes of halves than Manning, who has 20. That puts him ahead of his big brother,
Peyton Manning
, who has 19 -- two ahead of the Saints'
Drew Brees
and four ahead of Romo and the Bears'
Jay Cutler
. Interesting list.
November, 11, 2011
11/11/11
1:31
PM ET
»
NFC Final Word
:
East
|
West
|
North
|
South
»
AFC
:
East
|
West
|
North
|
South
Five nuggets of knowledge about Week 10:
DeMarco tough to bring down:
One of the things that's made
Dallas Cowboys
rookie running back
DeMarco Murray
a success in his past three NFL games is his ability to break tackles. According to the ESPN Stats & Information Group, Murray is averaging 3.1 yards per rush after contact, which is the best figure in the league among players with at least 40 rush attempts. The Saints'
Darren Sproles
and the Texans'
Ben Tate
are tied for second on that list at 2.8 yards per carry after contact. It doesn't appear as though
Felix Jones
will play this week, so Murray has the Cowboys' backfield duties all to himself for another game and should retain the lion's share of the carries even once Jones returns.
[+] Enlarge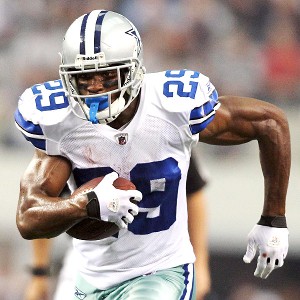 Tim Heitman/US PresswireDallas rookie DeMarco Murray has rushed for 466 yards in his past three games.
Redskins' O is a no-go:
The
Washington Redskins
have scored a total of 11 points over their past two games. They've also punted 11 times. That's not a good ratio of points to punts, 1-to-1. You want that ratio to come up a little bit if you're going to do something like win. The Redskins have five turnovers, four failed fourth-down conversions, a missed field goal, a made field goal and a touchdown over those two games. And of course you know that
John Beck
is 0-7 in his career as an NFL starting quarterback. The first 0-4 of that came with Miami in 2007. He's hoping his first career win can come in his return to South Beach.
Taking the fourth:
If NFL games had just three 15-minute periods, the
Philadelphia Eagles
would be among the best teams in the league. They have outscored their opponents by 57 points in the first three quarters of games this year, which is the fourth-best figure in the NFL. But in fourth quarters, they've been outscored by a total of 36 points. They've held fourth-quarter leads in four of their five losses, making them the third team in league history to blow fourth-quarter leads and lose in at least four of their first eight games. The others were the 1954 Packers and the 1999 Saints. So if the Eagles go into the fourth quarter with a lead Sunday against the Cardinals... you know... don't change the channel.
Comeback kids:
Speaking of fourth quarters,
New York Giants
quarterback
Eli Manning
leads the NFL with five game-winning drives in the fourth quarter this year. 49ers quarterback
Alex Smith
, the Giants' opponent this week, is second in the league with three of them. So whichever team takes a lead into the fourth quarter Sunday in San Francisco... you know... don't change the channel.
Second half start:
The Giants are in first place with a 6-2 record at the midpoint of their season. But as every Giants' fan can tell you, the second half of the season is where things get interesting. Since Tom Coughlin took over as their head coach in 2004, the Giants' second-half record is 24-32, which ranks 24th in the league. The Giants would love to get the second half kicked off the right way with a big win over a potential playoff opponent in San Francisco.