New York Giants:

devon kennard
July, 25, 2014
Jul 25
1:10
PM ET
EAST RUTHERFORD, N.J. --
Jon Beason
can't practice with his
New York Giants
teammates right now because he is still working his way back from the broken foot he suffered in organized team activities. The middle linebacker, whose re-signing was such a high offseason priority, said Friday that he has been running on an underwater treadmill and trying to work out the parts of his body he can while letting the foot heal.
Beason
At the time of the injury, doctors gave Beason a recovery timetable that could have him back for the Sept. 8 opener in Detroit but doesn't guarantee that. Friday, Beason was asked how difficult it would be to play in the regular season without first playing in any preseason games.
"Unfortunately, I've done it before," said Beason, who has struggled with injuries throughout his career. "And I hate it, because you want to be in there getting those live reps with the guys. Preseason games, you don't put much stock in them, but you need them to get ready. The one thing you can't simulate, even out here in practice, is tackling -- live tackling to the ground."
For that reason, Beason hopes his foot will progress to the point of allowing him to play in at least one of the Giants' five preseason games.
"I would hope so," Beason said. "We want to be smart about it, and obviously I'm going to do what they tell me. But I hope to get in a game in the preseason and get some reps. I like to think I'm a little bit superhuman and I heal a little faster, but they gave me a timetable and I've got to stick with that."
In the meantime, veteran
Jameel McClain
has taken over for Beason in the middle and rookie
Devon Kennard
has moved into McClain's spot at strongside linebacker.
July, 24, 2014
Jul 24
5:45
PM ET
Here are some photo highlights from Thursday's practice at New York Giants training camp in East Rutherford, New Jersey.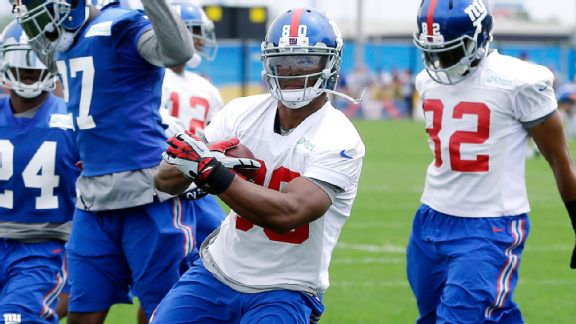 AP Photo/Seth WenigVictor Cruz makes it into the end zone.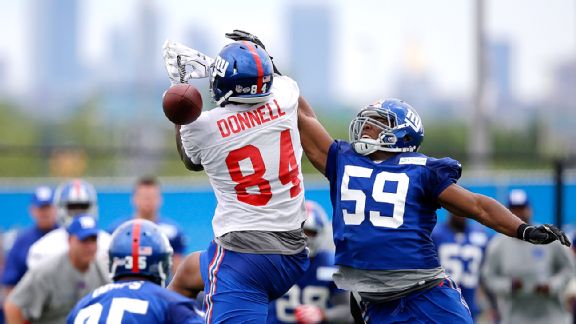 AP Photo/Seth WenigOutside linebacker Devon Kennard knocks down a pass meant for tight end Larry Donnell.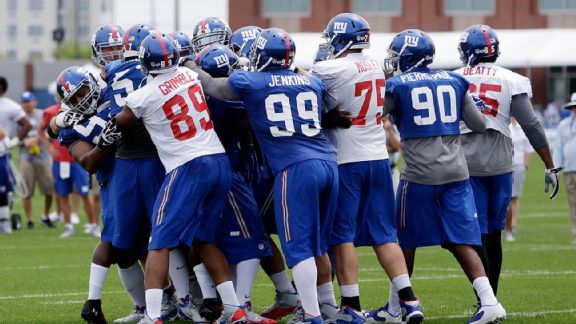 AP Photo/Seth WenigIt wouldn't be training camp without a scuffle or two as the temperature and tension rise.
July, 23, 2014
Jul 23
9:00
PM ET
Here are some photo highlights from Wednesday's practice at
New York Giants
training camp in East Rutherford, New Jersey.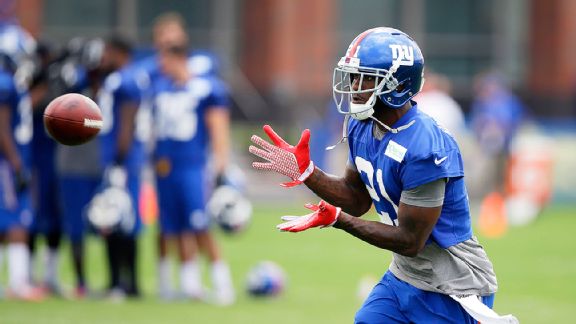 AP Photo/Seth WenigCornerback Dominique Rodgers-Cromartie practicing some momentum-stopping interceptions.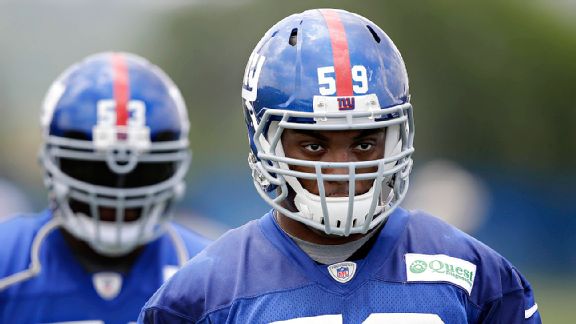 AP Photo/Seth WenigRookie linebacker Devon Kennard looks determined to make it happen.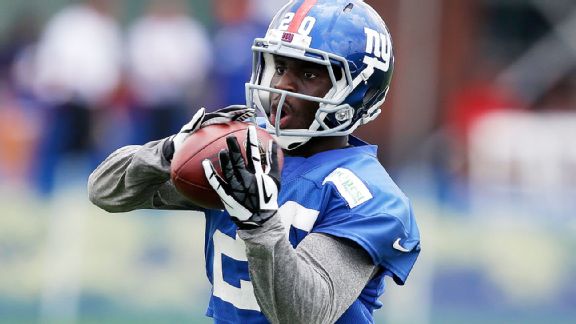 AP Photo/Seth WenigCornerback Prince Amukamara getting in a little pick practice.
July, 23, 2014
Jul 23
4:20
PM ET
[+] Enlarge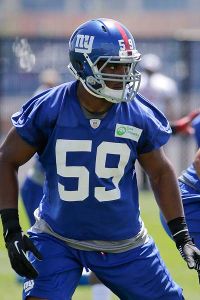 Julie Jacobson/AP PhotoThe Giants have seen great things out of rookie LB Devon Kennard through offseason team activities.
EAST RUTHERFORD, N.J. -- The
New York Giants
are desperate for one of their middle-round or late-round draft picks to turn out to be a helper. It's been way too long since that happened for them. But while it's still incredibly early, what they've seen so far from 2014 fifth-round pick
Devon Kennard
has them pretty excited.
The former USC linebacker has been working at the strongside linebacker position in early training camp practices, but he got some work at the vital middle linebacker spot in spring practices and showed an ability to rapidly and effectively pick up the responsibilities that go along with that position. With starting middle linebacker
Jon Beason
out, Kennard is likely the next option for that position behind veteran
Jameel McClain
. And after McClain was carted off the field with a foot injury Tuesday, the contingency plan was to use Kennard in the middle Wednesday. And they didn't expect the fact that he's a rookie to hold him back.
"Not at all if he can do it," linebackers coach Jim Hermann said before Wednesday's practice. "If he can handle it and get everyone lined up and understand the nuances and where he belongs, sure. He's a pretty thick kid, he can hit people, so that's good."
Kennard may be a "thick kid" physically, but he's a sharp one mentally, and that's where he's stood out in this embryonic portion of his career. He embraces the idea of playing the on-field leader role, knowing everyone's assignments and helping make sure they're carried out. And he's proud his coaches view him as such a quick study.
"I think they're definitely happy with how fast I've picked things up, but it's still a long way to go," Kennard said. "I still have a lot of things to correct from yesterday and I'm still taking steps every day to improve and to make sure I know what I need to do to keep playing at the level they expect of me."
Thing about it is, the Giants don't tend to expect much from their rookies early. If Kennard can be a major contributor on defense this year, that would be a huge bonus and make them feel very good about this particular fifth-round pick. And while the pads have yet to go on and the preseason games have yet to start, so far, so good.
"He played at USC and he played under four different coordinators there and played four different positions," Hermann said. "So I think he kind of got lost in the college shuffle a little bit. Again, we've got to go out and see him in live games, but based on what you see of him on film, he's not going to shy away from that part of it. He's calm, cool and collected. It's the speed of the game that's the question, and we'll see how he plays. But based on what we do out here, I don't think he's going to have a problem."
June, 28, 2014
Jun 28
10:00
AM ET
One last
New York Giants
Twitter mailbag before I start a too-brief summer vacation ...
@DanGrazianoESPN Expect to see more corner nickel looks compared to three safety looks due to relative depth at those positions? #nygmail

— Ryan Gallasch (@RyanGallasch) June 26, 2014
@DanGrazianoESPN
: Yeah, I think that's a fair expectation, and I think you saw the Giants lean that way last year with
Terrell Thomas
as the regular nickel corner. They signed
Walter Thurmond
to play that position, and he's as good at it as anyone in the league. And they're thin at safety with
Will Hill
suspended and released,
Stevie Brown
coming off knee surgery and
Quintin Demps
having been signed primarily to return kicks. They have been talking a lot about keeping
Antrel Rolle
at safety, rather than using him all over the field as they've done in years past, and obviously sticking with a three-cornerback look would help with that. I honestly don't see the need for the old three-safety package, especially if
Jon Beason
is back healthy at middle linebacker early in the season. It worked well during that 2011 Super Bowl season, but that year they were thin at cornerback and linebacker and deep at safety. You're right if your point is that the scheme should be based around the personnel, and right now cornerback is a Giants strength.
@DanGrazianoESPN #nygmail who are the starting LB corp if beason is out? How many wrs are they going to carry and who?

— Ibleedbigblue (@tmerritt51) June 26, 2014
@DanGrazianoESPN
: With Beason nursing a foot injury, the starting middle linebacker in training camp (and probably for Week 1) is going to be
Jameel McClain
. He projects as the starting strongside linebacker if Beason's healthy, but he's taking over in the middle while he's not.
Jacquian Williams
is the front-runner for the starting weakside linebacker spot, and the strongside position should belong to either
Spencer Paysinger
or rookie
Devon Kennard
, who impressed coaches with his minicamp performance. As for receivers, that's an interesting case. My first thought is that they keep six --
Victor Cruz
,
Rueben Randle
,
Mario Manningham
,
Odell Beckham Jr.
,
Jerrel Jernigan
and
Trindon Holliday
. But Holliday isn't really likely to factor as a receiver, as he's pretty much exclusively a kick and punt returner. So that would leave them with five real receivers (four if Manningham's knee won't let him answer the bell). That opens it up for someone like a
Marcus Harris
,
Julian Talley
or
Corey Washington
to possibly sneak onto the roster with a good camp, but that's a long shot.
@DanGrazianoESPN #nygmail why was Beatty so bad last year and will he rebound? It seems the rest of Oline will fall into place if he's good

— David Lee (@giwook11) June 20, 2014
@DanGrazianoESPN
: Based on my conversations with Giants people (and with
Will Beatty
himself) last year and this spring, I think the main reason Beatty struggled was technique. He's not a big, monstrous, mauling left tackle who relies on strength and an ability to overpower people. Beatty's success, when he's had it, has had more to do with quickness and athleticism. I was told last season while he was struggling that Beatty was playing with his hands too low, giving away leverage and hurting his ability to dictate his matchups. That sounds like an easy thing to fix, but bad habits are tough to break, and as the year went along the struggles got into Beatty's head. He admitted in December that he'd felt the weight of his free-agent contract and let the pressure get to him, and I think he was looking forward to an offseason to clear his head. The problem is that Beatty's offseason has been about recovery from that broken leg he suffered in the Week 17 game against the Redskins, and he hasn't had time to practice getting back into good habits. I agree that a Beatty rebound would have a positive ripple effect along the rest of the line, but at this point you have to consider him a major question mark, and not just because of the injury.
@DanGrazianoESPN Why did NYG let Mike Pope go? #nygmail

— Zachary Kretchmer (@1970Bing) June 20, 2014
@DanGrazianoESPN
: The firing of their longtime tight ends coach does rank among the more surprising moves of the Giants' offseason. But when they hired young Ben McAdoo as their new offensive coordinator, it was only fair to assume he'd want to bring in a few of his own coaches and help construct the staff. During those discussions, it was decided that Pope's position would be one of the ones to turn over. They moved wide receivers coach Kevin M. Gilbride (the son of the former offensive coordinator) to tight ends coach, Sean Ryan from quarterbacks coach back to wide receivers coach and hired Danny Langsdorf as the new quarterbacks coach. Pope was a Giants icon, and the only person whose name is on all four of the franchise's Super Bowl trophies. But there was an effort to get a bit younger on the coaching staff this offseason. Tight end
Adrien Robinson
spoke during OTAs about how he's felt a different kind of connection with the younger Gilbride than he did with Pope, and if that's the case with the rest of the group it might answer your question. Thanks for all of your questions. If you need me, I'm on the golf course.
June, 21, 2014
Jun 21
10:00
AM ET
You used the #nygmail hashtag on Twitter this week, and I thank you for it.
@DanGrazianoESPN who are opening day LBs #NYGmail

— Maije (@benantell) June 20, 2014
@DanGrazianoESPN: Let's assume, for the sake of this discussion, that middle linebacker Jon Beason does not make it back from his foot injury to play for the New York Giants in Week 1 in Detroit. If that is the case (as seems likely), then Jameel McClain is the front-runner to start at middle linebacker.
At this point, the starters on the outside would be Spencer Paysinger and Jacquian Williams, but rookie fifth-rounder Devon Kennard impressed coaches in the spring program and could be in the mix to start on the strong side. What's interesting to me is that linebackers coach Eric Hermann had a lot to say Thursday about the improvement Williams has shown as a weakside linebacker in the Giants' base defense. They already love him on the weak side in their nickel package due to his speed and coverage ability. But if they like him there in the base as well, Williams might be ahead of Paysinger to start there even once Beason returns and McClain moves back to the strong side. So to answer your question, I'd expect to see McClain in the middle, Williams on the weak side and either Paysinger or, if he has a big camp, Kennard on the strong side in Week 1.
@DanGrazianoESPN #nygmail. Do they believe in Nassib if god forbid Eli got hurt. #Dontwantthepainterstarting

— Ibleedbigblue (@tmerritt51) June 20, 2014
@DanGrazianoESPN: No. I mean, obviously the short answer is no at this point, because Ryan Nassib, who didn't play at all as a rookie (by design) is still a work in progress.
Giants coaches like his progress. Quarterbacks coach Danny Langsdorf on Thursday praised Nassib's intelligence and his ability to pick up the new system but said he's still got to work on his accuracy and his timing. Which is understandable, given that he's still a young quarterback who's never played in the league. It's clear they view him as the No. 2 right now behind Eli Manning -- or that they're at least giving him every chance to beat out Curtis Painter for that spot in camp. But no, if Manning got hurt, at this point the Giants would not have honest confidence in Nassib or anyone else who might replace him.
Manning costs the Giants 17 percent of their salary cap. He's the player around whom their team is built. If they don't have him, they simply won't be a remotely competitive team. Even if Nassib comes quickly in camp and becomes a viable No. 2, there's no chance that, in 2014, he offers anything close to what Manning offers as a starting NFL quarterback. All the Giants want from Nassib is continued growth and development, and their hope is that he's a decent backup/emergency option this year and maybe more down the road.
@DanGrazianoESPN giants are one injury to JPP or Jenkins and that d line will be just as bad as last years O line. You agree? #nygmail

— Hojo (@bkrupp47) June 20, 2014
@DanGrazianoESPN: I agree that the Giants' defensive line is questionable behind the starters, and that there's a chance it could be a bad defensive line. They desperately need Jason Pierre-Paul to stay healthy and dominate from the defensive end position, because honestly they're not going to get much pass rush from the other side at this point. Mathias Kiwanuka and Robert Ayers are what they are, and they're not the kinds of defensive ends who are going to whip tackles regularly and pile up sacks. And Damontre Moore is still developing.
On the inside, you mention Cullen Jenkins, and I agree he's key because he's the one guy in there who's not a question mark. Coaches were raving this week about the development defensive tackles Johnathan Hankins and Markus Kuhn have shown, and if so then that's a positive thing for them and for the Giants. But there's no way to know until they can practice in pads and play against other teams what they really have in there. To me, the Giants are hoping a lot of people -- namely, Hankins, Kuhn, Moore, Ayers and Kiwanuka -- outperform anything they've yet shown in the league in order to make them strong on the defensive line. It's not nuts to think one or two of them will, but... all of them?
@DanGrazianoESPN If season started today, who would be the 5 o-linemen? #nygmail

— Chris Burns (@chrisburnzy) June 20, 2014
@DanGrazianoESPN: The first-team offensive line in minicamp was, left to right: Charles Brown, Geoff Schwartz, J.D. Walton, Brandon Mosley, Justin Pugh. Which, no, is not good. They believe Chris Snee could play right guard if he had to right now, but he's working his way back from elbow and hip surgeries and they're taking it slowly with him. And they're also hoping Will Beatty is healthy enough to play left tackle in training camp ahead of Brown, who was signed as a backup. Rookie Weston Richburg is in a straight-up competition with Walton for the starting center spot. So it's possible that by Week 1 it's Beatty/Schwartz/Richburg/Snee/Pugh, which would look a lot better than what they ran out there this week. But as of now, that's your starting five.
Mosley's an interesting case. They like him and think his development has been hurt by injuries. But the fact that Snee and John Jerry (knee surgery) haven't been able to get on the field helped Mosley get a lot of first-team reps this spring. And that can only help him if they need to turn to him to play a starting role in camp, in the preseason or in the season.
Thanks for all of your questions. Enjoy the first weekend of summer.
June, 19, 2014
Jun 19
5:00
PM ET
EAST RUTHERFORD, N.J. -- New offensive coordinator Ben McAdoo was the main attraction at Giants camp Thursday, but defensive coordinator Perry Fewell took questions from the media as well.
Fewell is entering his fourth season on the job, but had several new players to incorporate this spring, including at least a couple starters.
Dominique Rodgers-Cromartie
will play cornerback opposite
Prince Amukamara
, with
Walter Thurmond
seeing plenty of action as well as the team's nickel corner.
Jameel McClain
will almost certainly start at linebacker -- in the middle until
Jon Beason
is healthy, and then alongside Beason after that. Then there are the other free-agent acquisitions, plus the team's draft class.
Fewell likes the new "tools" at his disposal. "I definitely think those tools allow us to do a lot more different things than we've done in the past," he said. "I was very excited about what we were able to install [this spring], some of the things we were able to do, the information they retained, and executed at a high level."
The most attention-grabbing additions the Giants made this offseason, defensively, were in the secondary. But the team lost 50 percent of its starting D-line with the departures of
Linval Joseph
and
Justin Tuck
, both of whom played well in 2013.
The Giants do have veteran replacements for each in
Mike Patterson
and
Mathias Kiwanuka
, to plug in with
Cullen Jenkins
and
Jason Pierre-Paul
. But both Fewell and defensive line coach Robert Nunn singled out young defensive tackles
Johnathan Hankins
and
Markus Kuhn
in particular on Thursday.
"I've been extremely impressed with both those guys," Fewell said. "Technique-wise they have accomplished a lot in Phase 1, Phase 2 and Phase 3 of the offseason program. And then just their knowledge of the game -- I think they've done a really, really nice job."
Hankins, a second-round draft pick in 2013, played in 11 games last season, with 16 tackles. Kuhn, a seventh-round pick in 2012, tore an ACL late in his rookie year, but was able to play in five games late last season.
"We've got a very healthy situation there at defensive tackle," Nunn said. "We've got two veterans (Jenkins and Patterson) that have had an outstanding offseason. And we've got two young players that have come in here -- it was every day that one of those two, Hankins or Kuhn, either myself or Perry was pointing out positive things that they did, every single day."
So the Giants feel good about what they have up front. They're expecting Beason to return from his injured foot early in the season, if not by Week 1, and aren't too concerned about his absence in the meantime.
"We install, we go as we need to go, and we go with it with the intent that Jon will be ready when he's ready," Fewell said. "Just him being in the meeting room, being there, hearing his voice is enough for us. So we proceed as follows."
Fewell also spoke very highly of rookie linebacker
Devon Kennard
, a fifth-round pick who got some reps with the first team during minicamp this week. "He blew us away," Fewell said, of the USC product's football knowledge.
And regarding the secondary, beyond the new additions, Fewell sounds very pleased to have safety
Stevie Brown
back, after Brown missed all of last season with a torn ACL.
"He looked pretty good this spring," Fewell said. "Obviously he hasn't tackled, he hasn't hit anyone, but Stevie is -- we'll use the term, on point. He's on point to returning to that form where he was when he left off."
It's easy to be optimistic in mid-June, with the regular-season opener nearly three months away. We'll learn a lot more starting July 21, when the Giants reconvene here for training camp.
This was Fewell's answer when asked about second-year defensive end
Damontre Moore
's progress, but it applies across the board:
"I would really like to give you a set answer. [But] I think preseason games will be the measuring stick," Fewell said. "We all look pretty good when we're running around in underwear, shorts. But when you get hit in the mouth and that person reacts, that's when you can measure and find out where you really are."
June, 16, 2014
Jun 16
9:30
AM ET
So yeah. Took a little vacation time last week. Relaxed, unplugged, all that good stuff. Figured I'd catch up on the
New York Giants
when I got back to work this morning, see who got the latest drug suspension, stuff like that...
Wait.
Jon Beason
broke
his foot in organized team activities
?
Beason
Well, that's not good.
The team-issued prognosis indicates Beason will certainly miss all of training camp and quite possible the season opener as he heals, and that's a blow. The Giants finally invest in a linebacker and he breaks his foot in OTAs. Can't make this stuff up.
We've written and talked a lot about Beason as a team leader, which he was instantly upon arrival from Carolina last October, and that's going to be difficult to replace. His intelligence and his ability to get and keep things organized from play-to-play in the front seven was something that stood out. He also played quite well, showing surprising speed, good instincts for the ball and a toughness that helped fortify those leadership credentials. When your teammates see you, as a 6-foot, 235-pound linebacker, willing to take on a 300-pound offensive tackle in the open field, that gets their attention. The Giants will miss Beason for however long he's out and will be eager to get him back as soon as possible.
Meantime, who plays middle linebacker? The options don't look fantastic.
Mark Herzlich
has played it, but not so well that the team didn't feel the need to go out and get Beason last year. Rookie fifth-rounder
Devon Kennard
apparently worked in Beason's place last week after the injury, but that'd be a lot to ask of a rookie fifth-rounder.
Jameel McClain
, signed from the Ravens to play one of the outside linebacker spots, said two weeks ago he's been working alongside Beason and helping make the calls. But McClain doesn't profile as a three-down playmaker on the inside.
If you want to look on the bright side, it's easy to say that they were able to fix a middle linebacker problem last year by trading a seventh-rounder for Beason, and that there will be options on the market for a good price. But the Cowboys have been looking for the same thing since
Sean Lee
got hurt a few weeks back, and they haven't turned up much. The Giants got a real gem in Beason and are unlikely to replicate that success if they have to go out on the market and find a replacement for him this year.
May, 10, 2014
May 10
3:43
PM ET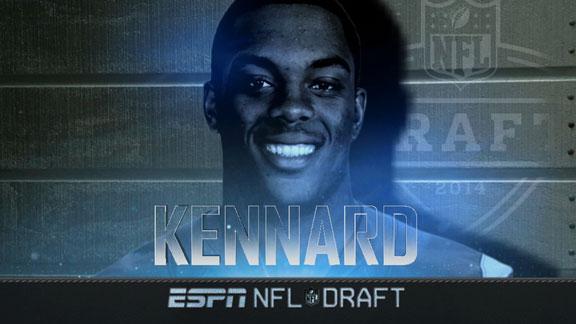 The pick
:
Devon Kennard
, outside linebacker, USC
My take
: The guy is a bit of a tweener pass-rusher who played outside linebacker in a 3-4 in college, but guess what? Yeah, that's right. He was a team captain at USC. (Time to link back
to this
from last night).
Todd McShay gave Kennard a seventh-round grade, and our ESPN scouts rated him the No. 16 outside linebacker in the draft. But as we discussed earlier with the Giants' first fifth-rounder,
Nat Berhe
, what they're looking for here are hard-working smart guys who can contribute right away on special teams and maybe develop into more useful players than that down the road. Everyone being taken Saturday is a developmental player, and the Giants are looking for guys whose makeup leads them to believe they can develop relatively quickly.
His father, Derek Kennard, played 11 seasons and started 122 games in the NFL as an offensive lineman for the Cardinals, Saints and Cowboys from 1986-96.
Injury concerns?
: Kennard wasn't overly healthy in college. He had hip and thumb surgeries following the 2010 season and tore a pectoral muscle prior to the 2012 season.
What's next:
Unless they trade it back to add more picks, the Giants have one pick left in this year's draft. It is the 11th pick of the sixth round, No. 187 overall. They traded their seventh-round pick for
Jon Beason
during the 2013 season.