New York Giants:

eric decker
February, 7, 2014
2/07/14
9:30
AM ET
You don't think the
New York Giants
plan to bring back free-agent wide receiver
Hakeem Nicks
and neither do I. Nicks is going to hit the open market, some team is going to look at his skill set and his pedigree vs. the rest of the free-agent wide receiver market and pay him a lot. The Giants aren't likely to be that team, not after the year he just had, not with a new offensive coordinator whose system may be more geared to the
Victor Cruz
/
Jerrel Jernigan
-type receivers they already have.

Nicks
However, the Giants will need to replace Nicks somehow if he does leave. They were terribly thin at the position last year, and even if you project Jernigan as a capable contributor based on his final three games and assume some development for
Rueben Randle
, the best you can say is the Giants go into next season with optimism about wide receiver but very little certainty.
We have discussed the possibility that the Giants use the No. 12 pick in the draft on a wide receiver such as Clemson's
Sammy Watkins
or Texas A&M's
Mike Evans
, but these are not things on which you can count. The draft is nearly two full months after the March 11 start of free agency this year, and 12 isn't a high enough pick to engender confidence about who'll be available and who won't. The Giants will have to look at the free-agent wide receiver market and see what their options are there.
Andrew Cohen at overthecap.com has taken a look at
seven free-agent wide receivers
-- Nicks,
Eric Decker
,
Jeremy Maclin
,
Julian Edelman
,
Anquan Boldin
,
Golden Tate
and
James Jones
-- and taken a stab at predicting where they'll end up and how much they'll get. He predicted none of the seven to the Giants, and he's predicting Nicks signs with the Lions for three years, $30 million with $13 million guaranteed. (I've been saying Patriots for Nicks, but if those are the figures then there's no chance.)
I could see the Giants targeting someone like Tate or Jones (both of whom are projected here to the Jets) as a Nicks replacement. I don't foresee them joining the Decker bidding (and don't really think they should). Maclin isn't likely to get out of Philadelphia, and he's recovering from ACL surgery anyway. Maybe he's a target next year if he's healthy. Boldin is 33, and not a long-term solution. Edelman is likely to be viewed as a
Tom Brady
creation and probably won't get the money he seeks even off his big year. Maybe he ends up being a worthwhile bargain for the Giants.
Of this group, I think Jones, who is 6-foot-1, makes the most sense for the Giants. His history with new offensive coordinator Ben McAdoo in Green Bay could help (or hurt, I guess, if McAdoo didn't like the guy). He won't break the bank, which makes sense given what they're already paying Cruz and the other needs they have for their salary cap room this offseason. And while he may not produce at Nicks' peak levels, the new Giants offense may not need him to do so. If they like Randle, want to give Jernigan some run and plan to throw it to Cruz 100-plus times anyway, this may be exactly the kind of guy they need.
January, 15, 2014
1/15/14
1:15
PM ET
In
Tuesday's post
on the potential cost of re-signing free-agent defensive tackle
Linval Joseph
, we addressed the manner in which the
New York Giants
traditionally have and have not used the franchise player designation. In summary, they don't tend to use it to freeze a player in place on a one-year deal because they're not ready to make a long-term commitment to him. They prefer to use it for its originally designed purpose -- to keep a player off the market while they finish the final details of a longer-term deal with him.
[+] Enlarge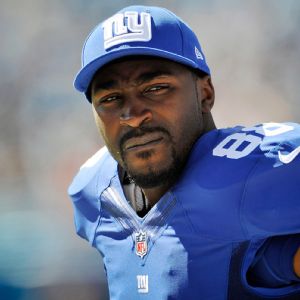 Ronald C. Modra/Sports Imagery/Getty ImagesHakeem Nicks had 56 catches for 896 yards but no touchdowns during the 2013 season.
However, I wonder if wide receiver
Hakeem Nicks
could challenge that philosophy this year. Nicks is an unrestricted free agent who's coming off his most disappointing healthy season, having played 15 of 16 games and failed to catch a touchdown pass. He was a source of obvious frustration to the coaching staff as the year went along, and multiple people within the organization have publicly cited substandard play by the team's outside receivers as a key reason the offense couldn't get on track. Add in Tuesday's hire of West Coast offense disciple Ben McAdoo as offensive coordinator, and you wonder if the outside receiver will remain a high-priority position, especially with a significant amount of money already committed to slot receiver
Victor Cruz
.
But Nicks is also a former first-round pick of the Giants and a player who helped them win a Super Bowl just two seasons ago. He has shown an ability to thrive as a No. 1 receiver in the NFL. The Giants have seen the best of Nicks as well as the worst, and if they believe that he's capable of returning to top form (he just turned 26 on Tuesday), they could decide they want him back.
If they do, it's unlikely they'll be willing to offer Nicks a long-term deal after the season he just had. Which means he'll want to test the market and trade on his name and past success to score as large a deal as possible. If he makes it to the open market, the Giants aren't likely to compete with other teams to sign him. But if they decide they want him back and they believe 2013 was an aberration, they could certainly franchise him and keep him from ever hitting the market.
There are problems with this strategy, not the least of which is that it could result in an unhappy player who causes the same problems in his 2014 contract year as he did in his 2013 contract year. The Giants have seen what Nicks is like with free agency hanging over his head, and it wasn't pretty. Franchising him and not extending him beyond 2014 could conceivably bring about a repeat of his performance from this past season. Another problem is cost, as the franchise number for wide receivers is likely to exceed $11 million this year. Nicks isn't worth that money based on his 2013 performance, and while the Giants do have cap room they also have many other needs on which to spend it.
Some will suggest that the Giants franchise Nicks and then try to trade him, perhaps for a second-round or third-round pick to a team that gets shut out of the
Eric Decker
market, needs a big-time threat at wide receiver and still views Nicks as one. But such deals are rare and difficult to pull off, and if the Giants franchised Nicks with that plan in mind and were unable to deal him, they'd be stuck with a player they don't necessarily want at a cost that makes it difficult for them to make their budget.
If they don't tag Nicks and let him sign elsewhere, it's possible the Giants would get a compensatory draft pick for him in 2015, but that depends on who else they lose and who they sign in free agency this year.
In the end, franchising Nicks makes sense for the Giants only if they believe he will play better in 2014 than he did in 2013, which means he'd have to somehow convince them that the contract issue wasn't part of his problem. Since he hinted strongly at every possible opportunity that it was, it would be hard to believe him. You never know how these things will work out, and it's possible that the Giants will be more desperate than we expect and give Nicks a longer-term deal. It's possible the deal Nicks seeks won't be out there for him and he'll agree to stay for a smaller or shorter-term deal. But the most likely scenario to me is that a team other than the Giants decides they like him and are willing to bring him in based on his reputation, age, physical talent and past achievements. And if that happens, the Giants will wish him well and look somewhere else for wide receiver help, if they haven't already.
December, 7, 2013
12/07/13
10:00
AM ET
You tweet
New York Giants
questions, I answer. So long as your questions are hashtagged #nygmail and make sense and I find them and pick them for this weekly feature and ... well, you get the idea.
Thanks for the questions. Enjoy the rest of your Saturday.
September, 15, 2013
9/15/13
6:10
PM ET
EAST RUTHERFORD, N.J. -- I've been trying my best, but I can't come up with one single thing the first half of this
New York Giants
-
Denver Broncos
game has shown us that might help us predict who's going to win it.


Battle of the Brothers? Fizzle. Broncos quarterback
Peyton Manning
has 200 yards on 18-for-29 passing. And the Giants'
Eli Manning
is 11-for-21 for 180. But no one can cash anything in. Denver's impressive opening drive should have been a touchdown, but rookie running back
Montee Ball
fumbled going across the goal line. The Giants' best chance to get into the end zone flamed out when tight end
Brandon Myers
tripped over his own feet in the open field. Denver receiver
Wes Welker
and
Demaryius Thomas
have had a few weird drops. Giants receiver
Hakeem Nicks
had a terrible wide-open drop on which he dislocated a finger. (He came back into the game.)
The run games? Meh. Denver's touchdown came on a well-blocked 20-yard touchdown run by
Knowshon Moreno
, but the Broncos only have 14 yards on their other 10 carries. The Giants have 19 total rushing yards on 10 carries. A huge third-down catch by Nicks and a pass interference penalty got Eli Manning and the Giants in position to score in the final minute, and but Eli threw an interception in the end zone with nine seconds left on the clock.
You get the point, right? Some good stuff, a lot of bad stuff and no real rhythm to the game. No one seems in sync. The interception looked like a case of miscommunication between Nicks and Eli Manning, and I'm sure everybody has a lot to talk to each other about at the half. The Giants will get the ball back to start the second half down 10-9.
Some more specific thoughts:
Second straight impressive game for Giants cornerback
Terrell Thomas
, who missed the past two seasons due to reconstructive knee surgeries and is playing the slot cornerback position. Thomas is tackling very well, as he did last Sunday when matched up against
Miles Austin
in the slot, and he's a big part of the reason Peyton Manning hasn't been able to operate over the middle as well as he'd like to. The Giants also are limiting Broncos tight end
Julius Thomas
, with the help of linebacker
Jacquian Williams
.
Running back
David Wilson
, who was pulled after two fumbles Sunday night and assigned to a remedial ball-carrying class all week in practice, has been working as the kick returner, as he did last year. He's got 17 yards on six carries in the run game, and it appears as though the Giants have decided they need to continue to give him the ball.
Brandon Jacobs
wasn't picking up yards when they were handing him the ball early in the game, and Wilson is doing better work inside, looking a couple of times as though he might be about to break a big one.
Myers was Eli Manning's most targeted receiver last week, and he is so far Sunday as well, with seven targets in the first half to Nicks' five and Cruz's four. No other Giant has been targeted more than once.
The Giants are 1-for-7 so far on third downs. That's... you know... not good.
September, 12, 2013
9/12/13
11:10
AM ET
EAST RUTHERFORD, N.J. --
New York Giants
cornerback
Prince Amukamara
did not practice Wednesday. He suffered a concussion in Sunday's game and has to pass several tests before he's cleared to practice and/or play in Sunday's home opener against the
Denver Broncos
. People around the Giants' building, including Amukamara, seemed upbeat Wednesday about his chances, and it's possible he'll practice Thursday afternoon.
Amukamara
This is a significant matter for the Giants because of their coverage needs against
Peyton Manning
and the Broncos' receivers. In many ways, Sunday night's opener in Dallas offered a preview of how the Giants plan to handle the Broncos. The Giants opened Sunday's game in a nickel defense, with three cornerbacks on the field, which makes sense because they have almost nothing at linebacker anyway and the Cowboys like to use three wide receivers. The Broncos also like to use three wide receivers, and all three of them are great, as is their young tight end, but we'll get to that in a minute.
The Giants on Sunday used
Terrell Thomas
as their nickel cornerback, playing him over
Miles Austin
in the slot. Thomas played off of Austin all night, giving him room to make catches, and Thomas told me after the game that the plan was to keep Austin in front of him and make sure to tackle well. Thomas is a good and willing tackler who liked the plan and basically carried it out. Austin's 10 catches look like a gaudy total, but his 6.0-yards-per-target average was a number Thomas and the Giants' defensive coaches counted as a win.
Thomas expects to be used the same way Sunday against the great Broncos slot receiver
Wes Welker
, who caught nine of his 11 targets for 67 yards and two touchdowns in Denver's opener against Baltimore. The plan against Austin was to avoid the big play, and they did it. Thomas will try to do the same with Welker -- keep him in front of him and contained.
On the outside, the Giants said all summer that their plan was to split the field and let Amukamara cover one side and
Corey Webster
the other. This is a shift from years past, when they would use Webster as the "shut-down" option on the opponent's best receiver and have him shadow the guy all over he field. Sunday night, they very rarely switched sides, though the Giants did shade a safety to whichever side
Dez Bryant
lined up on -- whether it was against Webster or Amukamara. The Broncos' best downfield threat is
Demaryius Thomas
, a big-bodied big-play threat in the mold of Bryant (and who actually went two picks ahead of Bryant in the first round of the 2010 draft). So it's possible the Giants would do the same thing -- shade the safety to Thomas' side and leave whichever corner is on the other side one-on-one on
Eric Decker
.
And that's why Amukamara's important. They'll feel a lot better about him one-on-one against Decker than they would about
Aaron Ross
in the same role. In fact, if Amukamara can't play and Ross has to start, it's possible they have to switch up their coverage plans and use Webster to shadow Thomas. That could mean a big night for Decker against Ross, the Giants' No. 3 or 4 corner.
As for the tight end, we saved it for last because there's not a lot the Giants can do here. Dallas'
Jason Witten
did what he wanted to do against the Giants, as he usually does, and
Julius Thomas
, who caught five passes for 110 yards and two touchdowns in Denver's opener, is positioned to have a big game as well. If middle linebacker
Dan Connor
has to miss the game with his neck injury, that leaves the Giants with four linebackers -- including a seemingly overmatched
Mark Herzlich
in the middle. They will need to find a way to get Thomas covered without help from the three corners, who will be otherwise occupied, and possibly without a safety, since they may be doubling the other Thomas. Someone like
Jacquian Williams
needs to step forward from the linebacker corps and show he can cover a tough tight end. Until then, this remains a significant weak spot in the Giants' defense that teams will work to exploit.