New York Giants:

Eric Herman
July, 19, 2013
7/19/13
1:49
PM ET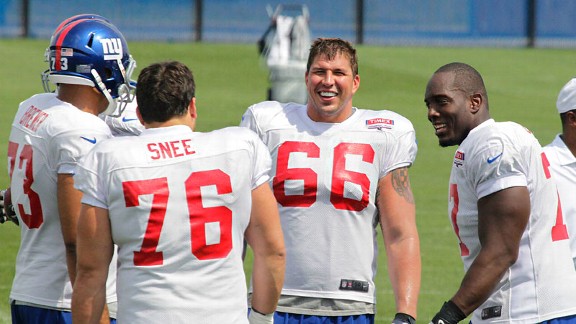 Tim Farrell/USA TODAY SportsWill David Diehl (No. 66) be a part of the Giants' starting offensive line in 2013? We'll soon find out.
As training camp approaches, we're counting down to camp by taking a look at the Giants, position by position.
Position:
Offensive line.
Projected starters:
LT
Will Beatty
, LG
Kevin Boothe
, C
David Baas
, RG
Chris Snee
, RT
David Diehl
.
Projected reserves:
T/G
Justin Pugh
, T
James Brewer
, C
Jim Cordle
, G
Eric Herman
, G
Brandon Mosley
, T
Matt McCants
, T
Selvish Capers
, G
Stephen Goodin
, G
Bryant Browning
, G
Chris DeGeare
and G
Michael Jasper
.
New faces:
Pugh, Herman, Browning, DeGeare, Jasper.
Going, going, gone:
T
Sean Locklear
.
Player to watch:
The man who wins the starting right tackle job. The veteran Diehl is the front-runner going into camp, but first-round pick Pugh and Brewer will get a chance to prove they can do the job. Diehl has battled through injuries the past couple of seasons but the coaching staff values his experience and versatility. The coaches trust Diehl, and that could end up being the deciding factor. If Pugh or Brewer are going to start, they will have to beat Diehl out. GM Jerry Reese is ready to see what Brewer can do with playing time. Brewer or Pugh could serve as an extra blocker if Diehl wins the RT job.
Potential strength:
The Giants have versatility, experience and some much-needed depth on the line. Diehl, Boothe, Pugh, Brewer and Cordle all can play multiple positions on the line. This is extremely important considering the Giants almost always get hit with injuries to the O-line. With Baas and Snee recovering from offseason surgeries, the Giants have used linemen like Boothe at different spots, which bodes well in case injuries shake things up. The Giants' O-line also did a good job of protecting
Eli Manning
last season, allowing 19 sacks, nine fewer than the previous year.
Potential weakness:
Age and health. By the end of September, Beatty, Boothe, Baas, Snee and Diehl will have a combined average age of 31. Snee and Baas also did not participate in OTAs and minicamp as they were coming off surgeries. The line was banged up last year, and co-owner John Mara said he wanted to see the group get stronger and better. The offensive line needs to impose its will on defenses more in the run game. The line showed it can dominate against the Browns last year when
Ahmad Bradshaw
rushed for 200 yards and
David Wilson
added 44 yards rushing.
Wild card:
Pugh. The Giants drafted Pugh in the first round because of his versatility. But they used him mostly at right tackle during the offseason training program to prep him for the right tackle competition. If Pugh has an impressive camp, the rookie could either win the right tackle job or be the extra blocker in big packages.
Tell us what you think of the offensive line entering camp.
May, 10, 2013
5/10/13
8:54
PM ET
EAST RUTHERFORD, N.J. --
Justin Pugh
made his Giants debut at right tackle in rookie camp.
The Giants drafted Pugh saying he can play guard, tackle or even center. But the fact that he was at right tackle during both practices on the first day of rookie camp could be an indication that Pugh may have a shot to be in the mix in the competition at right tackle.
David Diehl
and
James Brewer
are expected to compete to start at the spot. But if Pugh impresses the coaches, the first-round pick could have a shot at starting.
Pugh played left tackle during his three seasons at Syracuse but began practicing at right tackle as soon as Syracuse's season ended.
"I have been working on my right tackle stance ever since then so it feels a lot better now," Pugh said of getting acclimated to the spot. "And just keep getting more and more reps, keep getting live reps against guys and as it gets better, it will get easier.
"I played some right [tackle] when I was in practice but never in a game," he added. "When I got to the Senior Bowl, played a little right guard, right tackle, so I got more and more comfortable. I played right guard in high school. But I am comfortable with the right side."
Curry signs:
In case you missed it, the Giants signed free agent linebacker
Aaron Curry
.
Jerry Reese hopes the former fourth overall pick in the 2009 draft will be able to
"re-invent" himself
with the Giants.
Staff moves:
The Giants officially announced three personnel moves. Tim McDonnell joined the team as a pro scout after serving as director of player personnel at Notre Dame. McDonnell is the grandson of the late Wellington Mara.
The team also hired Joe Danos as a strength and conditioning assistant from Florida State and Matt Shauger has been named the team's assistant director of pro personnel.
First impressions:
Nassib impressed Tom Coughlin and Kevin Gilbride with the way
he handled the offense
, huddles and cadence in his first practice. In a 7-on-7 drill, Nassib completed a nice pass over middle to tight end
Morgan Newton
, who made a nice stretching catch. But later, Nassib overthrew tight end
Nick Provo
and was picked by safety
John Stevenson
... Rookie safety
Cooper Taylor
looks as advertised as a 6-foot-4 safety. The Giants love his blend of size and speed as a potential third safety. It will be interesting to see how he continues to progress... Defensive tackle
Johnathan Hankins
and guard
Eric Herman
both are listed at 320 pounds and are big boys. But they weren't close to being among the biggest at rookie camp. Guard
Michael Jasper
from Bethel stood out at 6-4 and 375 pounds. Also, guard
Lavon McCoy
looked massive at 6-5 and 380 pounds. And speaking of size, undrafted rookie free agent wide receiver Marcus Davis from Virginia Tech is 6-4 and 232 pounds... Linebacker
Mister Alexander
from Florida State had to leave the second practice on a cart with an injury.
May, 9, 2013
5/09/13
8:29
PM ET
Rookie camp opens on Friday, the day we eagerly get our first look at potential future Giants stars.
I'll be tweeting (
@NotoriousOHM
) and blogging from the first day of Giants rookie camp. In the meantime, here's some things to watch for on Friday and Saturday:
Nass appeal:
Obviously
Eli Manning
won't be there, but we will get a first glimpse at
Ryan Nassib
.
Remember, the Giants did something rare in last month's draft. Not only did they trade up, but New York did so for a quarterback.
Yes, it will be his first professional baby steps and there's zero pressure on him since he is being groomed to back up Manning. But we still want to see what the kid has to offer.
Even though he won't be throwing to
Hakeem Nicks
or
Victor Cruz
, Nassib will have a lot of eyes on him.
Pugh debut:
Besides Nassib, we'll be looking at that big guy protecting him --
Justin Pugh
. Nassib's Syracuse buddy will make his Giants debut as well, and it will be interesting to see where the coaches line up their first-round pick. Will the versatile Pugh start off at right tackle?
If Pugh spends the majority of his rookie camp there, the Giants very well could be prepping their top pick to compete with
David Diehl
and
James Brewer
for the starting right tackle spot. Of course, it's a long, long way to go before training camp. But we'll get to see exactly how long -- or short -- those arms are on the field. Let's hope he doesn't get smothered by defensive linemen the way
his boys piled on him
on draft night.
Taylor made:
One of the more intriguing draft picks is safety
Cooper Taylor
. He's got size (6-foot-4, 228 pounds) and was clocked at 4.49 in the 40-yard dash at Richmond's pro day. The Giants say he can be a hybrid safety/linebacker and play that
Deon Grant
third safety role, but let's see how Perry Fewell uses him this weekend.
Big Hank and Da'Monster:
The Giants, who wanted to get bigger and younger on the defensive line, drafted Ohio State's
Johnathan Hankins
and Texas A&M's
Damontre Moore
. Hankins is the big, wide-bodied defensive tackle whom the Giants hope will eat up a ton of space inside to stuff running backs. And Moore is the young productive sack machine the Giants hope will provide the pass rush a boost. Both are really young, with Hankins just 21 years old and Moore only 20.
Mr. Pancake:
Seventh-round pick
Eric Herman
was credited with an amazing total of 335.5 pancakes in his career at Ohio. Needless to say, I will be on the lookout for any more pancakes delivered on Friday by the 6-foot-4, 320-pound guard.
Tell us who you are most curious about in this weekend's rookie camp.
May, 2, 2013
5/02/13
11:27
AM ET
We're taking a little closer look at each draft pick and what the Giants' brass is saying about the newcomers.
Seventh-round pick: G Eric Herman, Ohio
Here's our
Rapid Reaction
on Herman and what the Giants are saying about him:
Jerry Reese:
"A big, tough, nasty guard. We really liked him. We'd been looking at him on the board for a while there and we were hoping that if he could get to the seventh row he'd be a nice pick for us at that spot. He'll create some competition at the guard position –- tough, hard-nosed, big football player."
Marc Ross:
"Eric Herman is just a tough, nasty brawler as a guard. I mean this guy is just physical. He likes contact. He plays hard. Not the most gifted athlete, but he's just a tough guy and he's big. A big, smart, tough guy and we think he'll bring a physical presence to the line."
Tom Coughlin:
"A tough guy, another offensive lineman. He is a guy that will slug it out and battle with you. So a great spot for him right there."
Analysis:
Hearing what the Giants had to say, Herman sounds like he fits the
Rich Seubert
mold. And that is a good thing. At 6-4, 320-pounds, Herman sounds like a guy who might be able to hold his own if thrust into action in case of injury much like
Mitch Petrus
initially was for the Giants in spot duty. Perhaps the Giants can develop Herman into something more for the future. For this season, Herman hopes to add to the depth at guard where
David Diehl
,
James Brewer
and
Justin Pugh
all can play if
Chris Snee
or
Kevin Boothe
are injured.
Tell us what you think of the Herman addition to the Giants' O-line.
April, 28, 2013
4/28/13
1:31
PM ET
Eli Manning
kind of figured it would happen sooner or later.
The Giants' franchise quarterback knew the team could draft a young quarterback prospect to learn behind him. So when the Giants traded up to grab Syracuse's
Ryan Nassib
, Manning felt it was good to finally have a highly regarded rookie in the quarterbacks room moving forward.
"I called Ryan yesterday and talked to him a little bit and welcomed him to the team," Manning said, according to Newsday, at a March of Dimes March for Babies event. "You always look forward to having young guys on the team, a young quarterback who will be in the meeting room. I'm looking forward to working with him. I'm sure I'll help him a little bit and I'll look forward to having him help me in ways also."
Manning has pretty much always had a veteran backup behind him and currently has
David Carr
as his backup. Manning says having a young backup won't be a different dynamic for him.
"I don't think so," Manning said. "The quarterbacks, you're trying to help out each other. David's been there. We've had a bunch of quarterbacks over the years and you try to make each other improve. I'm always competing, trying to do the best I can do each year. I'll help Ryan in any way I can, try to get him up to speed in what's going in, and I'll ask him for help also breaking down film once everything gets started. Looking forward to that relationship."
As for the rest of
the Giants' draft
, Manning will never argue with gaining more offensive linemen. The Giants selected
Justin Pugh
in the first round and guard
Eric Herman
in the seventh round.
"I thought it was good," Manning said. "I thought we hit some areas that were needed. A quarterback always likes it when offensive linemen are drafted. You can never have too many qualified offensive linemen on the team. I thought we hit a lot 'if' areas and it put us in good position to have a strong year."
And the Giants went out and did something they haven't done since 2009 -- draft a rookie quarterback to groom behind Manning. Jerry Reese admitted he would be happy if Nassib never plays because that means Manning is still healthy and going strong.
Manning, 32, said drafting Nassib didn't make him think of when his career might end.
"I feel like I'm playing at a high level. This is the prime of my career," Manning said. "I understand that one day it will end. And the thing about it in this league is you never know when that day will come. You never know what's going to happen, so you gotta take advantage of it and work hard to make sure that every year that you play, you do everything you can to win another championship."
Tom Coughlin said he would tell Manning just that about the drafting of Nassib: Continue to lead the Giants to a championship and help teach Nassib.
Manning will try to do just that. And now he has a prized rookie to do his bidding in the quarterbacks room as well.
"It will be unique, we haven't had a drafted quarterback [in a while]," Manning said. "We've had some rookies over the years, but a [highly] drafted guy, this will be the first time. There'll be the usual small -- not hazing, that's too strong of a word, but some rookie earning your role as a drafted quarterback in the NFL."