New York Giants:

Frank Gifford
September, 15, 2011
9/15/11
5:22
PM ET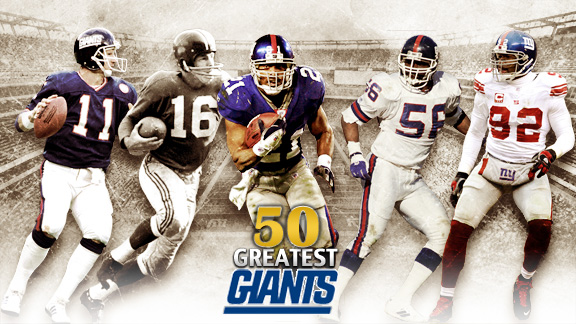 ESPN.com illustration
The list: 50 Greatest Giants

Rank 'Em: Your top 20 »
As the G-Men get ready to play the St. Louis Rams on the next edition of "Monday Night Football," ESPNNewYork.com is proud to announce its list of the 50 Greatest Giants.
Putting this list together was a tall order, considering Big Blue's long and storied history, which includes three Super Bowl wins.
There is plenty of room for debate -- in terms of who we selected, and in terms of what order we placed them in. And we welcome your feedback! Feel free to use the comment feature below.
We wanted to include a wide range, in terms of positions. And we certainly could have included at least a couple more current Giants -- in fact, two of them just missed the cut. But they've got some time left in their careers, and will likely make this list when it's all said and done.
Who are they? We'll, why don't you take a guess?
With that said, let 'er rip! Enjoy the photo gallery, and use our list ranker to assemble your very own top 20.
August, 8, 2011
8/08/11
5:03
PM ET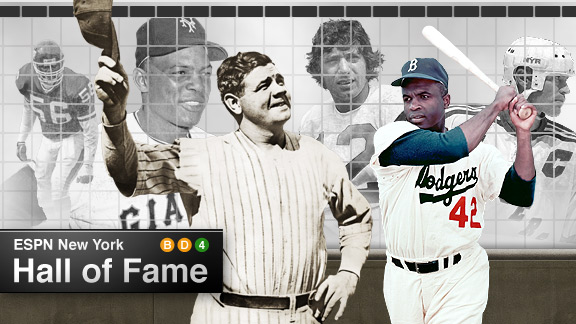 ESPN.com illustration
Vote: Pick the ESPN New York Hall of Fame class | Howard: Make room for LT
In honor of ESPN New York's inaugural
Hall of Fame ballot
, here are my top five Giants:
1. Lawrence Taylor, LB, 1981-93:
The Hall of Famer is the standard for linebackers today. L.T. finished his 13-year career second all-time in sacks with 132.5, a total that doesn't include the 9.5 he registered as a rookie in 1981 before the sack was an official stat. He was the NFL's MVP in 1986 -- the first defensive player to win the award since 1971 -- when he had 20.5 sacks and 105 tackles. The three-time Defensive Player of the Year appeared in 10 consecutive Pro Bowls from 1981 to 1990 and was a first-team All-Pro in eight of his first nine seasons. As a rookie, Taylor had 133 tackles and 9.5 sacks.
Malcolm Emmons/US PresswireLawrence Taylor is among the NY Hall of Fame finalists:
Top 20

•
Hall of Fame video: LT

2. Frank Gifford, RB-WR-DB, 1952-60, 1962-64:
One of the NFL's most versatile backs in history. The Hall of Famer played three different positions and was a seven-time Pro Bowler. He starred on offense and defense in 1953 as a two-way player. He totaled 9,862 yards and scored 78 touchdowns. He was a true triple-threat, throwing for 14 touchdown passes, as well. The Giants reached the NFL championship game five times in his career with the team, winning it all in 1956, the same year the four-time All-Pro was the NFL Player of the Year. Gifford retired in 1961 after suffering a severe head injury, but he came back in 1962.
3. Emlen Tunnell, DB, 1948-58:
Ignored in the NFL draft, Tunnell asked Tim Mara for a tryout and the Giants signed Tunnell as their first African-American player. He also was the first African-American elected to the Pro Football Hall of Fame. Tunnell played 11 seasons for the Giants and was a key in their famed "Umbrella Defense." He holds the team record with 74 interceptions. In 1952, Tunnell gained more yards (923) on interceptions and kick returns than the leading rusher in the NFL that year. Nicknamed "offense on defense," Tunnell was All-NFL four times and earned nine Pro Bowl appearances.
4. Roosevelt Brown, OL, 1953-65:
Considered to be one of the greatest sleepers of all time after slipping to the 27th round in the draft. He started at tackle for 13 straight seasons and was named to the Pro Bowl nine times. The eight-time All-NFL performer was Lineman of the Year in 1956 when the Giants won the championship. He played both ways, playing on the defensive line on goal-line stands. During his career, the Giants went to the NFL championship game six times. Brown became only the second player to be elected to the Hall of Fame based on the merits of being solely an offensive lineman.
5. Mel Hein, OL, 1931-45:
Hein played 15 seasons for the Giants and was one of the most durable players in NFL history. The center was the league's MVP after helping the Giants win the 1938 championship. Hein played in 170 games, never missing a game. In fact, there was no platoon football in Hein's era, so players played a full 60 minutes. He called a timeout in only two games, once for a broken nose. The center earned All-NFL honors in eight straight years (1933 to 1940).