New York Giants:

Hall of Fame
August, 3, 2013
Aug 3
1:23
PM ET
By
Mike Mazzeo
| ESPNNewYork.com
EAST RUTHERFORD, N.J. --
Giants
coach Tom Coughlin is excited to fly to Canton, Ohio, following Saturday's practice to see Bill Parcells' induction into the Pro Football Hall of Fame.
"It's the celebration of the apex of someone's career," Coughlin said. "The idea [is] that we do throw this 'great' word around in common usage today much too often, but Bill Parcells is a great football coach."
[+] Enlarge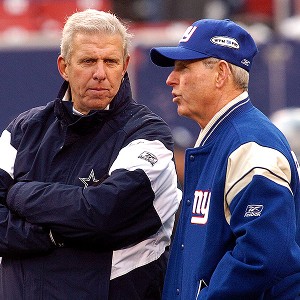 Lee S. Weissman/Icon SMI Bill Parcells and Tom Coughlin have been colleagues and opponents during their careers.
Parcells served as the head coach of the Giants from 1983-90, winning the Super Bowl in 1986 and 1990.
Coughlin has coached the Giants since 2004, also capturing a pair of championships (2007 and 2011).
Asked if he'd think about his own possible future induction, Coughlin replied: "I don't even want to hear that stuff today. Sorry to say it that way, but that's not what this day is about. This day is about Coach Parcells, period."
Coughlin was one of Parcells' assistant coaches from 1988-90. He was asked what he learned from Parcells.
"It was just the way that he went about his business and the way the organization went about its business," Coughlin said. "The continuity, winning, the high expectation level that was put by Billy on his players. He had an ability to gauge right away whether it was championship-level or not, and his ability to communicate that in fluent 'New Jersey-ian' to his players."
No Albany:
The Giants moved training camp, formerly held at the University of Albany, to their practice facility in East Rutherford, N.J., this summer.
Coughlin was asked if Albany's lack of an indoor facility had something to do with it.
"It was a big factor, no doubt about it," Coughlin said. "However, it was one of the factors. That shouldn't be used in any kind of way against the University at Albany. Mayor [Gerald] Jennings told me if that was the case, they'd find a way to have one of these facilities there."
"The fact that the CBA and the way it's conducted today and that there's only one practice [instead of two-a-days], that had an awful lot to do with it," Coughlin continued. "At least that was the argument posed. I didn't make that decision. Naturally, Mr. Mara and Mr. Tisch made the decision, but that was the way I'd present it, with the CBA the way it is and one practice."
July, 17, 2013
Jul 17
3:30
PM ET
Bill Parcells chose former Giant George Martin to present him at his Pro Football Hall of Fame induction next month.
But when asked who he would pick to start a team, Parcells said he would tab another one of his former Giants defensive greats.
[+] Enlarge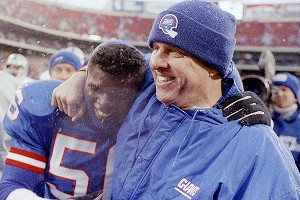 AP Photo/Ray StubblebineLawrence Taylor was enshrined in the Hall of Fame in 1999. Bill Parcells will join him on Aug. 3.
"There are priority positions in this game," Parcells said on a conference call. "Quarterback is one of those. I'd consider that but ... I'm a little prejudice. I think I'd take
Lawrence Taylor
."
Parcells was given the option of choosing any player he coached, coached against or seen. He opted to take arguably the greatest defensive player in the history of the game.
"Because I know he's going to be there every Sunday and try his best to win the game ... for sure," Parcells explained.
Parcells coached Taylor for eight seasons (1983-90). During that span, the Giants won two Super Bowls ('86, '90).
Do you agree with Tuna? If you were to start a franchise with any player from any point in history, who would it be and why?
January, 11, 2013
Jan 11
1:53
PM ET
Michael Strahan
and Bill Parcells are two of
the 15 modern-era finalists
for the 2013 Pro Football Hall of Fame class.
[+] Enlarge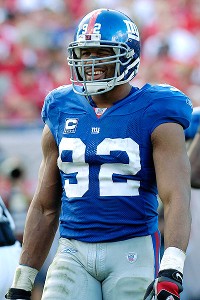 Fernando Medina/USA TodayMichael Strahan is one of seven players and a coach selected for induction into the Black College Football Hall of Fame in Atlanta.
Strahan, Larry Allen, Jonathan Ogden and
Warren Sapp
are all first-year-eligible finalists. Parcells was a finalist last year.
The late George Young, former Giants general manager, did not make the cut as one of 27 semifinalists.
Strahan spent his entire 15-year career as a Giant, and is the team's all-time leader in games played (216) and sacks (141.5). The four-time first-team All-Pro set the NFL's single-season sacks record with 22.5 in 2001 to earn AP Defensive Player of the Year honors. The defensive end went to two Super Bowls, winning one in his final season.
Parcells guided the Giants to their first two Super Bowl victories during his tenure with the team from 1983 to '90. He went 77-49-1 in the regular season and 8-3 in the postseason. He also coached the Patriots, Jets and Cowboys, and became the first coach to lead four different teams into the playoffs.
To be elected to the Hall of Fame, Parcells and Strahan must receive a minimum of 80 percent of votes from the Hall's selection committee. Between four and seven new members will be selected Feb. 2, the day before the Super Bowl, in New Orleans.
The former coach and former team captain hope to join Morris "Red" Badgro, Roosevelt Brown, Harry Carson, Benny Friedman, Frank Gifford, Mel Hein, Sam Huff, Alphonse "Tuffy" Leemans, Tim Mara, Wellington Mara, Steve Owen, Andy Robustelli, Ken Strong, Fran Tarkenton, Lawrence Taylor, Y.A. Tittle, Emlen Tunnell and Arnie Weinmeister as Giants in the Hall of Fame.