New York Giants:

Jason Hatcher
March, 10, 2014
Mar 10
10:00
AM ET
Here are the top 15 free agents, followed by their rankings, entering Tuesday's signing period as compiled by NFC East reporters Dan Graziano, Todd Archer, Phil Sheridan and John Keim. There are some strong options at the top, but there is not a lot of depth in the NFC East when it comes to free agency. And if Dallas'
DeMarcus Ware
gets released, he vaults to a top spot on this list. As always, ESPN's free-agent tracker will keep you updated during this period.
1. LB Brian Orakpo, 8.5:
The Redskins used the franchise tag on him, so barring a surprise, he'll be back. It's a controversial move among fans, but the Redskins need his pass rush and promise to unleash him more often. His career best for a single season is 11 sacks.
2. DT Linval Joseph, 8:
A very big, strong and young (25) interior run-stuffer who has also shown the ability to create pressure from the interior, Joseph could be available because of the Giants' depth at defensive tackle and their many needs.
3. DT Jason Hatcher, 8:
He is coming off an 11-sack season, but he turns 32 in July and Dallas doesn't have much cap space.
4. LB Jon Beason, 7:
The Giants are working hard to sign him before free agency opens, as his leadership and high-energy play at middle linebacker helped transform their defense during the 2013 season.

Nicks
5. WR Hakeem Nicks, 7:
This grade is based on talent and past accomplishments, and a feeling that he was being overly careful in 2013 in order to hit free agency healthy. Lacks his early career speed, but knows how to play the position as well as anyone.
6. WR Jason Avant, 7:
For a team in need of a third-down possession guy, the sure-handed Avant will be a great value.
7. P Donnie Jones, 7:
The Eagles are expected to re-sign Jones, who was an underrated contributor to their NFC East title team.
8. DE Anthony Spencer, 6:
He is coming back from microfracture surgery, so the cost won't be high.
9. LB Perry Riley, 6:
The Redskins need to re-sign him because they already have a hole at inside linebacker after
London Fletcher
retired. But they won't break the bank for Riley, who needs to improve in coverage.
10. DE Justin Tuck, 6:
Coming off an 11-sack season that came out of nowhere after two down years, Tuck turns 31 later this month but is a locker-room leader and a 4-3 defensive end who can set the edge against the run.
Vick
11. QB Michael Vick, 6:
With
Nick Foles
' ascension, Vick is looking for a chance to start elsewhere.
12. RB Andre Brown, 5:
He played very well in his first few games back off a broken leg, but faded down the stretch and fumbled too much in the final few games. He is likely not a guy who can be relied on as a starter, but potentially a valuable piece.
13. TE Brandon Myers, 5:
A huge disappointment in New York after catching 79 passes as a Raider in 2012, Myers also contributed little as a blocker. The Giants are likely to let him go. He could fit better with a different system.
14. CB Terrell Thomas, 5:
He played all 16 games after missing the previous two seasons because of ACL tears in the same knee. Thomas believes he can hold up as a starter off a real offseason, and would like to cash in.
15. S Danny McCray, 5:
He is a core special teamer only, so the Cowboys could find value here.
February, 27, 2014
Feb 27
9:15
AM ET
With projections for the 2014 salary cap continuing to rise into the low $130 millions, we have discussed the ways in which the perennially cap-strapped
New York Giants
could benefit. According to
this chart Kevin Seifert put together
, the Giants currently project to have $18,288,183 in cap space if the cap comes in at $132 million when it's announced next week. That puts them right in the middle of the NFL pack, and third in the NFC East. Here's a look at where the division's other teams stand in the current projections. You'll note that the
Dallas Cowboys
appear to be in massive trouble.
Washington Redskins: $28,684,986.
After two straight offseasons in which they were penalized $18 million worth of cap room for their spending behavior during the uncapped 2010 season, the Redskins are ready to get to work rebuilding their secondary. They also need money to re-sign pass-rusher
Brian Orakpo
.
Philadelphia Eagles: $25,674,804.
The Eagles always manage the cap well, and they're already at work
locking up their current players
on long-term deals to maintain flexibility and continuity. Left tackle
Jason Peters
got his deal Wednesday, and it sounds as though center
Jason Kelce
and wide receiver
Riley Cooper
are next in line. If they spend in free agency, it likely will be on defense, where they could use some fresh pieces.
Dallas Cowboys: -$18,920,690.
Yeah, that's a minus-sign there. The Cowboys are nearly $19 million over the projected cap at this point, which means they probably can't retain free agent defensive linemen
Jason Hatcher
and
Anthony Spencer
and have some other tough choices to make. They have already made some noise about possibly having to cut
DeMarcus Ware
, which sounds crazy but would wipe out a huge chunk of the debt.
November, 25, 2013
11/25/13
10:35
AM ET
I mean, I guess you have to admire the
New York Giants
for staying true to themselves. They claim to live by the Tom Coughlin mantra, "Talk is cheap, play the game," but there's not a team in the league that talks more than the Giants do. They yapped and yapped all last week about how they were going to beat the
Dallas Cowboys
.
Jason Pierre-Paul
said blood would be spilled.
Terrell Thomas
guaranteed victory. It was fairly shocking, especially to the Cowboys.
"
I've never heard a team that was 4-6 talk like that
," Dallas cornerback
Orlando Scandrick
said.
So as you've heard by now, the Cowboys won the game. And after it was over, as you'll see in that link up there,
Jason Hatcher
had some fun with the blood thing. The Giants were more or less humble in defeat, with Thomas saying the better team won and most of the players lamenting missed opportunities and a season slipping away.
But then, this morning,
this
from Giants defensive end
Justin Tuck
on Twitter. A photo of Tuck's two Super Bowl rings directed at Cowboys fans who've apparently been after him on his timeline. (And no, I don't think it's any coincidence that the display "finger" in the middle is bare.)
And for all the cowboy fan on my TL pic.twitter.com/eJBOZUKBSt

— Justin Tuck (@JustinTuckNYG91) November 25, 2013
Look. I know how badly I get it on Twitter. I cannot imagine how rough it is for NFL players when fans decide to use the medium to abuse and insult. I'm confident that the Cowboys fans who have been hounding Tuck on Twitter have been completely unbearable. And I'm certainly not always above reacting on there when provoked, though I wish I were.
But Justin. Dude. You lost. Your team talked big all week and then didn't back it up. You kind of have to just eat that, right? I'm not saying life as a high-profile athlete in front of an overly sports-crazed world is easy. It's not. Especially when you lose. But showing off your Super Bowl rings and flipping off a fan base? Seems a little out of place here. Nothing wrong with a little quiet dignity in defeat, right?
It also bears mentioning that this isn't the Super Bowl-deprived Eagles fan base he's taunting. The Cowboys have won more Super Bowls than the Giants have. Sure, the current Cowboys have fallen victim to the Giants' two most recent Super Bowl runs, but taunting this particular fan base with talk of titles won is kind of like waving your checkbook at Bill Gates. No matter how rich you are, he's not impressed.
Anyway, I get that the Giants are hurting, and I don't blame them. I'm just amazed at how, regardless of circumstances, they always seem so chirpy. It's who they are, and I guess it tends to work out for them. But on a day like this, Tuck's rebuttal feels out of place.
November, 19, 2013
11/19/13
8:00
AM ET
Your daily morning check-in on news and notes about and of interest to the New York Giants:
The news of the day
: It's Cowboys week, which means everybody's amped up, especially
Jason Pierre-Paul
, who is expecting...
bloodshed
? I mean, I'm sure there'll be cuts and bruises as there are in any NFL game, but sheesh. Still almost a whole week to go. Let's pace ourselves, shall we? A more level-headed
Jon Beason
spoke on a conference call Monday of the Giants' belief that they can keep winning and remain relevant in a weak NFC East race, saying "If you're a confident player or a confident team, then the sky is really the limit." And if you'll permit a shameless plug, I wrote
this column
Monday saying that, if this Giants team really can cash in this resurgence and reach this year's playoffs, there should be no more doubt that Tom Coughlin is the best coach in the league. The point isn't that they're all that great all of a sudden; it's that they kept their focus and didn't fall apart under circumstances that would have caused other teams to do so. Coughlin knows how to manage and solve problems as well as any coach in the league, and that's the soul of coaching, I think.
Behind enemy lines:
A Cowboys defense that gave up 40 first downs and 625 yards (neither is a misprint) in its most recent game Nov. 10 in New Orleans could be
getting some key pieces back this week
. Defensive end
DeMarcus Ware
and cornerback
Morris Claiborne
look set to return to practice. Defensive tackle
Jason Hatcher
and safety
J.J. Wilcox
were back at practice Monday. Still a lot of missing pieces, most significantly linebacker
Sean Lee
, who'll miss the game with a hamstring injury. But the bye week may have done the Cowboys some health-related good.
Around the division:
Things are
not going well in Washington
, where there will be no seven-game win streak to rescue this Redskins season and coach Mike Shanahan has come under fire again. I have believed since it happened that last year's division title would buy Shanahan time, and that he's in no danger of being fired after this season. But if things were to really bottom out, and if that bottoming-out were perceived to be impacting the management of franchise quarterback
Robert Griffin
III, surely owner Dan Snyder could act unpredictably and make a change. I still think it's unlikely, but you never do know.
Around the league:
Shanahan shows up on
Bill Barnwell's list of coaches on the hot seat
, though Bill doesn't list his seat in the same heat-level category as those of Houston's Gary Kubiak, Miami's Joe Philbin or of course Tampa Bay's Greg Schiano. Coughlin's in Bill's rundown too, though the speculation on him is the usual stuff about whether Coughlin will want to come back. As I've written many times, there is not one single, actual, legitimate reason for anyone to think Coughlin is considering or ever has considered retirement. But his age keeps the speculation coming, and that's not likely to change. He could coach into his 80s and people will still say he stopped because he got too old.
November, 13, 2013
11/13/13
8:00
AM ET
Your daily morning check-in on news and notes about and of interest to the New York Giants.
The news of the day
: The Giants return to work to look at tape on Packers third-string quarterback Scott Tolzien, about whom they know little if anything in advance of his start against them Sunday at MetLife Stadium. The players on the Giants' defense have begun to feel good enough about themselves to believe they can handle anyone. They say they're not going into games thinking about limiting damage anymore, but instead thinking about
shutting teams out
.
Behind enemy lines:
Here's our man Matt Williamson's
scouting report on Tolzien
, who Matt says won't be afraid to try tough throws and could have an opportunity to hit some plays downfield if the Giants key on the Packers' vastly improved running game.
Around the division:
The Dallas Cowboys are off this week before facing the Giants in Week 12, but the bye may not be enough to get them healthy on defense. They'll surely be without linebacker Sean Lee, who's probably the best player on their team and is out for a few weeks with a
pulled hamstring
. Fellow starting linebacker Justin Durant is also out for that game, and it remains to be seen whether the Cowboys' defense can expect to get linemen DeMarcus Ware and Jason Hatcher back in time for the Giants game. Big mess down there in Big D.
Around the league
: No, I do not expect the Giants to try to sign veteran safety Ed Reed following his
release from the Texans
. From what little I've seen, my impression is that Reed is done or close to it. And safety is one of the positions at which the Giants actually look very good, with Antrel Rolle and Will Hill and Ryan Mundy. They have no cap room and bigger problems. If Reed could play center, that'd be one thing.
September, 4, 2013
9/04/13
3:55
PM ET
EAST RUTHERFORD, N.J. -- A year ago, left tackle
Will Beatty
was one of the main question marks on the
New York Giants
' offensive line. Now, he's its reliable constant. The right tackle's a rookie, the veteran right guard is coming off of hip surgery. The center was the left guard two weeks ago. The left guard was a backup tackle. Injuries and adjustments have thrown the Giants' offensive line into a state of uncertainty with the regular-season opener in Dallas just four days away. And while the Cowboys have their own injury issues in the defensive front, they also still have elite pass-rusher
DeMarcus Ware
, who is on the Giants' minds.
[+] Enlarge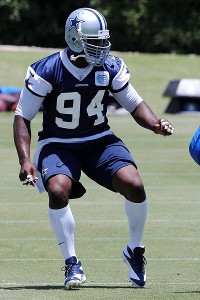 Matthew Emmons/USA TODAY SportsDeMarcus Ware has collected double-digit sacks each of the past seven seasons.
"You know what he can do. You know how he can destroy a team," Beatty said of Ware. "You've played him before, so he knows your mistakes and you know his, so it's all about how you're going to change what you did last time. He has his technique down pat, so he can focus on you. So you've got to make sure you're going to show him something different than you did the last time."
Beatty is likely to get a full game's worth of Ware, who's a 4-3 defensive end in the Cowboys' new defensive alignment and doesn't move around the formation the way he used to when he was a standup 3-4 outside linebacker. And while rookie right tackle
Justin Pugh
could get a break if the injured
Anthony Spencer
doesn't play, the interior lineman are prepared for a tough test from underrated defensive tackle
Jason Hatcher
. It's a lot for a group that has undergone significant change in the final few weeks of the preseason due to injuries to starting center
David Baas
and right tackle
David Diehl
.
"As a unit, we've done this before, moved guys around," Beatty said. "You've just got to know the guy who's playing beside you."
James Brewer
is that guy for Beatty now, a converted tackle being asked to play left guard while
Kevin Boothe
moves over to center to take Baas' place. It's a position Brewer hadn't played before last week's preseason game, and he may be benefiting from a change Beatty made this offseason.
"Will's taken on more of a leadership role, out on the field and in the meetings, than he used to have," veteran right guard
Chris Snee
said. "It's good to see. Where it used to be me or Diehl or guys like
Shaun O'Hara
who used to do most of the talking, he's really taken over that role, which I think he has to. He'll be here for years, so he's got to be that guy."
Beatty signed a five-year contract this offseason as the Giants made what coach Tom Coughlin described as "quite a statement" that he's their left tackle of the future. Understanding the significance of that statement, and of his role in the most prominent position on the line, Beatty made a conscious decision to take on a veteran's role this season.
"Every year I've come in here feeling like I had to win the spot," Beatty said. "And this year, it's still the same, but you feel like you have to show a little bit more, I think. I don't want to say it's because of the money, because it's not, but you're older now. You bring guys along with you. You should know what the coaches want you to do by now, so your job is to show the young guys."
The youngest plays all the way on the other side of the offensive line, and rookie Justin Pugh expects to "feel like you're going to throw up" before his first NFL game. Pugh's pregame ritual at Syracuse included being the last player out of the locker room and onto the field for the game. He doesn't know whether he'll be able to dictate his routine to that extent as an NFL rookie, but he's confident he's ready for whatever the Cowboys are going to throw at him, and his teammates share his confidence.
"He's got great talent, great feet, and he can do anything we ask him to do," Snee said of Pugh. "When you have that kind of athletic ability and also an understanding of what's needed, you're going to be fine. A lot of times, young guys, they're thinking about what they have to do out there instead of just doing it. That's not the case with Justin."
Ready or not, this reworked Giants offensive line will be asked to do what it can to give
Eli Manning
and the offense enough time to operate Sunday night. These Cowboys-Giants games have tended to be shootouts in recent years, and the expectation is for more of the same. The rest of the week is about gearing up the intensity.
"You want this atmosphere, you want these games," Beatty said. "To open up the season? There's no other team but Dallas."
September, 3, 2013
9/03/13
8:00
AM ET
Your daily morning check-in on news and issues about and of interest to the New York Giants.
The news of the day:
The Giants are off today, but they had a short practice Monday morning, and the big news was of course
the return
of wide receiver
Victor Cruz
to the practice field after two missed weeks due to a heel bruise. Talking to Cruz after practice, you couldn't be 100 percent sure he'd be playing Sunday night in Dallas, but all of the signs are encouraging. We will, of course, monitor this throughout the week. If he's practicing Wednesday and Thursday, you're probably OK to put him in your fantasy lineup. ... Defensive end
Jason Pierre-Paul
, recovering from back surgery, also worked some in practice, but he seems
less likely
to play in the opener. Same with fullback
Henry Hynoski
, whose return is vital to the run game with the offensive line banged up. ... Speaking of fantasy,
here's a post from Tom Carpenter

on Giants No. 3 receiver
Rueben Randle
as a potential sleeper in 2013.
Behind enemy lines:
As they prepare to face the Giants in Sunday night's season opener, the
Dallas Cowboys
are having
serious problems with their defensive line
. That's a strong unit if the four starters are healthy, but right now they're not.
Jay Ratliff
is definitely out, and as of now it looks as though it'll be a stretch for
Anthony Spencer
to play in the opener. They are crucial elements to the Cowboys' pass rush, and while
DeMarcus Ware
and
Jason Hatcher
still pose significant threats, it's easier to defend those guys when you only have backups to worry about at the other two spots. Welcome news for a banged-up Giants offensive line.
Around the division:
The
Washington Redskins
announced that quarterback
Robert Griffin III
, who had reconstructive knee surgery in January, would
start their Monday Night Football season opener
six days from now against the
Philadelphia Eagles
. Griffin didn't practice at all in minicamp or organized team activities, didn't practice in full until very late in training camp and didn't play at all in preseason games, so obviously it'll be fascinating to see how he looks in his first game action since he crumpled on the field in that playoff loss to the Seahawks. Griffin's not the Giants' problem until December, since the Giants don't play the defending champs in the first three months of the season.
Around the league:
Not a huge news day Monday. One item of note was the new
five-year, $55 million contract
the Bengals gave defensive tackle
Geno Atkins
. The Giants'
Linval Joseph
is not the same level of superstar player, obviously, but he's a very good one, and you can bet he smiled at the news of a defensive tackle getting a big-money deal as he himself heads into the final year of his four-year, $4.16 million rookie contract. Joseph's salary this year is $630,000.
September, 12, 2012
9/12/12
6:03
PM ET
Something's got to give. On Sunday, the
New York Giants
, who had the worst rush offense in the NFL last year, host the
Tampa Bay Buccaneers
, who had the league's worst rush defense. I don't know what this means, but from the standpoint of this blog we have to say it offers the Giants a very good chance to get their run game going and put last year's troubles in the past.
To assess their chances, I consulted the NFL's Game Rewind app, which this year offers users the chance to watch the "All 22" coaches film and see where everybody goes on every play. Pretty useful stuff that should offer plenty of chances for great blog fodder as the year goes along. Here are a few things I learned about the Giants' run game watching it today.
Of the 19 run plays the Giants ran against the Cowboys in last Wednesday's opener, 11 went to the left side, seven to the right side and one up the middle (Ahmad Bradshaw's 5-yarder on 3rd-and-16 to end the first half).
Of those 19 run plays, 11 were on first down, five were on second down, two on third and one on fourth. Bradshaw's biggest run was a 33-yarder on 3rd-and-1 that was a very well blocked play to the side of the line on which the Giants did not have extra blockers. More on that in a second.

Bradshaw ran the ball 17 times. Rookie David Wilson ran it twice, and not at all after fumbling on his second carry. No other Giants running back got a carry in the game.

Of the 19 runs, 13 were run to the side of the line on which tight end Martellus Bennett was lined up. That includes the first 10 Giants running plays of the game. The first time Bradshaw runs to the side on which Bennett is not lined up is a 2-yard gain to the right side in the second quarter, and on that play tackle Will Beatty was in the game on the right side as an eligible tight end. The play is basically stopped immediately by Anthony Spencer when he gets off the block of Beatty.

Right tackle David Diehl had a rough game against Dallas defensive end Jason Hatcher. On the final play of the first half, the Cowboys have only three men on the line and Bradshaw gets the ball and runs right up the middle, but Diehl can't handle Hatcher, who brings Bradshaw down before he can get loose. Not that they were trying to do anything special there, but you never know.

There are times when Bradshaw shows indecisiveness and a lack of burst that costs him. The play just before the Wilson fumble is a 1st-and-10 on which Bennett motions to the right and Bradshaw runs that way. There appears to be a hole between Bennett and Diehl on that right side, but Bradshaw is unable to slip through before it closes. That play looked like one on which Bradshaw could have gained more. There's also a 1st-and-10 in the fourth quarter on which he's running to the right side, where Bennett and fellow tight end Bear Pascoe are both lined up, and he seems to have a brief opportunity to turn upfield quickly before Bruce Carter fills the gap and brings him down.

Once they started running away from Bennett's side, the Giants actually had more success. I don't know if this is because Dallas was devoting extra attention to Bennett's side (which would make sense, after the Giants ran their first 10 plays to Bennett's side) or if it's a matter of Dallas focusing more energy on pass defense once they had the lead. But Bennett is on the right side when Bradshaw runs left for a 10-yard touchdown to the left. The touchdown is a very well-blocked play that involves no tight ends. Left guard Kevin Boothe shoves the defensive lineman inside and then blocks Sean Lee. Left tackle Sean Locklear takes care of his man. Fullback Henry Hynoski, lined up in front of Bradshaw in the backfield, swings over and makes his block. Hakeem Nicks is trying to make a block near the goal line as Bradshaw jukes the defensive back and slips into the end zone. Good play all-around, and without extra blockers on that side.

The other very well-blocked play is Bradshaw's 33-yard run to the right in the fourth quarter. Bennett is lined up on the left side on that play, and Dallas is committing most of its defense to that side. But Diehl blocks his man while right guard Chris Snee gets out and makes a very nice block on DeMarcus Ware to spring Bradshaw for the one big gain of the day in the run game.

I need to make special note of the Wilson fumble play, which is all Sean Lee. The Giants load up on the left side with Bennett and Hynoski, and they get everybody blocked and make a nice little bubble for Wilson on that left side. But Lee, who is lined up as the far-side inside linebacker on that play (i.e., the side away from the side to which the play is run), makes an incredible quick and instinctive jump on the ball, slips past all of the engaged blockers and defenders and closes on Wilson with remarkable speed. Wilson of course needs to hold onto the ball, but he is completely blindsided on a brilliant play by a player who got there much quicker than anyone on the field could have had reason to expect him to.
I guess my conclusion is that I'd like to see more Wilson. I understand the benching and agree with it, but it does seem, going forward, as though Wilson is better suited to make a big gain out of the minimal blocking the Giants can expect at this point from their offensive line. There are more plays on which they don't block well than plays on which they do, but Bradshaw seems to be doing a poor job of taking advantage of the latter. They're giving him a lot of help by committing extra blockers to the side of the field to which he's running, and he's still not able to find anything. That may be the offensive line's fault most of the time, but it's not all the time.