New York Giants:

Jeff Feagles
July, 31, 2014
Jul 31
6:15
PM ET
EAST RUTHERFORD, N.J. -- Much of the buzz around
New York Giants
camp has been about the impending enshrinement of Michael Strahan in the Pro Football Hall of Fame this weekend. But while he has plenty of love and respect for that great former Giant, punter
Steve Weatherford
is also enjoying the fact that former Raiders punter Ray Guy is going into the Hall of Fame this weekend. Guy will be the first punter ever enshrined.
Weatherford
"Being a punter, it may sound silly for me to say it, but I think it's about time," Weatherford said before Giants practice Thursday. "He's the best player at his position ever. He deserves it."
Weatherford was a soccer player who took up punting at age 15, and he said Guy was the name everyone knew when it came to punting. So it's not just that a punter is going into the Hall of Fame; it's that it's this particular one.
"He's the guy that everybody thinks of," Weatherford said. "He was the person that made people start to care about that position and think it was more than just a body on the team. Really revolutionized the position, and you can't say enough good things about not only what he was able to do for his franchise, and all the Pro Bowls and records, but really for the position itself."
Weatherford enjoys being a punter at a time when the fans and the game place unprecedented value on the position. He said he encounters Giants fans who still commend him for the brilliant game he had against the 49ers in the NFC championship game three seasons ago and the performance he delivered in the Super Bowl against the Patriots two weeks later. He believes Giants fans have special reason to appreciate the importance of his position.
"Just Jeff Feagles," Weatherford said, invoking the name of one of his close predecessors here. "He wasn't out there hitting 65-yard punts, but he was so good at keeping the ball away from the returner and just a really, rock-solid, steady punter. And this is a really difficult place to punt -- very windy, can get nasty, can get cold. And he just did a great job for an incredibly long time.
"I think he's one of the greats, and they don't really appreciate him until we brought a rookie in here and it really went to show you how difficult a place this is to play. Not only the conditions, but this place, if you don't play well, the fans will eat you up."
The reference there is of course to poor Matt Dodge, the rookie famous for kicking the ball to
DeSean Jackson
at the tail end of the Eagles' miracle comeback over the Giants in December 2010. Dodge lost his job to Weatherford in training camp the following season, and after the Super Bowl victory, the Giants rewarded Weatherford with a five-year, $12.5 million contract, of which about $4 million was guaranteed.
"You've got punters in the NFL now that are making $4 million a year and you've got some running backs on your team that are making less than $1 million," Weatherford said. "That just goes to show you, when you do find a really good punter, you've got to hang onto him. Because you never appreciate the punter until you don't have one that you can trust and depend on."
It's a good time to be a punter in the NFL, and for that reason Weatherford and his brethren will salute Ray Guy when he gets that gold jacket.
December, 21, 2011
12/21/11
6:34
PM ET
You can tell Steve Weatherford is now with the Giants and not the Jets.

With this first game on tap to play against his former team and Jets special teams coach Mike Westhoff, who took some jabs at Weatherford's performance last season, the Giants punter is not talking any trash or using that as motivation for this game.

"That's not important to me, that's in the past, not really something that weighs on my mind at all," Weatherford said about comments made by Westhoff earlier this year. "I'm here, this is my home now, I love it here, these coaches treat me great and I'm thrilled to be a Giant. I have no remorse or no regrets about coming here."

Weatherford, who signed a one-year deal with the Giants in the offseason, punted for the Jets the previous two seasons, averaging 42 yards or better on his punts in each of his two seasons with the Jets. After Weatherford inked with the Giants earlier this year, Westhoff took shots at Weatherford for his performance, calling him out for performances at the end of the year and for being 23rd in punting average.

As a free agent in the offseason, Weatherford said he considered the Jets but said that Gang Green definitely was not his top choice. He signed with the Giants and is hoping that it could lead to longevity with the organization, a la Jeff Feagles.

"It (was) time for me to move on. I enjoyed playing there, it was a great franchise, the owner was great, the head coach was great, but it was just, I felt like as far as my career was concerned and I didn't think there was going to be job longevity there," Weatherford said about leaving the Jets. "They have a lot of turnover at the specialist position, they had Jay Feely come in there and kick two years and kick well and then he left. You go back and look, they don't keep specials around and I'm looking for a home."

Despite having been with the Jets, Weatherford said there isn't anything he can use in terms of strategy in facing his former team. He's frankly not even getting caught up in who the opponent is, even though it's his former team.

"I want to win because I want to go to the playoffs besides from that, to be honest with you, it's just another game to me," Weatherford said. " It's not like I want to win this game anymore than I want to win against the Cowboys the last game of the year, we have to win both these games to get in the playoffs and that's the only thing that's important to me right now."
September, 15, 2011
9/15/11
5:22
PM ET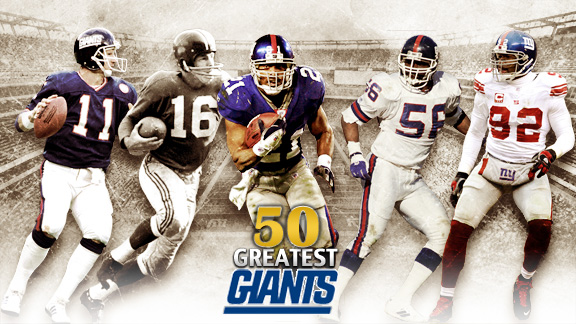 ESPN.com illustration
The list: 50 Greatest Giants

Rank 'Em: Your top 20 »
As the G-Men get ready to play the St. Louis Rams on the next edition of "Monday Night Football," ESPNNewYork.com is proud to announce its list of the 50 Greatest Giants.
Putting this list together was a tall order, considering Big Blue's long and storied history, which includes three Super Bowl wins.
There is plenty of room for debate -- in terms of who we selected, and in terms of what order we placed them in. And we welcome your feedback! Feel free to use the comment feature below.
We wanted to include a wide range, in terms of positions. And we certainly could have included at least a couple more current Giants -- in fact, two of them just missed the cut. But they've got some time left in their careers, and will likely make this list when it's all said and done.
Who are they? We'll, why don't you take a guess?
With that said, let 'er rip! Enjoy the photo gallery, and use our list ranker to assemble your very own top 20.
August, 10, 2010
8/10/10
5:44
PM ET
Matt Dodge would not have been drafted by the Giants if punter Jeff Feagles hadn't approached the team before the NFL Draft this spring and told them he was ready to retire. In the seventh round the Giants opted for Dodge, an muscular punter from East Carolina, and this summer has been like a tutorial in the position.
Feagles has been at training camp in Albany to informally coach his replacement.
The Giants former punter still isn't quite ready to be called Coach Feagles, even though he has been helping Dodge with his motion. Dodge said that he's gotten some useful advice that has translated into his motion.
"I had a tendency to be stiff and robotic with how I used to hold," Dodge said "I was like catch, spin — I wasn't doing it in a fluid motion. So he said, 'You're a muscular guy, you've got to relax a little bit.' So now I'm a lot more relaxed and it's a lot more natural."
Giants coach Tom Coughlin said the situation serves the organization well.
"Feagles is the ideal guy to work on," Coughlin said. "If you are going to come into this league as a rookie and not know anything, it's a dream come true to work with the guy who has played more games than anybody in the history of the game at that position. It's an ideal matchup."
Dodge said that he wasn't kicking as much with the Giants as he has in past seasons. The team is more judicious about using him, he estimates that he is making about a quarter of the kicks he normally does.
"These guys are very good at watching me," Dodge said.
So far, the Giants are pleased with Dodge's progress.
"He is very talented and very strong-legged," Coughlin said. "Basically what it is right now is it's a 65-yarder and a 40-yarder. Not much hang time (on the 40-yarder). His goal is to be consistent."