New York Giants:

Jeremy Maclin
February, 7, 2014
Feb 7
9:30
AM ET
You don't think the
New York Giants
plan to bring back free-agent wide receiver
Hakeem Nicks
and neither do I. Nicks is going to hit the open market, some team is going to look at his skill set and his pedigree vs. the rest of the free-agent wide receiver market and pay him a lot. The Giants aren't likely to be that team, not after the year he just had, not with a new offensive coordinator whose system may be more geared to the
Victor Cruz
/
Jerrel Jernigan
-type receivers they already have.

Nicks
However, the Giants will need to replace Nicks somehow if he does leave. They were terribly thin at the position last year, and even if you project Jernigan as a capable contributor based on his final three games and assume some development for
Rueben Randle
, the best you can say is the Giants go into next season with optimism about wide receiver but very little certainty.
We have discussed the possibility that the Giants use the No. 12 pick in the draft on a wide receiver such as Clemson's
Sammy Watkins
or Texas A&M's
Mike Evans
, but these are not things on which you can count. The draft is nearly two full months after the March 11 start of free agency this year, and 12 isn't a high enough pick to engender confidence about who'll be available and who won't. The Giants will have to look at the free-agent wide receiver market and see what their options are there.
Andrew Cohen at overthecap.com has taken a look at
seven free-agent wide receivers
-- Nicks,
Eric Decker
,
Jeremy Maclin
,
Julian Edelman
,
Anquan Boldin
,
Golden Tate
and
James Jones
-- and taken a stab at predicting where they'll end up and how much they'll get. He predicted none of the seven to the Giants, and he's predicting Nicks signs with the Lions for three years, $30 million with $13 million guaranteed. (I've been saying Patriots for Nicks, but if those are the figures then there's no chance.)
I could see the Giants targeting someone like Tate or Jones (both of whom are projected here to the Jets) as a Nicks replacement. I don't foresee them joining the Decker bidding (and don't really think they should). Maclin isn't likely to get out of Philadelphia, and he's recovering from ACL surgery anyway. Maybe he's a target next year if he's healthy. Boldin is 33, and not a long-term solution. Edelman is likely to be viewed as a
Tom Brady
creation and probably won't get the money he seeks even off his big year. Maybe he ends up being a worthwhile bargain for the Giants.
Of this group, I think Jones, who is 6-foot-1, makes the most sense for the Giants. His history with new offensive coordinator Ben McAdoo in Green Bay could help (or hurt, I guess, if McAdoo didn't like the guy). He won't break the bank, which makes sense given what they're already paying Cruz and the other needs they have for their salary cap room this offseason. And while he may not produce at Nicks' peak levels, the new Giants offense may not need him to do so. If they like Randle, want to give Jernigan some run and plan to throw it to Cruz 100-plus times anyway, this may be exactly the kind of guy they need.
January, 14, 2014
Jan 14
1:45
PM ET
So, back on draft day 2009,
as Mike Garafolo reported at the time
, the
New York Giants
had their eye on Missouri wide receiver
Jeremy Maclin
in the first round. They'd worked out a deal with the Lions to trade up from No. 29 to No. 20 to pick Maclin if he was available. Once the Eagles traded up to No. 19 and took Maclin there, the deal was off and the Giants stayed put and took North Carolina wide receiver
Hakeem Nicks
instead.
Now, Nicks is a free agent coming off a disappointing year in which he failed to score a touchdown, and Maclin is a free agent coming off a year he missed after tearing his ACL during training camp. Giants fans (and possibly the Giants' coaching staff) are down on Nicks for a perceived deficiency of effort during the 2013 season, and Monday on Twitter I got this interesting question:
@RobDemovsky The vote is about as necessary as a vote for Putin. There is no other choice.

— Michael LoCoco (@MichaelLoCocoWI) July 10, 2014
So I thought, "Good question, Steve," and I gave it some thought.
The first thing to understand about Maclin is that no one's going to offer him any kind of contract until he proves his knee is healthy. ACL injuries may not be as career-threatening scary as they were even a half-decade ago, but until Maclin shows teams he can run, the interest won't materialize. Assuming he does, though, there are likely to be many interested teams. Maclin turns 26 in May and has a long career ahead of him if he recovers fully. If he can demonstrate anything resembling his old speed, a one-year offer may not be enough to get it done.
And even if it were enough, you'd have to think he'd take a "prove-it" deal from the Eagles, no? He likes it there. Chip Kelly's offense looks as though it's a great deal of fun for a wide receiver. If it's down to one-year offers of similar value, Philadelphia would have to have the best chance, I would think.
So I guess my answer is this: A healthy Maclin would make sense for the Giants as a Nicks replacement, and the fact that they preferred him to Nicks on draft day 2009 shouldn't be discounted, as the same people are making their decisions now as were making them then. But if they do want to go that route, they're likely going to have to decide they're sold on the condition of his knee and willing to commit to him beyond just 2014. I would be surprised if that happened, but it can't be ruled out.
December, 7, 2013
12/07/13
10:00
AM ET
You tweet
New York Giants
questions, I answer. So long as your questions are hashtagged #nygmail and make sense and I find them and pick them for this weekly feature and ... well, you get the idea.
Thanks for the questions. Enjoy the rest of your Saturday.
August, 20, 2012
8/20/12
1:30
PM ET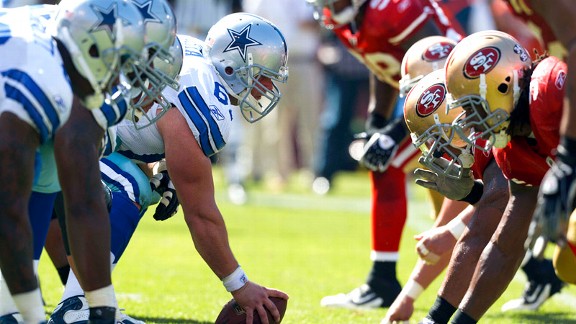 Jason O. Watson/US PresswireLike its NFC East rivals, Dallas is shuffling and searching for ways to solidify its offensive line.
The NFC East leads the league in hype. The huge media markets in which the teams play, the history of success, the rivalries ... all of it combines to create a perception that the NFC East is the best, most competitive and toughest division in the NFL. That the defending Super Bowl champion
New York Giants
play in it -- and are not the clear-cut favorites to win it again this season -- only adds to the perception, as does the growing excitement over an NFL regular-season opener between the Giants and the
Dallas Cowboys
16 nights from tonight.
But while Giants-Cowboys is fun, and each of those teams has something pretty intense going with the division's other two teams -- the Giants' recent struggles with the
Philadelphia Eagles
and the Cowboys' longstanding rivalry with the
Washington Redskins
-- the stats don't back up the NFC East as the league's toughest division anymore. The division is, by many measures, coming off its worst season ever. Last season was the first regular season in NFC East history in which no team won at least 10 games. Only the Giants finished over .500, and they gave up more points than they scored. Their Super Bowl run might have saved the division's honor, but it also disguised the troubling fact that the NFC East is no longer the Beast it used to be.
A large part of the reason for this, I believe, is the state of the division's offensive lines. We all know offensive line play is important, but in the NFC East these days, concern about the lines affects too many things. Teams that are strong on the line can control games. Teams that aren't cannot.
Eli Manning
and the Giants have been talking for months about wanting to not have to come back in the fourth quarter as much as they did last season, and the best way to avoid that is to control games from the start. Given the issues with their offensive line, they could find that a challenge once again.
But they're not alone. As we look ahead to 2012 and start assessing everyone's biggest questions, offensive line stands out as an issue for each of the NFC East's four teams. To wit:
The NFC has no shortage of star power. It has three great quarterbacks and one, Washington rookie
Robert Griffin III
, who's getting as much hype as any of the other three these days. It has some of the great wide receivers in the league in veterans such as
Hakeem Nicks
,
Miles Austin
and
DeSean Jackson
as well as rising stars such as
Victor Cruz
,
Dez Bryant
and
Jeremy Maclin
. The Eagles'
LeSean McCoy
ranks with the game's great running backs. And on defense, of course, the division is known for its great pass-rushers. Each team can rattle off names that give opposing quarterbacks heartburn.
DeMarcus Ware
.
Jason Pierre-Paul
.
Justin Tuck
.
Trent Cole
.
Jason Babin
.
Brian Orakpo
.
All of that makes the NFC East very exciting. But very often in the NFL, excitement and hype can conceal issues of quality. And if the NFC East really wants to be the best division in football again, it's not the quarterbacks or the wide receivers or even the pass-rushers that will bring it there. The NFC East's teams all need to start paying more attention to their offensive lines, because as those continue to erode, so will the division's annual claim to Beastliness.
July, 3, 2012
7/03/12
12:54
PM ET
SportsCenter has been running prime-time specials previewing the 2012 season for each NFL division. Tuesday at 7 p.m. on ESPN, they will do their one-hour show on the NFC East. To help you gear up, we take a look at each of the four teams and the reasons why you should like their chances to finish on top ... and why you shouldn't.
New York Giants

Why they'll win the East:
Quarterback
Eli Manning
has established himself as one of the best in the league, and the most clutch. Armed with two great wide receivers in
Hakeem Nicks
and
Victor Cruz
, Manning makes the Giants a threat to win any game that's close in the fourth quarter. They have a dominant pass rush that makes life miserable for opposing quarterbacks, even the very best ones. It's a passing league, and the Giants pass the ball and disrupt the opponent's passing game as well as anyone.
Why they won't:
The Giants' up-and-down 2011 regular season had a lot to do with inconsistency on the offensive line and an inability to control the game with the run. Neither the line nor the run game appears to have been improved over last year, and that could lead to inconsistency again, in spite of the outstanding talent they have at other key positions. Also, it's not their turn. This division has had three different winners over the last three years, and no one has repeated as NFC East champ since the Eagles won the division four years in a row from 2001-04. Every team in the division has improved, so the task of repeating is not an easy one.

Philadelphia Eagles
Why they'll win the East:
Everything went wrong last year, and they still missed by only one game. They went 5-1 against division opponents. The depth they have on the defensive line may actually be more impressive than the Giants' depth there (though, without the championship rings), and they tied for the league lead last year in sacks. Assuming he stays healthy, quarterback
Michael Vick
is a multi-faceted weapon.
LeSean McCoy
is one of the best running backs in the league. And
DeSean Jackson
and
Jeremy Maclin
are super-speedy potential stars in the receiving game.
Why they won't:
Almost everything rides on Vick, and he hasn't shown that he can be trusted to be (a) healthy or (b) consistently responsible in his decision-making. Even if you assume improvements on defense and in the wide receiving corps, Vick still has the potential to devastate the team with mistakes or a serious injury. They have very little behind him, and the loss of star left tackle
Jason Peters
for the year with a torn Achilles' tendon will make him more difficult to protect.

Dallas Cowboys
Why they'll win the East:
They had it in their hands last year with five games to go, but lost four of those, including two to the Giants. The main culprit for the collapse was a secondary that's been overhauled with the additions of
Brandon Carr
and
Morris Claiborne
at cornerback. And assuming running back
DeMarco Murray
comes back and remains healthy, he and
Tony Romo
lead an offense capable of big things.
Why they won't:
They remain questionable at safety, at guard and at center. Those are structural issues that could undermine the ability of the Cowboys' great skill-position players to put up their big numbers. The Cowboys' hope is that camp competition brings out the best at those positions, but they are areas in which Dallas could conceivably struggle all year.

Washington Redskins
Why they'll win the East
: The Redskins haven't won this division since the 1999 season, and they were so fed up that they dealt four high draft picks to get quarterback Robert Griffin III. If he can be half as dazzling in his rookie NFL season as he was in his final season at Baylor, the Redskins could be a surprise contender. Upgrades to the receiving corps and an imposing front seven bolstered by the return of 2011 second-rounder
Jarvis Jenkins
from injury also offer reasons for optimism, as does last year's 2-0 record against the Super Bowl champs.
Why they won't:
Still too many question marks, particularly on the back end of that defense and in the jumbled running game. They'll need some of their safeties, cornerbacks and running backs to play over their heads if they want to contend in this very tough division race, and they'll also need their rookie quarterback to play like a veteran. Everybody loves Griffin, and for good reason, but he is a rookie, and rookies struggle to adapt.
November, 20, 2011
11/20/11
11:08
AM ET
As you get ready for tonight's game between the
Philadelphia Eagles
and the
New York Giants
in East Rutherford, N.J., here's one reason for Eagles fans to be feeling good and one reason for Giants' fans to be feeling good:

Eagles feeling good:
With starting quarterback
Michael Vick
and top wide receiver
Jeremy Maclin
out with injuries, the Eagles have but one chance to score points against the Giants -- run the ball. Fortunately for them, they are very good at running the ball. Their running back,
LeSean McCoy
, is one of the best in the league at his position. And
Vince Young
, who will play quarterback in Vick's place, is a great running quarterback. The Eagles are the top running team in the league this season, averaging 171.6 yards per game on the ground, and they face a Giants defense that has struggled against the run, allowing 121.6 yards per game on the ground. The Eagles are serious underdogs due to their injuries and the fact that they've underachieved so badly this season, but there is a path to victory if they can keep the ball on the ground and out of
Eli Manning
's hands.

Giants feeling good:
They broke their six-game hex against the Eagles with a victory this season in Philadelphia. And even if this game starts poorly for the Giants, you can bet their fans will have reason to feel better going into the fourth quarter than the Eagles' fans will. The Eagles have blown fourth-quarter leads in five of their six losses this season. The Giants have come back to win four games after trailing in the fourth quarter. The Giants should be able to run against the Eagles even with
Ahmad Bradshaw
out with a foot injury, and their game plan is likely to try and control the ball early and build a lead behind
Brandon Jacobs
and the run game. But if that plan is unsuccessful, the Giants still have a huge edge at quarterback and in late-game toughness.