New York Giants:

Jeremy Shockey
May, 7, 2014
5/07/14
4:00
PM ET
The
New York Giants
hold the No. 12 pick in the first round of the NFL draft, which finally happens Thursday night. Obviously, there's no way to predict who they'll pick without knowing how the first 11 picks will go. And the only thing we know for sure is that there will be surprises in that first 11.
However, for the purposes of this Draft Eve exercise, I have identified four players I think could be there at No. 12 for the Giants. And I want to know from you guys which one you'd take if all four were available.

My hypothetical foursome includes offensive linemen
Taylor Lewan
and
Zack Martin
, defensive tackle
Aaron Donald
and tight end
Eric Ebron
. Each has been projected to the Giants in multiple recent mock drafts. Each fits a major need. Each is likely to be valued right around that No. 12 slot in the draft. That makes it a matter of preference.
As you likely know, I picked Lewan for the Giants in
our NFL Nation mock draft
on ESPN.com on Tuesday and on "SportsCenter" on Wednesday. As you know if you've been reading regularly, I think the Giants should and will go with an offensive lineman at this spot if one they like is available, and Lewan represents excellent value at No. 12. What I do not know is how the Giants value Lewan and Martin relative to each other, though I have heard some rumblings in the last day or so that indicate they like Martin better and would take him if presented with the choice. My sense is that Lewan will be gone by No. 12 anyway, but I personally think he's the better player and he's the one I'd take in this scenario.
If the Giants took Donald at No. 12, I wouldn't criticize the pick, because I think Donald is going to be a disruptive star in the NFL. But I do not think the Giants are going to take Donald, because I don't think he fits what they look for in a defensive tackle. The knock on him is his size, and the Giants lean more toward huge cloggers in the middle of their defensive line. I think they like him just fine, but that he doesn't fit what they look for in a defensive tackle, and at this point I'd be surprised if they took him.
I don't think they'll take Ebron either. I know, many of you want the flashy, playmaking tight end for
Eli Manning
to throw to. I know there's no viable tight end on the roster right now. I know other teams around the league have cool tight ends. I know. I know. I've heard it all. But I just don't think the Giants are going to use a first-half-of-the-first-round pick on this player. He's not a blocker, first of all, and those of you who bring up 2002 first-rounder
Jeremy Shockey
are forgetting what a good blocker he was. Shockey was a complete enough player to deserve the No. 14 pick that year, and I don't think Ebron is.
In the salary-cap era, teams have to set priorities and decide which positions are worthy of their top resources. By "top resources," I mean free-agent dollars and high draft picks. It's pretty clear that positions like tight end and linebacker aren't positions the Giants deem worthy of top resources. Shockey's draft was 12 years ago, and they've been happy to go cheap at tight end ever since he left. I just don't see the Giants holding a resource as valuable as the No. 12 pick in the draft and spending it on a position they don't value that highly.
I'm not saying there's no way they'll pick Ebron. I'm just saying I don't think they will. Frankly, if they're taking someone who touches the ball with this pick, I'd be less surprised to see them take LSU wide receiver
Odell Beckham Jr
., than I would to see them take Ebron.
Those are my thoughts, based on what I'm hearing and the way I've analyzed it. But I'm curious to see how you guys vote.
May, 2, 2014
5/02/14
11:30
AM ET
The awkward part of
New York Giants
GM Jerry Reese's pre-draft news conference Thursday came when a reporter asked him about tight end. The exchange went like this:
Q: Historically, this team has relied on the tight end quite a bit. Would you be comfortable moving forward with the guys you have on your roster right now?

Reese: Historically we've relied on our tight end?

Q: Well, they've had a prominent role.

Reese: Really?

Q: I seem to remember tight ends catching important passes.

Reese: Yeah, well, we think we've got some tight ends that can catch some important passes. But "prominent role"? We want all of our positions to be prominent roles. I'm not sure if our tight ends have had prominent roles in the past. But we want a competent tight end. We think we've got a couple of young tight ends who have been here for a couple of years who we want to develop, and we'll continue to look as we move forward.
[+] Enlarge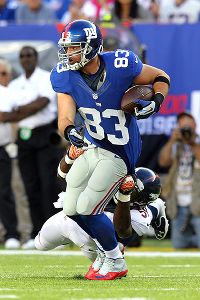 Brad Penner/USA TODAY SportsIn his one season with the Giants, Brandon Myers caught 47 passes for 522 yards.
I have been on the other end of that exchange in the past. I've been the one who asked Reese a question that posited a certain level of significance for the tight end position and had him reject the premise. Obviously, this does not show Reese at his most polite, but he views this idea that the Giants' offense has relied on a tight end as an especially irksome misperception. And the numbers support his side of it:
Brandon Myers' 47 receptions in 2013 were the second-most in a single season by a Giants tight end since Jeremy Shockey caught 57 passes in 2007.
Since 2007, the Giants have employed four different starting tight ends -- Kevin Boss from 2008-10, Jake Ballard in 2011, Martellus Bennett in 2012 and Myers last year.
Over that six-year stretch, the Giants' leading tight end has averaged 42 receptions for 539 yards and five touchdowns per year, with Bennett's 55 catches and 626 yards in 2012 and Boss' six touchdowns in 2008 the high-water marks in those categories.
Reese is not shy about telling people he thinks he can find a tight end who can catch 42 passes every year, and this is the basis on which he rejects a characterization such as "prominent role." Yes, he could be nicer about making the point, but the Giants' offense has not, in point of fact, relied on the tight end. Shockey was an exceptional case -- an exceptional talent the Giants deemed worthy of a first-round pick. And Bennett's athleticism allowed them to use him a bit more than they've used other guys after they were able to get him on the cheap prior to the 2012 season.
But the thing to remember about Bennett and Shockey is that both were excellent and willing blockers at the position. Bennett's as good a run-blocking tight end as there is in the NFL right now, and the Giants had him on the field a lot for that reason. That his size and speed enabled him to be a slightly bigger factor in the passing game than some of his predecessors were was a bonus, and the Giants were fortunate that he wasn't in demand that year due to the perception that he was a huge disappointment in Dallas. Once he played well for them, he parlayed that into a big free-agent deal with the Bears, and the Giants made no effort to spend to keep him.
So the point to be taken from this is not that the Giants don't like the tight end position but that it's not a position on which they feel compelled to spend major resources. Other than that 2002 first-round pick they spent on Shockey, they've consistently sought cheap solutions at tight end, viewing whoever plays it as replaceable from year to year. They want guys who can block, and if those guys can catch the ball, so much the better.
For that reason, it's easy to convince yourself that they won't be taking North Carolina's
Eric Ebron
with the No. 12 pick in the first round next week. Ebron may be an exceptional talent as a receiver, and the tight end position leaguewide may have evolved to the point where it's worth spending a No. 12 overall pick to get one who can be a difference-maker in the passing game. But Reese insisted Thursday that the arrival of new offensive coordinator Ben McAdoo has not changed the way the Giants evaluate offensive players. And while Shockey was the No. 14 overall pick in that 2002 draft, it's vital to remember that Shockey was a good blocker in addition to a great pass-catcher. Ebron is a pass-catcher only. He'd be a liability as a blocker. So the comparison doesn't necessarily fit.
The Giants could find a tight end such as
Jace Amaro
or
Austin Seferian-Jenkins
in the second round if they really feel they need one, but it's possible they don't feel that way. They have 2012 fourth-round pick
Adrien Robinson
still on the roster and have been eager for some time to see him on the field more. They resisted putting Robinson on injured reserve all last year because they believed he had something to offer if he ever got healthy (which he finally did, only to injure himself again on the opening kickoff of the Week 16 game in Detroit). They signed blocking tight end
Kellen Davis
and
Daniel Fells
for depth at the position, and
Larry Donnell
has been a strong enough special-teams performer to earn more practice reps and show what he can do. That's the group Reese has, and he swears he doesn't feel the need to upgrade it in the draft. If their pick comes around and the best player still on their board plays tight end, sure, they could take him. But Reese isn't hunting for some huge solution at the position next week.
The question is whether he's right. I personally think the Giants would benefit from having a more permanent solution at this position than they've employed over the past four years. I think the way the league is going, it's more important than it used to be to have a big-time weapon at that position who can split out wide and bust matchups in the secondary. But I don't run the Giants. Jerry Reese does. And he and the Giants do things their way, and they believe in it. You can respect someone's conviction even if your opinion differs from theirs. Reese thinks he's OK at tight end -- or at least that he will be. And it's clear when he's asked about it that he doesn't understand what all the fuss is about.
February, 5, 2014
2/05/14
9:35
AM ET
So
New York Giants
safety
Antrel Rolle
watched the Super Bowl with his buddy, Packers tight end
Jermichael Finley
, and said Tuesday night that he's
trying to convince Finley to join the Giants
. Certainly, a peak-condition Finley would be a fun weapon for the Giants to add, but it's important to note Finley is coming off a severe neck injury and spinal fusion surgery and is no sure bet to be cleared by doctors to play again. He has said he expects to be cleared by his own doctors for contact in the coming weeks, but that doesn't mean the Packers, the Giants or any other team will pass him on a physical and sign him to a contract. So Finley remains a question mark, for the Giants and in general.
But with tight end
Brandon Myers
almost certain to be cut and not be missed, the Giants are looking for answers at that position. And if Finley does pass the medical tests, he'd potentially be a strong solution -- especially given his history with new Giants offensive coordinator Ben McAdoo, who came from Green Bay. But why not take this opportunity to look at some other possibilities for the Giants at tight end? All it is is snow and ice out there, so it's not like we can go anywhere.
Free agency
Finley is but one of many intriguing candidates who fall in the talented-but-flawed category. Detroit's 6-foot-5, 265-pound
Brandon Pettigrew
is a former first-round pick who hasn't developed the way the Lions would have hoped and might could stand a change of scenery. Baltimore's
Dennis Pitta
, if the Ravens let him go, is coming off a major hip injury but is a reliable receiver with a Super Bowl ring. Guys like
Fred Davis
and
Dustin Keller
have had some success in the league but come with other question marks. And sorry, but there's no way the Saints are letting
Jimmy Graham
reach free agency. Cross him off your wish lists.
The draft
In 2002, the Giants used the No. 14 pick in the draft on talented, dynamic tight end
Jeremy Shockey
. And while we all remember the ugly end to Shockey's Giants career, he was a very good player for them for a while. Could they repeat themselves 14 years later and use the No. 12 pick in the draft on North Carolina tight end
Eric Ebron
? And if they don't, would they take someone like Texas Tech's
Jace Amaro
or Washington's huge
Austin Seferian-Jenkins
in the second? It would not be an out-of-character move for the Giants to try to find a dynamic weapon for
Eli Manning
with an early pick. He could certainly use a few.
The current roster
Bear Pascoe
is a free agent himself and not the answer as a receiver.
Larry Donnell
's basically a special teamer. So the intriguing guy in the mix here is
Adrien Robinson
, the fourth-round pick in the 2012 draft who has participated in only three games in the first two years of his professional career. The Giants drafted Robinson as a project because they liked his size and talent, but they knew there was a risk he might never develop. Injuries kept him out of the lineup all through 2013 until the Week 16 game in Detroit, when he was active for the first time all year but injured himself on the opening kickoff and didn't play again. If the Giants have something in Robinson, there's been no way so far for them to find out. They obviously can't count on him as their starter going into 2014.
September, 15, 2011
9/15/11
5:22
PM ET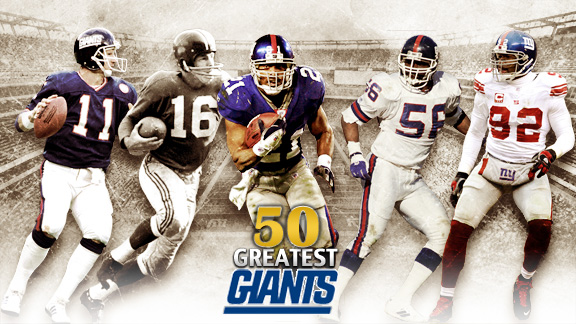 ESPN.com illustration
The list: 50 Greatest Giants

Rank 'Em: Your top 20 »
As the G-Men get ready to play the St. Louis Rams on the next edition of "Monday Night Football," ESPNNewYork.com is proud to announce its list of the 50 Greatest Giants.
Putting this list together was a tall order, considering Big Blue's long and storied history, which includes three Super Bowl wins.
There is plenty of room for debate -- in terms of who we selected, and in terms of what order we placed them in. And we welcome your feedback! Feel free to use the comment feature below.
We wanted to include a wide range, in terms of positions. And we certainly could have included at least a couple more current Giants -- in fact, two of them just missed the cut. But they've got some time left in their careers, and will likely make this list when it's all said and done.
Who are they? We'll, why don't you take a guess?
With that said, let 'er rip! Enjoy the photo gallery, and use our list ranker to assemble your very own top 20.