New York Giants:

Jerry Rice
January, 19, 2012
1/19/12
4:52
PM ET
EAST RUTHERFORD, N.J. -- It's hard to look at a 6-foot-4, 264 pound running back, a man who says he welcomes a helmet-to-helmet hit because it means his legs are clean, a man who trains with boxers in the offseason, and call him soft.
But that's just what Hall of Famer
Jerry Rice
said of
Brandon Jacobs
earlier this week.
Jacobs, who is preparing to play in the NFC Championship Game, responded to Rice's contention.
"I grew up a San Francisco 49ers fan," Jacobs said Thursday. "I've loved Jerry Rice. I still love Jerry Rice. I give him a lot of credit for the game being what it is today. I have nothing negative to say about Jerry. If he feels that way, he feels that way."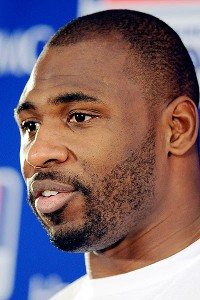 AP Photo/Bill KostrounBrandon Jacobs
Then came the punch line.
"I bet you he won't tackle me."
Giants quarterback
Eli Manning
was in the field house and heard Jacobs' retort.
"I agree with that statement," Manning said.
In case you missed what initially caused the fracas, Rice said the 49ers had an advantage when it came to rain, and evaluated the Giants' running backs.
"That [advantage] goes to San Francisco," Rice said. "I like
Ahmad Bradshaw
. I like Brandon Jacobs, but I feel like Brandon Jacobs is a little bit soft. ... He can't get away from a defender. This guy is 265 and it upsets me when I see him get tackled by a guy that's like 190 or 200 pounds."
Jacobs gets that sometimes, a fact that offensive coordinator
Kevin Gilbride
acknowledged. But Gilbride said it wasn't really the defensive backs who cause trouble, but defensive linemen -- the guys with a size advantage over Jacobs -- who keep him from pickup up stream.
"I think just because you see this big, powerful man and if he's not running over somebody every snap, then people are almost disappointed," Gilbride said. "Once he gets going he's really -- and I mean this in a positive way -- a freak of nature. To be that that big and powerful and run as fast as he does, there's not many people who have that combination."
San Francisco is going to attack the Giants' running game, just like they did in a win over the Saints. Jacobs addressed the helmet-to-helmet hit safety
Donte Whitner
put on Saints running back
Pierre Thomas
that took him out of the game, even though it was a legal hit.
"That was a helmet-to-helmet hit," Jacobs said. "I want one of those, because that mean they're staying high; they're not digging in the ground and trying to make tackles at your shoestrings."
The running game would be crucial in a wet game on a muddy field. And there hasn't been as much balance in the offense this season; against Green Bay, the Giants had 330 passing yards and 95 rushing yards. But to conclude that it's due to Jacobs being soft?
"I think he's proven he's not a soft player," offensive lineman
David Diehl
said. "I think we've seen the way he's able to run the ball how tough he is as a competitor. You see guys not wanting to take him on. I think if he had an opportunity to run in the open field, I think he'd get the best of Jerry Rice. That's in my opinion."
January, 19, 2012
1/19/12
11:01
AM ET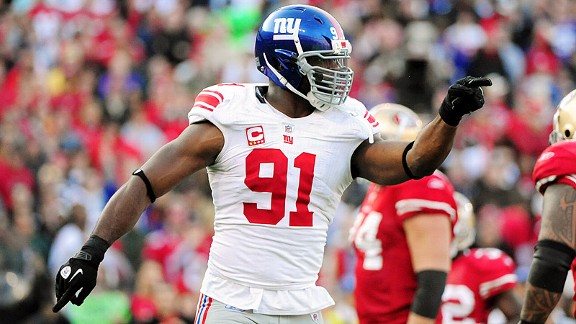 Kyle Terada/US PresswireJustin Tuck has been a big part of the Giants' late-season resurgence despite nagging injuries.
EAST RUTHERFORD, N.J. -- What do you do when your success comes before your adversity? You win the Super Bowl when you're 24 and you spend the ensuing years building on that, emerging as one of the dominant defensive players in the NFL, becoming a captain of your team, piling confidence on top of confidence, accolade on top of accolade. And then out of nowhere, at age 28, you're confronted with new, painful challenges that poke at your belief in yourself. What do you do?
Justin Tuck
sure didn't know. The
New York Giants
' star defensive end has had a rough season. Groin, shoulder, neck and foot injuries kept him from being the player he's spent his whole outstanding NFL career proving he can be and the teammate his fellow Giants expect him to be.
"The way I like to lead is by example, by going out on the football field and doing it," Tuck said Wednesday. "So this year's been tough for me in that regard, as far as leadership. It's been growing pains, learning how to get your point across without doing it on the football field, which I had previously liked to do."
Fortunately for the Giants, Tuck figured this out before it was too late. Along about Week 16, when teammate
Antrel Rolle
started making public comments about guys who weren't practicing every day but maybe could, Tuck started changing the way he felt about his nagging injuries. That same week, Giants coach Tom Coughlin and GM Jerry Reese spoke with Tuck about shaking off the pain -- of accepting that he wasn't going to feel his best, but playing and leading by example anyway.
The result has been brilliant for the Giants, and brilliantly timed. Tuck has played his best football of the season over the last four weeks. And as the Giants get ready for Sunday's NFC Championship Game in San Francisco, their defensive leader finds himself in that blissfully right state of mind that had eluded him all season.
"One thing I learned this year is that the guys respect what you've done," Tuck said. "A lot of times this year, I wasn't saying anything, and guys would come up to me and ask, 'Why are you so quiet? Why didn't you do this or that?' And I'd tell them why. And they came to me and were like, 'You don't have to worry about that. We know you're not 100 percent, but that doesn't stop you from being a leader.'"
Tuck is a smart and thoughtful guy. You see it instantly when you interview him. A lot of athletes go right to the easy sound bite, but Tuck engages his interviewer, thinks about his answer and offers helpful insight. He seems willing to consider outside points of view and differing perspectives. So it's not surprising to learn that when his teammates, his coach and his GM started talking to him about ways to change his mindset, he was receptive. It also helps that he's strong enough mentally to actually do it.
"I like the adjustments that he made," Coughlin said. "He just decided that he's not going to allow any more distractions from the standpoint of the hurts. He has made that decision and he has stuck with it, and I think it's a very smart move. He's been very productive since doing it."
We forget sometimes, as outside observers of these games, that these are actual people who play them, and young ones at that. We like to put these players in boxes and assume we have them figured out. Tuck won the Super Bowl when he was 24 years old and played great for the three years that followed. Why should we have thought he'd ever be anything other than what we already knew him to be?
But none of us is a finished product at 24, 25, 26 or 27 years old, and neither is our favorite star athlete. Compared to a lot of teams and a lot of people, things came easily for a lot of these Giants early in their careers. Tuck,
Eli Manning
,
Brandon Jacobs
,
Osi Umenyiora
... all of these guys were wearing Super Bowl rings in their mid-20s. But each had the bulk of his career still ahead of him, and growing to do. True greatness isn't measured by the title you win when you're a kid who got hot and didn't know any better. It's measured by the way you build on that, learn from the adversity sure to follow and find a way to be great again.
Those early career champion Giants all went through this. Manning with the interceptions. Jacobs with his demotion and weird behavior issues. Umenyiora with his contract dispute and ugly public feud with GM Jerry Reese. And Tuck, this year, with his injuries. Each of those players has emerged from his mid-career adversity better for the experience. Manning led the way, playing brilliantly from the start of this season. But the light has gone on for the others at the right time.
Jacobs is running as hard as in the old days, no matter what Jerry Rice thinks. Umenyiora has shoved the contract stuff to the back burner and is focused on knocking down quarterbacks again. And Tuck? Well, yeah, the nagging injuries are still there. He's still in more pain than he'd like to be, and it's still keeping him from doing everything he'd like to be doing on the field. But this year, at a still-young 28, Tuck has learned that that's OK.
"My teammates know where my heart is," Tuck said. "My coaches know where my heart is. And I just came to the realization that I'm not going to be healthy this year. I'm not going to put up the stats that I've put up. But that doesn't mean that I can't help this football team win games. And at the end of the day, that's the goal."
January, 18, 2012
1/18/12
4:24
PM ET

Few know Candlestick Park and how the rain might affect conditions there better than Jerry Rice.

The 49ers' legendary wide receiver, now an analyst for ESPN, said that rain –- which is in the San Francisco forecast from Thursday through Sunday -- will likely turn the NFC Championship Game between the Giants and 49ers into more of a running game. And if that is the case, he favors the Niners because he says Brandon Jacobs needs to be tougher.

"That goes to San Francisco," Rice said on SportsCenter, of rain favoring the Niners. "I like Ahmad Bradshaw, I like Brandon Jacobs but I feel like Brandon Jacobs is a little bit soft."

"He can't get away from a defender," Rice continued. "This guy is 265 and it upsets me when I see him get tackled by a guy that's like 190 or 200 pounds."

Jacobs is scheduled to talk to the media on Thursday. Jacobs rushed for 571 yards and seven touchdowns this season. He ran for 92 yards against the Falcons in the Giants' wild-card victory and had 22 yards on nine carries in the win over Green Bay on Sunday.

"I'm sure he is going to be looking for me," Rice said laughingly.

As of Wednesday afternoon, the forecast in San Francisco called for a 90 percent chance of light rain on Thursday followed by an 80 percent likelihood of morning showers on Friday, according to Weather.com. There's a 30 percent chance of showers on Saturday and Sunday.

Rice said he had to focus even more when it rained during Niners home games.

"It is going to be different because you have to have a different mindset," he said. "I remember when I was a young receiver, I would always look outside the blinds when they predicted rain. If it was raining outside, I had to get focused because the ball was going to be a little bit more slippery."