EAST RUTHERFORD, N.J. -- It's hard to look at a 6-foot-4, 264 pound running back, a man who says he welcomes a helmet-to-helmet hit because it means his legs are clean, a man who trains with boxers in the offseason, and call him soft.
But that's just what Hall of Famer Jerry Rice said of Brandon Jacobs earlier this week.
Jacobs, who is preparing to play in the NFC Championship Game, responded to Rice's contention.
"I grew up a San Francisco 49ers fan," Jacobs said Thursday. "I've loved Jerry Rice. I still love Jerry Rice. I give him a lot of credit for the game being what it is today. I have nothing negative to say about Jerry. If he feels that way, he feels that way."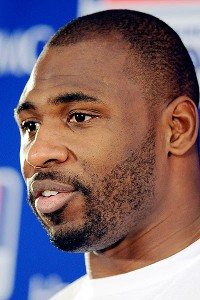 AP Photo/Bill Kostroun
Brandon Jacobs
Then came the punch line.
"I bet you he won't tackle me."
Giants quarterback Eli Manning was in the field house and heard Jacobs' retort.
"I agree with that statement," Manning said.
In case you missed what initially caused the fracas, Rice said the 49ers had an advantage when it came to rain, and evaluated the Giants' running backs.
"That [advantage] goes to San Francisco," Rice said. "I like Ahmad Bradshaw. I like Brandon Jacobs, but I feel like Brandon Jacobs is a little bit soft. ... He can't get away from a defender. This guy is 265 and it upsets me when I see him get tackled by a guy that's like 190 or 200 pounds."
Jacobs gets that sometimes, a fact that offensive coordinator Kevin Gilbride acknowledged. But Gilbride said it wasn't really the defensive backs who cause trouble, but defensive linemen -- the guys with a size advantage over Jacobs -- who keep him from pickup up stream.
"I think just because you see this big, powerful man and if he's not running over somebody every snap, then people are almost disappointed," Gilbride said. "Once he gets going he's really -- and I mean this in a positive way -- a freak of nature. To be that that big and powerful and run as fast as he does, there's not many people who have that combination."
San Francisco is going to attack the Giants' running game, just like they did in a win over the Saints. Jacobs addressed the helmet-to-helmet hit safety Donte Whitner put on Saints running back Pierre Thomas that took him out of the game, even though it was a legal hit.
"That was a helmet-to-helmet hit," Jacobs said. "I want one of those, because that mean they're staying high; they're not digging in the ground and trying to make tackles at your shoestrings."
The running game would be crucial in a wet game on a muddy field. And there hasn't been as much balance in the offense this season; against Green Bay, the Giants had 330 passing yards and 95 rushing yards. But to conclude that it's due to Jacobs being soft?
"I think he's proven he's not a soft player," offensive lineman David Diehl said. "I think we've seen the way he's able to run the ball how tough he is as a competitor. You see guys not wanting to take him on. I think if he had an opportunity to run in the open field, I think he'd get the best of Jerry Rice. That's in my opinion."