New York Giants:

Joe Flacco
February, 24, 2014
Feb 24
12:40
PM ET
When the offseason began, one of the things of which I felt certain was that the
New York Giants
would extend quarterback
Eli Manning
's contract before the start of the 2014 season.
According to a Star-Ledger report
last week, I was wrong. This happens from time to time, as my regular readers know, and when it does I sometimes feel it's worth examining why. So here are some thoughts on why the situation may have changed:
Manning
Cap room.
The Giants could clear something like $11 million in salary-cap room if they extended Manning's contract beyond 2015, which is when it's currently set to expire. There's no team in the league that couldn't use that, and when the offseason began it appeared to be the clearest path for the Giants to attain the kind of cap relief they were going to need. However, the league may be providing that cap room instead. Initially projected to be around $126.3 million, the salary cap for 2014 now appears set to rise into the low $130 millions, which would offer perpetually strapped teams like the Giants room they didn't expect to have. They'll add about $9 million if and when they release (or slash the salaries of)
Chris Snee
and
David Baas
, and they should have plenty of room to maneuver now without extending Manning.
Desire
. Negotiating an extension with Manning now, after he threw 27 interceptions in 2013, would put the Giants in a position of strength. If he goes out and has a big 2014 and wins another Super Bowl, he's going to be the one with the leverage (and only one year left on his deal), and the Giants would have to pay more to keep him than they would if they did the deal now. But (a) it takes two to tango, and for those same reasons Manning may not want to talk deal this offseason and (b) the quarterback market isn't rising too crazily beyond the place Manning already occupies in it. If Manning signs next year for a deal similar to the ones
Joe Flacco
and
Jay Cutler
got the last two offseasons, his cap number isn't going to be any higher than it already is. The Giants are used to trying to balance their budget around a $20 million quarterback cap number, and it's not as though he's going to take it to $25 million with one big year.
Legitimate questions.
The Giants may be wondering about Manning as a long-term investment. I think they still believe he's capable of playing at a high level and taking them where they need to go, but in the wake of 2013, the Giants have legitimate questions about the direction of their franchise. Manning and Tom Coughlin are signed through 2015, as is the young, new offensive coordinator, Ben McAdoo, who's never called plays or run his own offense before. The next two years could go well or could go poorly, and if they go poorly, the Giants may find themselves in a position to completely reboot as they did in 2004 when they hired Coughlin and drafted Manning. Committing to Manning beyond that at this point may just be something they thought they wanted to do but now aren't so sure.
May, 25, 2013
5/25/13
2:21
PM ET
One thing to love about
Chris Canty
is his candid and often direct point of view.
The former Giant usually doesn't hold back anything he says, like when he declared that the Giants suffered from a
Super Bowl hangover
last year.
So when Canty was asked on NBC Sports which Super Bowl MVP quarterback he prefers between
Joe Flacco
and
Eli Manning
, the defensive tackle went with Flacco over his former two-time Super Bowl-winning teammate.
"Joe Flacco," Canty said when asked Flacco or Manning on
NBC Sports' Pro Football Talk
. "Because he won a Super Bowl and he's one of the best deep-ball throwers in the National Football League. Absolutely. Take a look at the tape."
Of course, Canty predictably picked his new quarterback in this case. He signed with the Ravens in the offseason after being a cap casualty cut by the Giants.
"He throws a beautiful deep ball," Canty said. "He puts it only where the receivers can get their hands on it when you talk about the vertical passing game. And they've got some vertical pass threats. They got
Torrey Smith
. They've got [Dennis] Pitta. They've got [Ed] Dickson. They've got some good weapons for him to use down the field."
Canty did praise Manning for proving time and time again that he is one of the clutch quarterbacks in the NFL.
"Eli is good in clutch situations," he said. "When you got to have that fourth-quarter drive, that two-minute drill, Eli can deliver."
At least Manning isn't Canty's favorite former teammate to sack. Canty said
Tony Romo
is his favorite quarterback to sack "by far."
"I'm on Tony Romo more than the Dallas media," Canty said of being inspired when facing his first team.
OK, guys, Eli or Flacco? Let me know what you think!
February, 4, 2013
2/04/13
6:30
PM ET
When Scott Brunner first started working with
Joe Flacco
to prepare the Delaware quarterback for the 2008 NFL combine, he wanted to work on Flacco's mobility.
[+] Enlarge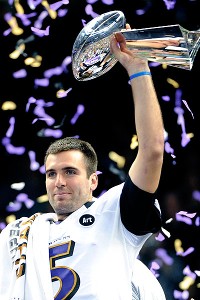 Robert Deutsch/USA TODAY SportsJoe Flacco capped his fifth NFL season with a Lombardi Trophy.
So Brunner, a former New York Giants quarterback (1980-83), was proud when he watched Flacco make big plays with his arm and feet to win Super Bowl XLVII MVP honors on Sunday night.
"I am most proud of the fact that we kind of debunked the myth that he wasn't a mobile quarterback and he couldn't get out of his own way if he had to," Brunner said by telephone on Monday. "Many times, he escaped the pressure and showed his athleticism. He may not be the guy that breaks the 50-yard run, but he can make plays."
Brunner and the rest of the country watched Flacco complete 22 of 33 passes for 287 yards and three touchdowns with no interceptions. In the postseason, Flacco passed for 11 touchdowns and no picks.
Flacco, who is from Audubon, N.J., attended the University of Delaware, like Brunner did. So it seemed only natural for Brunner to mentor Flacco early on.
Brunner helps train quarterbacks and offensive players at TEST Football Academy. Brunner and Flacco trained at the Martinsville, N.J., location.
Brunner hopes the whole conversation about whether Flacco is an elite quarterback is over now. And he expects Flacco, a free agent, to be paid like an elite quarterback.
[+] Enlarge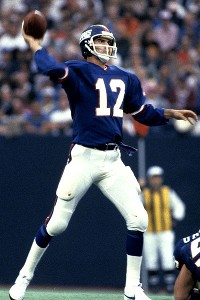 Ronald C. Modra/Getty ImagesScott Brunner spent four seasons with the Giants (1980-83).
"I think the elite QB thing is really overdone," said Brunner, who also is a partner at a firm called Net Worth Management Group. "Certainly, the way he played … it was typical Joe. He remained unflappable throughout the game, executed early and made some great plays. And when it looked like things were sliding away in the second half, he kind of hoisted the team on his back."
"Some people, those doubters who don't want to believe that he is a top-notch quarterback, will continue to find flaws in his game," Brunner added. "And people who are fans of Joe Flacco will point to his strengths. I think, more than anything, his playoff record stands on its own. Nobody has more playoff wins than him in the last five years."
Looks like all that work over five years ago paid off.
"We got him started in the right direction," Brunner said. "That is what I am most proud of."