New York Giants:

Kevin Boss
May, 2, 2014
May 2
11:30
AM ET
The awkward part of
New York Giants
GM Jerry Reese's pre-draft news conference Thursday came when a reporter asked him about tight end. The exchange went like this:
Q: Historically, this team has relied on the tight end quite a bit. Would you be comfortable moving forward with the guys you have on your roster right now?

Reese: Historically we've relied on our tight end?

Q: Well, they've had a prominent role.

Reese: Really?

Q: I seem to remember tight ends catching important passes.

Reese: Yeah, well, we think we've got some tight ends that can catch some important passes. But "prominent role"? We want all of our positions to be prominent roles. I'm not sure if our tight ends have had prominent roles in the past. But we want a competent tight end. We think we've got a couple of young tight ends who have been here for a couple of years who we want to develop, and we'll continue to look as we move forward.
[+] Enlarge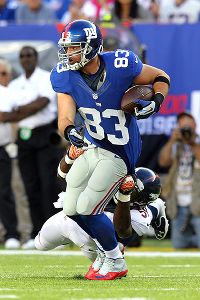 Brad Penner/USA TODAY SportsIn his one season with the Giants, Brandon Myers caught 47 passes for 522 yards.
I have been on the other end of that exchange in the past. I've been the one who asked Reese a question that posited a certain level of significance for the tight end position and had him reject the premise. Obviously, this does not show Reese at his most polite, but he views this idea that the Giants' offense has relied on a tight end as an especially irksome misperception. And the numbers support his side of it:
Brandon Myers' 47 receptions in 2013 were the second-most in a single season by a Giants tight end since Jeremy Shockey caught 57 passes in 2007.

Since 2007, the Giants have employed four different starting tight ends -- Kevin Boss from 2008-10, Jake Ballard in 2011, Martellus Bennett in 2012 and Myers last year.

Over that six-year stretch, the Giants' leading tight end has averaged 42 receptions for 539 yards and five touchdowns per year, with Bennett's 55 catches and 626 yards in 2012 and Boss' six touchdowns in 2008 the high-water marks in those categories.
Reese is not shy about telling people he thinks he can find a tight end who can catch 42 passes every year, and this is the basis on which he rejects a characterization such as "prominent role." Yes, he could be nicer about making the point, but the Giants' offense has not, in point of fact, relied on the tight end. Shockey was an exceptional case -- an exceptional talent the Giants deemed worthy of a first-round pick. And Bennett's athleticism allowed them to use him a bit more than they've used other guys after they were able to get him on the cheap prior to the 2012 season.
But the thing to remember about Bennett and Shockey is that both were excellent and willing blockers at the position. Bennett's as good a run-blocking tight end as there is in the NFL right now, and the Giants had him on the field a lot for that reason. That his size and speed enabled him to be a slightly bigger factor in the passing game than some of his predecessors were was a bonus, and the Giants were fortunate that he wasn't in demand that year due to the perception that he was a huge disappointment in Dallas. Once he played well for them, he parlayed that into a big free-agent deal with the Bears, and the Giants made no effort to spend to keep him.
So the point to be taken from this is not that the Giants don't like the tight end position but that it's not a position on which they feel compelled to spend major resources. Other than that 2002 first-round pick they spent on Shockey, they've consistently sought cheap solutions at tight end, viewing whoever plays it as replaceable from year to year. They want guys who can block, and if those guys can catch the ball, so much the better.
For that reason, it's easy to convince yourself that they won't be taking North Carolina's
Eric Ebron
with the No. 12 pick in the first round next week. Ebron may be an exceptional talent as a receiver, and the tight end position leaguewide may have evolved to the point where it's worth spending a No. 12 overall pick to get one who can be a difference-maker in the passing game. But Reese insisted Thursday that the arrival of new offensive coordinator Ben McAdoo has not changed the way the Giants evaluate offensive players. And while Shockey was the No. 14 overall pick in that 2002 draft, it's vital to remember that Shockey was a good blocker in addition to a great pass-catcher. Ebron is a pass-catcher only. He'd be a liability as a blocker. So the comparison doesn't necessarily fit.
The Giants could find a tight end such as
Jace Amaro
or
Austin Seferian-Jenkins
in the second round if they really feel they need one, but it's possible they don't feel that way. They have 2012 fourth-round pick
Adrien Robinson
still on the roster and have been eager for some time to see him on the field more. They resisted putting Robinson on injured reserve all last year because they believed he had something to offer if he ever got healthy (which he finally did, only to injure himself again on the opening kickoff of the Week 16 game in Detroit). They signed blocking tight end
Kellen Davis
and
Daniel Fells
for depth at the position, and
Larry Donnell
has been a strong enough special-teams performer to earn more practice reps and show what he can do. That's the group Reese has, and he swears he doesn't feel the need to upgrade it in the draft. If their pick comes around and the best player still on their board plays tight end, sure, they could take him. But Reese isn't hunting for some huge solution at the position next week.
The question is whether he's right. I personally think the Giants would benefit from having a more permanent solution at this position than they've employed over the past four years. I think the way the league is going, it's more important than it used to be to have a big-time weapon at that position who can split out wide and bust matchups in the secondary. But I don't run the Giants. Jerry Reese does. And he and the Giants do things their way, and they believe in it. You can respect someone's conviction even if your opinion differs from theirs. Reese thinks he's OK at tight end -- or at least that he will be. And it's clear when he's asked about it that he doesn't understand what all the fuss is about.
March, 12, 2012
3/12/12
6:09
PM ET
Jerry Reese's
search for a tight end may have just been made easier by the Raiders, who will
release former Giants tight end Kevin Boss
, a source told ESPN NFL insider
Adam Schefter
.
Boss left the Giants in free agency last summer after the Raiders offered him a four-year, $16 million deal that included $6 million guaranteed. Boss was due $4 million this season and the Raiders still owe him $2 million guaranteed in 2012 according to Schefter.
Boss played in 14 games last season and had 28 receptions for 368 yards and three touchdowns. Those were his lowest numbers since his rookie season in 2007 with the Giants. Boss did have a knee injury early in the season and also suffered a concussion during the season as well.
Reese took a lot of heat for letting Boss and wide receiver
Steve Smith
leave in free agency for bigger pay days than the Giants were willing to pay. In the end, the moves paid off for the Giants, who won a Super Bowl with tight end
Jake Ballard
and wide receiver
Victor Cruz
emerging.
Now, there's a possibility that the Giants could potentially bring both Boss and Smith back. The Giants need a tight end with Ballard and
Travis Beckum
both recovering from ACL surgeries and likely to start the season on the PUP lists. And
Mario Manningham
is expected to leave in free agency and the Giants could need a third receiver. Smith never wanted to leave and was open to the idea of a reunion last fall according to Schefter.
So less than a year after Boss left in free agency, he could potentially be back if the Giants and Boss are up for a reunion. It seems to make all the sense in the world to me if Boss is healthy. I never got the impression that Boss wanted to leave but he did what was best for him and his family last summer and no one can blame him for that.
Eli Manning
is comfortable with Boss, who obviously knows the Giants offense. Who better to come in and fill the void left by Ballard and Beckum than the guy they were trying to replace last year?
What remains to be seen is how much money the Giants will have as they try to re-sign the likes of
Terrell Thomas
,
Jonathan Goff
and will have to pay
Steve Weatherford
as well.
What do you guys think?
August, 2, 2011
8/02/11
10:52
PM ET
UPDATE:
The Giants website now has
Ben Patrick's
jersey number as 83.
According to the roster currently posted
on Giants.com
, newly signed tight end
Ben Patrick
has been given uniform number 89 -- the number previously worn by tight end
Kevin Boss
.
Boss has played for the Giants the past four seasons, but is currently a free agent.
The Giants were off on Tuesday, and will resume practice on Wednesday. Will Patrick indeed be wearing No. 89 -- and what would that mean for Boss' potential future with the team? We'll see what happens tomorrow.
Big Blue has also given away the uniform numbers for free agents
Deon Grant
,
Chase Blackburn
and
Dave Tollefson
.
July, 25, 2011
7/25/11
7:53
PM ET
By
Mike Mazzeo
| ESPNNewYork.com
New York Giants unrestricted free-agent defensive tackle Barry Cofield seems resigned to the fact that he'll likely be playing elsewhere next season.

Cofield, 27, wants be paid like a "quality NFL starter," and the five-year veteran believes he's going to have to leave the organization to get his money.

"Yeah, if they make a competitive offer, sure (I'd listen)," Cofield told the Newark (N.J) Star-Ledger on Monday afternoon. "But based on the things I've been hearing, I don't think that's going to be the case. Hopefully, I'll get fair-market value that other quality starters get. From what I'm hearing, I don't think the Giants can pay that amount.

"If they were competitive, absolutely. But to say I'd take an unfair contract or be willing to be paid less than that, no way I'm going to do that."

The Giants would love to keep Cofield in the fold, but according to ESPN.com's John Clayton, they're already $6.1 million over the projected salary cap of $120 million and want to keep unrestricted free agent running back Ahmad Bradshaw, tight end Kevin Boss, wide receiver Steve Smith and defensive end Mathias Kiwanuka, along with potentially re-working the contract of disgruntled defensive end Osi Umenyiora.

Given their limited remaining financial resources, and the fact that they've selected defensive tackles (Linval Joseph and Marvin Austin) in the second round of the past two drafts, the Giants appear likely to be headed in a different direction.

"I expect to hear from them. They promised they would call regardless," Cofield told the newspaper. "Whether or not they can make a competitive offer, I expect to hear from them. If they extend the courtesy to give me a call and let me know yay or nay, to check back in with them, I'll do that for them. They gave me an opportunity to play in this league and we did some great things together."

The Giants are the only franchise Cofield has ever known. They selected him in the fourth round of the 2006 draft, and the 27-year-old has appeared in 79 out of a possible 80 regular season games ever since. Last season, Cofield, set career-highs for both tackles (54) and sacks (4.0).

"Being a free agent, it's going to be a whirlwind," Cofield told the newspaper. "If you're a guy who's high on the list, as soon as the clock starts ticking you'll be talking to teams and signing. A lot of people are going to be concerned about their families and looking for places to live.

"It's exciting and nerve-wracking, anxious, but all in all it's a blessing to even be in this situation."

Because the lockout was lifted on Monday, teams can begin signing all free agents on Tuesday, but the deals cannot be made official until Friday at 6 p.m. The Giants have 15 unrestricted free agents.

"It's exciting to know we're going to be playing football as opposed to all this courtroom stuff and all of these interviews and stuff," Cofield told the newspaper. "Everyone, the fans and media, owners everyone, is tired of the speculation and is ready to get down to the game we love."

May, 12, 2011
5/12/11
2:29
PM ET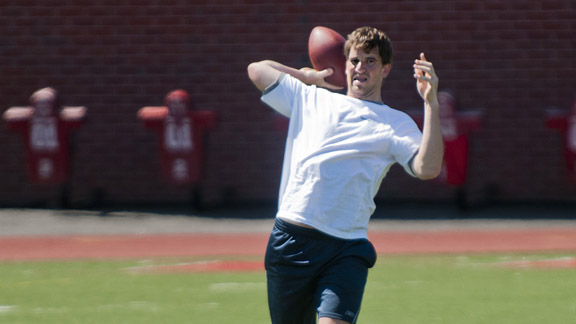 Jeff Skopin/ESPNNewYork.comEli Manning working out at JFK Stadium in Hoboken, N.J.
HOBOKEN, N.J. --
Eli Manning
held the final day of his anemic Giants player workouts in Hoboken at a local high school. Five current player attended: Manning, backup QB
Sage Rosenfels
, TE
Kevin Boss
, WR
Michael Clayton
and WR
Samuel Giguere
.
Undrafted free agent
Dan De Palma
, a long-shot from West Chester University, also worked with the group.
Thursday was the final scheduled workout, though Clayton said the group planned to hold workouts again early next week.
Boss was not aware of additional workouts next week, but said there could be a push to get a bigger group together in the future.
"If this thing continues to go on we might put together a few more workouts and ask maybe the defense to get involved or invite the offensive line. Depends on how long this this thing goes," Boss said. "For now it's just good to get amongst the quarterbacks wide receivers."
While other teams may have flown out players and had near total participation at some informal practices during the lockout, the Giants had 12 players throughout the four-day week.
Duke Calhoun, Ramses Barden, Hakeem Nicks, D.J. Ware, Victor Cruz, Darius Reynaud
and
David Diehl
were among those who showed up, although on Thursday the players were outnumbered 2 to 1 by reporters outside the field's gate.
Manning declined to talk to reporters again as he left.
Asked if he was disappointed if more Giants hadn't shown up to take part, Clayton was emphatic.
"No man, not at all. This is a time when players are on their own schedules right now," Clayton said. "This is strictly for guys who can get away who need to work with their quarterback and other things. So it's a plus to be here, but if not the guys who weren't here still have their regimen in their hometown."
This is a time of year when players would normally be working out with their teams and gearing up for minicamps. Instead, players are trying to stay in shape while balancing concerns about staying injury-free.
"Knowing that I did everything in my power to prepare, if I was to be injured I wouldn't be upset about it," Clayton said.
Boss is certain about one thing: He didn't expect to be spending a spring day working out at a local high school as a member of a professional football team.
"I wouldn't really call it practice," Boss said. "I think you guys are making it more of a big deal than it really is."
December, 4, 2010
12/04/10
10:28
AM ET
The Giants opening drives haven't exactly gone to script.

As offensive coordinator Kevin Gilbride will tell you, the obvious and No. 1 objective of the first drive is to score a touchdown. Yet, the Giants are 0-for-11 in attempts this season, with six punts, four turnovers and a field goal on their opening drives. The field goal even took 11 weeks to accomplish, coming in last week's win against Jacksonville.

Even with the struggles, though, Gilbride isn't panicking that the Giants have failed to put up seven on an opening drive this season. There's more than just points that matter to an offensive coordinator opening drive.

"Certainly you want to score, that's the obvious objective," Gilbride said. "But secondly, how much information can I gleam from what we're showing because we're going to use a lot of different thing to try to find out or get a sense of how they're going to try to defend this personnel grouping, this formation and that serves us pretty well down the road and it's been pretty beneficial."

Gilbride said he usually scripts the first 15 plays of the game and will stray from that script if the Giants accomplish what he feels needs to be done. He used the example of the Giants 41-7 win vs. Seattle on Nov. 7 as a game where he called off the set plays early. The Giants had moved the ball 32 yards in five plays before tight end Kevin Boss fumbled and in that short set of plays, Gilbride was able to get a sense of Seattle's defensive packages. The Giants scored touchdowns on their next five drives.

While not all gameplans will go so smoothly and lead to a 41-point outburst, the Giants have scored four times on their second drive of the season, showing improvement from the opening drive. It's all part of the process of the opening drive, even if it doesn't lead to points.

"A very important part is to try to get a sense of what they're doing defensively, schematically," Gilbride said. "And then be able to adjust and do the things necessary to win and score some points and we've been pretty good at that."
December, 3, 2010
12/03/10
5:34
PM ET
EAST RUTHERFORD, N.J. –Just four games ago, Mario Manningham was the Giants No.3 wide receiver. The third-year wideout feasted on opposing secondaries consumed with covering Hakeem Nicks and Steve Smith.

How things have changed in such little time. As the Giants receivers have gone down one by one, Manningham has been thrust to the No. 1 role, playing alongside free agent pickups and undrafted free agents. The elusive receiver is now the receiver the defense's must shut down.

And so far, Manningham has done admirably. Teammates and coaches raved this week about Manningham's performance in the absence of Nicks and Smith, which will extend this week when both miss Sunday's game vs. Washington.

In the three games as the No. 1 wideout, Manningham has caught 16 passes for 176 yards and two touchdowns.

"He's done a terrific job picking up the load, him and (tight end Kevin) Boss," Smith said. "They've both done very well."

Offensive coordinator Kevin Gilbride praised Manningham's explosiveness and how the team has been working with him to become more consistent. His dynamic playmaking ability lends to the Giants trying to get the ball to his hands and take advantage of his homerun potential.

"I think his explosivenss is one of the important reasons why we're so high up in big plays as an offense," Gilbride said. "I think guys feed off the energy, off the personality as well as off the big plays that he makes."

GIANTS GOING TO THE BANK


The Giants have faced their fare share of great returnmen this season. Chicago's Devin Hester. Philadelphia's DeSean Jackson. Dallas' Dez Bryant. Seattle's Leon Washington. This weekend, that trend continues as the Giants will have to try and contain Washington's explosive rookie, Brandon Banks.

Banks, an undrafted free agent, is fourth in the NFC in return average for returners who have returned more than 10 kicks. He is averaging 27 yards per kickoff return and has a touchdown. He's fifth among punt returners with more than 10 returns, averaging 11.3 yards.

"(He's) running past everybody," Giants head coach Tom Coughlin said. "Going towards the endzone faster than I would like to comment on. They count on field position with him. They had one called back last week (against Minnesota) or they have the lead in the fourth quarter. He's done a nice job."

While Banks has been fantastic as a rookie, theGiants return coverage has been quite good this season, allowing just 18.3 yards per kickoff return and 6.3 yards per punt. After struggling early in the season, the Giants have improved as the season has gone on with the addition of strong defensive lineman like Jason Pierre-Paul and Dave Tollefson to the special teams unit.

Like he has done in the past against others, Giants kicker Lawrence Tynes said he can mix up the kicks on kickoffs.

"We've recognized how good he is, but I still think we're going to kick the ball to him," Tynes said. "We're pretty good at what we do too. I think we're top three in the NFL in covering kicks, so it will be a big challenge and a big part of the game. We're going to have to do a really good job."
November, 20, 2010
11/20/10
2:35
PM ET
A few last minute roster moves as the Giants prepare to play Philadelphia tomorrow. The team moved tight end Jake Ballard from the practice squad to active roster and waived defensive back DJ Johnson.
Fullback Madison Hedgecock, who's been used as a TE in a pinch, won't travel for the game and TE Kevin Boss has had some back issues this week.
November, 19, 2010
11/19/10
12:03
PM ET
TE Kevin Boss, who was out Thursday with a back injury, and CB Corey Webster, who sustained a toe injury on Wednesday, were both back on the field and practicing for the Giants this morning.
There was no sign of LT Shawn Andrews (back), C Shaun O'Hara (foot) or LT David Diehl (hip/hamstring).
On Thursday, Giants coach Tom Coughlin said he wouldn't need Andrews to practice in order to play him on Sunday against the Eagles. Coughlin will address the media once practice concludes.
In the meantime, read Johnette Howard's column on the challenge of facing Michael Vick.
And this from Ohm: Umenyiora has been credited with a three-yard sack of Jon Kitna on the second play of the second quarter. After reviewing the play, the Elias Sports Bureau has changed the play from a sack to a rush for minus-three yards.
Umenyiora now has 8.0 sacks, which drops him into a four-way tie for third in the NFL. Dallas' rushing totals from the game are 28 carries for 100 yards, Kitna's are five carries for two yards and the Cowboys had 327 net passing yards.
November, 6, 2010
11/06/10
12:39
PM ET
Kevin Boss couldn't hold back his excitement.

Thursday night around 7 p.m., the Giants Tight End tweeted and let the world know that he's more than excited for Sunday's game against the Seahawks.

Tweeted Boss: "Can't wait to get back to the beautiful Pacific Northwest! Been waiting 4 years for this game!"

An Oregon native, Boss will be playing his first NFL game in his home state when the Giants tangle with the Seahawks. Boss went to high school and played his college ball in The Beaver State before being drafted by the Giants in 2007.

"People have been waiting for this game since I got in the league," Boss said. "First West Coast game and first game in Seattle, I'm excited and I know everyone else is to get up there and enjoy the weekend."

Boss, a native of Philomath, OR, played football for Philomath High School before attending Western Oregon University, a Division II school. He earned All-America honors for the Wolves, and was selected in the fifth round of the 2007 NFL Draft by the Giants.

The Giants played in Seattle in 2005 and 2006, just before Boss joined Big Blue. The Giants did travel to Arizona in 2008, and Boss said there was a good turn out at that game, but this is the game that's been circled on the schedule.

Boss, who grew up 3.5 hours south of Seattle, said he is expecting 80 to 100 people for the game. He's expecting high school and college friends to make the trip, although he's only providing 40 tickets. He said his wife is renting out a room Saturday night for a meet and great for his family and friends, although Boss cannot attend.

The fourth-year tight end has already been to Qwest Field, where Seattle plays, because of his brother Terry, who is a goalkeeper for the Seattle Sounders Football Club of MLS. The Sounders play at Qwest Field too.

While he didn't grow up in close proximity to Seattle, Boss still remembers taking in some baseball games with his Dad in the city.

"We grew up Detroit Tigers and Lions fan, so we'd go up and see the Tigers once a year (in Seattle)," Boss said. " But now my brother lives there, so I visit every offseason."
September, 17, 2010
9/17/10
5:07
PM ET
By
Ian Begley
| ESPNNewYork.com
EAST RUTHERFORD, N.J. -- On Sunday night, Giants cornerback Aaron Ross is hoping to accomplish something he hasn't been able to do in almost two years:

Play cornerback in an NFL regular-season game.

Ross pronounced himself ready to play Sunday against the Colts after Friday's practice. He missed the Giants' season-opener against Carolina last Sunday with a plantar fascia tear in his right foot. He has since practiced three straight days and said his heel "felt fine" all week.

"I'm very excited to get out there. It's something I've been waiting for a whole year now. I didn't get to play much last year, none at corner," Ross said.

When asked about any lingering pain in his foot, Ross said, "Of course, the pain is still there but it's something I can play with."

Ross has been wearing extra padding in his cleat to ease the pain.

The former first-round draft pick missed all but four games last season due to a nagging hamstring injury. When he was healthy, he played safety in the depleted Giants secondary.

Ross returned to training camp in good health this season and played well prior to the plantar fascia tear. He also was working as the Giants' primary punt returner before he went down.

The Giants obtained Darius Reynaud from the Minnesota Vikings in the Jim Sorgi trade to replace Ross at returner. But Ross said he wants another shot at returning punts once he is "completely healthy."

BOSS ON BIKE: Giants tight end Kevin Boss rode a stationary bike on the sideline during the portion of Friday's practice that was open to the media. Boss suffered a concussion last Sunday in the first quarter against Carolina when he took a helmet-to-helmet hit to the back of the head from Panthers safety Sherrod Martin.

Head coach Tom Coughlin said on Friday that Boss' concussion symptoms have subsided.

"I believe the headaches are gone and so I think he is just going to rest and start a little bit of exercise, just to help him that way," Coughlin said. "I don't think there are any real symptoms right now."

RESERVE RECEIVERS ARE READY: Coughlin also said that wideouts Mario Manningham and Ramses Barden are ready to step in and play bigger roles this week against the Colts if Hakeem Nicks (ankle) isn't healthy enough to play on Sunday night.

"Manningham played pretty well last weekend and Ramses has had some good, solid practice days," Coughlin said.

The Giants said Nicks is questionable for Sunday night.

OTHER INJURY UPDATES: Center Shaun O'Hara (ankle) didn't make it through a full practice on Friday. But O'Hara was seen walking without a limp late in practice, so he may have sat out parts of practice as a precaution to rest his ankle. He's been suffering from a nagging injury in his left Achilles tendon and ankle.

Coughlin said backup offensive tackle Will Beatty will be out six-to-eight weeks after he had surgery on the broken bone in his right foot on Thursday. The coach described Beatty as a quick healer who has "outstanding endurance ... so this was a little bit of a shock."

Linebacker Chase Blackburn (knee) will be inactive for Sunday's game against the Colts. Linebacker Phillip Dillard (hamstring) also sat out practice.

DOME, SWEET DOME: It was a beautiful day in East Rutherford on Friday, but the Giants chose to work inside their practice facility. This helped mimic the conditions inside the RCA Dome, site of Sunday night's game against the Colts. Also, a team official noted, the Giants can pipe noise into their indoor facility to simulate the crowd noise they're going to have to deal with in Indianapolis.