New York Giants:

Kevin M. Gilbride
July, 28, 2014
7/28/14
5:30
PM ET
EAST RUTHERFORD, N.J. -- The crux of the
New York Giants
' tight end problem, with six weeks until the regular season begins, continues to be this: Their new offense wants to rely on the tight end to a significant extent, but it still doesn't really have a tight end on which it can rely.
Robinson
Donnell
"Right now, we're looking for that complete tight end who can do it all," Giants tight ends coach Kevin M. Gilbride said Monday. "But we also need guys who are role players -- guys who can be specialists in certain areas. If he's best at executing a certain block, he's going to have the opportunity to make that block in the game. If he's best at running a certain route, he's going to have the opportunity to run that route in a game. So you need to have that all-around tight end, and then you also need to have specialists, guys who are great at a particular role."
The problem is that, to this point, no one from the group that includes
Adrien Robinson
,
Larry Donnell
,
Daniel Fells
,
Kellen Davis
and
Xavier Grimble
has established himself as the all-around guy.
"I think right now, they've all got a shot at doing it," Gilbride said. "They're all very good in certain areas right now and not as efficient or as good in other areas. In order to become that all-around tight end, they need to continue to develop."
Gilbride wouldn't handicap the competition, but based on what we've seen so far at practice, Fells looks like the most capable pass-catcher. Donnell made an excellent leaping catch on a seam throw from
Ryan Nassib
in practice Monday, a short time after Fells caught a touchdown pass from
Eli Manning
. Davis made a great catch on a seam-route throw from Nassib on Sunday. Robinson has always been a capable run-blocker and continues to show that. The Giants have tried their best to rotate all of the tight end candidates in with the first-team offense to give them all a chance to show what they can do. But it's too early for anyone to have separated himself.
"Every time they get on the field, they know they're being evaluated with everything that they do," Gilbride said. "When guys start to emerge, we'll know it."
So far in camp, we have seen tight ends lined up all over the formation -- in the slot, in tight, out wide... even in the backfield in a fullback or H-back role. Gilbride said that's not a case of experimentation; it's an integral part of the offense and something their tight ends will have to do. The new running game includes more zone and stretch concepts that will require the tight ends to be nimble and flexible as blockers. There is a lot to the job.
"I would describe it as 'Jack of all trades,'" Gilbride said. "Having them be in the backfield and playing a lot of that fullback role, splitting them out as the No. 1 receiver, the No. 2. An in-line tight end as far as the blocking and the pass receiving. It's a jack of all trades and they have to master them all. It's an exciting, fun position in this offense, but we need to continue to develop in order to be ready to help our team win football games."
The Giants could keep as many as four tight ends on their roster, especially if they wrap up the preseason with the same issue they have now -- guys who have disparate strengths and weaknesses and have to be mixed and matched in and out of the lineup depending on circumstances. But Gilbride made it clear that's not the ideal situation.
"I think you can get it done with the specialist-type thing, but that's not really what we're looking for," he said. "What we're really looking for is to develop a number of overall tight ends who can do it all."
The search continues.
October, 29, 2013
10/29/13
4:30
PM ET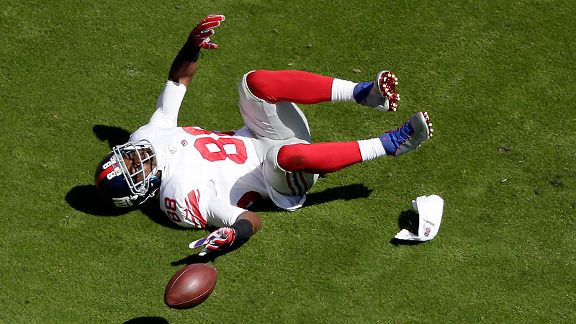 AP Photo/Charlie RiedelHakeem Nicks is bound to pick himself up off the ground, said wideouts coach Kevin M. Gilbride.
EAST RUTHERFORD, N.J. --
Hakeem Nicks
is oh, so close.
Giants wide receivers coach Kevin M. Gilbride thinks Nicks is on the verge of resembling the standout player he was two seasons ago.
"I feel very good about it," Gilbride said. "I think you can see each week it's closer and closer to these tremendous catches that we've seen him [make] in the past."
It's been a second straight unspectacular season for Nicks, although he hasn't been slowed by injuries this time around. Nicks underwent right foot surgery prior to last season and also was hampered by a knee injury, catching 53 balls for just 692 yards and three touchdowns.
This season, Nicks, who was not traded before Tuesday's 4 p.m. deadline, once again is failing to look like the player who dominated the 2011 postseason. He has just 34 catches for 521 yards and has failed to score. He's struggled to get separation and has dropped an uncharacteristic number of passes.
Nicks has been targeted 68 times thus far, so you can't say he's been ignored by quarterback
Eli Manning
. Nicks came close to scoring in each of the past two games, but he couldn't corral a ball in the end zone against Minnesota, and he caught a potential touchdown out of bounds last Sunday.
"The plays have been there and they haven't quite been made yet," Gilbride said. "But he's right there."
Gilbride believes Nicks' slow start ties back to his injuries from last year. Nicks is still working to get his body to move with the precision needed to make certain plays, and that's not a quick process. The coach believes Nicks is close, but he just wasn't quite up to speed in the first eight games.
"I think it takes time to get yourself into those positions," Gilbride said. "He worked at it during training camp. I think there's a subtle difference between practice and putting yourself in those positions during a game versus how you're being played by a defense and things like that. I think it takes some time."
The coach said he didn't get the sense leading into the trade deadline that all the rumors surrounding Nicks were affecting the receiver at all. He believes the drops and lack of success during the first half will provide motivation for Nicks as he finishes out his contract year.
"This is my true belief in my heart that he's getting closer to erupting and making those plays we've seen him make in the past," Gilbride said. "For a guy like him, as competitive as he is, that's a very frustrating thing to have his body in position to make these plays that he's made in the past and then doesn't make them. That would be incredibly frustrating for him. That's a driving force going forward."
August, 1, 2013
8/01/13
2:46
PM ET
EAST RUTHERFORD, N.J. --
New York Giants
wide receivers coach Kevin M. Gilbride wants to see
Hakeem Nicks
on the field more.
Nicks, 25,
sat out practice Thursday
, the first full practice he has missed while dealing with a recent groin strain. He was hampered all of last season by ankle and foot injuries.
"I think he needs to practice. He and I talk about it all the time, and he knows it," Gilbride said Thursday. "In order for you to be ready for the season, you need to have done it; and done it over and over; and done it wrong and made the adjustment; and then have it become part of what you do, the correct way to do it.
"He's not there yet. He needs to continue to improve, and he knows that. He understands that in order for him to be ready to produce the way that he wants to produce and the way that we need him to produce, he needs to practice to get ready for that."
Victor Cruz
told reporters he believes everyone eventually will see the healthy Nicks from two years ago -- when the North Carolina product hauled in 76 receptions for 1,192 yards and seven touchdowns -- but that his teammate is understandably taking it slow.
Gilbride says he doesn't remember the last time Nicks was fully healthy for a practice.
The receivers coach, though, is glad to see Cruz back on the field.
"It's great. It's one of those things where he was a big component of what we've done offensively the last two years," Gilbride said of Cruz. "He needs to work. We all need to work. To get him out there and have him be able to go through the process, the reads, seeing the defense the way he needs to see it in order to make us a successful offense is important."
Cruz skipped the Giants' organized team activities during the offseason, but signed a long-term extension in early July and reported to training camp on time.
Gilbride was asked what Cruz needs to work on.
"The recognition of the coverages, and then just physically knocking off the rust in terms of his acceleration in and out of breaks, his body position when he's coming in and out of breaks," Gilbride said. "Those are things that need to be worked on with a defender against you for you to have a great feel for it, so those are the little things that comes with practicing and preparation."
Rueben Randle has had a strong training camp thus far. Gilbride is impressed with Randle's ability to take things from the film room and carry them out on the practice field.
"Very similar to what we talked about with you guys in the spring was his development and where it started, and it started in the meeting room," Gilbride said. "When he first got to this level, he had a lot of improvements to make as far as his approach as a professional."
"Slowly through the course of last season, he made some progress, and by the end of last year, the progress that he made in the meeting room carried onto the field, and it turned into big plays for us toward the home stretch of the season. He took off and picked up right where he left in the spring, he didn't take a step backward at all and continued to progress."
March, 1, 2012
3/01/12
11:06
AM ET
The Giants have promoted
Sean Ryan
to quarterbacks coach and
Kevin M. Gilbride
to wide receivers coach.
The team announced the moves on Thursday. Ryan replaces
Mike Sullivan
, who left to become Tampa Bay's offensive coordinator.

Ryan
"Continuity is important," head coach
Tom Coughlin
said in a story on the team website. "It's not that I don't think there are some talented people out there. But I do think that these two are very talented and the best approach we could possibly take would be to continue to support our players at those positions with people who are products of the system."
Like Ryan, Sullivan had made the jump from wide receivers coach to quarterbacks coach and was in that position for the last two seasons. Ryan will now work with
Eli Manning
after coaching one of the best wide receiving units in the NFL.
"I'm excited about Sean Ryan being the quarterback coach," Manning said on the team website. "He's a guy that's been in this system, worked his way from the ground up and spent two years with the receivers. He's a young guy [Ryan will be 40 in May 1] who is energetic. He's driven to continue to learn. I know he's going to get prepared for drills.
"I got a chance to talk to him yesterday and will continue to talk to him when we get back for the offseason program on what I want to work on, what I need to improve on and how we can get on the same page. ... We shouldn't miss a beat."
Coughlin did not allow Gilbride to interview with Tampa Bay after losing two assistants on the offensive staff, Sullivan and
Jack Bicknell Jr.
, who left to become the offensive line coach at Kansas City. But in the end, Gilbride was promoted to oversee a talented receiving corps that is headed by
Hakeem Nicks
and
Victor Cruz
.
"They're incredibly talented and the great thing about those guys is they have such different skill sets, but they can be incredibly dynamic in what they do," Gilbride said. "If they continue to develop, they can be dominant receivers in this league for a long time and that's what's exciting – good, young, talented wide receivers who bring very specific and different skill sets to the table. It helps our offense to function."
The Giants still have to fill Bicknell, Jr.'s old position of offensive line assistant coach and Gilbride's offensive quality control position.