New York Giants:

kirk cousins
September, 26, 2014
Sep 26
10:00
AM ET
LANDOVER, Md. -- The
New York Giants
were one of only three teams in the NFL that didn't take the ball away from its opponent in the first two weeks of the season. It was a trend they have spoke in practice and meetings about reversing.
Amukamara
"Coach [Perry] Fewell has been challenging us to get turnovers, and ever since the first week he's been telling us we need to be more
Zack Bowman
-ish, since [Giants cornerback] Zack Bowman is known for getting turnovers," cornerback
Prince Amukamara
said after Thursday's
45-14 victory
over Washington. "We've been rising to the challenge."
Bowman did not have one of the Giants' four interceptions Thursday, but Amukamara did, and it was something of a milestone for him. After collecting just one interception in each of his first three NFL seasons, Amukamara now has one in each of his last two games -- and a career-high two for the season.
"Zack's been staying with me after practice, catching balls off the JUGS machine, and he told me after last week, 'There's more to get,'" Amukamara said. "And tonight he came to me and said, 'You broke your record.' The knock on me has always been I have bad hands or I'm not a big playmaker or whatever. So it's definitely good to be able to show that part of my game."
It's vital for the team as well. The Giants had six takeaways in the game and only turned the ball over once. A plus-five turnover differential is a pretty good way to ensure a victory in the NFL. According to ESPN Stats & Information, since the start of the 2013 season, the Giants are 7-0 when they have a positive turnover differential, and 2-11 when they do not.
"It's Christmas, that's what it is," said safety
Antrel Rolle
, who had another of the interceptions. "You want games like that, where you're playing ahead and the other team is trying to play catch-up, and you know they have to force the ball. They're trying to make the long throws and complete long passes, and it gives the defense more opportunities to create turnovers."
Amukamara and safety
Quintin Demps
, who also had an interception in his first game replacing
Stevie Brown
as a starter, said Washington quarterback
Kirk Cousins
was staring down receivers Thursday night, and that helped the defensive backs jump routes and anticipate where the ball was going.
Good pressure by the defensive line and blitzing linebackers in the first half helped get Cousins off his game -- especially when
Mathias Kiwanuka
came unblocked for an early sack/fumble.
And Amukamara and
Dominique Rodgers-Cromartie
held up their end in man coverage against star Washington receivers
Pierre Garcon
and
DeSean Jackson
, respectively. Strong defensive effort all around, but the Giants feel a lot better about those strong defensive efforts when they come with a big pile of turnovers.
"It's a mindset," said Bowman, who came over from the takeaway-happy Bears this offseason and has been preaching that since training camp. "Once you start getting them, it can snowball. It can get contagious. That's where we are right now."
September, 26, 2014
Sep 26
1:18
AM ET
LANDOVER, Md. -- Observed and heard in the locker room after the
New York Giants
' 45-14 victory over the
Washington Redskins
:
Amukamara

The Giants defensive backs said Washington quarterback Kirk Cousins was staring down receivers, that they saw it on tape during the week and that defensive end Jason Pierre-Paul was hollering it at them during the game. "That was great for us, great for our safeties, because wherever [Cousins] looked, he was going," said cornerback Prince Amukamara, who had one of the Giants' four interceptions.
The coach, the quarterback and the stars of the game do postgame interviews at a podium in a side room instead of in front of their lockers. The Giants' players got a kick out of the announcement that tight end Larry Donnell was selected for a podium interview after his three-touchdown night. Cries of "Larry to the podium!" echoed through the cramped visitors locker room at FedEx Field as happy players dressed.
September, 25, 2014
Sep 25
11:35
PM ET
LANDOVER, Md. --
A few thoughts on the New York Giants' 45-14 victory over Washington at FedEx Field.
What it means
: The Giants just won two games in five days by a combined score of 75-31. The offense is really clicking right now, as we'll discuss in the paragraphs to come. But after not taking the ball away on defense in either of their first two games, the Giants had three against Houston on Sunday and six more, including four interceptions of
Kirk Cousins
, on Thursday night in Washington. It's helped them control the games.
Stock Watch
:
Eli Manning
,
UP
. This was Manning's third straight strong game, and his completion percentage is up to 66.9 for the season. He was 28-of-39 for 300 yards and four touchdowns and ran for a fifth. The offense is obviously tailored to minimize Manning's mistakes (see: inside runs on third-and-long inside their own 20), but he's executing very well in terms of tempo, accuracy and timing with his receivers. His pre-snap reads and calls are excellent, his few downfield attempts are low-risk and well-chosen, and he's playing a very efficient game right now.
O-line's stock up, too
: There's a case to be made that the quick tempo and short drops are helping the offensive line look better, but I thought the guys on the interior who were struggling the first two weeks --
J.D. Walton
and
Weston Richburg
-- were physically dominant against the Washington defensive front. And left tackle
Will Beatty
made
Brian Orakpo
, who tormented him here last season, look silly. The downfield passing game should evolve as the pass protection earns more trust.
Game ball
: There's no one it could be but tight end
Larry Donnell
, who caught three touchdown passes in the first half while the Giants were building a huge lead. Having won the job out of camp as the least objectionable option at tight end, Donnell has run clean routes and shown a remarkable ability to jump and catch the ball -- especially on third down, where Manning appears to trust him completely. Only two of the league's 32 teams have played their fourth game yet, but Donnell is one of only four players in the league with at least four touchdown catches this season.
What's next
: The Giants likely will get a few well-deserved days off and return to practice Monday to begin preparing for their Oct. 5 home game against the
Atlanta Falcons
.
September, 25, 2014
Sep 25
3:00
PM ET
The
New York Giants
(1-2) are in Landover, Maryland, on Thursday night for an early-season NFC East matchup against Washington (1-2) at FedEx Field. Here are three things we'll be watching in this game:
[+] Enlarge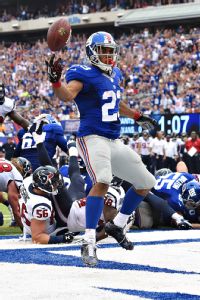 AP Photo/Evan PinkusThe Giants' Rashad Jennings rushed for a league Week 3-best 176 yards in a victory over Houston last Sunday.
1. Rashad Jennings' workload:
This might not be a major factor if the Giants aren't playing with a lead, as they were all day against Houston, but Giants coaches said they were monitoring Jennings closely this week after he carried the ball 34 times in Sunday's victory. Jennings is in excellent physical condition, but he has the second-most carries in the league so far, and any running back would have a tough time bouncing back just four days after a 34-carry workload. If the Giants find themselves in the enviable position of having an early lead and being able to run their offense the way they ran it Sunday, don't be surprised to see Jennings get more breaks. That could mean an enlarged opportunity for rookie running back
Andre Williams
in this game. It also will be interesting to see whether the running backs get any catches this week. Jennings was not targeted in the passing game Sunday, and it's no coincidence, because he was asked to stay in and help block on pass plays as part of a successful effort to combat the Houston pass rush.
2. Will the Giants test the Washington secondary?
This unit is always a question mark, and it took a hit Sunday with the loss of starting cornerback
DeAngelo Hall
for the season with an Achilles injury. To this point, the Giants have been relying on the run game and the short passing game. Of
Eli Manning
's 100 throws this year, 68 have been either behind or within 10 yards of the line of scrimmage. In order to confidently throw downfield more, the Giants are going to have to develop greater trust in the consistency of their improving offensive line and hope that the addition of speedy rookie wide receiver
Odell Beckham Jr
., if he can return from his hamstring injury in the next couple of weeks, will help them stretch the field. In the meantime, they'll likely keep it close to the line unless they're behind and trying to catch up. But if they end up having to throw downfield, that's when the potential for interceptions rises.
3. Will the pass rush light up?
The Giants had only 34 sacks as a team last year, but eight of them came in their two December games against Washington. They sacked
Robert Griffin
III five times in the road game and
Kirk Cousins
three times in the home game that ended the season. Cousins is the Washington starter these days with Griffin out because of an ankle injury, and it will be interesting to see whether Cousins and his teammates can keep the Giants' pass rush at bay to an extent they could not when they were playing out the string last December. Giants defensive end
Jason Pierre-Paul
, who was injured and not playing by the end of last season, is off to a hot start this year.
December, 28, 2013
12/28/13
2:00
PM ET
One more for the road, as the
New York Giants
will finally wrap their long-lost season with a home game against the
Washington Redskins
at 1 p.m. ET on Sunday at MetLife Stadium. It will be the last game in that building until the Super Bowl, which will come complete with weeks' worth of minute and detailed analysis. This game, which is justifiably of interest to far fewer people, comes with this analysis. A couple of things to watch in case you have absolutely nothing else to do and you're tuning in or going to the game Sunday:


Encore for Tuck?
Defensive end
Justin Tuck
had four sacks when the Giants beat the Redskins in Week 13, but he'll have a different target Sunday. The Redskins benched franchise quarterback
Robert Griffin
III with three games to go in the season and replaced him with
Kirk Cousins
, who will be under center (or in the shotgun) for the Redskins in this one. Redskins coach Mike Shanahan said last week that the team plans to pay extra attention to Tuck as a result of the success he had earlier in the month, and Tuck said he expected as much. But he's likely got to be more concerned with running back
Alfred Morris
than with getting to Cousins, as the Redskins will try to get the ground game going before doing anything else. Tuck has been strong against the run all year and is well aware of Morris' gifts, but he'd much prefer to spend his night teeing off on Cousins if given the choice. Tuck is eligible for free agency at season's end, and this could be his final game in a Giants uniform.
Other potential farewells:
Tuck isn't the only pending free agent the Giants have. Mainstays such as guard
David Diehl
, wide receiver
Hakeem Nicks
and defensive tackle
Linval Joseph
all hit the market this offseason and could be wrapping their Giants careers. Players like
Mathias Kiwanuka
and
Antrel Rolle
, who have heavy cap numbers next year, also could be playing their final games as Giants. Obviously, some of those guys are more likely to stay than others, but their situations remind you that there's always more roster turnover than you expect in an offseason. With the Giants, every year means goodbye to players who have helped win Super Bowls. This year will be no exception.
Is this Eli's week?
We've asked it pretty much every week, and this is the only one left. Giants quarterback
Eli Manning
is suffering through the worst year of his career, leading the league with 26 interceptions and is playing without top wide receiver
Victor Cruz
, who's out with a knee injury. All of that said, the Redskins allow 249 pass yards per game and are very vulnerable in the secondary. He'll need left tackle
Will Beatty
to do a better job than he did in Week 13 of keeping the Redskins' pass rush out of his face. And he might need Nicks to haul in his first touchdown catch of the season in the final game. But this game does offer Manning a chance to finish off the season on a high statistical note. Whether he can take advantage of the opportunity is another matter.
December, 27, 2013
12/27/13
10:00
AM ET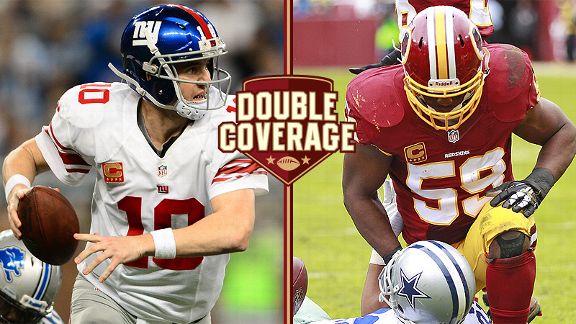 AP Photo, Getty ImagesThe Giants' Eli Manning, left, and Washington's London Fletcher hope their teams end on a high note.
For die-hards only, the 6-9
New York Giants
will play host to the 3-12
Washington Redskins
in a 1 p.m. ET game Sunday at MetLife Stadium in East Rutherford, N.J. The game will do each team the favor of completing its season. ESPN.com reporters Dan Graziano (Giants) and John Keim (Redskins) break down the matchup.
Graziano
: The extent to which things have imploded in Washington since we were there a month ago is awe-inspiring. How do you think all of the controversy is affecting the mood in the locker room and the performance on the field, if at all?
Keim
: It's probably the most frustrated locker room I've covered just because of the preseason expectations, followed by the colossal failure and mixed with the stories of the day. For a lot of the young players, it has taken a big toll, especially if this is their first taste of major NFL disappointment. Most have never experienced anything like this, with the rumors and job-security stories, and the losing. It's also their job, so they know that, if the head coach who brought them here is fired, their NFL lives might change. The older players, especially those who have been around Washington a little while, have experienced craziness here in the past. But even for them, this is a tough one.
On the field? Hard to say. I've seen a couple of players give less-than-stellar efforts, but for the most part they've played hard (with one horrible game, a loss to Kansas City). Sadly for them, they continue to lose for the same reason they have all season: They're bad. It's not as if this is a comatose locker room all the time, however. It's a pretty loose bunch, just like last season. I think, in the past couple of weeks, the countdown to the end of the season began, and some can't wait to get away.
Why have the Giants escaped this sort of drama?
Graziano
: Well, the Giants seem to work hard to avoid it. Although I get the sense that Mike Shanahan likes drama in his life for some reason and Dan Snyder sort of attracts this type of nonsense, Tom Coughlin and John Mara pride themselves on cutting it all out and focusing on the week and the game at hand like a laser beam.
Where the Redskins turn over coaches like crazy, Coughlin is in his 10th year. It also helps that this is the Giants' first losing season since Coughlin's first year, in 2004, so they don't have the "same old, same old" feeling I imagine the fans and a lot of the players probably have in Washington. But the short answer is leadership. The Giants lean on established leaders at the coach and quarterback positions, and obviously there is a lot of instability in those spots right now in Washington.
Speaking of quarterback, how has
Kirk Cousins
looked to you in the two games since he took over as the starter for
Robert Griffin III
?
Keim
: Cousins looked pretty good against Atlanta and rather ordinary against Dallas. He does not yet look like a player who will fetch a high draft pick, but he also does not look overwhelmed being a starter. He has been sacked only once in his two starts, compared with Griffin's 24 in his past five starts. Part of the reason stems from Cousins' ability to get rid of the ball faster and make more decisive throws.
Cousins has done a decent job in the pocket, but he's prone to interceptions, with three in two games. He has thrown eight in his career, averaging one every 19.25 throws. Lately, they have just come off bad throws -- his past three were behind the target; as a rookie, there were some bad decisions. Cousins led Washington on a late touchdown drive against Atlanta, although he missed on the two-point conversion throw. He managed just 23 yards in the fourth quarter against Dallas. So, it has been mixed for him.
How are the Giants able to function with all the injuries they have at running back and along the line, let alone win?
Graziano
: I honestly have
no idea
how they won that game Sunday in Detroit. They couldn't do a thing on offense in the second half while down to third-stringers and fourth-stringers at guard, but they hung around and got that
Will Hill
interception return for a touchdown to tie it and send it into overtime, then
Eli Manning
managed to make enough big throws to get them in field goal range.
You've got to credit the Giants for not quitting on a lost season. They're practicing what Coughlin preaches about focusing on the game at hand and playing for pride, and you can see it in the effort. They're outmanned most weeks, and they looked it against San Diego and Seattle. But they haven't shut it down.
The pass-protection problems are real, though, and they're not going away. They're still playing backups at guard, and left tackle
Will Beatty
is having a rough season.
Brian Orakpo
toyed with Beatty a couple of weeks ago, and Beatty promised he'd be better this time. How is Orakpo physically, and do you think the Skins will be able to get their pass-rushers after Eli again?
Keim
: Orakpo will be day-to-day with a strained groin that forced him to leave last week's loss to Dallas early in the fourth quarter. He says he wants to play, but he also said it was bothering him pretty bad. Plus, he's a free agent after the season. Players always say that is not an issue, but you don't want to make an injury worse while playing for a 3-12 team and about to hit the open market for the first time in your career.
Then again, after the first game against Beatty, Orakpo could look at this as a good chance to increase his sack totals. He beat Beatty inside a couple of times, even when the tackle had help outside -- how do you get beat inside in that situation? But if Orakpo doesn't play, considering what New York has at the guard spots, I'd expect some A-gap blitzes and more stunts up the middle. Any pressure, too, will be dependent on the coverage. Quarterbacks have picked apart the Washington zone coverage all season, and they haven't always forced quarterbacks to hold the ball, giving the rush more of a chance.
The Giants' defense ranks 12th in the NFL in total yards allowed but 20th in scoring. How would you rate its performance this season? And what are one or two key questions for this group entering the offseason?
Graziano
: The disparity you cite has something to do with the four touchdowns (and a safety) the Giants have allowed on offense, and the four they have allowed on special teams -- not to mention the degree to which their league-leading 41 turnovers have routinely shortened the field and made things easier for opposing offenses. I think the defense has been more or less all right this season. The Giants don't cover very well, and they still don't pressure the quarterback enough, but they have played smart and tackled well and have been able to limit the damage done by big plays. They have consistently played
hard
, even when undermanned and not necessarily playing
well
. And when you stack them next to the offense, they look like Pro Bowlers.
Always good to catch up with you, John. See you Sunday.
.
December, 27, 2013
12/27/13
8:00
AM ET
Your daily morning check-in on news and notes about and of interest to the New York Giants.
The news of the day:
The game Sunday against the Redskins could be the final one in a Giants uniform for long-timers like Justin Tuck, Mathias Kiwanuka, David Diehl, Hakeem Nicks and others. Tuck says the fact is
on his mind
, even as he works to focus on trying to win the game. Nicks is a free agent too, and
doesn't appear
to have the support of the coaching staff anymore after playing as poorly as he has in his contract year. Nicks' possible replacement, if such a thing is on the roster, is Rueben Randle, who
missed Thursday's practice
with a knee injury.
Behind enemy lines:
The quarterback for the Redskins on Sunday will be Kirk Cousins. But the quarterback of the Redskins' future is still Robert Griffin III. And whoever's coaching him next year, his current offensive coordinator believes he'll have
plenty of success
.
Around the division
: The Cowboys appear to be playing games with their quarterback situation, refusing to admit that Tony Romo won't be able to play due to his back injury. Eagles coach Chip Kelly says his team
won't be taken in
by any attempts to confuse the situation.
Around the league
: We'll go around the league today on "NFL Insiders" on ESPN at 3 p.m. ET. I'll also be on the 11 am ET SportsCenter, talking about league-wide issues including the Cowboys-Eagles game. Tune in, DVR it or whatever it is you do. Hope you enjoy.