New York Giants:

Laron Scott
August, 30, 2012
8/30/12
3:22
PM ET
EAST RUTHERFORD, N.J. -- The preseason is finally over. But before the Giants move on in earnest to start preparing for the Cowboys next Wednesday, one more important thing needs to happen:
Cuts.
More specifically, the Giants need to trim their roster from 75 players to 53, prior to 9 p.m. Friday.
General manager Jerry Reese, head coach Tom Coughlin and the rest of his staff have some very tough decisions to make in the next 24 hours or so.
"I feel that we put a solid group of guys together," said running back
Andre Brown
on Thursday. "It's hard for them to make the choices upstairs."
Brown is one of the players who will be nervous leading up to Friday night's deadline. Originally a fourth-round draft choice by the Giants in 2009 out of NC State, Brown already has been waived eight different times in his NFL career, by five different teams.
The 25-year-old has just two regular-season carries on his resume, with the Broncos back in 2010. But in the Giants' final preseason game, Wednesday night against the Patriots, Brown carried the ball a team-high 14 times, accumulating 55 yards.
"I feel very good with my ability, and that I came out there and I produced what I did," said Brown. "I picked up my blocks, I was solid in my protection. I felt as though I put my best foot forward."
But will that be enough? The Giants already have
Ahmad Bradshaw
, along with first-round draft pick
David Wilson
. Brown, sixth-year man
D.J. Ware
and second-year vet
Da'Rel Scott
all may be competing for just one spot.
"He played well," said Coughlin of Brown. "He ran hard. He made some good, solid powerful runs. He missed a cut here or there. Of course he put the ball on the ground and Bear Pascoe really helped by being on the spot. But I liked the way in which he played and the effort he displayed and speed with which he played. He caught the ball coming out of the backfield as did Da'Rel."
"They both played a lot of special teams and showed speed and some power on special teams which is a real plus," Coughlin added, of Brown and Scott. "I think both of them distinguished themselves."
(The head coach's praise of Brown and Scott has to make you wonder about Ware's future.)
And running back isn't the only position at which there is intense competition. With a number of injuries on the defensive line, the Giants have some very difficult decisions to make in that area as well.
Defensive end
Adewale Ojomo
, an undrafted rookie free agent out of Miami, had a team-high four sacks in the preseason, and made the game-winning play against the Pats on Wednesday. But even he isn't feeling too sure of himself.
"Yeah, I'm really nervous right now at this point," said Ojomo. "There's a lot banking on this."
Ojomo should survive the Friday cutdown. But two other rookie free agents who find themselves in more precarious positions are wide receiver
David Douglas
and defensive back
Laron Scott
.
Douglas -- who signed with the Giants back in May after finishing his college career at Arizona -- had just one catch for 23 yards in the four preseason games, but had some impressive moments in practice as well.
Scott -- a Georgia Southern product who was only brought into camp two weeks ago -- certainly finished the preseason on a good note, with an interception in the final minute Wednesday night to seal the Giants' 6-3 victory over New England.
"Yeah, it's gonna be a long day tomorrow," Scott said. "Hopefully those guys decide to keep me around. But if not, I'm just happy the organization gave me a chance."
The Giants did not practice on Thursday, since they played Wednesday. The players were at the facility early in the day for team meetings. Now they're off until Saturday -- meaning all those players on the bubble have a lot of time to kill before Friday at 9 p.m.
"Last year I just sat in the room," said Brown, who was cut by the Giants last Sept. 3, before being re-signed to the practice squad the following day. "So, not gonna sit in the room and wait for the phone call (this year). I'm actually gonna go out -- probably a movie, or fish or something. Find a pond around here."
Many of the young players have been staying in a hotel near the Giants' training facility since the team returned from training camp in Albany.
"There's a lot of us who stick around the hotel, and we've become good buds," said Douglas. "So we'll all probably be hanging around."
Dreams are about to come true, and be crushed, here in East Rutherford. All that's left to do now is sit back and let the chips fall where they may.
"I felt like I came out and gave it my all every day," said Douglas. "That's all you can really do."
August, 16, 2012
8/16/12
11:10
AM ET
EAST RUTHERFORD, N.J. -- Defensive tackle
Marvin Austin
said his back is feeling better, but he will undergo further tests, according to head coach Tom Coughlin.
Coughlin was asked if Austin has suffered any structural or muscular damage to his back, which was examined Tuesday.
"Structural being what? I mean, they are dealing with some issues there," Coughlin said. "I am not going to tell you exactly what it is. We are going to have to wait and see. He is not going to be able to play this week."
[+] Enlarge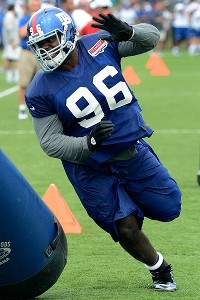 AP Photo/Evan PinkusMarvin Austin
"He said he felt pretty good today," Coughlin added. "A lot of the early symptoms were no longer there. They are going to do another set of tests on him. We are hoping within a reasonable amount of time he can come back and play."
The Giants' defensive tackles have been hammered by injuries. On Thursday, the team waived injured linebacker
Clint Sintim
and injured defensive end
Justin Trattou
to make room for defensive tackle Bobby Skinner, as well as cornerback/returner Laron Scott. The Giants then waived Skinner after one practice and signed former Denver defensive tackle
Marcus Thomas
.
"We found ourselves in need of players at a certain position and we felt it was probably the best way to go for both," Coughlin said. "Clint is probably a ways away. In (Trattou's) case, the doctors tell us he is quite a ways away and we felt this was something we needed to do to bolster the (defensive tackle) spot."
When he met with reporters earlier in the day, Austin said he did not suffer any serious issues with his back.
"I don't think it is going to be something that lags on," Austin said. "That is why we want to get everything right now, so it won't be something that goes on for a period of time."
The Giants practiced on Thursday without left tackle
Will Beatty
(back), linebacker
Michael Boley
(hamstring), linebacker
Jacquian Williams
(hip), cornerback
Michael Coe
(hamstring), tight end
Travis Beckum
(knee) and defensive tackle
Chris Canty
(knee). Coughlin said Beatty's back is still very much an issue.
"They evaluated him last night and they felt like if he kept going the way he is right now, he would have only gotten worse and worse," Coughlin said. "They shut him down."
Sintim, 26, was not going to be able to return for some time. The team's second round pick in 2009 was on the team's PUP list and failed his physical. Considered a long shot to make the team after suffering a torn ACL and patellar tendon last preseason, he hasn't played since last preseason.
Sintim also tore his ACL near the end of the 2010 season. The team drafted him with high hopes out of Virginia, where he had 245 tackles and 27 sacks in 49 games. Sintim played in 24 games in his first two seasons with the Giants and had nine tackles during his career.
It was going to be difficult for Sintim to make the final roster with an already-crowded linebacker unit. The Giants have Boley,
Mathias Kiwanuka
,
Chase Blackburn
, Williams,
Keith Rivers
,
Mark Herzlich
,
Greg Jones
and
Spencer Paysinger
and might still have a tough cut to make down the road.
Trattou, 23, entered camp as a candidate to fill
Dave Tollefson
's role as backup defensive end. But he suffered an ankle/heel injury early in a camp practice and has been out.
Adrian Tracy
figures to back up
Justin Tuck
,
Jason Pierre-Paul
and
Osi Umenyiora
now. The Giants did like Trattou's potential.
The Giants' defensive tackle unit has been in flux all week. The team lost
Shaun Rogers
for the season due to a blood clot in his leg. Backup defensive tackle Martin Parker was waived/injured after he needed surgery for a herniated disk in his back. Austin is sidelined for now and Canty is on the PUP list and may not be ready to start the season.
The Giants signed defensive tackles
Oren Wilson
and
Carlton Powell
on Wednesday and brought in Thomas for a workout before signing him. The 6-3, 307-pound Thomas played his first five seasons in Denver and had 180 tackles, one sack and two interceptions in 34 starts.
"It was a wild week for us, to say the least," Austin said. "It was a tough week for the D-tackle position."