New York Giants:

Larry Donnell
July, 3, 2014
Jul 3
12:00
PM ET
All this week, and then the week of July 14, we're taking a position-by-position look at the
New York Giants
' roster heading into training camp. Today we look at the position that's on everyone's mind: Tight end.
Projected starter
:
Adrien Robinson
Other candidates
:
Larry Donnell
,
Kellen Davis
,
Daniel Fells
,
Xavier Grimble
That's not a super-inspirational group right there, and Robinson is in that top spot only because he appears to be the leading candidate at this point. Anyone from the "others" group could overtake him easily, but as of now the Giants are hoping that this is the year Robinson hones that raw talent they saw in him when they drafted him in the fourth round in 2012. They drafted him based on that raw ability and hoped they could mold him into an NFL player. Health issues have slowed his development, which admittedly may never happen, but they see a guy who can be a dynamic option as a blocker and a receiver if he can get consistent practice time.
Donnell is a player whose versatility and athleticism they also like, and he was enough of a contributor on special teams last year to warrant a longer look with the offense. Fells and Davis are basically just blockers, and there's likely to be a spot for at least one of them. Grimble is an undrafted rookie out of USC who was once thought of highly as a recruit but never really put it together in college. He's a wild-card, but in this tight end field, you can't rule out anyone. Unless the Giants find a better option on the market between now and the start of camp, this is going to be a free-for-all search for the least objectionable option.
June, 23, 2014
Jun 23
1:00
PM ET
New York Giants
general manager
Jerry Reese
went on WFAN radio in New York on Monday and was asked about several things, including who the heck the starting tight end is right now. His answer? He doesn't know.
Per long-time listener, first-time caller Conor Orr
:
"I think the jury is still out on who the No. 1 tight end is, I think it'll probably be tight end by committee," he said on WFAN this afternoon. "But there are some really good tight ends, some athletic, big guys who can run and catch the ball.

"Adrien Robinson and Larry Donnell are a couple of young guys who have been on the squad for a couple of years, but have had some injury stuff going on with them. We expect them to be healthy and to be able to pick up the slack here."
He later said that a Robinson/Donnell duo has a chance to be "dynamic if we can get them going," which I guess is true, but feels like a long shot. Reese either believes this or is trying to let it be known publicly that he considers himself set at tight end in case he ends up in a contract negotiation with someone like
Jermichael Finley
before this is all over.
I still don't think they go get Finley or
Dustin Keller
, though I've obviously been wrong before. The Giants' pattern in recent years has been to patch it together at tight end and get average production out of the position while relying more on their wide receivers. If that's the strategy, I don't see anything wrong with or uncharacteristic about giving the young guys they've been developing a shot. The concern would be the ability of these guys to stay healthy, and the possibility that they could end up having to go further down the depth chart if Robinson gets hurt again.
June, 14, 2014
Jun 14
3:00
PM ET
We've written this before, but it bears repeating -- the Giants currently have five tight ends on the roster with a grand total of six catches in the NFL last season.
That's a scary thought. But also, a golden opportunity for
Adrien Robinson
,
Larry Donnell
,
Kellen Davis
,
Daniel Fells
and
Xavier Grimble
.
Coach Tom Coughlin clearly hopes one of the younger players will emerge over the course of the summer and be ready to start come September. For the second straight week, when asked about the tight end situation Thursday, Coughlin immediately steered the conversation in that direction.
"What I do like," Coughlin said, "is the fact that the young guys have jumped in there and done, I think, a good job of understanding what's been asked of them and really doing well in limiting their assignment errors."
Robinson, a fourth-round draft pick in 2012, continued to get some reps with the first unit during Thursday's OTA. He has looked good this spring, although he didn't make any flashy plays this Thursday.
But remember, Robinson has been active for just three games in his first two NFL seasons, and has yet to catch a pass.
Coughlin has also spoken highly in the past of Donnell, the 25-year-old undrafted free agent out of Grambling, who had three catches for 31 yards in limited action last season.
The Giants signed another undrafted free agent, Grimble, formerly of USC, last month.
But don't forget about the two six-year veterans the Giants picked up in the offseason, Davis and Fells. Both have gotten first-team reps during OTAs as well.
Davis played in 15 games for the Super Bowl champion Seahawks last season. He had just three catches for 32 yards, but caught 19 passes for 229 yards with the Bears the year before.
Fells did not play in the NFL last season, but played in 13 games for the Patriots the year before. He had just four catches for 85 yards that season, but caught 41 passes for 391 yards with the Rams back in 2010.
Coughlin had good things to say about Davis and Fells on Thursday, too.
"Both of these guys are sharp, both of these veterans," the coach said. "They know their way around on the field. Obviously they've been in systems before. We just like to take what they've done and the reason that we were attracted to them, expand that."
The Giants could still sign or acquire another player at the position. But as of now, these five will battle it out during next week's three-day minicamp, and then training camp starting in late July.
If any spot is up for grabs on the Giants, this is it.
May, 2, 2014
May 2
11:30
AM ET
The awkward part of
New York Giants
GM Jerry Reese's pre-draft news conference Thursday came when a reporter asked him about tight end. The exchange went like this:
Q: Historically, this team has relied on the tight end quite a bit. Would you be comfortable moving forward with the guys you have on your roster right now?

Reese: Historically we've relied on our tight end?

Q: Well, they've had a prominent role.

Reese: Really?

Q: I seem to remember tight ends catching important passes.

Reese: Yeah, well, we think we've got some tight ends that can catch some important passes. But "prominent role"? We want all of our positions to be prominent roles. I'm not sure if our tight ends have had prominent roles in the past. But we want a competent tight end. We think we've got a couple of young tight ends who have been here for a couple of years who we want to develop, and we'll continue to look as we move forward.
[+] Enlarge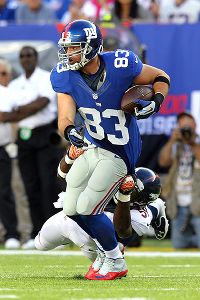 Brad Penner/USA TODAY SportsIn his one season with the Giants, Brandon Myers caught 47 passes for 522 yards.
I have been on the other end of that exchange in the past. I've been the one who asked Reese a question that posited a certain level of significance for the tight end position and had him reject the premise. Obviously, this does not show Reese at his most polite, but he views this idea that the Giants' offense has relied on a tight end as an especially irksome misperception. And the numbers support his side of it:
Brandon Myers' 47 receptions in 2013 were the second-most in a single season by a Giants tight end since Jeremy Shockey caught 57 passes in 2007.

Since 2007, the Giants have employed four different starting tight ends -- Kevin Boss from 2008-10, Jake Ballard in 2011, Martellus Bennett in 2012 and Myers last year.

Over that six-year stretch, the Giants' leading tight end has averaged 42 receptions for 539 yards and five touchdowns per year, with Bennett's 55 catches and 626 yards in 2012 and Boss' six touchdowns in 2008 the high-water marks in those categories.
Reese is not shy about telling people he thinks he can find a tight end who can catch 42 passes every year, and this is the basis on which he rejects a characterization such as "prominent role." Yes, he could be nicer about making the point, but the Giants' offense has not, in point of fact, relied on the tight end. Shockey was an exceptional case -- an exceptional talent the Giants deemed worthy of a first-round pick. And Bennett's athleticism allowed them to use him a bit more than they've used other guys after they were able to get him on the cheap prior to the 2012 season.
But the thing to remember about Bennett and Shockey is that both were excellent and willing blockers at the position. Bennett's as good a run-blocking tight end as there is in the NFL right now, and the Giants had him on the field a lot for that reason. That his size and speed enabled him to be a slightly bigger factor in the passing game than some of his predecessors were was a bonus, and the Giants were fortunate that he wasn't in demand that year due to the perception that he was a huge disappointment in Dallas. Once he played well for them, he parlayed that into a big free-agent deal with the Bears, and the Giants made no effort to spend to keep him.
So the point to be taken from this is not that the Giants don't like the tight end position but that it's not a position on which they feel compelled to spend major resources. Other than that 2002 first-round pick they spent on Shockey, they've consistently sought cheap solutions at tight end, viewing whoever plays it as replaceable from year to year. They want guys who can block, and if those guys can catch the ball, so much the better.
For that reason, it's easy to convince yourself that they won't be taking North Carolina's
Eric Ebron
with the No. 12 pick in the first round next week. Ebron may be an exceptional talent as a receiver, and the tight end position leaguewide may have evolved to the point where it's worth spending a No. 12 overall pick to get one who can be a difference-maker in the passing game. But Reese insisted Thursday that the arrival of new offensive coordinator Ben McAdoo has not changed the way the Giants evaluate offensive players. And while Shockey was the No. 14 overall pick in that 2002 draft, it's vital to remember that Shockey was a good blocker in addition to a great pass-catcher. Ebron is a pass-catcher only. He'd be a liability as a blocker. So the comparison doesn't necessarily fit.
The Giants could find a tight end such as
Jace Amaro
or
Austin Seferian-Jenkins
in the second round if they really feel they need one, but it's possible they don't feel that way. They have 2012 fourth-round pick
Adrien Robinson
still on the roster and have been eager for some time to see him on the field more. They resisted putting Robinson on injured reserve all last year because they believed he had something to offer if he ever got healthy (which he finally did, only to injure himself again on the opening kickoff of the Week 16 game in Detroit). They signed blocking tight end
Kellen Davis
and
Daniel Fells
for depth at the position, and
Larry Donnell
has been a strong enough special-teams performer to earn more practice reps and show what he can do. That's the group Reese has, and he swears he doesn't feel the need to upgrade it in the draft. If their pick comes around and the best player still on their board plays tight end, sure, they could take him. But Reese isn't hunting for some huge solution at the position next week.
The question is whether he's right. I personally think the Giants would benefit from having a more permanent solution at this position than they've employed over the past four years. I think the way the league is going, it's more important than it used to be to have a big-time weapon at that position who can split out wide and bust matchups in the secondary. But I don't run the Giants. Jerry Reese does. And he and the Giants do things their way, and they believe in it. You can respect someone's conviction even if your opinion differs from theirs. Reese thinks he's OK at tight end -- or at least that he will be. And it's clear when he's asked about it that he doesn't understand what all the fuss is about.
October, 30, 2013
10/30/13
3:46
PM ET
EAST RUTHERFORD, N.J. -- Through eight games,
Brandon Myers
has been one of the most disappointing players on the
New York Giants
.
But it's not all Myers' fault, says longtime tight ends coach Mike Pope.
"A good bit of that has been the pace of the defenses we've played, we've had to keep (him) in the protection a little bit more," Pope said Tuesday. "The other thing is that our wide receivers have kind of been our nuts and bolts and that's where a good part of our passing game, the reads begin out there."
Myers, signed as a free agent to replace the departed
Martellus Bennett
, had 79 catches for 806 yards last season for the Raiders -- the fourth-most receptions in the NFL for a tight end. But in half a season with the Giants, Myers has just 23 catches for 265 yards, putting him on pace for a 46-catch, 530-yard year.
Ironically, Pope said Myers has "made some really good progress as a run-blocker." But they were certainly hoping he'd be a much bigger weapon in the passing game.
That may come in time, said Pope.
"It's taken him some time to learn this offense since he just showed up here," Pope said. "I think we're the fifth offense he's had all the way back to college, because when
Carson Palmer
went out to Oakland, they kind of adapted what he had done in Cincinnati. It's taken him a little bit of time to unlearn offenses he's been in and we have a lot of option route running in our offense, and that's something that just takes a number of reps.
"He's been a very solid catcher, he hasn't dropped the ball and the chemistry that has to develop when you have an option-type offense takes a while between the quarterback and that receiver."
The Giants have gotten very little passing-game production from the other tight ends on the roster.
Bear Pascoe
has five catches for 32 yards, and
Larry Donnell
has three catches for 31 yards.
Donnell almost scored his first NFL touchdown Sunday against the
Philadelphia Eagles
, but couldn't keep his feet in bounds.
"The play he made the other day was kind of indefinable, to run out of the back of the end zone when you're wide open," Pope said. "You can't manufacture [experience] in a player. In some cases it has to be an experience where things don't always go well and you learn from those things. ... We do see the talent and he is a huge human being."
Adrien Robinson
, who Pope talked up during training camp, has been active for just two games because of a foot injury and has yet to record a catch.
"He certainly has the physical structure," Pope said. "As a young player who hasn't played a great deal, when players of this kind miss practice -- you don't learn to pilot the space shuttle in a flight simulator. That's the thing he hasn't had the chance to do, actually get in the activity, in the game situations."
August, 19, 2013
8/19/13
12:53
AM ET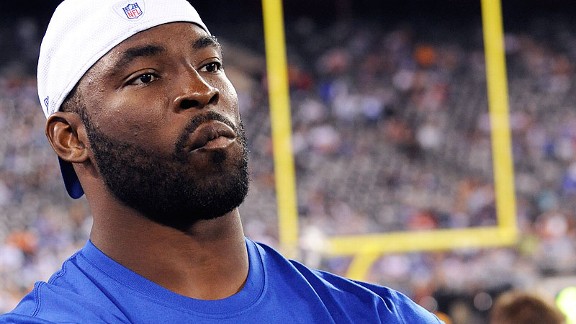 AP Photo/Bill KostrounDefensive lineman Justin Tuck has an injury issue of his own to deal with.
EAST RUTHERFORD, N.J. -- New York Giants wide receiver
Victor Cruz
and center
David Baas
exited Sunday night's game in the first quarter with heel and knee injuries, respectively.
Click here
for the full story on those two.
But Cruz and Baas aren't the only banged-up Giants. Defensive end
Justin Tuck
played Sunday night after missing the team's first preseason game because of tightness in his back, but now Tuck has another problem area.
"I guess he's had all the tests, all I've heard is a slight hamstring strain," coach Tom Coughlin said after the game. "But I'm sure we'll know more either later tonight or tomorrow morning."
On the bright side, wide receiver
Hakeem Nicks
made his preseason debut as well Sunday night, without incident, catching two passes for 40 yards. Nicks is coming off foot and knee injuries in 2012, and a groin injury early in training camp.
"It felt great to be back out there," Nicks said. "I'm just getting my feet back up under me. I'm working hard to get my timing back to where it needs to be with Eli. My body felt good and it's just great to be back on the field with my team."
Guard
Chris Snee
also got his first action of the preseason, as he works his way back from offseason hip surgery.
And the biggest surprise of the night was backup tight end
Larry Donnell
, who came into the game late despite suffering what appeared to be a serious knee injury in practice on Friday.
Donnell was even on the list of inactive players the Giants released a few hours before the game.
"I take my hat off to Larry Donnell," Coughlin said. "He hurt himself the other day in practice. I was afraid of the seriousness; he came back with the ligaments intact but we thought he would be sore. He vowed that he wanted to play, he had the doctors and the trainers with him on the field this morning and he ran and went through a series of exercises and the medical people cleared him to play. So his attitude, really more than anything else, determined that he wanted to play and he did."
August, 3, 2013
8/03/13
4:55
PM ET
EAST RUTHERFORD, N.J. -- For the third consecutive season, the Giants will have a new starting tight end.
Jake Ballard
replaced
Kevin Boss
in 2011, and
Martellus Bennett
replaced Ballard in 2012. Now
Brandon Myers
, listed as the starter on the first unofficial depth chart of training camp, is the leading candidate to fill Bennett's shoes.
Myers spent his first four seasons with the Raiders after being drafted in the sixth round in 2009. Last year he had 79 catches for 806 yards and four touchdowns, before coming to New York as a free agent. Only three tight ends had more receptions in the NFL last season:
Jason Witten
(110),
Tony Gonzalez
(93) and
Jimmy Graham
(85).
[+] Enlarge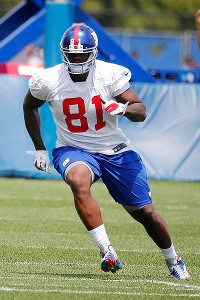 Jim O'Connor/USA TODAY SportsWill Adrien Robinson make strides in his second pro season?
Tight ends coach Mike Pope likes what he's seen from Myers thus far. "Coming here, you'd think, 'He's played in the NFL,' but he came in here with just the right attitude and gets mad at himself when he doesn't execute things the way he knows they should be done," Pope said.
Bear Pascoe
is currently the second-stringer. He only has 26 catches in four NFL seasons (all with the Giants), and is also playing some fullback right now, due to
Henry Hynoski
's injury. But Pope said Pascoe is a key ingredient.
"He is the only guy here really who has playing time [in the system]," Pope said. "Because he's been through it, he can work with these young guys. He's a real valuable asset."
Adrien Robinson
, the team's fourth-round draft pick in 2012, is listed as a third-stringer, along with rookie free agent
Jamie Childers
. Behind those two are
Larry Donnell
, who was on the Giants' practice squad last season, and rookie free agent
Chase Clement
.
Robinson in particular has looked good early in camp, and both head coach Tom Coughlin and Pope have brought up Donnell's name unprompted in the past few days. Pope said Robinson and Donnell will "absolutely" see action this season.
"We want to get Adrien on the field -- he's a terrific target and runs well," Pope said. "We'd like to see if Larry Donnell can make a contribution. Certainly size and talent-wise, he has that. But he missed all the spring and minicamps because of a broken foot, so he's virtually just starting right now."
Robinson and Donnell each had a catch during Saturday's practice. Myers had one, too. Clement had a drop, although the pass was thrown a little behind him by rookie QB
Ryan Nassib
.
It's still early, but you can expect Myers to have plenty of passes thrown his way this year. The question is, will any of these other young prospects emerge as a serious pass-catching threat?
On the other hand, this group might make an even bigger difference in the running game.
"I do think we have, size-wise, the biggest group I've ever worked with," Pope said. "These guys are 278, 280, 282 [pounds], and they can run fairly well. We haven't had that around here since I've been here -- that's since 1982.
"That should add to our running game on the edge, and should enable us to block some of these defensive ends and some of these outside linebackers that are in this league now. Hopefully, with the quickness and speed of our running backs, that can be a huge contribution."
July, 18, 2013
7/18/13
11:14
AM ET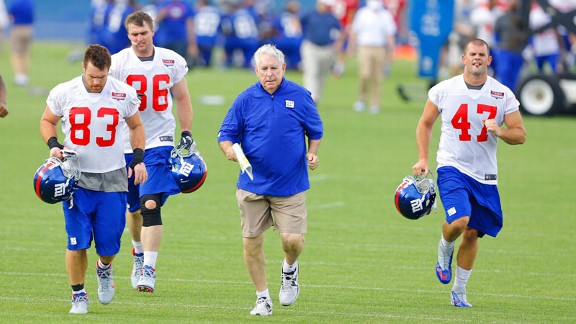 Jim O'Connor/USA TODAY SportsBrandon Myers (far l.) and Chase Clement (far r.) join Bear Pascoe among the Giants' tight ends.
As training camp approaches, we're counting down to camp by taking a look at the Giants, position by position.
Position:
Tight end.
Projected starters:
Bear Pascoe
,
Brandon Myers
.
Projected reserves:
Adrien Robinson
.
New faces:
Myers,
Chase Clement
,
Jamie Childers
.
The departed:
Martellus Bennett
.
Player to watch:
Myers. The Giants lost a lot of potential and talent in Bennett but they replaced him with a tight end that had 79 receptions for 806 yards in Oakland last year. While he likely will not see as many targets with
Hakeem Nicks
and
Victor Cruz
on the field, Myers gives Manning another weapon that defenses will need to account for. The question is whether Myers can block enough to stay on the field.
Potential strength:
Manning needs a pass-catching tight end when defenses try to take Nicks and Cruz away. Tight ends have sometimes come up big for Manning over the years on third downs, on fourth-quarter comeback drives and in the red zone. The Giants have versatility in their tight ends. Pascoe, who excels as a hybrid tight end/fullback, will see more snaps in the backfield filling in for the injured
Henry Hynoski
. Myers has the potential to be one of Manning's best pass-catching tight ends. Robinson's potential is intriguing and his size could be an asset in the red zone if he continues to develop. The Giants also like
Larry Donnell
and Clement, who has drawn very early comparisons to
Jake Ballard
and could be a practice squad candidate.
Potential weakness:
Myers is the fourth starting tight end Manning will have had in as many seasons. Even though Bennett had 55 receptions last year in his one and only season with Manning, the quarterback and tight end often were not on the same page when it came to their timing and routes. Now Manning has to develop a new chemistry and rapport with Myers and potentially the young and inexperienced Robinson.
Wild card:
Robinson. He's a huge target for Manning and that was on display at times during red zone drills in OTAs and minicamp this offseason. Jerry Reese has raved about his potential and nobody has forgotten the "JPP of tight ends" label. Robinson might have an opportunity to show what he can do in camp with Pascoe playing more fullback.
Tell us what you think of the tight ends entering camp.
April, 18, 2013
4/18/13
6:00
AM ET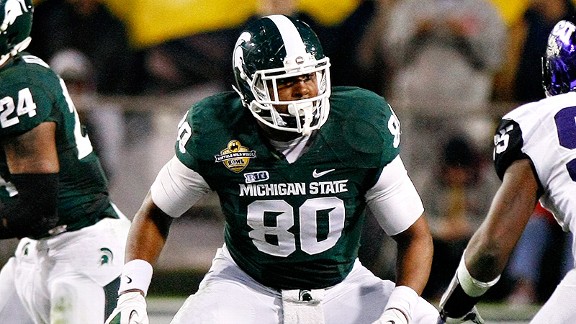 Rick Scuteri/AP ImagesDion Sims says he's the best tight end in the draft. Will the Giants take a flyer on him?
This is the fourth installment in a position-by-position analysis of the Giants as they prepare for the draft:
Position:
Tight end.
Depth chart:
Brandon Myers
,
Bear Pascoe
,
Adrien Robinson
,
Larry Donnell
,
Jamie Childers
.
The departed:
Martellus Bennett
(Chicago),
Travis Beckum
(free agent).
Scouting report:
The Giants wanted to re-sign Bennett but he signed with the Bears in free agency. The Giants now have to replace Bennett's 55 receptions for 626 yards and five touchdowns and it's possible Myers could surpass those numbers if the Giants utilize their newly-acquired pass-catching tight end more in the passing game. Myers had 79 receptions for 806 yards and four touchdowns last year with the Raiders.
Myers, though, will have to be able to block to stay on the field for multiple plays and
Eli Manning
will certainly be looking often to one of the best receiving tandems in the league in
Hakeem Nicks
and
Victor Cruz
. Still, if Myers can provide a consistent receiving threat, Manning can use Myers and wide receiver
Rueben Randle
as a third receiving option.
Pascoe returns as the blocking tight end/H-back the Giants like to use in multiple packages. Robinson's potential is intriguing but the developmental project needs to show he is ready for snaps in training camp. The Giants also like Donnell's potential.
The last time:
The Giants drafted Robinson in the fourth round in 2012.
Potential targets:
Signing Myers makes it unlikely that the Giants will think about a tight end early in the draft. Besides, the Giants do not seem to value the tight end position enough to use a first or second-round pick. However, the Giants have had a revolving door at the position with Myers set to be the fourth starting tight end in as many years.
Notre Dame's
Tyler Eifert
and Stanford's
Zach Ertz
are the two top rated tight ends in the draft. But those two are expected to go in the first two rounds. The Giants instead could opt to look at tight end later in the draft.
Michigan State's
Dion Sims
spoke with the Giants at the scouting combine in February and a source said the Giants were intrigued by the 6-4 Sims, who displays some traits similar to Bennett.
"It went well," Sims said at the combine about speaking with tight ends coach Mike Pope and the Giants. "I definitely can [fit] into the Giants offense. Their offense is kind of similar to what we ran at Michigan State. They rely on their tight ends to do a lot of blocking and running routes too."
Sims, who has a basketball background, has soft hands and a big body and can go after a pass.
"I'm the best blocking tight end, I'm the best receiving tight end, I'm the best all-around tight end," Sims said at the combine. "It's just all stats, those guys [considered to be the top tight ends in the draft] got a lot of stats and they get the ball [numerous] times a game. I just have to prove that I can be a down-the-field threat."
Pope reportedly took a closer look at Colorado's 6-foot-5
Nick Kasa
recently and Maryland's
Matt Furstenburg
has also been a name that reportedly is on the Giants' radar.
Need rating (scale of 1 to 10):
5.
Do you think the Giants need to draft a tight end in the draft?
February, 7, 2013
2/07/13
6:33
PM ET
We've been taking a look toward 2013 with a position-by-position breakdown of the Giants leading into the scouting combine and free agency.

So far, we have analyzed quarterback, running back and wide receiver. Today is tight end.
TIGHT END

2012 depth chart:
Martellus Bennett
,
Bear Pascoe
,
Travis Beckum
,
Adrien Robinson
.
Overview:
The Giants pretty much went with two tight ends for the entire season with Bennett and Pascoe. Bennett was pretty much everything the Giants hoped for. He showed his vast potential and athleticism on the receiving side with a career-high 55 receptions for 626 yards and five touchdowns. And the Giants probably could have utilized him more in the passing game. His blocking was good, although the coaches say it can improve. Pascoe provided blocking on the line and from his H-back type of role. Beckum spent most of the season recovering from a torn ACL suffered in the Super Bowl and returned briefly before hurting his knee and landing on IR again. Robinson remains a project to be developed.
Free agents:
Bennett, Beckum.
2013 personnel preview:
The Giants want Bennett back. He should only get better with another season under his belt in the Giants offense with
Eli Manning
. Pascoe remains a valuable contributor in the blocking game and the Giants like his versatility. Robinson spent his rookie season learning. We'll have to see if he is ready for some playing time or at least to be active on game day. The Giants have Larry Donnell, another developmental tight end, on the roster.
Salary cap situation:
The Giants hope to re-sign Bennett. If they are unable to re-sign Bennett, the Giants will likely have to search for another tight end. Bennett should be one of the Giants' priorities among their own free agents. Pascoe, who was going to be a restricted free agent, recently re-signed with the team.
Tell us what you think of the Giants' tight ends going into 2013.
July, 24, 2012
7/24/12
12:00
PM ET
As training camp approaches, we're counting down to camp by taking a look at the defending champions, position by position.

Projected starters: Bear Pascoe and Martellus Bennett.

Projected reserves: Travis Beckum, Adrien Robinson and Christian Hopkins.

New faces: Bennett, Robinson, Larry Donnell and Ryan Purvis.

Going, going, gone: Jake Ballard.

Player to watch: Bennett. The Giants made signing Bennett a priority in free agency. Bennett practically oozes potential. He has terrific size at 6-6. He has soft hands and nice athleticism. He is a good blocker. Bennett could be a terrific red zone target for Manning. The hope is Bennett will fulfill his potential now that he has a chance to start after backing up Jason Witten in Dallas. With Eli Manning and tight ends guru Mike Pope at his side, Bennett has a chance to shine. He just has to learn the new offense and put it all together.

Potential strength: Besides showing that he is an elite quarterback, Manning displayed the ability to make players better and develop unknown players like Ballard and Victor Cruz last season. Pope, the tight ends coach, is one of the best in the business so there's a good chance either Pascoe, Bennett, Hopkins or Robinson emerges into a viable option at tight end.

Beckum will be in that mix as an option in the passing game once he recovers from ACL surgery and is ready to play.

Pascoe enters camp as the starter and the Giants like how he can block, catch and play both tight end and fullback. But the job as Manning's new tight end target is there for Bennett to take.

Robinson, the team's fourth-round pick, may be a year away from contributing and is still learning the system and game. But if he truly is the "JPP of tight ends" as Jerry Reese labeled him, Robinson will be contributing in some form and flashing his potential by the end of the season.

It remains to be seen how many tight ends the Giants will keep. They carried three on the roster last season.

Potential weakness: Lack of experience. Pascoe has started 11 games in each of the last two seasons as a hybrid tight end/fullback but only has caught 22 passes in three seasons. Bennett has a total of 85 receptions and 31 starts in his four seasons with the Cowboys. Beckum has a total of 26 receptions in three seasons.

After those three, only Purvis has NFL experience among the remaining tight ends on the roster. Purvis played in 10 games last season in Tampa Bay and catching five passes.

Wild card: Robinson and Hopkins. With the job up for grabs, anybody could conceivably emerge so we are going with two wild card options. The Giants love Robinson's athleticism and raw potential. Robinson, though, missed OTAs as he finished up school. If he really is as athletic and gifted as advertised, Robinson could develop with Manning and Pope's help into a contributor this season if he can grasp the offense and game quickly enough.

Pope helped develop Ballard and Pascoe, relatively anonymous tight ends before, into starters. He could keep that streak going with Hopkins, a 6-5, 277-pound tight end that the Giants kept on the practice squad last season. Reese has been talking Hopkins up since just after the Super Bowl as an option to replace Ballard and the injured Beckum. He has some athleticism and hands as well.

Tell us what you think of the tight ends below.
July, 11, 2012
7/11/12
11:00
AM ET
With training camp at the end of the month, spotlight focuses the tight end position -- sure to be one of the most watched competitions in training camp.
SPOTLIGHT:
The tight ends
THE COMPETITION: Bear Pascoe, Martellus Bennett, Travis Beckum, Adrien Robinson, Christian Hopkins, Ryan Purvis
and
Larry Donnell
.
THE 411:
Last year, the Giants replaced
Kevin Boss
with
Jake Ballard
. This year, the Giants hope to find another big target over the middle for
Eli Manning
.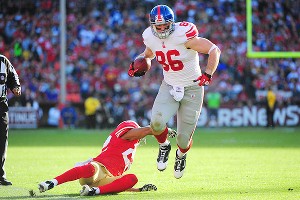 Kyle Terada/US PresswireBear Pascoe
Pascoe has the most experience of all the healthy tight ends. Beckum is still recovering from a torn ACL suffered in the Super Bowl and might not be ready to play when the season starts.
Bennett is the guy the team hopes will step into the role after signing him in free agency. But Bennett has to adjust to a new offense and show he can handle a bigger role and fulfill his potential. Bennett missed some time in OTAs due to a hamstring issue as the coaching staff wanted to see the tight end shed some pounds.
The Giants drafted Robinson in the fourth round, but he is raw and missed OTAs to finish up in school. He may be at least a year away from contributing, but if he is really the "JPP of tight ends" -- as
Jerry Reese
described him -- he'll show flashes and get better as the season progresses.
The Giants like Hopkins, who has been on the practice squad. He has shown flashes of good hands and is a big body at 6-5, 277 pounds.
WHAT THE COACHES ARE SAYING:
"Except for Bear, there is nobody that has done it before," offensive coordinator
Kevin Gilbride
said. "You are hoping to have Bear as a swing guy, a second tight end -- he could motion back and play the fullback position, give you what he has always given. you which is unbelievable toughness and somehow making plays that maybe you don't think that he should be able to make.
"He always seems to make [those plays] for you -- not necessarily as your starting tight end," Gilbride continued. "But right now he is the starting tight end. Martellus was out and just barely got back. Adrien Robinson missed [OTAs]. So right now we have a long way to go at that spot."
Gilbride, though, acknowledged that he thought Ballard could be a good blocker and perhaps an underneath target in the passing game before Ballard exceeded his expectations and became a bigger threat.
"You are hoping Martellus [steps up]. ... That is why he was brought here," Gilbride said. "You are hoping that Adrien Robinson down the road would be the guy. If not, Bear is going to be the guy.
"We have been able to do it in the past. We have to do it again."
CAMP PREDICTION:
Pascoe enters camp as the starter and may be used more in the passing game out of necessity if Bennett isn't able to get comfortable in the new system by the time the season opener rolls around.
Pascoe displayed an ability to catch balls down the middle in OTAs and minicamp, and the Giants could lean on him early on until Bennett works his way in and earns Manning's trust. Robinson might need this year to develop before becoming a factor.
Beckum's impact all depends on his health and when he will be able to come back. Also, it remains to be seen how much the Giants use Beckum. When he was healthy last season, he wasn't utilized a ton as they leaned more on Ballard and Pascoe with blocking in mind as well. The Giants might also bring Beckum along slowly off his knee injury –- as they should with an ACL injury suffered in February -- so he might not start contributing until a few weeks into the season, if not later.
Hopkins could be a dark horse since tight ends coach
Mike Pope
has been able to develop guys like Boss, Ballard and Pascoe. And because of that, you can't discount Purvis or Donnell either, but they could potentially end up on the practice squad.
While Pascoe may be the guy Manning trusts in the passing game early on, the Giants also can use fullback
Henry Hynoski
as a short-yardage passing option if Bennett needs more time to get comfortable with the offense.
Hynoski showed the ability to catch out of the backfield late last season. I think Manning will look to Pascoe early until he develops a rapport with Bennett or another tight end, and that gives Pascoe a step up on the competition and the opportunity to seize the job.
Tell us what you want to see happen at tight end below.