New York Giants:

Leon Washington
September, 4, 2013
9/04/13
8:00
AM ET
Your daily morning check-in on news and notes about and of interest to the New York Giants:
The news of the day:
Barring some unforeseen development in the next day or so (i.e., a short-term injury to a more significant player), the Giants will place running back Andre Brown on
injured reserve/designated for return
with a fractured left leg. That will keep Brown out of at least the first eight games of the season. Brown had hoped to be back sooner, but in the meantime the Giants may look to bring in another running back.
Reports on Tuesday
said that veterans Beanie Wells, Jonathan Dwyer and Leon Washington were in East Rutherford for workouts/tryouts, and while it's possible the Giants would sign one of them to spell Brown while he's out, it's also possible they won't. And even if they do, it likely wouldn't be until next week, when they could sign them without having to guarantee their salary.
Behind enemy lines:
Sunday night's opponent, the Dallas Cowboys, aren't waiting until next week to add help to their offensive line. They are signing veteran guard Brian Waters, who didn't play in 2012 and will need some time to get up to speed but, Tim MacMahon writes,
will be worth the wait
. The Giants' defensive line is still facing a makeshift offensive line in Dallas on Sunday night, as the Cowboys don't know who their starting guards are going to be.
Around the division:
Looking ahead to the "Monday Night Football" season opener between the Redskins and the Eagles,
Phil Sheridan wonders
whether a summer spent practicing against Chip Kelly's up-tempo offense, which includes some option elements, will end up being a benefit to the Eagles' defense when it faces Robert Griffin III and the Redskins' multiple offense.
Around the league
: It's completely ludicrous to criticize Jets coach Rex Ryan for
going to his son's game at Clemson
on Saturday just because it was final cut-down day. If Ryan had gone to one of his son's games four days earlier, when rosters had to be cut to 75, no one would have noticed or cared. Did he owe the guys who got cut Saturday a look in the eye more than he owed it to the guys who got cut Tuesday? I agree that the absence sends a poor message about Ryan's current role in the decision-making hierarchy of the Jets organization, but since when did Ryan care what anyone thought about him? The NFL establishment makes way too much of Saturday in the first place. I have little doubt that Ryan's role in the actual cutting of the players was that big a deal that he couldn't go to his son's game. Perspective, please.
December, 3, 2010
12/03/10
5:34
PM ET
EAST RUTHERFORD, N.J. –Just four games ago, Mario Manningham was the Giants No.3 wide receiver. The third-year wideout feasted on opposing secondaries consumed with covering Hakeem Nicks and Steve Smith.

How things have changed in such little time. As the Giants receivers have gone down one by one, Manningham has been thrust to the No. 1 role, playing alongside free agent pickups and undrafted free agents. The elusive receiver is now the receiver the defense's must shut down.

And so far, Manningham has done admirably. Teammates and coaches raved this week about Manningham's performance in the absence of Nicks and Smith, which will extend this week when both miss Sunday's game vs. Washington.

In the three games as the No. 1 wideout, Manningham has caught 16 passes for 176 yards and two touchdowns.

"He's done a terrific job picking up the load, him and (tight end Kevin) Boss," Smith said. "They've both done very well."

Offensive coordinator Kevin Gilbride praised Manningham's explosiveness and how the team has been working with him to become more consistent. His dynamic playmaking ability lends to the Giants trying to get the ball to his hands and take advantage of his homerun potential.

"I think his explosivenss is one of the important reasons why we're so high up in big plays as an offense," Gilbride said. "I think guys feed off the energy, off the personality as well as off the big plays that he makes."

GIANTS GOING TO THE BANK


The Giants have faced their fare share of great returnmen this season. Chicago's Devin Hester. Philadelphia's DeSean Jackson. Dallas' Dez Bryant. Seattle's Leon Washington. This weekend, that trend continues as the Giants will have to try and contain Washington's explosive rookie, Brandon Banks.

Banks, an undrafted free agent, is fourth in the NFC in return average for returners who have returned more than 10 kicks. He is averaging 27 yards per kickoff return and has a touchdown. He's fifth among punt returners with more than 10 returns, averaging 11.3 yards.

"(He's) running past everybody," Giants head coach Tom Coughlin said. "Going towards the endzone faster than I would like to comment on. They count on field position with him. They had one called back last week (against Minnesota) or they have the lead in the fourth quarter. He's done a nice job."

While Banks has been fantastic as a rookie, theGiants return coverage has been quite good this season, allowing just 18.3 yards per kickoff return and 6.3 yards per punt. After struggling early in the season, the Giants have improved as the season has gone on with the addition of strong defensive lineman like Jason Pierre-Paul and Dave Tollefson to the special teams unit.

Like he has done in the past against others, Giants kicker Lawrence Tynes said he can mix up the kicks on kickoffs.

"We've recognized how good he is, but I still think we're going to kick the ball to him," Tynes said. "We're pretty good at what we do too. I think we're top three in the NFL in covering kicks, so it will be a big challenge and a big part of the game. We're going to have to do a really good job."
November, 6, 2010
11/06/10
4:13
PM ET
Tom Coughlin spared the media.

Had the Giants head coach decided to talk about the threat that that Seahawks running back/returner Leon Washington presents as a kick returner, he could've gone on for hours. Way past deadlines for stories.

So he instead just posed a question.

"His kickoff return average at home, do you know what it is?" Coughlin asked. "Forty-four yards. Kickoff return average at home."

Point taken.

The Giants have a huge task ahead of them Sunday in containing Washington in kickoff returns, as the shifty and elusive back leads the league in return yardage. Washington has a NFL best 33.7 yards kickoff return average, to go along with his two returns for touchdowns. He's tied for second all-time in kickoff returns for touchdown.

"You want to keep him from affecting the change in the game," Coughlin said. "Their offense has taken the ball over, I want to say, 10 times in plus territory this year and has scored five of those 10 times. They've benefited from outstanding field position, for sure."

Traded to Seattle from the Jets in the offseason, Washington has been a huge asset for the Seahawks. His two touchdown returns almost single handedly won Seattle's game against San Diego, and he now owns the top two spots for longest kickoff returns in Seattle history.

Linebacker Clint Sintim said that Washington is strong and fast and runs the ball hard, which becomes a tough combination to face. Defensive end Jason Pierre-Paul added that there is great blocking to complement Washington's elusiveness.

"That's going to be big for us, he's actually going to test us," Pierre-Paul said. "See if we can go down there and make tackles and see what our kickoff team is really about."

Kicker Lawrence Tynes called Washington one of the best returners in the game and said he will have to pick and choose when the Giants kick to him. He also talked about mixing in kicks to try to neutralize the former Jet.

"Hitting short kicks, hitting line drives, hitting deep kicks, you have to keep him off balanced, keep the return team off balanced," Tynes said. "Most of the time the call is made from the sidelines, so if you kind of disrupt what they are doing with the type of kick, you can eliminate him."
November, 4, 2010
11/04/10
2:31
PM ET
It would have been easy to be bitter. A gruesome broken leg made
Leon Washington
the loser in a contract standoff with the Jets and, once he had healed enough to show signs of a return, the team traded the running back during the NFL draft this spring.
The Jets traded Washington all the way across the country, away from teammates who had become his closest friends in four years in New York, to Seattle and an uncertain future.
But if you listen to Washington, he doesn't sound resentful. He has faith that this was the way things were supposed to work out. Besides, if he hadn't been in Seattle he wouldn't have had two extraordinary kick returns for touchdowns against San Diego -- and that's a heck of a story to tell his young children as they get older.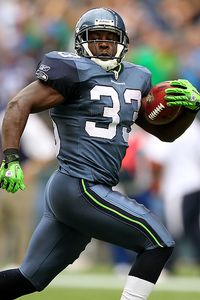 Otto Greule Jr/Getty Images
Leon Washington averages 33.7 yards per kickoff return, just ahead of the Jets' Brad Smith for the NFL's top mark this season.

"Dad broke his leg, and so many people think that's an injury that you can't come back from, especially at my position, so it's something they can read and use as motivation to never give up, always face adversity and fight through it," Washington started.
"Secondly, it shows how well I'm blessed, and how hard I fight as an individual. I have so much help from my wife and we fought through this thing. Just the opportunity to play football again, it says a lot that it's like a period in that short book I was writing for my kids to read that their dad is back."
Their dad is back. He has 17 carries for 59 yards and three catches for 28 yards this season, but his real value to Seattle is as a special teams player. He has returned 19 kickoffs for 640 yards and two touchdowns in seven games for the Seahawks, who will host the Giants this weekend.
Seattle traded for him knowing that his compound fracture wasn't the kind of injury a running back usually recovers from. Seattle coach Pete Carroll said the medical staff poured over the information about Washington and talked to people about what kind of player he was, coming away with the confidence to take the risk.
"He's a remarkable kid," Carroll said. "Just a great, great competitive character and we love him. And he would not let this get in the way, and he's back to full speed. It's taken him some time to really be at full go, but he's back now and he's a big factor on our football team."
Washington still has work to do on the football field. He'd like to get stronger, and he could contribute more on offense.
"Every week, I go out and try to prove to myself that 'OK, can I do this move still or that move still or can I break away from guys like I used to?'" Washington said. "Every week, I felt better and better in doing things and trying to prove to myself."
He admits that sometimes he thinks about what might have been if he had stayed with the Jets. While Seattle is 4-3 and at the top of the NFC West standings, Washington sees that the 5-2 Jets have a good thing going this season. Still, he isn't angry about the way things have ended up.
"How I look at it is that the Jets didn't have anything to do with me breaking my leg," Washington said. "That was football, and they didn't have anything to do with that. Thank God I got another opportunity to go out there and play the game that I so love to do."