New York Giants:

marcus harris
August, 26, 2014
8/26/14
12:10
PM ET
Most significant move
:
Marcus Harris
had done enough to make the
New York Giants
at wide receiver, but he suffered an injury in Friday's preseason game and has been placed on season-ending injured reserve. The Giants and Harris said Friday his injury was to his shoulder, but in placing him on IR on Tuesday they announced it as a hip injury. Harris will have to miss the entire 2014 season. The injury and resulting move open up a spot for someone such as
Corey Washington
or
Preston Parker
to make the team at receiver. Veteran wide receiver
Mario Manningham
, who continues to struggle with a knee injury, also survived Tuesday's cuts, though he remains likely to be cut when the roster is reduced to 53 on Saturday.
Injuries change the plan
: Usually, players cut in this first wave aren't practice squad candidates, but guys such as
Charles James
and
Jerome Cunningham
could be exceptions. The Giants certainly didn't want to cut James on Tuesday. But they've had so many injuries on the offensive line in the past week --
Geoff Schwartz
,
Brandon Mosley
,
James Brewer
,
Charles Brown
-- that they find themselves having to keep back-of-the-roster offensive linemen (A) so that they have enough to use in Thursday's preseason finale and (B) in case one of them (
Rogers Gaines
?) ends up having to be on the final roster. So there could be an offensive lineman or two cut Saturday who's a less likely practice squad candidate than someone who was cut Tuesday.
Giants' cuts
: K
Brandon McManus
, CB Charles James, TE
Xavier Grimble
, TE Jerome Cunningham, LB
Spencer Adkins
, DE
Emmanuel Dieke
, LB
Justin Anderson
, S
Kyle Sebetic
, CB
Ross Weaver
, WR
Travis Harvey
, OL
John Sullen
, S
C.J. Barnett,
DT
Everett Dawkins
, S
Cooper Taylor
(placed on season-ending injured reserve), WR Marcus Harris (placed on season-ending injured reserve).
August, 23, 2014
8/23/14
12:00
PM ET
EAST RUTHERFORD, N.J. -- Sitting here wrapping things up from MetLife Stadium and taking your #nygmail Twitter questions on the 4-0
New York Giants
. Some of these questions came in before Friday night's game, so please bear that in mind, as I did when answering them after it.
@DanGrazianoESPN if u had to bet UR own money.Would u pick the giants to make the playoffs? /thoughts on where they finish in Div. #nygmail

— Carm (@criscii7) August 22, 2014
@DanGrazianoESPN
: No. And either third or fourth. I think they're clearly behind Philadelphia and Washington on paper, and Dallas' offense is light years better than theirs. The problem the Cowboys have is that their defense looks horrible, so flip a coin there for third and fourth place between them and the Giants. Now, this is all just about predictions on paper. The Giants are very well coached and don't appear to have a brutal schedule. And I'm not much good with preseason predictions anyway. But you asked.
@DanGrazianoESPN It is very quiete regarding R. Randle. Good sign or bad sign before his third season? Third year crucial for WRs. #nygmail

— Andreas Riedl (@AndyRiedl) August 22, 2014
@DanGrazianoESPN
: You're right that
Rueben Randle
had been having a quiet preseason, as had almost everyone on that Giants' first-team offense. Which is why it was nice for the Giants to see Randle cap off Friday night's first-half touchdown drive with that 15-yard touchdown catch from
Eli Manning
. Randle is a key component of what they need to do on offense this season. As of right now, he's the most established threat they have on the outside with
Victor Cruz
in the slot.
Mario Manningham
looks to be slowed by his knee problems,
Odell Beckham Jr
. has been sidelined all camp with his hamstring problems, and they're looking for answers out there. If they can truly count on Randle to play well and be consistent, that's a massive help. For me, he's miscast in this new offense, since he's more of a vertical threat and they want to operate in short range. But if he can use his size to create separation quickly and win his matchups, he could be a major factor. We haven't seen enough this preseason to know which way to bet on that.
@DanGrazianoESPN hate to bring this up, but if the NYG don't make the playoffs, is TC & Eli going to lose their jobs? #nygmail

— Philip Assadourian (@phil_daa_thrill) August 22, 2014
@DanGrazianoESPN
: I don't think so, but obviously it's more precarious for Tom Coughlin now than it was a year ago. If the Giants miss the playoffs again, that would be five times in the last six years, and you do start to wonder how much longer the fact that they won the Super Bowl in the other carries him. I have thought since that Super Bowl that Coughlin would coach this team as long as he wanted to. And in truth, he's one of the best coaches in the league and they're unlikely to be able to replace him with a better one. But if things bottom out here and they start having to think about Eli Manning and his future with the team, there exists the possibility that they decide to start from scratch with new leadership. It's not something they want to think about, but it's not out of the question. As for Manning, he's signed through 2015, and he's unlikely to be replaced next offseason or at all. Again, they're not likely to find a clear upgrade on the market. If they go 8-8 and miss the playoffs, I imagine they'd avoid sweeping changes. But if they fall apart and go 4-12 or something like that, all bets are off.
@DanGrazianoESPN #nygmail do you think Washington and Harris need a big game each to both make team or have they shown enough in camp?

— Steve (@stevespeaks32) August 22, 2014
@DanGrazianoESPN
: It was very interesting that
Marcus Harris
got (by my count) eight snaps as an outside receiver with the first-team offense Friday night. It was very unfortunate for Harris that he hurt his shoulder and now may not be able to cash in on the opportunity the Giants clearly wanted to give him. He said after the game that his shoulder injury should only cost him 3-to-4 weeks and that he hopes it doesn't cost him a roster spot. But we shall see. As for
Corey Washington
, who's now caught a second-half touchdown in all four of the Giants' preseason games, it's telling that he wasn't in the game Friday until the fourth quarter. That tells me they rank him behind other options right now, including Harris, Manningham,
Jerrel Jernigan
and others, in spite of his height and his strong performance so far in preseason games. I've been putting Washington on my Monday roster projections, and honestly he'd be hard to get through waivers after catching four preseason touchdown passes, so he might make it for that reason. But there's still a lot to sort out for the Giants at receiver. Thanks for your questions and enjoy the remainder of your Saturday.
August, 22, 2014
8/22/14
12:00
PM ET
The
New York Giants
(3-0) and the
New York Jets
(2-0) square off in their annual preseason meeting Friday at 7:30 p.m. ET at MetLife Stadium.
1. Time for the starters to show something.
We've said this every week so far, but so far
Eli Manning
and the Giants' first-team offense hasn't shown anything encouraging in the preseason. There's some hope that the game-planning they've done for this game (where they didn't do any for the first three) might help the new Ben McAdoo offense look more in sync, though the Jets' tough defense could negate some of that. Giants coach Tom Coughlin hinted last weekend that Manning and the offense might not be able to take their accustomed breather in next week's preseason finale if he doesn't feel they've played well enough to deserve it. So they certainly should be motivated.
2. The offensive line.
This seemed to be Coughlin's greatest source of consternation in practice this week -- the idea that he still doesn't have a five-man starting line combination with which he feels comfortable. Left tackle
Will Beatty
should play more than he did in his preseason debut last week, but if the Giants retain questions about how much they can expect of him, you wonder if you'll start seeing right tackle
Justin Pugh
over there. Pugh moved to the left side a few times in practice this week, with guys like
Geoff Schwartz
and
Brandon Mosley
getting reps at right tackle and rookie
Weston Richburg
playing guard. Watch to see who gets the snaps and at which positions on the line as the Giants continue to play around with this critical area.
3. Looking for playmakers.
Will we see unproven wide receivers such as
Corey Washington
and
Marcus Harris
, who have been preseason stars, play with the first team at wide receiver? With first-rounder
Odell Beckham Jr
. still sidelined, the Giants are looking for answers on the outside. Not only could guys like Washington and Harris make the team with a strong showing, they could earn surprisingly large roles early in the season. Starting tight end remains up for grabs, and there still could be time for Jerry Reese favorite
Adrien Robinson
to overtake
Larry Donnell
. And there's still a lot to sort out at running back behind starter
Rashad Jennings
. Anyone who plays well in this game will set himself up nicely as roster cuts and other final decisions loom next week.
August, 20, 2014
8/20/14
6:10
PM ET
EAST RUTHERFORD, N.J. -- First-round pick
Odell Beckham Jr
.
was on the sidelines for the second consecutive day Wednesday, but fellow wide receivers
Corey Washington
and
Marcus Harris
continue to impress.
Washington and Harris both got some first-team reps and caught practically everything thrown their way. Washington continues to use his height (6-foot-4) to his advantage, hauling in a couple of touchdown passes on fade routes in the back corner of the end zone.
Washington did have one glaring drop during a two-minute drill at the very end of practice.
Harris made several catches as well on a day in which the Giants' offense looked crisper than it has for much of the summer.
Here are a few other observations from Wednesday:
August, 19, 2014
8/19/14
4:50
PM ET
EAST RUTHERFORD, N.J. -- The big topic of conversation at Giants camp Tuesday was the absence of first-round draft pick
Odell Beckham Jr.
, who is
back on the sideline
and was ruled out for Friday's game against the Jets.
That's bad news for the Giants, but good news for the young wide receivers battling to make the 53-man roster.
Corey Washington
,
Marcus Harris
and
Julian Talley
all got some first-team reps Tuesday. Washington has received the most attention -- and deservedly so, thanks to his three game-winning touchdown catches in the first three games of the preseason. But Harris has also stood out.
He led the Giants with four receptions (for 49 yards) in the Hall of Fame game against the Bills, and again with four receptions (for 41 yards) last Saturday against the Colts.
[+] Enlarge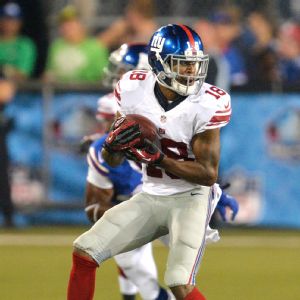 AP Photo/David RichardMarcus Harris has a pair of four-reception games this preseason.
"I think I've had a pretty strong camp, made plays whenever the ball came my way," Harris said Tuesday. "Played pretty good in the games, but always room for improvement."
Harris' nickname is "Soup," short for "Superstar," originally given to him by Eagles wide receiver
Jeremy Maclin
, a former teammate at Kirkwood High School near St. Louis.
But Harris went undrafted in 2011 after four years at Murray State, leaving as the school's all-time leading receiver. The Lions signed him as a free agent, cut him at the end of training camp and then brought him back to their practice squad in late November.
Detroit waived him the following July. He was picked up by Tennessee a week later, but cut again at the end of training camp. Harris ended up playing for Omaha in the UFL and the Iowa Barnstormers in the Arena Football League, with whom he racked up 94 catches and 19 touchdowns.
The Giants signed Harris last August and stashed him on their practice squad for the bulk of the 2013 season. He's yet to play in a real NFL game, but at age 25, he may be on the verge of a breakthrough. It's been a long road, but Harris doesn't view that as a negative.
"It's not tough at all. Especially when you have confidence in your talent," Harris said. "I just keep working every day -- no matter if I bounced around, even if it was Arena [football], I always made plays. It just depends on if the coaches want you. Hopefully I'll stick around this year."
The Giants broke camp last year with only five wide receivers on the 53-man roster, but coach Tom Coughlin indicated Tuesday that he would consider keeping six wideouts this year.
"If they're evaluated as being solid people that can make the club, then perhaps you have to make an adjustment somewhere else," Coughlin said. "Are we against keeping six? No. That's been done before."
Victor Cruz
,
Rueben Randle
and Beckham are the three locks to make the team.
Jerrel Jernigan
has not been impressive this summer, but will probably be retained based on his strong showing late last season. That leaves only one, or maybe two, spots for Harris, Washington and the five other wide receivers currently practicing with Big Blue -- a group that also includes former Super Bowl hero
Mario Manningham
and return specialist
Trindon Holliday
.
Every practice counts and Harris made another impressive play Tuesday, out-leaping reserve cornerback
Ross Weaver
(both are listed at 6-foot-1) to reel in a pass from backup quarterback
Ryan Nassib
in the back corner of the end zone.
Harris is also being utilized in a variety of special-teams roles.
"They said the more you can do, so they're just trying to see if I can do every position on the field," Harris said. "This week I'm playing fullback on punt so it's a new position, but I'm comfortable with it because I practiced it last year on practice squad."
No. 13 won't be out there on Friday night against the Jets, but No. 18 is certainly worth watching.
August, 13, 2014
8/13/14
2:30
PM ET
EAST RUTHERFORD, N.J. -- The
New York Giants
return Saturday night to Indianapolis, where the greatest catch of
Mario Manningham
's life helped them win the Super Bowl three seasons ago. Manningham doesn't want to talk about it.
Manningham
"I'm not really thinking about that anymore," Manningham said before Giants practice Wednesday. "I'm trying to make some new memories."
He's also trying to make the roster. After spending two injury-plagued seasons with the 49ers in the wake of that Super Bowl victory, Manningham re-signed with the Giants this offseason. At the time, it was assumed that they signed him with a plan to use him. But watching him in practice makes it obvious that his knee isn't healthy yet. And since they signed him, the Giants drafted wide receiver
Odell Beckham Jr
. in the first round and have seen unheralded youngsters such as
Marcus Harris
and
Corey Washington
drastically outperform their Super Bowl-hero veteran in camp and preseason games.
"There's always competition," Manningham said. "This isn't the 1960s. There are going to be wide receivers out there. We're not just going to run the ball the whole game. So I'm just going to do what I've got to do, which is just make plays."
That would help, and an offense that's looking to make more of them in these preseason games could use a jolt from a motivated Manningham. But when the Giants signed him, they knew there was a chance that his physical situation might keep him from being able to help. They took a flier on an old friend at a position where they had a need. But that need might be filled by others if Manningham doesn't pick it up soon in practice. He says he's comfortable running routes and not thinking about the knee, but he clearly lacks the speed and explosiveness he had earlier in his career, and there are others moving past him on the depth chart.
"I'm not worrying about that," Manningham said. "I'm just going out and controlling what I can control. I'll leave it up to the coaching staff to decide."
August, 10, 2014
8/10/14
1:10
PM ET
For Saturday night's
New York Giants
preseason game, I set out to chart the offensive personnel groupings for every play. Figuring preseason results are meaningless, my goal was to try to see what the Giants are doing on offense in terms of setup. It struck me that they rotated personnel in and out somewhat liberally in the preseason opener against the Bills last Sunday, so I figured it'd be worth trying to track it if possible. I charted every play that featured
Eli Manning
or
Ryan Nassib
at quarterback. By the time
Curtis Painter
got into the game, I had started writing my postgame observations post. So I don't have those plays charted.
Overall, it wasn't as interesting as I'd hoped it would be. Especially for the first half, the Giants did very little substituting on offense, staying basically in that "11" personnel setup with three wide receivers, one back and one tight end. But there were a couple of things that stood out to me:
Larry Donnell is the No. 1 tight end right now. He was on the field for all but one play in the first half, and on that play there were no tight ends on the field. Kellen Davis appeared on the field four times in the first half, and all four were two-tight-end sets with Donnell also on the field. No other tight end played in the first half.
Marcus Harris, the surprise early camp star at wide receiver, is getting a long look in the slot. Harris was on the field for 18 of the plays I charted, and on 15 of those there was a receiver lined up outside of him. Jerrel Jernigan would normally be the backup slot receiver behind Victor Cruz, but Jernigan is starting right now in the outside spot that's slated for injured rookie Odell Beckham Jr.
Cruz, by the way, played the slot almost exclusively. He was on the field for 12 plays, and on only one of those did he line up in an outside spot. Though there was one other on which he lined up in the slot and motioned to the right side, where there had been no receiver lined up.
The Giants used a fullback on only five plays in the first half, which provides support for the idea that they could build a 53-man roster that doesn't include one, especially if they want to go tight end-heavy. I saw two plays in the first half on which Donnell motioned into the backfield and lined up as a fullback or H-back. John Conner was already in the game at fullback on one of those plays, and there was no fullback on the other.
They got a little more creative with two-tight end sets in the second half. I counted two plays that had Davis and Adrien Robinson on the field together, including one on which they were lined up on the same side and bunched tight to the line along with wide receiver Preston Parker. I'm interested to see more of the bunch formations involving wide receivers, and I wonder if we might once Beckham is in the lineup. They're undersized, for the most part, at wide receiver, and bunching two or three of them together at the snap is a way of helping get littler guys open by creating confusion in the defense.
I counted four more two-tight end sets involving Robinson and Jerome Cunningham, including three in which they were lined up on the same side. So those looks are definitely in the playbook, they just weren't using them much with the first team.
The second-team offensive line was: LT James Brewer, LG Dallas Reynolds, C Weston Richburg, RG John Jerry, RT Rogers Gaines. It was interesting that Reynolds went in at center and Richburg at left guard when the starting offensive linemen came off the field late in the first half, but they switched places once the second half started. Brewer also finished the first half at right tackle in place of starter Justin Pugh and then moved to the left side for the second half.
August, 9, 2014
8/09/14
12:00
PM ET
EAST RUTHERFORD, N.J. -- The
New York Giants
(1-0) take on the
Pittsburgh Steelers
(0-0) in their second game of the preseason Saturday night at MetLife Stadium.
1. The pass rush:
Damontre Moore
looked good against a rookie backup tackle Sunday night in Canton, but I was expecting more than I saw from Jason Pierre-Paul in the short time the first team was on the field. Steelers quarterback
Ben Roethlisberger
(assuming he plays) poses a tough test for a pass rush because of his mobility in and outside of the pocket. But it'll be interesting to see whether the Giants' defensive ends can get into the backfield and help dictate the action. They only had 33 sacks last year.
Justin Tuck
, who had 11 of them, is no longer on the team. Pierre-Paul must deliver at a high level this year, and it would help the Giants' optimism about this critical aspect of their defense to see him wreak havoc against a real opponent, even in a meaningless game.
2. The passing offense:
The Giants' first-team offense only looked effective Sunday when it was running the ball -- and against a backup defensive line, at that. They definitely want to lean on the run, but they'd also like to get their short, quick passing game going at some point this preseason. They still don't have first-round wide receiver
Odell Beckham Jr
. (hamstring) on the field, but that means more opportunity for guys like
Marcus Harris
,
Corey Washington
and
Preston Parker
, who are trying to earn roster spots. Can
Victor Cruz
get open in the slot and show an ability to turn a short pass into a long gain? His position in your next fantasy draft could depend on it.
3. The secondary:
This looks like the star unit of the team on either side of the ball, but defensive coordinator Perry Fewell said this week that the question was "Can we get them to play together?" I have other questions. Is Dominique Rodgers-Cromartie really a lock-down corner who can play the opposing team's No. 1 receiver every week? (And which superhero cleats will he wear?) Will
Prince Amukamara
's determination to increase his interception total pay off? Will
Walter Thurmond
continue to dominate other team's slot receivers the way he's been handling Victor Cruz in practice every day? Does
Zack Bowman
continue to force his way into the mix with his physical style? And speaking of physical style, will this group get called for fewer downfield penalties in this game than it did Sunday?
August, 9, 2014
8/09/14
10:00
AM ET
EAST RUTHERFORD, N.J. -- Hey there! What better way to spend the morning of the
New York Giants
' second preseason game than by reading through a mailbag produced by your use of the #nygmail hashtag on Twitter? I think it was Churchill who said that, but I'm not 100 percent sure. Anyways.
@DanGrazianoESPN how has Stevie Brown looked so far in camp with his ACL recovery? #nyg #nygmail

— Danielle Palecek (@daniellepalecek) August 6, 2014
@DanGrazianoESPN:
Brown looks just fine, as though nothing ever happened. The knee injury happened during a preseason game last year, so he's had just about a full year to recover, and he was at the Giants' facility throughout last season and through the winter and spring rehabbing the knee. Brown told me recently that it was January or February when he jumped to catch a ball in a rehab drill and landed hard on his left leg without even thinking about it. Since then he's felt good, and he's practicing in full as though it never happened. The Giants want to be able to switch him and
Antrel Rolle
off, and so we have seen Brown playing down in the box more against the run than he did when he was Mr. Interception in 2012. So far, so good with Stevie.
@DanGrazianoESPN no question McAdoo woulda used Wilson in interesting ways had he returned. Who takes his spot for opening day? #nygmail

— David Lee (@giwook11) August 6, 2014
@DanGrazianoESPN:
There's no real replacing what
David Wilson
would have brought to the run game had his career not ended this week because of repeated neck injuries. There's no other back on the roster who has anything resembling Wilson's uncommon speed or explosiveness. It's not as though they'll just plug
Andre Williams
or
Michael Cox
or
Kendall Gaskins
or
Peyton Hillis
into the plays that were designed for Wilson.
Rashad Jennings
is the clear starter at running back, and my sense from 30 days out is that they'd love it if the rookie Williams could advance to the point where he's the No. 2. If he can't, then it's Hillis (assuming he heals from a sprained ankle in time) or someone else -- maybe even someone not yet on the team. But as far as the back who goes in when Jennings needs a break, my sense is they'd love for it to be Williams, but he has to show them he's ready to handle that responsibility. He runs quite well with the ball in his hands, but he's not really a complete back in terms of being able to contribute in the passing game just yet. How quickly he develops in that area will determine how much they can use him this year.
@DanGrazianoESPN #nygmail How many WR do you think will make 53 man squad?

— John (@jsoupzzz) August 7, 2014
@DanGrazianoESPN:
We're doing roster projections every Monday morning throughout camp, and so far all of mine have had five wide receivers. This is because I believe the Giants want to carry four tight ends and a fullback, and even with only two quarterbacks, that really only leaves room for five wide receivers.
Victor Cruz
,
Odell Beckham Jr
.,
Rueben Randle
and
Jerrel Jernigan
are sure things, and at this point I'd probably give the fifth spot to
Marcus Harris
. But the remaining weeks could obviously change things and even expand that group to six. They
want
to keep four tight ends, but given what they have there, it's entirely possible they could decide they don't have four worth keeping and they're better off adding an extra wideout instead. On the flip side, if their tight ends show enough in the intervening weeks, they could decide to go without a fullback and add another wideout. So as of now, I think five, but it could end up being six depending on how things shake out with the other position groups.
@DanGrazianoESPN #nygmail who has been the most impressive at camp ?and also the most disappointing so far?

— Ibleedbigblue (@tmerritt51) August 7, 2014
@DanGrazianoESPN:
I think the most impressive player in Giants camp so far is cornerback
Walter Thurmond
, who's been making life miserable for slot receiver Victor Cruz in practice. Thurmond could be a difference-maker at that nickel corner position for the Giants this year. The most disappointing is obviously first-round pick Odell Beckham Jr., who hasn't practiced since the first day because of a hamstring injury. Ditto return man Trindon Holliday, who also remains out with a hamstring injury and now looks unlikely to make the team. And while I don't think expectations for him were overly high, I haven't see Brandon Mosley do very much with his opportunity to handle the starting right guard spot. Though I guess there you'd also have to say injured John Jerry is a disappointment because he can't get on the field to challenge Mosley for that spot. Thanks for the questions. I'll chat at you from the MetLife Stadium press box in a few hours.
August, 8, 2014
8/08/14
10:00
AM ET
EAST RUTHERFORD, N.J. --
Marcus Harris
hurt his leg in Wednesday night's
New York Giants
practice and stayed down on the sideline while trainers attended to him. But he got up and eventually went back in. Harris wore a wrap on the leg Thursday afternoon, but he was absolutely planning to practice again Thursday night, and he absolutely did.
"I couldn't stay down too long," Harris said before Thursday's practice. "There's a lot of receivers out already. I had to get up and get back on the field."
[+] Enlarge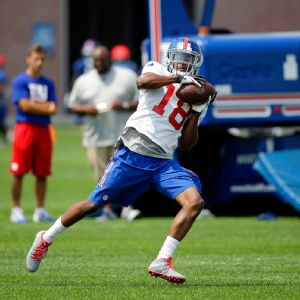 AP Photo/Seth WenigWith several Giants receivers nursing injuries, Marcus Harris has taken advantage of his opportunities to stand out.
Harris isn't kidding, and what he didn't say was that the fact that so many Giants wide receivers are missing practice time means more and more opportunity for someone like him to show what he can do. So far this training camp,
Odell Beckham Jr
.,
Jerrel Jernigan
,
Rueben Randle
and
Trindon Holliday
have all missed practice time due to injury.
Mario Manningham
is a limited participant every day, and his knee doesn't seem to be getting better. All of this adds up to the strong possibility of an open roster spot for Harris to pursue, and right now he's pursuing the heck out of it.
"He's stayed out there," coach Tom Coughlin said. "He's a tough kid. He's had some nicks, but he's out there every day. He works hard at it, he can help on special teams. He caught the ball well (Wednesday), as you saw, and he's usually in the right spot."
That's what has stood out most about Harris -- his ability to make the right cut, create space from defenders and get open to catch the ball. The Giants' defense -- the secondary in particular -- has dominated the offense in most practices so far. But Harris, who spent last year on the Giants' practice squad, has managed to make his presence felt. He was the team's leading receiver in the preseason game Sunday night against Buffalo, and he'd like to continue to get such opportunities.
"You dream about things like this, and right now I feel like it's at my feet," Harris said. "I just need to keep going and going and get better."
Harris was signed as an undrafted free agent out of Murray State by the
Detroit Lions
in 2011. He spent that season on Detroit's practice squad, but the Lions released him the following summer. He went to camp with the
Tennessee Titans
in 2012 but didn't make their team, so he played in the UFL and the Arena League that season. The Giants signed him last summer and kept him on their practice squad all year, and at the age of 25 he may just be about to get his first real NFL shot.
"I think Marcus Harris, from the game he had and streaming into practice, he's really been taking advantage of his opportunity with a couple guys being down," Giants wide receiver
Victor Cruz
said Wednesday. "He's really coming to the forefront here as a good player, and he's definitely one of the guys who's been standing out."
Cruz said he has a special place in his heart for the undrafted, small-school wide receivers, because he remembers fighting his way onto the Giants' roster with a big preseason in 2010, when he was an undrafted free agent out of Massachusetts.
Harris, whose nickname "Soup" was given to him by high school teammate
Jeremy Maclin
, now of the
Philadelphia Eagles
, said Cruz is an inspiration to all of the young wide receivers trying to scrap their way onto the Giants' roster.
"It's a great thing to have a guy like that, because he knows exactly where we're coming from because he was us," Harris said. "It's just like a big ego boost, because he's a great friend, don't get me wrong, but he's also a great person to look up to. I respect him a lot."
With Beckham, Holliday and maybe Jernigan still on the shelf for Saturday night's preseason game against the Steelers, Harris could see a lot more chances to dazzle. And with a month to go before the final roster cuts are made, he has more than just a glimmer of hope.
August, 7, 2014
8/07/14
8:10
PM ET
EAST RUTHERFORD, N.J. -- A daily review of the hot topics coming out of
New York Giants
training camp:
Let's get the nightly interception rundown out of the way first. Zack Bowman intercepted Curtis Painter, Charles James intercepted Eli Manning and Bowman intercepted Ryan Nassib in the end zone. Chandler Fenner almost got a pick for the second night in a row, but Corey Washington turned into a defensive back and knocked it away from him at the last second. The secondary is ahead of the offense, is the basic point here.
The star of the secondary is Walter Thurmond, though. He came on a corner blitz and got to Andre Williams in the backfield on one play. And while they love him as the nickel corner, Thurmond got a lot of work on the outside Thursday night as well, staying on the field with the first-team base defense while Prince Amukamara or Dominique Rodgers-Cromartie took a break.
Left guard Geoff Schwartz returned to practice, but his left knee is obviously bugging him and he didn't take many reps. Weston Richburg got most of the snaps at first-team left guard. Charles Brown took most of the first-team left tackle snaps, but not because of any fresh injury to Will Beatty. It's just that Beatty isn't playing Saturday and Brown is.
I watched running back pass-catching drills. The most natural pass-catchers in the group are Rashad Jennings and fullback Henry Hynoski. Rookie Andre Williams seems to be doing a bit better job catching the ball in his hands (as opposed to against his body), but it's a work in progress.
The tight ends still look bad catching the ball, other than Larry Donnell. Adrien Robinson had a bad drop. Kellen Davis caught a ball awkwardly near the sideline and stepped right out of bounds even though there was no one near him. Some of the players not in on that play groaned a bit.
Marcus Harris made two nice catches, including one jumping at the goal line to corral a touchdown pass from Nassib.
I'm always fascinated to see who stays after practice for extra work. Charles James, Preston Parker, Harris and Jayron Hosley stayed to work on punt returns a bit more. Cooper Taylor was off to the side with a blocking sled, presumably honing that punt-protection technique. Amukamara and Rodgers-Cromartie stayed late for the third night in a row so Amukamara could work on jumping for interceptions. And all three quarterbacks, including Manning, stuck around to practice taking shotgun snaps from all three centers.
The Jets were playing a home preseason game across the parking lot at MetLife Stadium that kicked off about an hour and 20 minutes into Giants practice. During Giants practice, some (presumably Jets) fans kept driving by on Paterson Plank Road and hollering insults at the Giants. None were printable, sorry.
The Giants are off Friday in advance of Saturday night's preseason game against the Steelers at MetLife Stadium.
August, 6, 2014
8/06/14
4:45
PM ET
EAST RUTHERFORD, N.J. --
Victor Cruz
is clearly the class of the
New York Giants
' wide receiver group. Of the 11 wide receivers currently on the roster, only six have caught a single NFL pass, and only two -- Cruz and
Mario Manningham
-- have caught more than 60. But with Manningham's knee still a major question mark, Cruz stands as the one sure thing in the Giants' receiver corps. Which is why he's not getting a lot of work in practice these days.
[+] Enlarge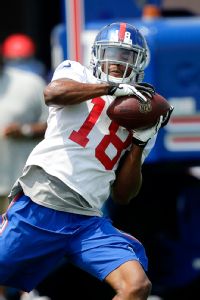 AP Photo/Seth WenigMarcus Harris is taking advantage of his opportunities to shine at wide receiver.
"I'm begging for more reps out here in practice, but coach is kind of pulling me back and just making sure I'm staying healthy and we're good to go for the regular season," Cruz said Wednesday afternoon. "They want to get the younger guys reps and get everybody acclimated, and there's only so many reps to go around. So I know, when I'm in there, I have to make the most of my reps."
The Giants would like to carry four tight ends and a fullback, and if they carry four running backs as well, it appears as though they'll have five spots available for wide receivers. Cruz,
Rueben Randle
, first-round pick
Odell Beckham Jr
. and Jerrell Jernigan are locks to make it. So unless they decide they simply don't have four roster-worthy tight ends (which is entirely possible, even likely) or they decide not to carry a fullback (which also has been discussed), that leaves one spot open for a number of people.
Ideally, Manningham would be the guy to claim the spot. But so far in camp, he is not moving well and at this point it feels unlikely that his knee will allow him to make the final roster.
Trindon Holliday
may once have had an inside track to a roster spot because of his abilities as a return man, but if Beckham gets healthy and can return punts, Holliday becomes expendable. (They signed
Quintin Demps
for kick returns.)
That leaves a group of youngsters that includes
Marcus Harris
(0 career catches),
Travis Harvey
(0),
Preston Parker
(44),
Julian Talley
(0) and
Corey Washington
(0) competing for that final spot. Asked who's impressed him out of that group, Cruz named Harris, who led the team with four receptions in Sunday night's preseason opener against Buffalo.
"I think Marcus Harris, from the game he had and streaming into practice, he's really been taking advantage of his opportunity with a couple guys being down," Cruz said. "He's really coming to the forefront here as a good player, and he's definitely one of the guys who's been standing out."
Harris did play well against the Bills, showing an ability to catch the ball in traffic and break tackles after the catch. Washington provided the highlight with his 73-yard touchdown catch, and at 6-foot-4 he's intriguing because of his size relative to his competition. Parker had 40 catches for 554 yards and three touchdowns with the
Tampa Bay Buccaneers
in 2011 but was out of the league last year. The Giants have been using Parker as a return man in camp, which would seem to bode well for his chances, but special teams coordinator Tom Quinn said Wednesday that they were trying to use Harris on returns as well.
Harris went to Murray State. Talley comes from the University of Massachusetts, which is Cruz's school. Harvey went to Florida A&M, Parker finished his college career at North Alabama after transferring from Florida State. And Washington comes from tiny Newberry College in South Carolina. Cruz, who was an undrafted guy who played his way onto the Giants' roster in the 2010 preseason, enjoys watching the unheralded small-school guys try to make it.
"I pull for everyone, but I'm always pulling for the no-name guys who are trying to make it through the ranks, because I was there," Cruz said. "I was in their shoes. I know what it feels like. I know exactly what he's going through in his mind and how it plays out. So those guys talk to me all the time and I always pull for those guys."