New York Giants:

Marcus Thomas
August, 30, 2012
8/30/12
12:34
AM ET
EAST RUTHERFORD, N.J. --
Andre Brown
knows what the next two days are going to be like.
After being cut seven times during his career, he knows the next 48 hours will be nerve-wracking. The Giants will trim their roster down to 53 on Friday and Brown feels he made a good final impression by rushing for a team-high 55 yards on 14 carries and adding two catches for 22 yards in the Giants' 6-3 win over New England.
"[Coach Tom] Coughlin said I ran the ball pretty well," Brown said. "I picked up all pass protection pretty solid there. Went out on special teams, didn't make a tackle but I felt that I did everything I was supposed to do, kept everybody off the punter and ran out there on kickoff and tried to make a tackle and leave the rest to God.
[+] Enlarge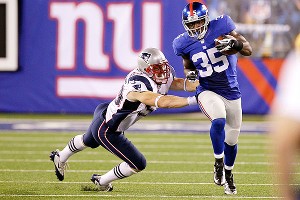 AP Photo/Kathy WillensAndre Brown gained more than half of the Giants' 101 rushing yards on Wednesday night.
"I know we are very deep at the running back position," Brown continued. "I just feel like I can contribute to this team and I finally grew up in this offense and am confident in my ability to go out here and do what I am capable of doing."
On the first series of the third quarter, Brown gave a dormant Giants offense much-needed life. He ran the ball nine times for 52 of the Giants' 64 yards and caught a pass for nine yards. He ran hard and had gains of 8, 16 and 9 yards on the drive which resulted in a
Lawrence Tynes
' field goal to tie the game at 3-3.
"I was tired," Brown said. "I didn't have that many carries since like junior year in college. I am very proud of that drive."
The one glaring negative of Brown's night was a fumble inside the Giants' 10-yard line in the fourth quarter. Fortunately,
Bear Pascoe
recovered it at the one-yard-line.
"I had one bad play and that was the fumble," he said. "I saw that hole outside and I was like, 'Oh my goodness, this could be it, the big run they were looking for.'"
Brown hopes his effort was good enough to erase the fumble and keep him on the roster. The Giants have
D.J. Ware
, Brown and
Da'Rel Scott
behind
Ahmad Bradshaw
and first-round pick
David Wilson
.
"Since I have been in the league, I have been cut, what, seven times?" Brown said. "This is not a very good feeling. I finally felt that I understand the offense where I can go out there and be comfortable and be a great running back that I know I am.
"It is not a good feeling [waiting]. The next few days is going to be very worrisome. All I am going to do is continue to pray and let God lead the way."
Mr. Jones:
Another Giant who may have a anxious next couple of days is
Greg Jones
.
The second-year player is part of a crowded linebackers unit which has
Mathias Kiwanuka
,
Michael Boley
,
Keith Rivers
,
Chase Blackburn
,
Jacquian Williams
,
Mark Herzlich
,
Spencer Paysinger
, Jones and
Jake Muasau
.
Jones collected a sack on Patriots backup quarterback
Brian Hoyer
. Jones said his only other sack as a Giant came against Hoyer, a fellow Michigan State product, last preseason.
"Just showing a little Spartan love, tough love," said Jones, who recovered a blocked punt last weekend against Chicago. "I feel like I laid everything on the line and gave it my heart and everything I could do."
Paysinger had six combined tackles despite briefly leaving at the end of the first quarter after having his ankle rolled. He said he is fine. Herzlich had an active night, recording four tackles, including stuffing
Brandon Bolden
on a third-and-3 at the Giants' 3-yard-line in the second quarter.
Marcus in the middle:
Defensive tackle
Marcus Thomas
made his first big play as a Giant when he recovered a fumble by Hoyer after preseason sensation
Adewale Ojomo
strip-sacked Hoyer.
Thomas scooped the fumble up at the Patriots' 32-yard-line and ran 12 yards before fumbling the ball and recovering it at the Patriots' 17 with 2:27 left in the game. That helped set up the Giants' go-ahead field goal with 1:07 remaining.
"The end zone kept getting further and further away the more steps I took," Thomas said, laughing. "I feel like I could have done a lot better [overall] but sometimes plays just don't go your way. In this particular instance, it did at the end."
Thomas has a good chance of sticking on the roster since
Chris Canty
is on the PUP list for at least the first six games,
Shaun Rogers
is out indefinitely due to a blood clot and
Marvin Austin
has been sidelined by a back injury.
"I don't know, man," Thomas said when asked if he felt he had done enough to remain a Giant. "I have seen a lot of things in my career. I am going to watch film and take it from there."
August, 22, 2012
8/22/12
8:09
PM ET
EAST RUTHERFORD, N.J. -- The Giants are suffering through their fair share of injuries during training camp this year. Among the most glaring? Starting left tackle
Will Beatty
remains out with a sore back, starting linebacker
Michael Boley
is sidelined with a bad hamstring, and starting defensive tackle
Chris Canty
is still on the physically unable to perform list due to offseason knee surgery.
But in each case, the team has made savvy moves -- at least on paper -- to provide some veteran insurance.
On Tuesday, we highlighted
Sean Locklear
and
Keith Rivers
. Locklear, filling in for Beatty,
has 82 career NFL starts
with the Seahawks and Redskins. The Giants signed him as a free agent back in April.

Rivers, who's holding down Boley's spot,
started 33 of the 35 games he played for the Bengals
from 2008 to 2010. The Giants acquired him back in April as well, sending Cincinnati a fifth-round draft pick in return.
On Wednesday, head coach Tom Coughlin praised one of the team's newest additions: defensive tackle
Marcus Thomas
, formerly of the
Denver Broncos
.
"We're anxious to see him play a little bit," Coughlin said. "It's kind of a very, very interesting story for a guy who started and played 11 games last year."
Yes, Thomas did start 11 games for the Broncos last year. He spent five seasons there, after being drafted by the team in the fourth round back in 2007.
So why isn't Thomas still in Denver? Well, because he was seeking a long-term contract this past offseason, and the Broncos weren't interested in giving him one.
"I was trying to get a longer deal and be there for a while," said Thomas. "Things didn't work out that way. And here I am now."
But, in between Denver and New York, Thomas was scared that his NFL career was over. No other teams brought him in by the time training camps opened earlier this summer. Thomas was home in Jacksonville, wondering why his phone wasn't ringing.
"Definitely," said Thomas, when asked if he was surprised. "It (was) a real reality shock, 'cause I've seen players that I know are good players out of the league. And I'm thinking to myself, 'I might be one of those guys that can still go and nobody just picks you up.'"
But Thomas kept working out down in Florida, and he finally got the call he was hoping for last week -- from the defending Super Bowl champs, no less.
"I know this is a top program right here," said Thomas. "This defensive line is like one of the greatest D-lines I've been a part of. These older guys -- I'm a veteran myself, but I've still looked up to these guys, and (am) trying to learn things from them."
Earlier in camp, the Giants looked very deep at defensive tackle -- despite the fact that Canty remains on the PUP list. In addition to returnees
Linval Joseph
and
Rocky Bernard
, the team had high hopes for veteran
Shaun Rogers
, acquired in the spring, and
Marvin Austin
, the team's second-round draft pick in 2011, who missed all of his rookie season with a torn pectoral muscle.
But then Rogers was lost indefinitely with a blood clot in his left calf, Austin went down with a back injury, and suddenly the Giants looked thin on the interior.
Thomas signed with Big Blue last Thursday, and will get his first taste of game action in the Giants' third preseason tilt, Friday night against the Bears.
"It's like starting over again," said Thomas, "Me being a rookie, going back out there basically just to prove (myself)."
When asked what makes Thomas "interesting," Coughlin responded, "Well, that he was available."
"They're not easy to find, know what I mean?" the coach added, referring to healthy players with NFL starting experience.
One thing Coughlin can count on -- he'll get maximum effort from his new defensive tackle.
"I know it can be taken from me any day," said Thomas. "The NFL is basically a gift, you're out here on the field, and you just gotta take advantage of every opportunity that's given to you."
August, 16, 2012
8/16/12
11:10
AM ET
EAST RUTHERFORD, N.J. -- Defensive tackle
Marvin Austin
said his back is feeling better, but he will undergo further tests, according to head coach Tom Coughlin.
Coughlin was asked if Austin has suffered any structural or muscular damage to his back, which was examined Tuesday.
"Structural being what? I mean, they are dealing with some issues there," Coughlin said. "I am not going to tell you exactly what it is. We are going to have to wait and see. He is not going to be able to play this week."
[+] Enlarge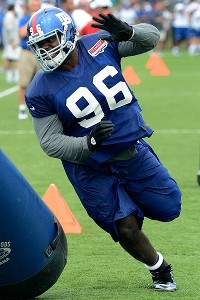 AP Photo/Evan PinkusMarvin Austin
"He said he felt pretty good today," Coughlin added. "A lot of the early symptoms were no longer there. They are going to do another set of tests on him. We are hoping within a reasonable amount of time he can come back and play."
The Giants' defensive tackles have been hammered by injuries. On Thursday, the team waived injured linebacker
Clint Sintim
and injured defensive end
Justin Trattou
to make room for defensive tackle Bobby Skinner, as well as cornerback/returner Laron Scott. The Giants then waived Skinner after one practice and signed former Denver defensive tackle
Marcus Thomas
.
"We found ourselves in need of players at a certain position and we felt it was probably the best way to go for both," Coughlin said. "Clint is probably a ways away. In (Trattou's) case, the doctors tell us he is quite a ways away and we felt this was something we needed to do to bolster the (defensive tackle) spot."
When he met with reporters earlier in the day, Austin said he did not suffer any serious issues with his back.
"I don't think it is going to be something that lags on," Austin said. "That is why we want to get everything right now, so it won't be something that goes on for a period of time."
The Giants practiced on Thursday without left tackle
Will Beatty
(back), linebacker
Michael Boley
(hamstring), linebacker
Jacquian Williams
(hip), cornerback
Michael Coe
(hamstring), tight end
Travis Beckum
(knee) and defensive tackle
Chris Canty
(knee). Coughlin said Beatty's back is still very much an issue.
"They evaluated him last night and they felt like if he kept going the way he is right now, he would have only gotten worse and worse," Coughlin said. "They shut him down."
Sintim, 26, was not going to be able to return for some time. The team's second round pick in 2009 was on the team's PUP list and failed his physical. Considered a long shot to make the team after suffering a torn ACL and patellar tendon last preseason, he hasn't played since last preseason.
Sintim also tore his ACL near the end of the 2010 season. The team drafted him with high hopes out of Virginia, where he had 245 tackles and 27 sacks in 49 games. Sintim played in 24 games in his first two seasons with the Giants and had nine tackles during his career.
It was going to be difficult for Sintim to make the final roster with an already-crowded linebacker unit. The Giants have Boley,
Mathias Kiwanuka
,
Chase Blackburn
, Williams,
Keith Rivers
,
Mark Herzlich
,
Greg Jones
and
Spencer Paysinger
and might still have a tough cut to make down the road.
Trattou, 23, entered camp as a candidate to fill
Dave Tollefson
's role as backup defensive end. But he suffered an ankle/heel injury early in a camp practice and has been out.
Adrian Tracy
figures to back up
Justin Tuck
,
Jason Pierre-Paul
and
Osi Umenyiora
now. The Giants did like Trattou's potential.
The Giants' defensive tackle unit has been in flux all week. The team lost
Shaun Rogers
for the season due to a blood clot in his leg. Backup defensive tackle Martin Parker was waived/injured after he needed surgery for a herniated disk in his back. Austin is sidelined for now and Canty is on the PUP list and may not be ready to start the season.
The Giants signed defensive tackles
Oren Wilson
and
Carlton Powell
on Wednesday and brought in Thomas for a workout before signing him. The 6-3, 307-pound Thomas played his first five seasons in Denver and had 180 tackles, one sack and two interceptions in 34 starts.
"It was a wild week for us, to say the least," Austin said. "It was a tough week for the D-tackle position."