New York Giants:

Matt McCants
April, 19, 2013
4/19/13
6:00
AM ET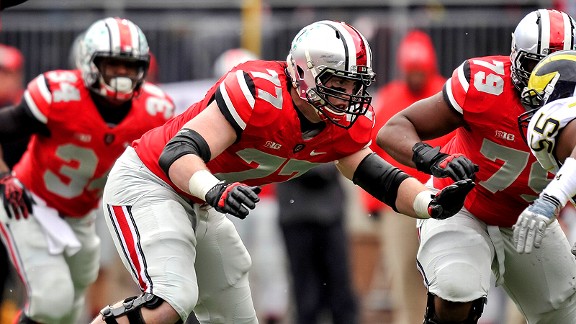 Jamie Sabau/Getty ImagesThe Giants have Ohio State tackle Reid Fragel on their radar.
This is the fifth installment in a position-by-position analysis of the New York Giants as they prepare for the draft:
Position:
Offensive line.
Depth chart:
T
Will Beatty
, G
Kevin Boothe
, C
David Baas
, G
Chris Snee
, T
David Diehl
, T
James Brewer
, C
Jim Cordle
, T
Brandon Mosley
, T
Matt McCants
, T
Selvish Capers
, G
Stephen Goodin
, OL
Levy Adcock
, G
Chris DeGeare
, G
Michael Jasper
, G
Bryant Browning
.
The departed:
T
Sean Locklear
(free agent).
Scouting report:
The Giants finished 14th in rushing with 1,862 yards in 2012, up from 1,427 yards the year before. The line also surrendered 20 sacks, fewest in the league, which was down from 28 in 2011. And the line did this despite shuffling Diehl and Locklear in at right tackle during the season due to injuries.
Health has been a concern for the offensive line. According to ESPN Stats & Information, the Giants used 16 different groups of five linemen, tied for 27th. Over the past four seasons, the Giants averaged 16 different combinations during a season.
Jerry Reese
did a splendid job this offseason of keeping the left side of his offensive line intact by re-signing Beatty and Boothe. He also worked out a pay cut with Diehl to maintain cap space. But the Giants have to figure out who will start at right tackle, whether it will be the veteran Diehl or if Brewer is finally ready to start.
"I see him competing for right tackle, guard –- anywhere," Reese said on Thursday. "But it is time for him to get in there and play."
Cordle can play center or guard. But the Giants have to wonder how strong their depth is after their top seven guys. The Giants drafted Mosley and McCants a year ago and would like to see progress from the two in camp this summer.
Locklear was one of Reese's best pickups last season and is recovering from a season-ending knee injury. If he's healthy later this summer, the Giants could perhaps take a look at him if they feel the need to add more depth.
The last time:
The Giants drafted Mosley in the fourth round and McCants in the sixth round last year.
Potential targets:
The Giants will probably go with Diehl or Brewer at right tackle. But with Boothe and Diehl playing on one-year contracts and Snee and Baas coming off surgeries and getting up there in age, the Giants should be looking at offensive linemen in the draft to groom for the future and to provide depth for this season.
The Giants can certainly use a stud offensive lineman to add to Beatty for future seasons to come. Alabama guard
Chance Warmack
and North Carolina guard
Jonathan Cooper
could both be gone by the first 12 picks but either would be a terrific addition to the Giants if one were to fall to No. 19. Warmack visited with the Giants and had dinner with offensive line coach Pat Flaherty.
Alabama tackle
D.J. Fluker
might also be a consideration at 19 for the Giants if he's there. Oklahoma tackle
Lane Johnson
is not expected to be on the board when the Giants pick.
Offensive line might provide the best value at 19 for Reese, depending on who is available. But if the GM opts to go pass rusher, cornerback, safety or linebacker in the first round, Reese could look to offensive line in the next few rounds.
Ohio State's 6-foot-7 tackle
Reid Fragel
is on their radar, according to a source. Virginia Tech tackle
Vinston Painter
and Michigan guard
Patrick Omameh
have visited with the Giants according to the Newark Star-Ledger. The Giants were also in attendance for Kent State's pro day to watch guard
Brian Winters
according to the Akron Beacon-Journal.
Need rating (scale of 1 to 10):
9.
How big of a need do you think offensive line is for the Giants in the draft?
July, 23, 2012
7/23/12
2:37
PM ET
As training camp approaches, we're counting down to camp by taking a look at the defending champions, position by position.

Position: Offensive line.

Projected starters: LT Will Beatty, LG Kevin Boothe, C David Baas, RG Chris Snee and RT David Diehl.

Projected reserves: T James Brewer, G Mitch Petrus, C Jim Cordle, T Sean Locklear, G/T Brandon Mosley, T Matt McCants.

New faces: Locklear, Mosley, McCants, T Joel Reinders, G Stephen Goodin and C Chris White.

Going, going, gone: RT Kareem McKenzie, T Stacy Andrews and T Tony Ugoh.

Player to watch: Beatty. His back kept him out for most of OTAs and minicamp. He still took mental reps and was in on all the classes. But Tom Coughlin was concerned about his left tackle's health. Beatty assured reporters his back will be fine once camp starts. But backs are always tricky and you never know when it can flare up. If his back continues to be problematic, Brewer and Locklear will see snaps at left tackle or they could move Diehl back to left tackle and play Brewer or Locklear at right tackle.

Potential strength: The Giants are hoping that their offensive line will be better this season by having a healthier line. Last season, Baas, Snee and Diehl battled through injuries while Beatty's season ended after 10 games due to an eye injury.

The Giants also believe moving Diehl to right tackle to replace McKenzie and having Beatty back at left tackle is the answer. The versatile Boothe will start at left guard unless there's an injury at center which could always force the Giants to move Boothe there to plug a hole. The feisty Petrus showed last season he is a capable starter when he started three games due to injury.

Baas had an up and down season due to injuries but the Giants are banking on a healthier Baas to play better and be more comfortable in his second season with the Giants. If Baas performs the way the Giants believe he can, the offensive line will be better and more physical.

If the offensive line can stay healthy, it should be better having had a full offseason and camp to work together. Last year, Eli Manning and the line had basically just a month in camp to come together due to the lockout.

Potential weakness: The running game. The Giants finished last in rushing last season and the offensive line has to show that it can dominate at the line of scrimmage and open holes for the running backs.

The Giants did improve late in the season, rushing for 100 yards or more in six of their final nine games, including the postseason.

But if the Giants can't get the running game going, Manning will have to shoulder the load once again. He passed for nearly 5,000 yards and had to produce several fourth-quarter comebacks. He will be even deadlier with a potent running game.

Also, the Giants must protect Manning. While the line allowed Manning to work his magic in so many of those fourth-quarter comebacks, it did allow three or more sacks in eight games last season, including a total of six sacks against San Francisco in the NFC Championship game.

Wild card: Brewer. If Beatty's back becomes an issue throughout camp and even during the season, Brewer needs to be the guy to step in either at left tackle or at right tackle if Diehl moves back to left tackle in the case Beatty is injured. Locklear provides veteran insurance at tackle and the Giants also liked Selvish Capers to keep him on the practice squad last year. But Brewer is the guy the Giants want to see emerge because they have high hopes for their fourth-round pick for the future.
July, 9, 2012
7/09/12
11:00
AM ET
With training camp at the end of the month, spotlight focuses on the left tackle position and what might happen if starter Will Beatty's back continues to be an issue.
SPOTLIGHT:
Left tackle.
THE DEPTH CHART: Will Beatty, James Brewer, Sean Locklear
and
Matt McCants
.
THE 411:
Beatty is the starter, but he was slowed by a problematic back issue throughout OTAs and minicamp. Beatty said at the end of minicamp last month that he will be ready for training camp.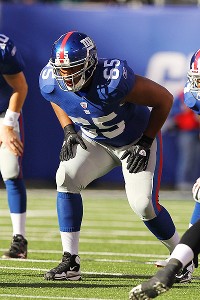 Al Bello/Getty ImagesWill Beatty
Beatty became the starting left tackle last season, but missed the final six games of the regular season and the playoffs with an eye injury.
David Diehl
moved back to left tackle and the Giants won a Super Bowl with Diehl there, but the team moved Diehl to right tackle this season to replace
Kareem McKenzie
.
But if Beatty's back continues to be a problem, the Giants might have to turn to second-year tackle Brewer (either at left tackle or right tackle and moving Diehl back to LT) or the veteran Locklear.
McCants, a sixth-round pick this year, is still a season away from contributing.
During OTAs and minicamp, Brewer and Locklear got reps at left tackle with Beatty out.
WHAT THE COACHES ARE SAYING:
Offensive coordinator
Kevin Gilbride
said the offensive line is a concern for him.
"We need him," Gilbride said, when asked how tough it will be if Beatty is not available at the start of camp. "He has got to be there. We have lost what amounts to three starters in the last two years on the offensive line [
Shaun O'Hara, Rich Seubert
and McKenzie]. You can't keep doing that. ... If you lose [Beatty] that means four starters in the offensive line. Then it doesn't matter how good your quarterback is."
"Somebody has to step up," Gilbride added.
CAMP PREDICTION:
The Giants might take things slow with Beatty if his back is still feeling iffy at the start of camp.
In that case, Locklear and Brewer could continue to see snaps at left tackle. If Beatty's back becomes serious, the Giants will then have to consider whether to go with either Locklear or Brewer, or move Diehl back to left tackle and play Brewer or Locklear at right tackle.
Jerry Reese, Tom Coughlin
and Gilbride have all said that they want to see Brewer take a step forward this season. Giving Brewer the first crack to see what he can do makes sense, and if the coaches don't believe he's ready, they can go with the veteran Locklear in the case Beatty is unable to play. Brewer and Locklear getting more practice reps also helps in case Beatty's back flares up later in the season.
But if Beatty is fine –- he showed signs of improvement toward the end of minicamp as he did individual drills on the field –- the Giants will go into the season with Beatty,
Kevin Boothe
at left guard,
David Baas
at center,
Chris Snee
right guard and Diehl at right tackle.
Tell us what you think of the Giants' left tackle situation below.
April, 28, 2012
4/28/12
5:27
PM ET
PLAYER: Matt McCants
SCHOOL: University of Alabama at Birmingham
POSITION: Offensive tackle
HEIGHT: 6-5
WEIGHT: 309

The Giants went with another offensive tackle in the draft by taking McCants. The 6-5 UAB product is a left tackle and will add depth to the Giants' offensive line.

THE 411: McCants is considered tall and a little lean with room to add bulk. He started at left tackle for UAB. He missed all of the 2008 season after being ruled academically ineligible.

According to Scouts Inc., McCants is "long and quick enough to take away the edge. Strong for size and can hold ground when beats defender to the top of drop but can give too much ground when defenders get under him before he gets set. Moves well laterally and can improve with better technique but narrow base and inability to sink hinders ability to redirect quickly at this point.

"Lack of experience at high school level and academic problems raise concerns here. Can pick up line stunts but inconsistent in this area. Appeared to have some problems locating assignments at the second level. Can over-commit to defender and get caught out of position as a zone blocker. Flashes nasty disposition. More of a finesse wall-off blocker than a mauler. Not violent or aggressive enough at the second level."

HOW HE FITS IN: The Giants' offensive line room is getting crowded. They already have Will Beatty at left tackle. David Diehl can play left tackle and left guard but could potentially move to right tackle. The Giants have a bunch of tackles right now with James Brewer, Sean Locklear and Auburn's Brandon Mosley, who was taken in the fourth round.

PROJECTED IMPACT: McCants could provide the team with depth this season at left tackle. Beatty is entering the final year of his deal so the Giants might be looking for a left tackle next season.

WHAT THEY'RE SAYING: General manager Jerry Reese said McCants is a kid they want to develop and could perhaps be a starter for them in the future.

"Really a pleasant surprise when you watch him," Reese said. "He is intriguing. Long, 36-inch arms. He is 315 now and I think he will be 325 pounds in a blink. Very interesting prospect for us. I think in a year or so he can make some headway and start challenging for a spot in our starting lineup. I think he is going to be that kind of player for us."