New York Giants:

Michael Sam and the NFL
February, 10, 2014
2/10/14
4:45
PM ET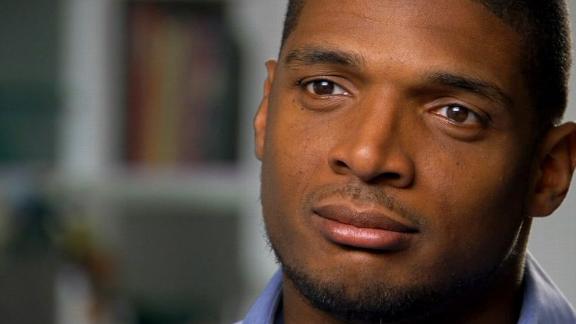 The news of the day is Missouri defensive end
Michael Sam
, who announced in advance of next week's scouting combine that he is gay. One of the many ways we are covering this story on ESPN is by taking a bit of a team-by-team
look at where Sam might fit
. So let's take a look at the
New York Giants
in that context.
First of all, I absolutely do not think the Giants would shy away from drafting Sam for non-football reasons. The Giants are confident in the people they have in leadership positions and pride themselves on being able to focus on football and winning games. If Sam is on their draft board at a spot where they believe he would represent good value (Third round? Fourth round? Fifth round? Depends on how their scouts evaluate him), then I believe they would not hesitate to take him.

The issue, however, is that we're not talking about a first-round pick here. This isn't like trying to gauge where
Johnny Manziel
or
Jadeveon Clowney
may or may not fit. Those are players for whom teams might make a move to position themselves. Sam is a mid-round pick who will find himself in a pool with other similarly rated players at various positions. The Giants could get to a point in, say, the fourth round where Sam is up near the top of their board but so is a cornerback or a running back they like just as much, and they could decide to go with another position. The story of the day is about what makes Sam unique. But if a team is evaluating him as a football player, he's going to fall into a large group of prospects with similar question marks at a point in the draft where teams are hoping to find future starters but aren't counting on it.
Within that context, however, you could imagine Sam as a player the Giants might like. He's a pass-rusher, first of all, and the old Giants credo is that you can't have too many of them. He's not a guy who's going to step in as a starter if they let
Justin Tuck
leave as a free agent, but he could conceivably be a guy they add to the pass-rush rotation behind
Jason Pierre-Paul
,
Damontre Moore
,
Mathias Kiwanuka
if he's still around and either Tuck or whoever they sign/draft to replace him. Assuming Sam is willing and capable to contribute on special teams as a rookie (and indications are that he would be), that helps convince a team that may have to be convinced to take him on as a developmental player.
The Giants tend to like guys with good college stats. It's one of the reasons they believed Moore was a strong value pick in the third round last year. Sam was productive in the SEC, and that should matter. It could be enough, in the Giants' eyes, to help him overcome his lack of elite size and speed, or the questions about whether he has a real position at the next level. He appears to be a smart, high-character guy who was a leader on his college team, and those kinds of things matter to the Giants (and other teams, of course) as well.
In conclusion, if the Giants were to take Sam at a spot in the draft where he represents reasonable value, it would look like a good pick for them. He may not be a starting-caliber defensive end in their scheme, but that doesn't mean he can't be a useful NFL player on a team that figures out a way to deploy him correctly.
February, 10, 2014
2/10/14
2:45
PM ET
One of the major questions in the wake of Missouri defensive lineman
Michael Sam
's announcement he is gay is how NFL teams will react. With the draft less than three months away and the scouting combine next week, the focus will be on how and whether Sam's coming out will affect his draft stock. To hear the owners of the
New York Giants
tell it, it shouldn't affect it at all.
"I would just echo what the league and
Zak DeOssie
, one of our captains, have said in welcoming Michael into our league and supporting him as he attempts to achieve his dream of playing in the NFL," John Mara said Monday in a statement released by the team. "Our sport, our game, is the ultimate meritocracy. You earn your way with your ability. As Patrick Burke and Wade Davis constantly remind all of us, regardless of who you are, what your background is and what your personal or sexual orientation is, if you can play, you can play. Michael's announcement will not affect his position on our draft board."
"As I said last night, Michael Sam is a gifted athlete and a courageous man," Steve Tisch said in his own statement released by the team. "I hope any NFL team would not hesitate to draft Michael if he is right for their team. Our game is the ultimate team game, and we often talk about how a team is a family. Regardless of where you are from, what your religious beliefs are, what your sexual orientation is, if you are good enough to be on the team, you are part of the family. How the University of Missouri and its football program embraced and supported Michael is a tremendous blueprint for all of us, but frankly, I think the lessons of our game also provide the same positive example."
I'll echo what
I wrote this morning
, which is that the Giants likely would be a welcoming environment for Sam due to their strong leadership. The question in the Giants' draft room will be whether Sam represents good value at the mid-round pick with which he'd be available to them. The Giants run a 4-3 defense, but while Sam played 4-3 defensive end in college, there is concern that his lack of prototypical size would inhibit his ability to do so in the NFL. That doesn't mean the Giants won't take him if they think he's a good enough player to help them on special teams and in certain roles, but it's hard to see him as the kind of player they have to have.