New York Giants:

Mike Jenkins
September, 5, 2012
9/05/12
10:14
AM ET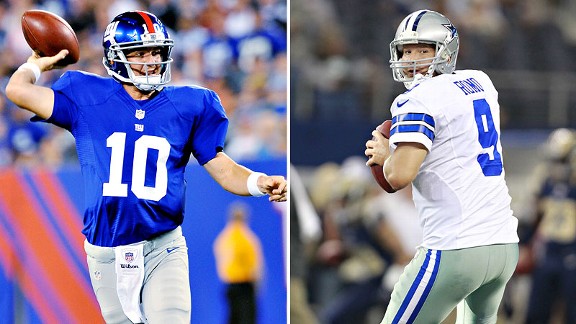 US PresswireThe performances of Eli Manning, left, and Tony Romo will go a long way in deciding the outcome of Wednesday's season opener.
The
Dallas Cowboys
and the
New York Giants
are set to kick off the NFL season on Wednesday night at MetLife Stadium in East Rutherford, N.J. It's a rematch of last year's regular-season finale, which the Giants won to clinch the NFC East title before going on to win the Super Bowl. As always, both teams enter the season with high expectations. But which of these two division rivals is primed to have the better year? ESPN.com NFC East blogger Dan Graziano and ESPNDallas.com's Todd Archer debate.
DAN GRAZIANO:
Well, Todd, we've got to stop meeting like this. It doesn't seem that long ago that the Cowboys rolled in on New Year's Day with hopes of winning the division title, only to give up the first 21 points and help launch the Giants on a Super Bowl run. They tell me the Cowboys have fixed their defense, and given what they spent on their two new cornerbacks, they'd better hope so. But when I look at these Giants, what I see reminds me a lot of last season. They're really strong at quarterback, wide receiver and pass-rushing defensive end but have questions elsewhere on the roster. Their hope, once again, is that
Eli Manning
and that pass rush are good enough to overcome their deficiencies. The division picks I made last week had the Giants going 12-4 and repeating as division champs, and the Cowboys finishing in third place at 8-8. So it's clear what I think about it. Both of these teams have flaws; I just feel like the Giants have shown they're better at overcoming flaws and adversity better than other teams are.
TODD ARCHER:
Wow, 12-4 and you see a team with questions? There can't be that many questions to finish 12-4. But it's hard to go against the Giants just because of their two Super Bowl wins in the last five years. They've done it and they get the benefit of the doubt. The Cowboys haven't done it and they don't get the benefit of the doubt. Winning at MetLife Stadium is difficult anyway, but it will be even more difficult because of what happened in training camp. Maybe
Jason Witten
and
Jay Ratliff
play, but that's pushing it.
Miles Austin
didn't play in the preseason.
Dez Bryant
missed the last week-plus in camp. The offensive line hasn't taken a snap together. So, other than that, the Cowboys are in great shape. But I'm not sure I see the Giants finishing 12-4. I think the Cowboys go 10-6 and make a wild-card run, but I'll admit I felt better about it before camp started.
DG
: When I look at the Cowboys, the last thing I worry about is the Austin/Bryant/Witten crew. If any of those guys is out, they're in big trouble anyway. My thing with them is that I don't think they're strong enough on the offensive line, or up front on defense, to overcome a significant injury to one of their star players. They feel a little flimsy to me in too many spots still. And I'm not 100 percent sold on the idea that the improvements at cornerback will automatically help the pass rush. I feel like it works better in the other direction -- i.e., a great pass rush supports the secondary. I think the Giants are built on that philosophy, and that they really lean hard on those strengths, especially in big games.
TA:
Man, I hate having to agree with you on this, but I think the Giants and other teams have shown a pass rush can cover up for an average/mediocre secondary. I can't think of too many great secondaries that make a pass rush. But that's the way the Cowboys have gone in signing
Brandon Carr
, trading up for
Morris Claiborne
and keeping
Mike Jenkins
. Carr was great in the preseason and he gives the Cowboys a physical presence on the outside that they have lacked. The Cowboys' offensive line is a huge question and I know I'm going to commit heresy in your eyes here, but
Tyron Smith
had some issues at left tackle this summer. The interior is a huge question, too, but the Cowboys believe in Bill Callahan. He has a great reputation and I think eventually the line is OK this year. Maybe not versus the Giants, though. But I will say this: The Giants' line is a little suspect, too, so that could be a push if Rob Ryan has figured out a way to defend
Victor Cruz
and
Hakeem Nicks
.
DG:
No doubt the Giants' line is suspect, and where that really shows up is in the run game, which ranked 32nd in the league last season. I don't see how it's improved, which means once again it'll be up to Manning and the receivers to get it done on offense. I know from talking to Redskins people, after they beat the Giants twice last year, they feel you have to shut down one side of the field against Manning and limit his range of decisions, or else he'll pick you apart. You think these Cowboys are built to do that this year? At the very least, I can't imagine we see too many Giants fullbacks hurdling Cowboys cornerbacks this time around.
TA:
I was surprised
Henry Hynoski
was not invited to the Olympic hurdle trials after what he did in January, but, yes, I think the Cowboys are better suited at cornerback to shut off one side of the field this year. Doesn't mean they're going to do it, but they have a better chance to do it. And I think Nicks' foot injury helps them, too. He's not going to be 100 percent for this game and not moving as well as he usually moves. But Cruz in the slot could be a major issue, as he was last January. I can still see his leaping grab on third-and-7 after the Cowboys made it interesting there for a bit. One guy who will make a difference for the Cowboys this year won't even take a snap. It's secondary coach Jerome Henderson. To me, he has future head coach written all over him. He has changed the attitude of this secondary. Defensive backs were more aggressive in camp. Maybe it's because Dallas has Carr, who likes to play press coverage, but I think Henderson has brought a swagger built on productivity and not just bravado.
DG
: Good point on Nicks, and if he's limited that not only helps the Cowboys but probably gives them the advantage at wide receiver (assuming, of course, that both of their guys are healthy). I'm also interested to see whether Witten plays and, if he does, how he looks after his spleen injury. But I think this is a big game for
Tony Romo
. Last year's opener, when he turned the ball over against the Jets, just fed into his (I believe largely unjustified) reputation as a guy who can't get it done in big games. A win here against the champs would at least delay the "same old Romo" stuff for a few weeks, if not set him on the path to wiping it out. Manning doesn't have to worry about such things after his second Super Bowl MVP award, but games like these are the ones Romo has to win if he wants to combat the popular perception of the kind of quarterback he is.
TA:
I have a column up on Romo talking about
how he can change the narrative
so many have of him by winning, specifically his lack of leadership. I don't believe there is a player who catches more grief in the NFL than Romo. Everything gets distorted with the guy. I asked Manning on the conference call if he is aware of all the garbage Romo receives and, paraphrasing, he said yeah and you have to ignore all of the outside voices. I think Romo does a good job of that. If the Cowboys beat the Giants, then Romo will get a reprieve, but it'll be short lived if they lose at Seattle. He has to walk a tightrope that other quarterbacks don't. But if you're asking me who wins this one, I have to go with the Giants, but it'll be closer than people think.
DG:
I'm taking the Giants to win this game, too, but the only thing we know about an NFL season before it starts is that we don't know anything. I think everyone can agree that it'll be great to see a real game again after so long, and that the NFL picked a pretty juicy matchup to start its season. I know I'm looking forward to it and you are, too. Thanks for the chat, and I'll see you in the press box in a few hours.
December, 7, 2011
12/07/11
6:53
PM ET
Our man in Dallas,
Calvin Watkins
of ESPNDallas.com, reports that
Cowboys players were asked about the hatred
some of the Giants -– namely
Justin Tuck
and
Brandon Jacobs
-- have for them.
Jacobs makes it no secret that he despises the Cowboys.
"That's him," cornerback
Mike Jenkins
said of Jacobs. "That's what you get from him. He is a bully."
The Cowboys admit, though, that they need to stop allowing the Giants to push them around in their own house. The Giants have won the two meetings at the sparkling Cowboys Stadium.
"I hate anytime that we play them,"
DeMarcus Ware
said. "It's just not the Giants, because guess what, the team is trying to come in here and take your manhood. So it don't matter who you're playing. It's sort of like a battle, gladiator against gladiator, who wants it the most. It's not just the Giants, so there is a lot at stake. You're playing for first place and you got to get out there and play hard."
When asked whether the Cowboys can get their manhood back by beating the Giants on Sunday night, Ware said, "We've got to figure out how to get that back."
Ware also said he thinks he knows why Tuck hates the Cowboys and has called Cowboys Stadium a dump after winning the first game there.
"He says that because maybe he wants to play here," Ware said of Tuck. "Everybody wants to play for the Cowboys. If I wasn't playing for Cowboys I would call it that too because I want to play for them."
November, 22, 2011
11/22/11
1:00
PM ET
»
NFC Stock Watch
:
East
|
West
|
North
|
South
»
AFC
:
East
|
West
|
North
|
South
FALLING
1. Giants' offensive line.
It hasn't really been any good all year, but now it has begun to cost them games. The Giants were absolutely manhandled up front by the Eagles' defense Sunday night, unable to find anything at all in the run game or give
Eli Manning
enough time to throw.
Brandon Jacobs
is getting booed by the home fans, but he can't make the holes himself. The Giants look like a team that will continue to be in every game they play, including the tough ones, but it's going to be difficult for them to put together a winning streak against their schedule if they can't win those physical battles in the trenches.
2. Cowboys' secondary.
They hung on to beat Washington, but
Rex Grossman
had a pretty good day against them. They miss cornerback
Mike Jenkins
, and if the injury to safety
Gerald Sensabaugh
is serious enough to linger, they'll have a tough time patching it together in time for Thursday's game. The good news for Dallas is that its offense is good enough to outscore teams, and its next two opponents aren't big-time passing teams. But the Cowboys' defense did show some cracks Sunday, especially on the back end.
3. Redskins' running game clarity
. Actually, it seems kind of clear to all involved that rookie
Roy Helu
is the team's best back. But Mike Shanahan keeps giving
Ryan Torain
the starts and bringing in Helu later. Shanahan said this week that part of the reason for that is not wanting to give the rookie too much too soon -- a strategy that speaks to where Shanahan and the Redskins are right now as a franchise. They're thinking long-term, and they don't want to overload Helu mentally or beat him up physically if he's part of the long-term plans. So while it may feel frustrating right now, it's all designed to make things better in the long run.
RISING
[+] Enlarge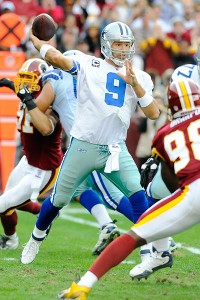 Brad Mills/US PresswireTony Romo is playing consistent football through 11 weeks.
1. Tony Romo, Cowboys quarterback.
This was a game in which a number of things that had been going right for the Cowboys did not. They didn't dominate physically in the run game as they have been lately. They didn't make the stops they needed to make on defense. And yet, rather than forcing things the way he was when he was making so many costly mistakes earlier in the season, Romo was smart and efficient and deliberate and made all of the throws he needed to make to deliver a division win. He's in the middle of an excellent season.
2. Vince Young, Eagles quarterback.
Man, did he look shaky for the first three quarters. He even looked shaky at times on that game-winning drive. But he made the plays he needed to make to deliver a win. And even if
Michael Vick
comes back healthy this week and Young doesn't start another game all year, he showed teams he added a win to his record as an NFL quarterback, which now stands at 31-17. That's Young's biggest selling point -- not the relative prettiness of his passes -- and if he wants to go find a starting job somewhere next year, that win is one more thing he can try to sell.
3. Eagles' and Cowboys' offensive lines.
Maligned for much of the season as a weak spot, the Eagles' line has actually consistently ranked among the best run-blocking lines in the league. On Sunday night, it also gave Young the time he needed to make plays. Their playoff chances are, at best, on life support, but their physicality up front on both sides of the ball is going to make them a tough team to play the rest of the way. As for Dallas, it is still shaky at center, and
Doug Free
isn't having a very good year. But the return of
Montrae Holland
to play left guard has really helped solidify things for them in the middle, and there's reason to think they'll continue to improve as the year progresses.
September, 30, 2011
9/30/11
1:30
PM ET
»
NFC Final Word
:
East
|
West
|
North
|
South
»
AFC
:
East
|
West
|
North
|
South
Five nuggets of knowledge about Week 4:
Dallas must stop the deep ball
: According to ESPN's Stats & Information Group, without which Final Word would not be possible, Lions quarterback
Matthew Stafford
has yet to throw an interception this year on a ball thrown 11 or more yards downfield. He threw 14 of them over the past two seasons. SIG also reports that Stafford overthrew top receiver
Calvin Johnson
18 times over the past two years on balls that went 11 or more yards downfield and has only done so once this year in 10 attempts. What's it mean? That Stafford is getting better at throwing deep, especially to Johnson, and that the Cowboys must find a way to defend him deep. Whether that means
DeMarcus Ware
and the pass rush need to get to Stafford quickly enough to take away deep throws or whether
Terence Newman
and
Mike Jenkins
have to make plays in the secondary or both, the Cowboys versus the Lions' deep passing game is a key matchup to watch Sunday.
[+] Enlarge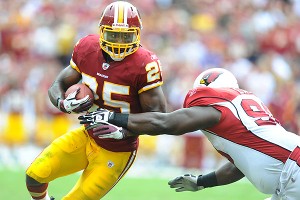 James Lang/US PresswireRedskins running back Tim Hightower is averaging 3.5 yards per rushing attempt.
Who should run the ball for the Redskins?
:
Tim Hightower
is clearly the starter and has done some good things. They particularly like him in the passing game, as a receiver and a blocker. But as a runner, he's been underwhelming so far this season, averaging just 3.5 yards per rushing attempt. Part of the issue is that the Redskins are determined to run the ball 30 times a game even if it's not always working, and so whoever's running it is going to find the going tough at times. But rookie
Roy Helu
, as Hightower's backup, is averaging 5.7 yards per carry on his 16 carries so far. If he gets into games and shows more burst and speed than Hightower, you'd have to think he's a real threat to start stealing carries, no?
McCoy's toughest test so far
: The
San Francisco 49ers
have excelled so far this year in stopping the run with their defensive front. According to ESPN Stats & Info, the Niners have held opponents to 2.97 yards per carry when using seven or fewer defenders in the box. Now, Eagles running back
LeSean McCoy
has the second-most rush yards in the league against seven-or-fewer-man fronts, and is averaging 6.39 yards per carry when teams keep seven or fewer in the box. So, something's got to give there.
Eli owns October:
Giants quarterback
Eli Manning
has a career record of 20-4 in the month of October. Among quarterbacks with at least 15 October starts since 1950, only Otto Graham (22-4) has a better record in the month. The key for Manning is always to limit turnovers, and last week's victory in Philadelphia broke a streak of seven straight games in which he'd thrown at least one interception. Over the past three seasons, the Giants are 8-1 in games in which Manning did not turn the ball over via interception or fumble. The last time they lost such a game was Nov. 8, 2009 -- a 21-20 loss to the Chargers in which Manning was sacked five times. When Manning plays a clean game, the Giants win.
Cowboys play 'em close
: Each of the Cowboys' past nine games has been decided by three points or less. Dallas is 5-4 in those nine games, including a 2-1 record so far this season. The last game they played that was decided by more than three points? Their Week 11 victory on Nov. 21 of last year, at home against this week's opponent, the
Detroit Lions
.
Shaun Hill
and
Jon Kitna
were the starting quarterbacks in that game, which the Cowboys won 35-19 in spite of being outgained 338-265. If you remember that game, you probably remember it for
Bryan McCann
's 97-yard punt return touchdown.