New York Giants:

Mitch Petrus
October, 5, 2012
10/05/12
8:00
AM ET
EAST RUTHERFORD, N.J. -- The Giants could be without several starters on Sunday, when they play the Browns.
Which raises the question, who will replace these guys?
Offensive coordinator Kevin Gilbride and defensive coordinator Perry Fewell were peppered with questions about this during their weekly session with reporters on Thursday.
[+] Enlarge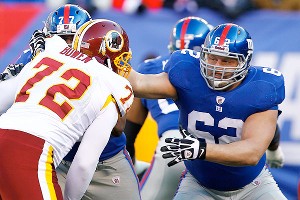 Jim O'Connor/US PresswireMitch Petrus
On offense, it's clear that
Domenik Hixon
will start at wide receiver in place of
Hakeem Nicks
-- especially now that
Ramses Barden
is also hurt, suffering from a concussion.
But the Giants could also be without right guard
Chris Snee
, who missed practice for the second day in a row on Thursday with a hip injury.
Being without Snee is rare for the Giants. He started every game for six straight seasons, from 2005 through 2010, before missing one game last year.
Gilbride said that if Snee can't go, his spot will "probably" go to third-year vet
Mitch Petrus
, who appeared in 17 games (three starts) in his first two seasons with the Giants, and has seen action in two games so far this year.
As for the defense, Fewell confirmed that
Stevie Brown
would start at safety in place of
Kenny Phillips
-- Phillips is almost certainly not going to play, because of the MCL injury to his knee.
Brown, who spent his first two NFL seasons with the Raiders and Colts, was picked up by the Giants this spring.
"I thought Stevie Brown came in and did a nice job," Fewell said of Brown's performance last Sunday against the Eagles, after Phillips got hurt. "To be put in that position and that type of situation, he really didn't have any major errors. He came in and he tackled well."
Also, defensive tackle
Rocky Bernard
has missed the past two days of practice with a quadriceps injury. Fewell said that if Bernard can't go, his snaps will likely be split between the very inexperienced duo of second-year man
Marvin Austin
and rookie
Markus Kuhn
, who have played in six NFL games combined.
August, 29, 2012
8/29/12
6:12
PM ET
July, 23, 2012
7/23/12
2:37
PM ET
As training camp approaches, we're counting down to camp by taking a look at the defending champions, position by position.

Position: Offensive line.

Projected starters: LT Will Beatty, LG Kevin Boothe, C David Baas, RG Chris Snee and RT David Diehl.

Projected reserves: T James Brewer, G Mitch Petrus, C Jim Cordle, T Sean Locklear, G/T Brandon Mosley, T Matt McCants.

New faces: Locklear, Mosley, McCants, T Joel Reinders, G Stephen Goodin and C Chris White.

Going, going, gone: RT Kareem McKenzie, T Stacy Andrews and T Tony Ugoh.

Player to watch: Beatty. His back kept him out for most of OTAs and minicamp. He still took mental reps and was in on all the classes. But Tom Coughlin was concerned about his left tackle's health. Beatty assured reporters his back will be fine once camp starts. But backs are always tricky and you never know when it can flare up. If his back continues to be problematic, Brewer and Locklear will see snaps at left tackle or they could move Diehl back to left tackle and play Brewer or Locklear at right tackle.

Potential strength: The Giants are hoping that their offensive line will be better this season by having a healthier line. Last season, Baas, Snee and Diehl battled through injuries while Beatty's season ended after 10 games due to an eye injury.

The Giants also believe moving Diehl to right tackle to replace McKenzie and having Beatty back at left tackle is the answer. The versatile Boothe will start at left guard unless there's an injury at center which could always force the Giants to move Boothe there to plug a hole. The feisty Petrus showed last season he is a capable starter when he started three games due to injury.

Baas had an up and down season due to injuries but the Giants are banking on a healthier Baas to play better and be more comfortable in his second season with the Giants. If Baas performs the way the Giants believe he can, the offensive line will be better and more physical.

If the offensive line can stay healthy, it should be better having had a full offseason and camp to work together. Last year, Eli Manning and the line had basically just a month in camp to come together due to the lockout.

Potential weakness: The running game. The Giants finished last in rushing last season and the offensive line has to show that it can dominate at the line of scrimmage and open holes for the running backs.

The Giants did improve late in the season, rushing for 100 yards or more in six of their final nine games, including the postseason.

But if the Giants can't get the running game going, Manning will have to shoulder the load once again. He passed for nearly 5,000 yards and had to produce several fourth-quarter comebacks. He will be even deadlier with a potent running game.

Also, the Giants must protect Manning. While the line allowed Manning to work his magic in so many of those fourth-quarter comebacks, it did allow three or more sacks in eight games last season, including a total of six sacks against San Francisco in the NFC Championship game.

Wild card: Brewer. If Beatty's back becomes an issue throughout camp and even during the season, Brewer needs to be the guy to step in either at left tackle or at right tackle if Diehl moves back to left tackle in the case Beatty is injured. Locklear provides veteran insurance at tackle and the Giants also liked Selvish Capers to keep him on the practice squad last year. But Brewer is the guy the Giants want to see emerge because they have high hopes for their fourth-round pick for the future.
December, 25, 2011
12/25/11
3:09
PM ET
The Giants' running game was nonexistent at the beginning of Saturday's game -- but rebounded to finish strong.

For the third time in their past four games, the Giants rushed for more than 100 yards as they tallied 115 on the ground in their 29-14 win over the Jets. The Giants had a measly six yards on seven carries at the half before exploding in the second half.

"Obviously at halftime we were not real happy and we talked about the fact that we had to do a better job of blocking them," Giants head coach Tom Coughlin said. "They did a good job of matching our personnel schemes and taking away some of the things that ... we thought we had. We were able to put it on the ground and run some time off the clock and gain some yardage."

After a very slow start to the season in terms of rushing, the Giants' running game had been as strong as it had been all season heading into Saturday's game, tallying its best three-game stretch of the season by averaging 100.3 yards and garnering at least 100 yards in two of them. That strong performance had come behind a reinvented line with Kevin Boothe at center and Mitch Petrus as the left guard.

Saturday, the Giants reinserted David Baas, who had missed the previous three games with a neck injury and intense headaches, into the lineup and the results didn't immediately promising. The Giants had just six rushing yards on its first seven carries, with a long run of four yards from Ahmad Bradshaw.

The unit found its legs on the last drive of the third quarter. Leading 10-7 at the time, Brandon Jacobs galloped for a 28-yard gain that put the Giants at the 14-yard line. On the following play, Bradshaw went up the middle for a 14-yard touchdown that gave the Giants a 17-7 lead and seemingly changed the complexion of the game. Bradshaw added a 19-yard touchdown run late in the fourth quarter to seal the game for the Giants.

"It was kind of in the first half we kind of stalemated sometimes, things weren't going good, defense kept us in it," Baas said. "Second half, we had some adjustments and different runs and we produced a little bit more and just really kind of did some things better in terms of blocking and scheme stuff. Their front did a good job in the first half of doing some things to shut us down and we did some things to not help ourselves. In the second half, we did some better things in terms of doing some plays that really helped us in terms of blocking guys, it worked out better for us to get some yardage."
December, 24, 2011
12/24/11
2:37
PM ET
The Giants lead the Jets, 10-7, at halftime of Saturday's game. Here are some quick hits from the Giants' side of the action.

TIME TO SALSA: Victor Cruz may have had the biggest play of the Giants season as he turned a quick completion into a 99-yard touchdown that gave the Giants a 10-7 lead. Cruz made Kyle Wilson and Antonio Cromartie miss initially, and then was able to avoid a tackle from Eric Smith, before going the final 40 yards or so for the touchdown.

THE PLAY THAT WASN'T: The Giants appeared to have returned a fumble for a touchdown but the play was overruled on the field and the Jets kept possession. On the play, Antrel Rolle tackled Jeremy Kerley and the ball appeared to pop loose as he was being tackled and Aaron Ross scooped it up and returned it for a touchdown. The play was overturned on the field, with the referee saying his elbow was down, and the Jets retained possession. The Jets ultimately missed a field goal at the end of the half.

THE DECENT CORNER: The Giants have not been afraid to throw at Darrelle Revis. They have thrown at him five times, completing two passes. Hakeem Nicks beat him for a 20-yard catch in the second quarter but Revis broke up a slant in the end zone to force the Giants to kick a field goal. Surprisingly, Devin Thomas had a catch against Revis.

THE 12TH MAN: On the first drive, the Giants stopped a fourth-down play, only to have it nullified as the Giants had 12 men on the field. The Jets went on to score a touchdown on that drive, on a touchdown pass, to take a 7-0 lead at the time. The Giants struggled to get off the field after that play and put themselves in an early hold.

IMPROVEMENT: One week after allowing 8-of-15 third downs against Washington, the Giants have shown vast improvement against the Jets. The Jets are just 2-for-8 on Saturday and have had to punt the ball several times already. It looks like the Giants will end their streak of five straight games of allowing at least 50 percent.

NO RUN GAME: The Giants have not been able to rush the ball at all in the game. Remember, after their best three-game stretch with backups Kevin Boothe and Mitch Petrus in the starting unit, the Giants put center David Baas back into the lineup for this week. The Giants rushed seven times for six yards.

DROPPING THE BALL: The Giants have a very talented group of receivers but they are plagued by drops each week it seems. Nicks and Ramses Barden have already dropped passes in the game, with Nicks dropping a wide-open catch and Barden dropping what would have been close to a 20-yard gain across the middle of the field.
December, 21, 2011
12/21/11
4:12
PM ET
Change is common with the Giants' offensive line.

In seven of their 14 games this season, the unit has fielded a different starting unit than it has the previous week. With injured center David Baas practicing and possibly returning to the starting lineup this week against the Jets, it could be another game of musical chairs for the Giants' offensive line.

They're used to it by now.

"Pretty much it doesn't matter who is in there, we have to be able to go out there and play with whoever suits up," veteran right tackle Kareem McKenzie said. "That's why I think it's crucial that everyone in that offensive line room, everyone on the team understands that, at any one given moment they could be called up to play."

Baas has missed the last three games with a neck injury and intense headaches but practiced for this first time in a few weeks on Tuesday and was back on the field in a limited capacity on Wednesday. He had been working on individual drills during the portion of practices open to the media last week.

While Giants' head coach Tom Coughlin said he will have to see what the Giants will do in terms of bringing Baas back into the mix, Baas has been the starter before his injury sidelined him prior to the Green Bay game. Current center Kevin Boothe said he's not sure yet whether he will be switching positions for this week.

"We'll see how it goes. It's good to see him out there," Boothe said. "We're definitely excited to have him back in the fold and it's still to be determined what exactly his role will be or when he will be out there. We're looking forward to whatever that means in terms of the combination. I think it will be a benefit to our team."

In the three weeks that Baas has been gone, the Giants have had their best rushing attack of the season. In their last three games, the team has rushed for 301 yards (100.3 yards per game), the most of any three-game stretch on the season. This has been behind a line that features two backups in Boothe and left guard Mitch Petrus.

Boothe and McKenzie, though, both downplayed the notion of not changing the lineup just because it has been successful in the past few weeks. Boothe added that it's not up to the lineman to determine such things and said that the unit has played well together no matter what the particular combination might be.

Offensive coordinator Kevin Gilbride said it's going to come down to which lineman have excelled the most this year. In short time, it will be seen if that means reinserting Baas back into the lineup and changing it up once again.

"It's fairly simplistic how to put them together so it will be the most cohesive and be able to perform at our best level and that's combining run, pass, and everything else," Gilbride said. "We'll make that decision. It's fairly easy to see whose playing well, who can play better, what person will contribute more to the quality of the group or the performance of the group. That's really the factor that you're considering but it's not that hard to make that decision."
December, 7, 2011
12/07/11
6:13
PM ET
By
Ian Begley
| ESPNNewYork.com
Surprise, you're starting.
That's what Giants coaches told
Mitch Petrus
about two hours before kickoff on Sunday.
It was Petrus' first NFL start, so a few veterans tried to convince the kid to relax.
"Alright, I'll work on being calm," he told them.
Good luck with that.
Tranquility doesn't come naturally to Petrus, a 6-3, 315-pounder the Giants drafted in the 5th round in 2010.
"He's an energetic guy,"
David Diehl
said with a grin.
That energy helped Petrus fill a hole on Sunday.
The 24-year-old started at left guard and
Kevin Boothe
shifted over to center due to
David Baas
'
late scratch due to headaches
.
The patchwork line performed well. Behind it, the Giants ran for 100 yards on 20 carries. It was the first time they'd reached the century mark since a Week 9 win over New England.
Also,
Eli Manning
was hit just three times.
The day after the game -- a 38-35 Giants' loss --
Tom Coughlin
went out of his way to compliment Petrus and the rest of the line.
"I liked his attitude and the way he went about it," Coughlin said of Petrus, who holds an NFL combine record for benching 225 pounds 45 times. "He just went to work and trusted himself and trusted his preparation."
Is Petrus prepared to take over for the rest of the season?
He may not have a choice.
Baas missed practice on Wednesday with headaches and it is not clear when he will return to the field. So Petrus could be the Giants' starting left guard for the rest of the year.
And if so, he's more than OK with that.
"I wanted his opportunity and I want to make the most of it," he said.
You can follow Ian Begley on
Twitter
.