New York Giants:

New Orleans Saints
January, 16, 2013
1/16/13
12:52
PM ET
It's safe to say Phil McConkey isn't a fans of Saints quarterback
Drew Brees
.
McConkey, a former Giants receiver, appeared on WFAN radio and voiced his
displeasure with the NFL Players Association
and Brees, who serves on the NFLPA's executive committee.
"I know he's canonized, and people think he's great," McConkey said of Brees. "(But) if he got in front of a group of ex-players, I don't know what would happen."
[+] Enlarge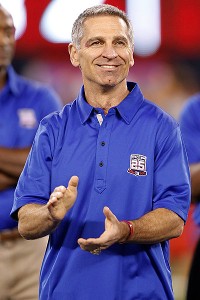 AP Photo/Paul SpinelliPhil McConkey says the NFLPA hasn't done enough to help retired players, many of whom are suffering as a result.
The degree of commitment the union should have to helping retired players has been a divisive topic.
"There's some guys out there that have made bad business decisions," Brees said in 2009. "They took their pensions early because they never went out and got a job. They've had a couple divorces, and they're making payments to this place and that place. And that's why they don't have money. And they're coming to us to basically say 'Please make up for my bad judgment.'"
"It's disgusting," McConkey said Tuesday, referring to Brees' comments, "but that's some of the mentality that's around."
Brees did show an appreciation for retired players during that 2009 interview, saying, "They shaped the game for us. Because of those guys, we have an opportunity to play this game, to make the money that we make, to get the benefits we get. We will always, always, always reach back to give to those guys. But there's a way to do it."
McConkey, who played for the Giants from 1984-88 and helped them win Super Bowl XXI, said the NFLPA doesn't take care of former players.
"I see so many of my colleagues suffering terribly," McConkey said. "I really don't blame the owners and the management. I don't. It's the Players Association. They're the ones that should have taken care of the guys that went before them. And they didn't, and they still don't."
McConkey regretted the 1987 NFL strike but said today's players like Brees are benefiting from it.
"All (the strike) benefited were some of the guys of today," McConkey said. "There are some guys today that have absolutely no clue and that run their mouths. And Drew Brees is one of them."
December, 10, 2012
12/10/12
1:45
PM ET
EAST RUTHERFORD, N.J. -- There were plenty of plays to choose from in the Giants' high-scoring 52-27 win over the visiting Saint, but these five stand out:
Manning throws a Pick-6:
Saints cornerback
Elbert Mack
snapped up a pass meant for Giants wide receiver
Jerrel Jernigan
and ran it back for a 73-yard touchdown with 9:38 left in the first quarter, putting the first points on the board for either team.
[+] Enlarge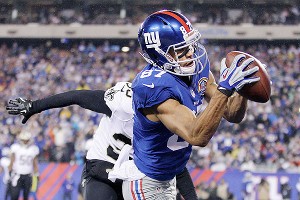 AP Photo/Kathy WillensDomenik Hixon's touchdown grab gave the Giants a 21-13 lead.
The 97-yard return for a touchdown:
David Wilson
had a record-setting day with 227 yards in the return game, and this 97-yard run set things right for the Giants. Wilson's touchdown came 13 seconds after Mack's pick-six and forced a 7-7 tie. Wilson also guaranteed himself a spot in the Giants' record book with 1,321 return yards on the season.
Hixon's first touchdown in a season:
In the second quarter,
Domenik Hixon
juked
Jabari Greer
and ran toward the back left of the end zone, just enough room for Manning to place a 5-yard pass into his hands for a touchdown, putting the Giants up 21-13. Nice move by a player who missed the two prior games with an ankle injury.
Stevie Brown takes an interception 70 yards:
Brown intercepted two passes for 91 yards, but the big one came in the fourth quarter when the safety grabbed a
Drew Brees
pass intended for tight end
Jimmy Graham
. It was the longest for a Giant since
Kevin Dockery
's 96-yard return on 2006. The play led to a field goal and a 45-27 Giants lead.
Wilson's final touchdown, aka The Icing:
It was almost all over, but with 5:10 left to play, Wilson scored his third touchdown of the night, this one coming on a 52-yard run for the final 52-17 margin. The icing on the cake.
December, 9, 2012
12/09/12
6:17
PM ET
EAST RUTHERFORD, N.J. -- A quick take on the first half:


Shaky start:
Eli Manning
nearly threw an interception on the very first possession of the game, on a ball intended for
Domenik Hixon
. On the Giants' second possession, Manning did throw a pick, and it was returned 73 yards for a touchdown by
Elbert Mack
, giving New Orleans a 7-0 lead.
Game changer:
Rookie
David Wilson
has had some big kickoff returns this season, but he finally broke one for a touchdown in Week 14. Right after the Saints' touchdown, Wilson returned the ensuing kickoff 97 yards for a TD, tying the game at 7.
Wilson also had kick returns of 58 and 52 yards in the first half -- but the Giants failed to score on either of those possessions despite the great field position.
Strong finish:
The Giants had just 80 total yards of offense until their final drive of the first half. Starting at his own 31-yard line with just under two minutes remaining, Manning methodically marched the Giants down the field -- as he often does in the two-minute drill. He finished it off with a 5-yard touchdown pass to Hixon, who made a beautiful grab in the back corner of the end zone.
Manning also threw a 6-yard TD pass to
Martellus Bennett
late in the first quarter. He was 15-for-22 for 146 yards in the first half. But the Giants rushed for just 13 yards on eight carries.
The other side:
The Saints racked up 227 yards of offense in the first half -- 126 in the air, 101 on the ground. But a pair of first-quarter turnovers hurt them badly. Wideout
Marques Colston
fumbled at the end of a 30-yard catch and run, recovered by
Antrel Rolle
. And on the Saints' very next possession, fullback
Jed Collins
fumbled after catching a short pass, recovered by
Linval Joseph
.
Automatic no more:
Giants kicker
Lawrence Tynes
, who was 32-for-36 on field goals coming into the game, missed a 32-yarder in the second quarter.
December, 7, 2012
12/07/12
3:59
PM ET
EAST RUTHERFORD, N.J. -- Giants wide receiver
Hakeem Nicks
is questionable for Sunday's game against the Saints with a sore left knee. He had a limited practice Friday after missing practice Thursday, and the team is hopeful he will be able to go.
Safety
Kenny Phillips
(knee) is doubtful after missing the past three days of practice. Phillips re-aggravated his knee injury against the Packers two weeks ago, and played in less than half of the team's defensive snaps in the loss to the Redskins on Monday night.
Running back
Ahmad Bradshaw
is probable after a limited practice Friday, as is linebacker
Jacquian Williams
. Williams practiced all week, hoping to play for the first time since he suffered his knee injury back on Oct. 14 against the 49ers.
Safety
Tyler Sash
(hamstring) and tight end
Travis Beckum
(knee) have been ruled out.
Here's the full injury report:
GIANTS
Out
TE Travis Beckum (knee/dnp)
S Tyler Sash (hamstring/dnp)
Doubtful
S Kenny Phillips (knee/dnp)
Questionable
WR Hakeem Nicks (knee/limited)
Probable
C
David Baas
(shoulder/full)
LB
Chase Blackburn
(ankle/full)
LB
Michael Boley
(shoulder/full)
RB Ahmad Bradshaw (foot/limited)
WR
Domenik Hixon
(ankle/full)
DE
Jason Pierre-Paul
(back/full)
LB Jacquian Williams (knee/full)
SAINTS
Out
T
Charles Brown
(knee/dnp)
CB
Corey White
(knee/dnp)
Probable
S
Isa Abdul-Quddus
(concussion/full)
DE
Junior Galette
(ankle/full)
S
Roman Harper
(rib/full)
DT
Tom Johnson
(back/full)
CB
Johnny Patrick
(illness/full)
WR
Courtney Roby
(hamstring/full)
T
Zach Strief
(groin/full)
TE
David Thomas
(knee/full)
DE
Martez Wilson
(toe/full)
December, 6, 2012
12/06/12
8:00
AM ET
EAST RUTHERFORD, N.J. -- In the first seven games of the season, Giants wideout
Victor Cruz
had 50 receptions (7.1 per game) for 627 yards (89.6 per game) and seven touchdowns.
Over the past five games, Cruz has 18 receptions (3.6 per game) for 256 yards (51.2 per game) and one touchdown.
But Cruz thinks the offense is on the verge of a breakthrough, getting back to making big plays on a more regular basis.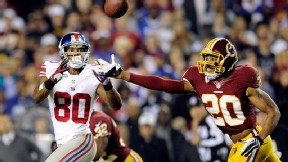 AP Photo/Nick WassVictor Cruz believes the Giants are nearing a breakout on offense.
"There were a couple of plays (against the Redskins) that if we hit those plays on Monday it probably changes the complexion of the game," Cruz said Wednesday. "We are almost there."
"Yeah, we are close," said quarterback
Eli Manning
. "Just missed Hakeem (Nicks) on one, just missed Victor on one. Hit a couple down the middle to Vic and Martellus (Bennett) and hit Vic on another one. We were able to get the ball downfield a little bit more which was nice, hit some big plays. Hopefully we can continue to do that and hit a few more."
The Giants should be able to do so on Sunday, against a New Orleans defense that is giving up 440.5 yards per game -- the worst mark in the NFL.
Big Blue lost to the Saints 49-24 last season. But Manning did throw for 406 yards, and Cruz had nine catches for 157 yards and two touchdowns.
"There's definitely opportunities there and things that we feel like we can take advantage of," said Cruz. "It is just a matter of taking advantage of the opportunities when we get them."
Manning thinks he can win a shootout against the Saints' prolific passing attack, led by
Drew Brees
.
"I feel confident about our offense that we can go score, that we have the playmakers to move the ball whether we're running it or throwing it," Manning said. "We can be a high-powered offense and score a lot of points if that's what the game calls for."
March, 5, 2012
3/05/12
8:29
PM ET



Eli Manning has played against the New Orleans Saints twice in the past three seasons.

And the Giants' quarterback says he does not recall a moment when the Saints delivered a dirty or illegal hit.

But one thing Manning does know, is that there is no place in the NFL for defensive players placing bounties to intentionally hurt offensive players.

"I don't remember a specific thing that was dirty or illegal or someone going low," Manning said of facing the Saints, while attending a premier screening of the "Super Bowl XLVI Champions: New York Giants" DVD in Times Square.

"But obviously it is a big deal what is going on. It is not good for football and can't be a part of football. I know [NFL commissioner] Roger Goodell will do a good job of figuring all this out and make sure this doesn't happen again."

According to an NFL report last Friday, an investigation found that former defensive coordinator Gregg Williams and several Saints players employed an illegal bounty system that financially rewarded defensive players for big plays and knocking out opposing offensive players from 2009 to 2011.

The Giants lost to the Saints twice during that span. Last year, they were routed 49-24 in New Orleans. During that game, the Saints were penalized for a roughing-the-passer penalty, two unnecessary roughness penalties and a personal foul. Two Giants players also suffered ankle injuries during that loss, but both were defensive players (Osi Umenyiora and Mark Herzlich).

Wide receiver Hakeem Nicks absorbed a huge hit from defensive back Isa Abdul-Quddus in the third quarter on an attempted catch over the middle. The hit, which Nicks called the first big hit he took in his career, temporarily forced the wideout out of the game and Abdul-Quddus was penalized for a 15-yard personal foul. Nicks did return to the game.

During the second quarter, defensive back Tracy Porter was flagged for unnecessary roughness after Nicks was pushed out of bounds following a catch.

Nicks said he did not remember the Porter penalty but he clearly recalls the Abdul-Quddus hit. The Giants receiver said he took more of an exception to how Abdul-Quddus reacted to the hit rather than the hit itself which he says is a part of playing football.

"I remember," he said when asked about how the Saints defensive back reacted after the hit. "I take notes. I don't think there was nothing more to it. It was me going up for a pass, he had an opportunity to make a hit and he made the hit."

"The way he was celebrating, you would probably think that," Nicks added when asked if looking back now he thought there was a bounty based on Abdul-Quddus' reaction. "But I came back in the game. Playing professional football, you are going to take a hit."

Defensive end Jason Pierre-Paul and safety Antrel Rolle both said the Giants' defense does not employ a bounty system and that they do not try to intentionally hurt offensive players.

"I've never been a part of that," Rolle said. "It is kind of unfortunate that something like that has been brought upon this league. You never want to go out there with the intention to injure another opponent. That is people's livelihoods. There's no price you can put on the health of another opponent."

The Giants' defensive ends do compete with one another to get as many sacks and make as many plays as possible. But Pierre-Paul said the Giants don't try to knock out players on purpose.

"We don't intentionally hurt quarterbacks," the defensive end said. "We just go out there and play the game and play football within the rules. We don't try to go out there and physically hurt quarterbacks and knock them out of the game. Nobody wants to see a quarterback go out on purpose."

"[During Giants games in the 2010 season] we had a whole bunch of quarterbacks [get] knocked out but that was from just playing physical football," Pierre-Paul added. "There wasn't no, go out there and sack this quarterback for $10,000. We just play physical football. Look at our D-line, we are physical."

Manning said he understands that a defense's main goal is to get after the opposing quarterback. But trying to send a player off the field on a cart is inexcusable.

"I hear what Coach [Tom] Coughlin tells our defense about getting hits and I'm kind of sitting there and I know the opposing team is saying the same thing about me," he said. "But when you start talking about injuring a guy and carting him off and trying to possibly end a season or a career, that is not what this game is about. We have more respect for the game than that and it can't be a part of football."
November, 29, 2011
11/29/11
3:26
AM ET
By
Scott Kushner
| ESPNNewYork.com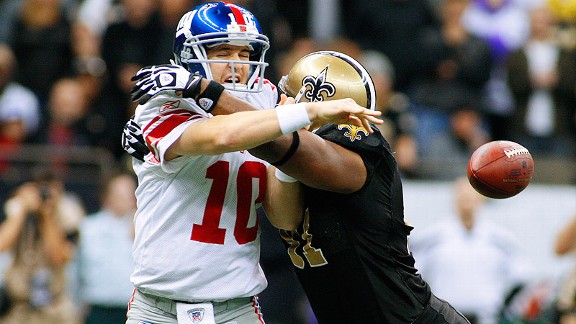 John David Mercer/US PresswireEli Manning and the Giants are riding a three-game skid after their 49-24 loss in the Big Easy.
NEW ORLEANS --
Eli Manning
may want to avoid the Superdome on his next trip home.
In his only two appearances in his hometown of New Orleans, the Giants' quarterback has suffered losses by 25 and 21 points to the Saints.
"We are getting the ball into scoring position but we are just making mistakes," Manning said. "We are having a drop, a missed throw -- just different things that are costing us points. We know when you have an opportunity to score points on a team like the Saints you've got to do it. You can't go backwards."
Manning did manage to walk away with an impressive stat line, completing 33 of his 47 pass attempts for 406 yards and a pair of touchdowns. It was Manning's second career 400-yard-plus performance; he recorded a career-best 420 yards in a loss earlier this season to Seattle.
Without the benefit of a lead or a strong running game (averaging just 3.3 yards per carry), the Giants leaned on Manning to carry the offensive load. He did so without the services of injured starting receiver
Mario Manningham
, running back
Ahmad Bradshaw
and left tackle
Will Beatty
.
Victor Cruz
hauled in nine catches for 157 yards, including a 72-yard touchdown when he got behind and then outran the entire Saints secondary.
Manning completed passes to eight different receivers.
Still, it was a first-quarter interception to New Orleans'
Will Herring
in the end zone, on a pass intended for
Jake Ballard
, that Manning spent the most time discussing after the game.
"The defender just made a good play," Manning said. "We had the right play called down the seam and I threw it up there and the defender made a great play on the ball."
November, 29, 2011
11/29/11
3:17
AM ET
By
Scott Kushner
| ESPNNewYork.com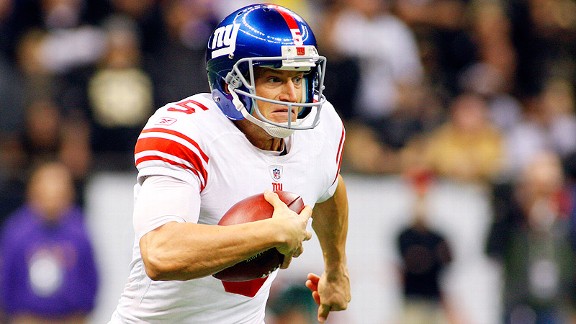 John David Mercer/US PresswireSteve Weatherford's mad dash went nowhere.
NEW ORLEANS --
Steve Weatherford
admits he got caught up in the moment.
Trailing 35-10 midway through the third quarter, the Giants faced a fourth-and-7 at their own 33-yard line. Coach
Tom Coughlin
called for a fake punt.
But when New Orleans' special teams unit came out in its punt-return look, Coughlin tried to change the call from the sideline to a traditional punt.
Instead, Weatherford took the snap and darted to the right in an attempt to pick up a first down. He didn't get far.
A pair of Saints defenders smothered him at the line of scrimmage for a turnover on downs, igniting Coughlin on the sideline.
"It was a called fake punt. We called it off because we didn't have the look we wanted, and Steve claims he didn't get the [changed call]," Coughlin said. "
(Tyler) Sash
turned around and waved right in his face ... and he still took the ball and ran, which was foolish, a very bad play on his part."
Weatherford took responsibility for the miscommunication, claiming his adrenaline distracted him from properly reading the signal.
"I was so excited to get the call and run the fake that I wasn't paying attention to us checking off and planning on punting the ball," Weatherford said. "It was 100 percent my fault. I should have been paying attention to see if we were running it or not.
"I got excited and caught up in the moment and I just didn't catch the call. It's my fault, plain and simple."
This isn't the first time Weatherford has surprised his coaching staff with a fake punt. Last year, as a member of the Jets, he tried to convert a fourth-and-17 from his own 20-yard line and came up just short.
The play infuriated Jets special teams coordinator
Mike Westhoff
, who said Weatherford made the call for himself.
Monday's gaffe was part of an eventful and uneven night for the Giants' special teams.
On the game's opening drive, the Giants' foiled New Orleans' fake field goal attempt, dropping
Jimmy Graham
two yards short of a first down.
The half ended when
Lawrene Tynes
came up slightly short on a 61-yard field goal attempt.
Punter returner
Aaron Ross
dodged a critical mistake when his fumbled punt return was recovered by
Prince Amukumara
at the Giants' 17-yard line.
November, 29, 2011
11/29/11
12:00
AM ET
NEW ORLEANS –- The New York Giants continued their slide in the second half of the season as
Drew Brees
shredded them and
New Orleans cruised to victory
.


What it means:
The Giants have now lost three straight and it looks like the streak may continue with unbeaten Green Bay coming to town next week.
The Giants are now one game behind Dallas (7-4) in the NFC East. A loss to the Packers would drop the Giants to 6-6 heading into Dallas for a prime-time game on Dec. 11. It seems like ages ago that the Giants were 6-2 and coming off a great win at New England.
Defenseless:
The Giants knew they had to get pressure on Brees, but were unable to. Brees dissected the Giants' defense as if he knew
Perry Fewell
's every move beforehand. The Giants' pass rush has barely made any noise in its last two games.
Giant mistakes:
The Giants had to play virtually mistake-free football in a hostile environment like New Orleans. Instead,
Eli Manning
threw a costly interception in the end zone while trying to hit
Jake Ballard
from the Saints' 18-yard line on their first drive of the game.
In the second quarter, false-start penalties on the offensive line stalled two drives. The Giants got three points out of those two drives and trailed 21-3 at the half.
Rookie running back
Da'Rel Scott
also fumbled in the third quarter, setting up New Orleans for a 29-yard touchdown pass to
Jimmy Graham
.
Easy Eli:
Manning put up some nice stats -- he even had a 72-yard touchdown pass to
Victor Cruz
-- but the Big Easy has been anything but that for him. Manning dropped to 0-2 in his hometown.
Giant injuries:
The Giants came into this game without RB
Ahmad Bradshaw
(foot), LB
Michael Boley
(hamstring) and LT
Will Beatty
(eye). Then WR
Mario Manningham
was ruled inactive prior to the game with a knee injury.
The Giants then lost DE
Osi Umenyiora
and LB
Mark Herzlich
to ankle injuries.
What's next:
And the Giants thought Brees was a load to handle. Now they get
Aaron Rodgers
, the NFL's hottest quarterback. Oh, and they get the defending champion Packers on a short week with Green Bay coming off a long rest.