New York Giants:

Nnamdi Asomugha
November, 6, 2013
11/06/13
8:00
AM ET
Your daily morning check-in on news and notes about and of interest to the New York Giants.
The news of the day:
Antrel Rolle went on his weekly radio show and said he thought Jonathan Martin was
just as much to blame
as Richie Incognito for the Dolphins' harassment case. And while I guess you can admire Rolle for confidently expressing and sticking to his opinion, I go the other way. Part of the problem that created the mess in Miami is an NFL locker room culture of player groupthink that condones hazing and allows this kind of behavior to go on at all. Part of Rolle's issue with Martin is that he's a "grown man" and should at some point have stood up for himself. I just think this discussion is off the rails of reality if Rolle is really telling someone to act like a grown man in defense of behavior that's completely childish. Additionally, Martin is a clear victim in this case, and blaming the victim is cowardly... Your time is better spent listening to Tom Coughlin's very good
interview on ESPN Radio

in New York, in which he discusses how he's managed the team through its tough start and what he's doing to try to convince them they're still in the hunt.
Behind enemy lines:
If there's to be a landing spot for Nnamdi Asomugha, who was cut by the 49ers this week, the one that makes the most sense is
likely the Raiders
. Asomugha's former team, with which he rose to stardom and free-agent riches, is in need of some help with rookie D.J. Hayden struggling at cornerback. Worth watching, at least. Not likely to matter to the Giants this week, but interesting nonetheless.
Around the division:
The Redskins, as many of you appear to be well aware, were 3-6 last season and won their last seven to come back and claim the NFC East title. They are 3-5 heading into a
short-week Thursday game
and hoping to position themselves better this year for a second-half run that would come with greater margin for error. It's nice to know you can run the table, but it's also nice to know you don't have to.
Around the league:
When the Power Rankings come out every week, Mike Sando, Jamison Hensley and I host a live video chat where we take viewer questions and debate some things about the Power Rankings.
This is a link to the replay of this week's chat
. I hope you enjoy it. Mike's the only one who didn't put the unbeaten Chiefs No. 1, and he has a detailed explanation.
October, 1, 2012
10/01/12
1:52
AM ET
By
Ian Begley
| ESPNNewYork.com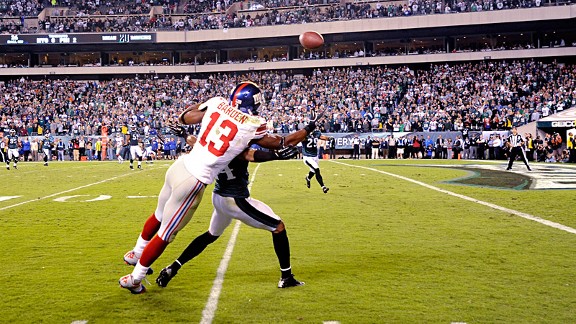 AP Photo/Michael PerezRamses Barden's pass interference call put the Giants' offense out of Lawrence Tynes' comfort zone.
PHILADELPHIA -- You couldn't blame the replacement refs for this one.
Actually, you couldn't blame the real refs either.
The flag on
Ramses Barden
for offensive pass interference late in the fourth quarter had to be thrown.
Barden blatantly grabbed Eagles corner
Nnamdi Asomugha
on a pass thrown down the left sideline with less than 20 seconds to play in Sunday night's 19-17 Giants' loss.
Barden was flagged for pass interference on the incompletion, pushing the Giants back to their own 36 yard line.


"I tried to make a play," Barden said afterward.
As it turned out, he made a play that buried the Giants.
Instead of having a manageable 44-yard field-goal attempt to win the game,
Lawrence Tynes
was forced to kick from 54 yards after Barden's penalty. Tynes missed his first attempt and -- after an Andy Reid timeout gave him another shot -- he missed his second attempt.
After the game, Barden was upset over the call.
"You hate when it comes down to that," Barden said. "I guess I didn't do enough; I just need to do more."
Actually, Barden needed to do less.
He wrapped his hand around Asomugha's chest and wrapped his other hand around the corner's face mask, leaving the referee no choice but to flag him.
Barden hadn't seen a replay before he spoke with reporters in the locker room. But he seemed to think that Asomugha should have been flagged for defensive pass interference on the play.
"I thought it was on him," Barden said. "But what happens, happens. It's done."
Earlier in the Giants' final drive, Barden actually helped put the team in scoring position by drawing two pass-interference penalties -- on a fourth-and-1 and 3rd-and-10 -- to pick up a total of 28 yards.
But he drew the wrong kind of flag when it mattered most.
"It was tough," Barden said of the offensive pass interference. "He had decent position; I'm trying to make a play (and) I guess I got my arm on him."
To be fair,
Eli Manning
put Barden in a tough spot by putting the ball where he did. Tom Coughlin hinted that Manning had other -- more manageable -- options on the play.
But he went to Barden, and Barden got too much of Asomugha.
Barden was asked afterward how tough it was to leave Philadelphia with a loss when the game seemed so winnable.
"You have no idea," he said. "It's a tough one to swallow but we get another shot at them again."
Barden finished with two catches for 36 yards, a far cry from the nine-catch, 138-yard performance he had in Carolina last week.
When asked if he was disappointed that he didn't see the ball more against Philly, he responded: "I don't work like that," he said. " ... If the ball's not coming my way I'm going to block and do what I can to help the team win. I don't play that 'Throw me the ball' stuff."