New York Giants:

orlando scandrick
November, 25, 2013
11/25/13
10:35
AM ET
I mean, I guess you have to admire the
New York Giants
for staying true to themselves. They claim to live by the Tom Coughlin mantra, "Talk is cheap, play the game," but there's not a team in the league that talks more than the Giants do. They yapped and yapped all last week about how they were going to beat the
Dallas Cowboys
.
Jason Pierre-Paul
said blood would be spilled.
Terrell Thomas
guaranteed victory. It was fairly shocking, especially to the Cowboys.
"
I've never heard a team that was 4-6 talk like that
," Dallas cornerback
Orlando Scandrick
said.
So as you've heard by now, the Cowboys won the game. And after it was over, as you'll see in that link up there,
Jason Hatcher
had some fun with the blood thing. The Giants were more or less humble in defeat, with Thomas saying the better team won and most of the players lamenting missed opportunities and a season slipping away.
But then, this morning,
this
from Giants defensive end
Justin Tuck
on Twitter. A photo of Tuck's two Super Bowl rings directed at Cowboys fans who've apparently been after him on his timeline. (And no, I don't think it's any coincidence that the display "finger" in the middle is bare.)
And for all the cowboy fan on my TL pic.twitter.com/eJBOZUKBSt

— Justin Tuck (@JustinTuckNYG91) November 25, 2013
Look. I know how badly I get it on Twitter. I cannot imagine how rough it is for NFL players when fans decide to use the medium to abuse and insult. I'm confident that the Cowboys fans who have been hounding Tuck on Twitter have been completely unbearable. And I'm certainly not always above reacting on there when provoked, though I wish I were.
But Justin. Dude. You lost. Your team talked big all week and then didn't back it up. You kind of have to just eat that, right? I'm not saying life as a high-profile athlete in front of an overly sports-crazed world is easy. It's not. Especially when you lose. But showing off your Super Bowl rings and flipping off a fan base? Seems a little out of place here. Nothing wrong with a little quiet dignity in defeat, right?
It also bears mentioning that this isn't the Super Bowl-deprived Eagles fan base he's taunting. The Cowboys have won more Super Bowls than the Giants have. Sure, the current Cowboys have fallen victim to the Giants' two most recent Super Bowl runs, but taunting this particular fan base with talk of titles won is kind of like waving your checkbook at Bill Gates. No matter how rich you are, he's not impressed.
Anyway, I get that the Giants are hurting, and I don't blame them. I'm just amazed at how, regardless of circumstances, they always seem so chirpy. It's who they are, and I guess it tends to work out for them. But on a day like this, Tuck's rebuttal feels out of place.
November, 25, 2013
11/25/13
8:00
AM ET
EAST RUTHERFORD, N.J. -- An examination of four hot issues from the
New York Giants
'
24-21 loss
to the
Dallas Cowboys
:
[+] Enlarge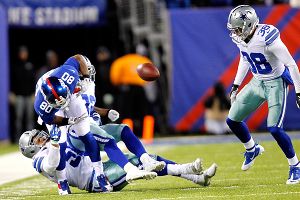 ndrew Mills/The Star-Ledger via USA TODAY Sports"For them to have a touchdown on a play like that," coach Tom Coughlin said of Jeff Heath's return of a Victor Cruz fumble, "is just unbelievable."
The final drive:
Giants defensive end
Justin Tuck
was confused about the team's decision to play coverage on the Cowboys' final drive instead of trying to pressure
Tony Romo
into a mistake. "Maybe we needed to be a little more aggressive and play the way we played the previous four drives," Tuck said. And the fact that Romo converted three third-down throws on a 14-play, 64-yard drive that set up the game-winning field goal supports his theory. I'm not sure I agree, though. Pressuring Romo can create problems due to his ability to keep plays alive with his legs. And the conversions were on third downs of 7, 5 and 10 yards, so they weren't exactly letting him get into easy spots. Sometimes, you just get beaten by a better team and/or player. Romo and the Cowboys made the plays. The Giants didn't.
The fumble:
Giants coach Tom Coughlin made it clear he thought the whistle should have been blown and forward progress ruled before
Orlando Scandrick
stripped the ball out of
Victor Cruz
's hands and into the hands of
Jeff Heath
, who ran it back for the game's first touchdown. "We started off the year knowing full well that the officials were going to blow the whistle this season for every play," Coughlin said. "You hope that the whistle should blow. For them to have a touchdown on a play like that is just unbelievable." Tough spot for the officials, obviously, since what happens if he gets loose and scores a touchdown and you have to bring him back because you ruled forward progress? Surely, the other sideline would have found that unbelievable. Judgment call, but the fact is the whistle hadn't blown and Scandrick made a great play.
The absentee:
Wide receiver
Hakeem Nicks
was inactive for the game after missing practice time during the week due to an abdominal injury he says has been bugging him all season. Nicks was certain as recently as Friday that he'd play. He didn't speak after the game. The fact that the Giants didn't let him suit up obviously intensifies the questions about the remainder of his season and his chances of returning to the team next year.
The math:
The Giants could still win their final five games and finish 9-7, but even if they did, that wouldn't guarantee them a playoff spot. As
Prince Amukamara
said after the game, the Cowboys have four division wins (two against the Giants), and the most the Giants can get is three. The Eagles also hold a tiebreaker edge over the Giants. Their chances of catching and passing either of those teams are insanely slim. Their chances of catching and passing both are inconceivable. The residue of the 0-6 start is a complete lack of margin for error. They couldn't lose another game, and they just did.