New York Giants:

Percy Harvin
October, 25, 2014
10/25/14
10:00
AM ET
A
New York Giants
bye week doesn't mean a break from the Twitter mailbag. And thanks to your curious and judicious use of the #nygmail hashtag, here it is.
@DanGrazianoESPN Bye-week query: is next year's O-Line currently on the roster, or will the G-men seek new big boys via draft / FA? #nygmail

— Matthew DeCapua (@mdecapua1) October 22, 2014
@Dan GrazianoESPN:
The Giants are going to have a decision to make next offseason on left tackle
Will Beatty
, who carries a cap number of $8.05 million in 2015 and $9.175 million in 2016. They could get out of the deal, if they wanted to, by making Beatty a June 1 cut next year. This could happen if (a) he doesn't play better, (b) they think
Justin Pugh
is ready to move to left tackle, (c) they find a better and cheaper tackle solution in the draft or (d) all of the above. If they decide to stick with Beatty, then you have to figure that at least four-fifths of next year's line is already on the team in Beatty, Pugh,
Geoff Schwartz
and
Weston Richburg
, and center J.D. Walton has a two-year contract, too. Now, can any of those spots be upgraded? Of course. And it's never a bad idea to look for building-block pieces on the offensive line early in the draft. Look at that
Dallas Cowboys
line that's getting all of that positive attention. Three of its starters were first-round picks in the last four years. It's no coincidence. If you invest in top-level talent on the line, it pays off. The Giants have shied away from doing that in recent years, but by picking Pugh in the first round in 2013 and Richburg early in the second this year, they're at least trending toward sensibility there. It wouldn't be crazy for them to add a key piece to the line next year via the draft or free agency.
@DanGrazianoESPN how many franchises does Eli still have left to defeat? #nygmail

— Sean Movelle (@SeanMovelle) October 23, 2014
@Dan GrazianoESPN:
Other than the Giants (whom he's never played, obviously), the only three NFL teams
Eli Manning
has not yet defeated are the Colts (0-2), the Chargers (0-3) and the Titans (0-2). The first two are interesting connections, since Manning's big brother played for the Colts in both of those games and the Chargers are the team that drafted him and for which he famously did not want to play. I have no idea how to explain the 0-2 against the Titans. But the Giants do play both the Colts and the Titans this year, so there exists the chance that, by the end of the season, San Diego will still be the only opponent Manning has not defeated in his NFL career.
@DanGrazianoESPN #nygmail is jerry Reese on hot seat due to recent lackluster drafts? Prince is only one who has progressed.

— Lou (@DEFjoka87) October 23, 2014
@Dan GrazianoESPN:
I feel like I've answered this question a lot, but I guess not enough people have read my answers. Giants GM Jerry Reese is not on any sort of hot seat, nor in any danger of losing his job. The Giants do not fire general managers. They have employed a grand total of three of them in the past 36 years. They believe strongly in the importance of continuity in leadership positions, and they are pleased with the job Reese has done overseeing the direction of the franchise. They will not fire him because he's been a poor drafter, though you are correct in saying he has been. Since Reese took over as GM in 2007, only three Giants draft picks (
Ahmad Bradshaw
, Will Beatty and
Zak DeOssie
) have signed second contracts with the team. Reese has delivered Super Bowl titles but has not found building blocks in the draft, and that's the reason last year's roster was so hollowed-out and required a free-agent-centric offseason rebuild. The record is what it is, and it's not good. But rather than fire him and start over, the Giants will leave it to Reese to re-evaluate the manner in which the draft is orchestrated and make changes as need dictates.
Prince Amukamara
, the 2011 first-round pick you cite here, has a chance to stick around, as does 2010 first-rounder Jason Pierre-Paul. The way this year goes for both of those players (who are both off to good starts) will dictate whether either or both can earn a contract extension in the offseason. And if they become long-term building blocks, Reese's draft record has a chance to start looking a bit better than it does right now.
Thanks for all of the questions. Enjoy a weekend without angst.
December, 14, 2013
12/14/13
2:00
PM ET
The 5-8
New York Giants
host the 11-2
Seattle Seahawks
on Sunday at MetLife Stadium in a 1 p.m. ET game. Here are four things to watch for in the game between a Giants team that has no playoff hopes and a Seahawks team that looks like a favorite to be back at MetLife Stadium for the Super Bowl in early February.


Rough week for Eli?
The Seahawks have the No. 1 pass defense in the league, allowing just 175.6 passing yards per game.
Eli Manning
and the Giants' passing game have struggled through a rough season, averaging just 234 pass yards per game. Led by 6-foot-3 cornerback
Richard Sherman
and 6-3 safety
Kam Chancellor
, the Seattle secondary is big and physical and should beat up the Giants' receivers all game. The ability of
Hakeem Nicks
,
Rueben Randle
and
Victor Cruz
to withstand that beating will determine whether Manning can find success downfield. It would qualify as one of the week's larger upsets.
Look out for Lynch:
Seattle has the No. 3 rushing offense in the league, mainly because of monster running back
Marshawn Lynch
. Giants defensive linemen spoke in relative awe this week of Lynch as a running back it takes a whole team to tackle. "It takes more than one person to bring him down,"
Cullen Jenkins
said. "You've got to get 11 guys to the ball. You can't just leave one person hanging out to dry to try to bring him down himself, because he's a tough back, strong, fast, quick. He'll make you miss." After allowing 144 yards on 40 carries to the Chargers last week, the Giants have been paying extra attention to the run fits for their linebackers and safeties this week. It'll be more important than ever. One thing to note: Of the top 12 rushers in the league so far this year, Lynch will be the 10th the Giants have faced. (And next week,
Reggie Bush
will be the 11th. The only one they won't face this year is San Francisco's
Frank Gore
.) The Giants are 11th in the league in run defense, allowing 105.4 rush yards per game.
Road worriers:
If you've seen the Seahawks on TV this year, chances are it's been a prime-time home game, and they've looked fantastic. The Seahawks' average scoring margin in their home games, of which they have won all six, is 18.7. But in their seven road games (in which they are 5-2), it's just 5.7. So they don't always look unbeatable on the road, where they've lost in Indianapolis and San Francisco and won by less than a touchdown in Carolina, Houston and St. Louis.
Wide receiver matchups:
Seattle's
Percy Harvin
is still injured and will miss this game, so the big wide receiver weapons with whom the Giants' defensive backs will have to contend are
Doug Baldwin
and
Golden Tate
. Keep an eye on Tate, the fourth-year wide receiver out of Notre Dame. He's eligible for free agency after this season, and the Giants could be looking for help at that position, especially if Nicks leaves as expected.
July, 11, 2013
7/11/13
12:30
PM ET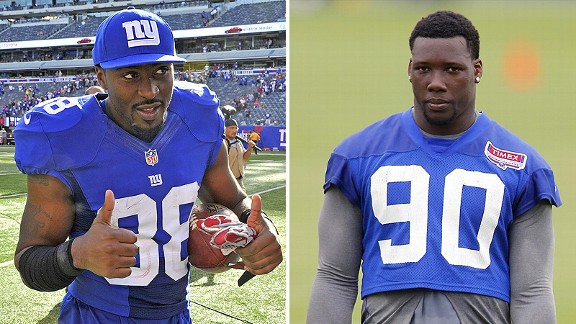 AP Photo, USA Today Sports ImagesGiants stars Hakeem Nicks, left, and Jason Pierre-Paul will be need new contracts in the near future.
The proverbial ink had yet to dry on
Victor Cruz
's
New York Giants
contract extension and people were already asking about
Hakeem Nicks
, who will need a new contract himself before the 2014 season begins and is likely going to cost more. This time next year, whichever way the Nicks situation has resolved itself, people are going to be asking about
Jason Pierre-Paul
, another young superstar who's going to need a long-term deal if the Giants want him to be part of their long-term foundation. And they're going to want to know what the Giants are doing about safety and cornerback -- two positions on which they've shown a desire to spend during the salary-cap era. Cruz wasn't the first sticky financial situation the Giants have encountered in recent years, and tons more loom on the horizon.
The issue that complicates all of these matters is the contract of quarterback
Eli Manning
, who is scheduled to cost the Giants $20.85 million against this year's cap, $20.4 million against next year's, and $19.75 million against the 2015 cap. The Giants are perfectly happy to commit such a large percentage of their cap to a quarterback who wins them a Super Bowl every four or five years, and justifiably so. Manning's deal is not out of line or regrettable. But it is an issue around which the Giants find themselves needing to work, and it is going to force some tough decisions in the next couple of years.
There's a real dichotomy developing between the teams that commit huge cap numbers to their established veteran quarterbacks (Giants, Broncos, Saints, Cowboys, Ravens, Packers ... Lions, I guess, now) and the newly minted contenders whose quarterback costs are low. Teams such as the 49ers, Seahawks and Redskins have some of the most talented quarterbacks in the league locked up for a small fraction of their cap costs.
Colin Kaepernick
is costing San Francisco $1.398 million against this year's cap and $1.63 million against next year's.
Russell Wilson
's cap cost to the Seahawks over the next three years is scheduled to average $817,302 per season.
Robert Griffin III
costs the Redskins about $4.8 million against this year's cap, about $5.76 million against next year's -- big numbers compared to Kaepernick and Wilson, but nothing compared to Manning and
Drew Brees
.
This is why the Seahawks can trade a first-round pick for
Percy Harvin
and sign him, why the 49ers can counter with an
Anquan Boldin
pickup, why the Redskins will be able to be active in free agency next year when their cap penalties are behind them. Having a franchise quarterback who costs less than 1 percent of the salary cap, as Wilson costs the Seahawks, is like finding free money when you're competing for players against a team whose quarterback costs 17 percent of the salary cap, as Manning costs the Giants. There's no quarterback in the league with a higher 2013 cap cost than Manning's.
Tony Romo
of the
Dallas Cowboys
is the only one who currently has a higher projected 2014 cap cost than Manning's. Romo, Brees and
Peyton Manning
are the only ones currently scheduled to cost more against the cap in 2015.
Such is the Giants' financial reality. Manning deserves his contract. They've built the team around him and he has rewarded them with remarkable durability, unassailable character and championship performance. But the fact of his contract means they have less money with which to build the rest of their roster, and that this annual cap crunch they face is going to remain an issue as long as Manning is their man.
There is relief to be had next year with the expiration of contracts such as
Justin Tuck
's and
David Diehl
's. But players such as
Chris Snee
,
David Baas
,
Mathias Kiwanuka
and
Antrel Rolle
carry massive 2014 cap numbers and probably all can't be kept. Each is a significant starter and would have to be replaced while Nicks and Pierre-Paul are lining up for their big paydays. The Giants have paid good money for defensive backs, believing the secondary to be a priority position. Can they continue to do that, or do they need to go cheap at cornerback and/or safety? How badly do they need
Damontre Moore
to develop as a pass-rusher so they can save money there in the coming years? Can they rebuild the offensive line on the cheap? They won't be able to answer all of those questions exactly the way they want to, and the decisions they make aren't going to come with much margin of error.
Again, they're not alone. Not even in their own division. The Cowboys deal with this same problem all the time, often as a result of decisions far worse than the one the Giants made to commit to Eli Manning. This isn't a criticism of the team, just a warning to its fans that things are going to continue to be tricky in the coming offseasons, and the Giants are going to have to rely more than ever on their ability to draft and develop players to fill gaps they can't afford to fill because of cap concerns.
Cruz should be flattered, honestly. He might not have ended up with the contract he wanted from the Giants, but the deal he got is significant. And because they know they can't pay everyone they want to pay, the Giants didn't offer it lightly. Cruz can take the Giants at their word when they say they value him and want him to be a part of their long-term plan. The deal they gave him proves it. They won't be able to make good on that promise to everyone.