New York Giants:

Phil Simms
July, 11, 2014
7/11/14
10:00
AM ET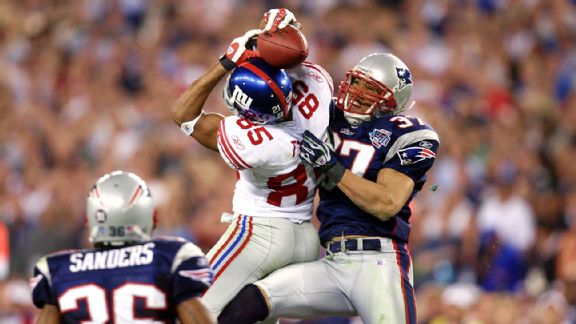 John David Mercer/USA TODAY Sports
Score
: Giants 17, Patriots 14
Date
: Feb. 3, 2008.
Site
: University of Phoenix Stadium.
This was not a difficult call for me. The third-down
Eli Manning
pass that David Tyree caught against his helmet in the waning minutes of the Super Bowl XLII victory over the
New England Patriots
had to be the winner for most memorable play in
New York Giants
history.
The helmet catch was a runaway winner in fan balloting, pulling in more than 70 percent of the votes.

The other two nominees came in Giants losses. That surely doesn't disqualify them as "memorable," and it's not as though the Giants' history doesn't have its share of lean times. But this is a franchise that has won four Super Bowls, and it seems to me that the winning play should come from one of those.
So what are the possibilities? The Phil Simms Super Bowl doesn't really have a standout play. It was a thrashing from the start. The most memorable play from the second Bill Parcells Super Bowl win was a missed field goal by the
Buffalo Bills
' Scott Norwood at the end of the game. And while
Mario Manningham
's sideline catch in Super Bowl XLVI was an all-time play, I rate the Tyree play ahead of it because of the difference in the significance of those two Super Bowls in NFL history.
The first Manning/Tom Coughlin Super Bowl was one of the greatest upsets in the history of sports, the Giants coming from behind against a Patriots team that was 18-0 and had set multiple offensive records. Also, the play had more to it than the helmet catch, as Manning had to escape what looked like a sure sack in order to get the throw off.
The Giants converted a fourth down earlier in that drive and would have to convert another third down later in it to keep their hopes alive before Manning connected with Plaxico Burress for the game-winning touchdown. But the Tyree play was so brilliantly improbable, so incredibly clutch on both ends and so significant in changing the history of the NFL (the 2007 Patriots would have plausibly been able to call themselves the greatest team ever) that it had to be the winner.
February, 13, 2014
2/13/14
9:00
AM ET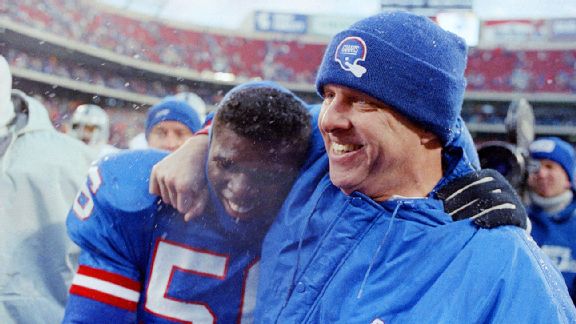 AP Photo/Ray StubblebineLawrence Taylor and Bill Parcells elevated the Giants franchise in the 1980s.
"Mount Rushmore" was a big thing on ESPN Wednesday.
LeBron James
spoke about his belief that he will end up
on the NBA's Mount Rushmore
, meaning one of its four all-time great figures, and so we spent some time on various platforms debating other Mount Rushmores.
Jeff Saturday
went on "SportsCenter," for instance, and gave his all-time foursome of NFL offensive linemen.
So we had this idea to look at the
New York Giants
' Mount Rushmore and who would be on that. I put it to my Twitter followers, and in a very unscientific poll of responses, this is what you gave me:
Lawrence Taylor, 42 votes
Eli Manning
, 30 votes
Michael Strahan
, 23 votes
Bill Parcells, 17 votes
That's a fine Giants Mount Rushmore. And while Strahan is the franchise's all-time sacks leader, I think his vote total must be inflated by his recent election to the Hall of Fame and the likelihood that my Twitter followers trend young.
I think Taylor is the all-time no-brainer, the greatest defensive player the league has ever seen and a candidate for most dominant player of all time at any position. He's the slam-dunk guy for this list. Manning, a two-time Super Bowl MVP and the franchise's all-time passing leader, is pretty close to a no-brainer as well. And Parcells, who coached the Giants to their first two Super Bowl titles, is obviously a strong choice.
But for Strahan's spot, I might look at the next few guys on the list you came up with on Twitter:
Wellington Mara, 12 votes
Frank Gifford, 8 votes
Tom Coughlin, 8 votes
Phil Simms
, 8 votes
Sam Huff, 6 votes
Harry Carson, 4 votes
Y.A. Tittle, 3 votes
Huff is the guy I had my eye on for the fourth spot. He played eight years for the Giants from 1956 to '63 and then five for the Redskins after that. He was a middle linebacker who played in five Pro Bowls (four as a Giant) and was a dominant defensive star in an era before they played Super Bowls or kept sack totals. Obviously, I never saw him play, but he seems to fall into the category of all-time great Giants who may not be the first name to rush to the minds of modern Giants fans when we do an exercise like this.
Mara is an interesting case as a transcendent NFL figure and a father of the franchise (someone suggested Tim Mara as well), but we already have a coach on there, and I wasn't too keen on another nonplayer. Coughlin makes a case as a better all-time Giants coach than Parcells was, but Parcells gets the nod as the coach who put the Giants on the map as a Super Bowl championship-caliber team.
Gifford falls into a similar category as Huff -- did you know he's second in franchise history in receiving yards? -- and of course Simms is the guy whose passing records Manning broke. Tittle and Charlie Conerly probably deserve more love than they got as well.
So in conclusion, I think I'd go Taylor/Parcells/Manning/Huff, but the Giants' franchise has enough history to make this a fun debate. What do you think?
October, 27, 2013
10/27/13
1:44
PM ET
Eli Manning
is the all-time passing leader in
New York Giants
' history.
Manning surpassed
Phil Simms
for the top spot on the franchise's all-time passing yardage list (33,463) when he completed a six-yard pass to
Victor Cruz
on the team's second drive Sunday.
Simms, who played 14 years with the Giants, finished his career with 33,462 passing yards.
Manning came into Sunday's game against the
Philadelphia Eagles
with 33,448 career passing yards. He also holds the franchise's all-time records for attempts, completions and touchdown passes.
PHILADELPHIA --
October, 7, 2013
10/07/13
8:00
AM ET
Your daily morning check-in on news and notes about and of interest to the New York Giants:
The news of the day
: A 36-21 loss to a terrible
Philadelphia Eagles
team that had to play its backup quarterback for the whole second half dropped the Giants to 0-5 for the first time since the replacement-player season of 1987 and the first time in a non-strike year since 1979. You don't hear a lot about the
1979 Giants
, so here you go: The fifth game of that 0-5 start was the NFL debut game of quarterback
Phil Simms
, who piloted the Giants to four straight wins thereafter and a 6-10 record for the season. Their leading rusher that year was fullback Billy Taylor with 700 yards and seven touchdowns. Earnest Gray led the team with 537 receiving yards on 28 catches. Linebackers Harry Carson and Brad Van Pelt and punter Dave Jennings were the team's only Pro Bowlers. Yes, the current Giants are proving themselves
worthy of these types of comparisons
. It's that bad. And the scariest part of it, may be that,
as Ian O'Connor writes
,
Eli Manning
appears to be cracking under the pressure.
Behind enemy lines:
Nick Foles
looked good in relief, but Eagles coach Chip Kelly says
Michael Vick
will
remain his starting quarterback
if and when he gets that hamstring healthy. Which is fair. Can't anoint a guy just because he beat the Giants. Look what happened to
Cam Newton
on Sunday. Giants are fools gold for opposing offenses and defenses alike.
Around the division:
The game of the day was of course Cowboys-Broncos, which the Cowboys lost 51-48 when
Tony Romo
threw an interception late after an otherwise brilliant game. The loss to the Broncos, who are 3-0 against NFC East teams with the Redskins still to play, dropped the Cowboys to 2-3 and in a first-place tie with the Eagles. I still think Dallas has a
good team that doesn't know how to win
, and that the other three teams in the division are bad teams. And I know which one I'd rather be.
Around the league:
For me, the most impressive win of the day was the
comeback victory
by
Andrew Luck
and the Colts over the previously undefeated Seahawks. I don't want to give anything away, but I'm thinking those Colts get a bump this week's Power Rankings and that young Mr. Luck makes an appearance on this week's MVP Watch.
November, 13, 2012
11/13/12
3:43
PM ET
Eli Manning
is in a slump and
Phil Simms
thinks it has nothing to do with the
possibility of a tired arm
.
The former Giants quarterback and CBS football analyst said on "NFL Monday QB" on CBS Sports Network that he doesn't believe Manning is an elite quarterback.
"No, he is not one of the elites," Simms said on the show when the topic of Manning being elite came up. "Because when I hear the word elite, I'm thinking about guys that can make unbelievable plays on the field by themselves. There are very few quarterbacks in that category.
"I always bring up
Aaron Rodgers
," Simms continued. "He is one of them. So yes, Eli has been a tremendous team player. He has been MVP of the Super Bowl twice. I know that. But the way I look at it, the answer is no."
Dan Fouts, the former Chargers star quarterback, disagreed.
"You can't spell elite without Eli," Fouts said. "The pressure situations that Eli has thrived in over his short career, in my mind, make him an elite quarterback. Because that is when you're judged. How well do you do when the pressure is on, when you've got to win the game? And all you have to do is look back at his two Super Bowl wins and the way he beat the Patriots. I have to give him a nod and say Eli is elite."
What do you guys think of what Simms had to say about Eli? Tell us below.
September, 15, 2011
9/15/11
5:22
PM ET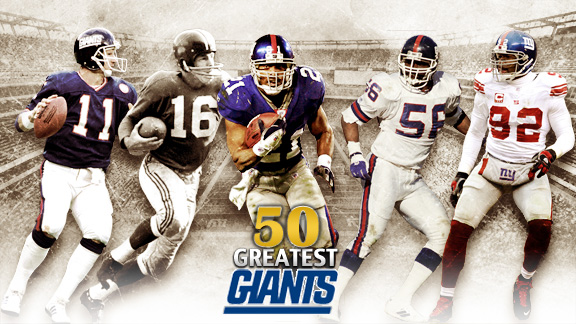 ESPN.com illustration
The list: 50 Greatest Giants

Rank 'Em: Your top 20 »
As the G-Men get ready to play the St. Louis Rams on the next edition of "Monday Night Football," ESPNNewYork.com is proud to announce its list of the 50 Greatest Giants.
Putting this list together was a tall order, considering Big Blue's long and storied history, which includes three Super Bowl wins.
There is plenty of room for debate -- in terms of who we selected, and in terms of what order we placed them in. And we welcome your feedback! Feel free to use the comment feature below.
We wanted to include a wide range, in terms of positions. And we certainly could have included at least a couple more current Giants -- in fact, two of them just missed the cut. But they've got some time left in their careers, and will likely make this list when it's all said and done.
Who are they? We'll, why don't you take a guess?
With that said, let 'er rip! Enjoy the photo gallery, and use our list ranker to assemble your very own top 20.
December, 19, 2010
12/19/10
6:34
PM ET
By
Jason McCallum, ESPN Stats
and
Information
Sunday's wild game was the Eagles' first visit to New Meadowlands Stadium, and it reinforced a theme in this NFC East rivalry:
No matter where they play, the Eagles enjoy visiting the Giants and stealing games late.
Oct. 19, 1978Miracle at the Meadowlands
The Giants led 17-12 and offensive coordinator
Bob Gibson
inexplicably called for a run play -- with 31 seconds left and 30 ticks on the play clock -- instead of a kneel-down. Quarterback
Joe Pisarcik
tried to hand off to
Larry Csonka
but fumbled the exchange. The ball bounced to defensive back
Herm Edwards
, who ran into the end zone for the game-winning score.
Nov. 20, 1988Eagles return blocked kick for TD, win in OT
After the Eagles scored a touchdown midway through the fourth quarter to tie the game and force overtime, they lined up in OT for a potential game-winning field goal from 30 yards out. The Giants blocked
Luis Zendejas'
kick, which went right into the hands of the Eagles'
Clyde Simmons
, who ran the ball in for a score to win the game.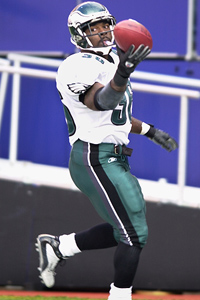 AP Photo/Chris Gardner
Brian Westbrook scores on the 84-yard punt return that sunk the Giants on Oct. 19, 2003.

Dec. 3, 1989Cunningham's 91-yard punt changes game
The Eagles and Giants were tied at 17 in the fourth quarter when Philly had a third-and-long at its own 2-yard line. So what did the Eagles do? They had
Randall Cunningham
punt the ball -- and it went 91 yards, totally changing the field position in the game. On the Giants' ensuing possession,
Phil Simms
was sacked by
Mike Golic
and fumbled the ball. That led to an Eagles touchdown that proved to be the game winner.
Oct. 19, 2003
|
Recap
Westbrook's punt return wins it
With 1:16 left,
Brian Westbrook
took a punt back 84 yards to lift the Eagles to a 14-10 win at the Giants. The Eagles hadn't scored or mustered much offense since Westbrook had a TD run in the first quarter.
Dec. 19, 2010
|
Recap
Eagles score 28 unanswered points to win
The Eagles make themselves at home in their first game at New Meadowlands Stadium, this time scoring a franchise-record 28 points in the fourth quarter. All 28 came within the final 7:28, bookended by a 65-yard TD reception by
Brent Celek
and a 65-yard punt return by
DeSean Jackson
on the last play of regulation.