New York Giants:

Rex Grossman
December, 23, 2011
12/23/11
1:35
PM ET
»
NFC Final Word
:
East
|
West
|
North
|
South
»
AFC
:
East
|
West
|
North
|
South
Five nuggets of knowledge about Week 16:
Wow, does something have to give:
The
Minnesota Vikings
have played nine games in a row without intercepting a pass -- the longest such streak in the league since the NFL-AFL merger. Their six interceptions for the season is the lowest total in the league, obviously. But this week they get to face
Washington Redskins
quarterback
Rex Grossman
, who has thrown at least one interception in 10 straight games and whose 18 interceptions for the season are one short of
Ryan Fitzpatrick
's league lead -- remarkable considering Grossman has played in only 11 games. One of these streaks ends Saturday. Which way are you betting?
[+] Enlarge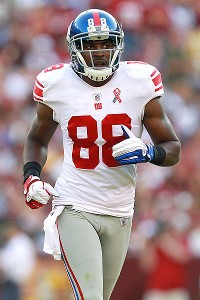 Ronald Martinez/Getty ImagesHakeem Nicks and the Giants' receivers are among the NFL leaders in dropped passes.
Third and wrong:
The
New York Giants
are working on a streak of five games in which their opponent has converted at least 50 percent of its third-down opportunities. That's the longest such streak since the merger, and the Giants are 1-4 in those games. The good news is that the Jets' third-down conversion percentage of 36.5 is only the 18th-best in the league, much worse than that of any of the five teams the Giants have played during that stretch.
Hang on tight:
Even if the Giants' offensive line can keep the Jets away from quarterback
Eli Manning
, Manning will need his receivers to catch the ball. According to ESPN Stats & Information, Giants receivers have 28 dropped passes this season, second-most in the league behind the
Cleveland Browns
.
Hakeem Nicks
' drop of what would have been a long touchdown pass early in the Week 15 loss to Washington stands out, but the team has five drops in the past two weeks.
Victor Cruz
leads the team with seven this season, and Nicks,
Jake Ballard
and
Mario Manningham
have five.
Thank the big guys up front:
Philadelphia Eagles
running back
LeSean McCoy
is in the midst of a special and historic season, having already set a team record with 20 touchdowns and amassed 1,579 yards from scrimmage. But a large part of his success as a runner is due to the job the Eagles' offensive line has done blocking for him. According to ESPN Stats & Info, McCoy leads the league in the percentage of his yards that are gained before initial contact -- 64.4 percent. Of his 1,274 rush yards, 820 have come before he has been hit. McCoy is extremely shifty and excels at finding his way through holes. But his line is also doing a great job of making those holes for him.
Playing clean:
Dallas Cowboys
quarterback
Tony Romo
has played three games in a row without throwing an interception and has just two interceptions (against 18 touchdown passes) in his past seven games. If he can avoid turning the ball over against the Eagles, the Cowboys will greatly improve their chances of winning. Philadelphia leads the league with 35 turnovers, and its minus-12 turnover margin is the second-worst in the league.
December, 15, 2011
12/15/11
1:37
PM ET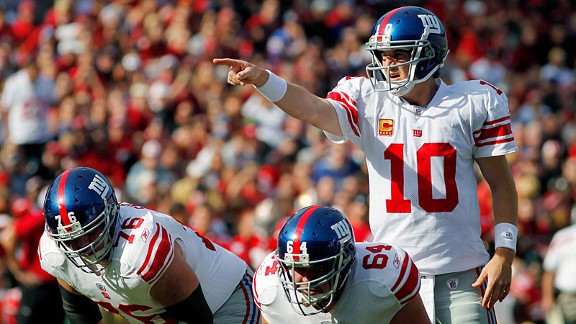 Cary Edmondson/US PresswireQB Eli Manning has led a game-winning drive in six of the Giants' seven victories this season.
What's different this week for the
New York Giants
is that the guy who throws the ball for the other team doesn't go to the Pro Bowl. He doesn't have three stud receivers and a big-time tight end.
Rex Grossman
and the
Washington Redskins
have played admirably in spite of a crushing rash of injuries, but when you play the Saints, Packers and Cowboys in three consecutive weeks, the Redskins' array of offensive weapons doesn't terrify you.
What's the same this week for the Giants, however, is their own list of flaws and issues. They might get star safety
Kenny Phillips
back, but he's not going to magically fix every coverage problem they had Sunday night in Dallas. They still have to wonder whether they'll get anything from the run game, enough from the pass rush, and whether the offensive line can hold up for a third straight shorthanded week. After beating the Cowboys to move back into first place with three games to go, the Giants are in the driver's seat. But the "check engine" light is still beaming at them from the dashboard.
The Giants don't care, however, that the schedule appears to get easier at this point. And although coach Tom Coughlin has called the secondary a "grave concern," in general the Giants don't worry too much about what people perceive their problems to be. There is one important aspect of the Giants that makes them extremely comfortable right now, regardless of the situation. And that is
Eli Manning
, who's the most constant and reliable element of their team.
"The thing that has been impressive with Eli is that the running game has not been as productive as it was a year ago because of injuries and yet he has still taken the bull by the horns," Redskins coach Mike Shanahan said on a conference call with New York reporters Wednesday. "He is playing exceptionally, just going through his reads, and if you look at the sacks, touchdown-to-interception ratio, usually when someone does that it means the running game is going good and the passing game is going good. Even though it may be because of injuries, he has really taken over and done a fantastic job."
Manning is the Giants' Most Valuable Player and one of the most valuable players in the league. He has become, without question, the most clutch quarterback in the NFL. He has led six game-winning drives this year for a team that has only seven wins. Five of those drives brought the team back from fourth-quarter deficits. In short, when the Giants win, it's because of Manning. Without him, they'd be competing with his injured brother's team for the rights to draft Andrew Luck.
"He's just always the same," Giants guard
Chris Snee
said after Sunday night's win. "I think that's what makes him great. Obviously, he's got great ability, but the fact that he's always the same guy in the huddle, on the sideline, no matter what's going on. That's just so important when you're playing games like this and you're trying to win games in December."
I've always thought it was a myth that so-called "clutch" players actually raised their game in big-time situations. I think a clutch player is one who remains the same in situations that cause less mentally tough players to make mistakes and underperform. I covered Derek Jeter with the Yankees for a number of years, and that's how I'd describe him. He's always the same, no matter the situation. He doesn't get rattled and doesn't let the magnitude of the moment affect him at all, let alone rattle him.
Manning is that kind of player, which is why, when the ball is in his hands in the fourth quarter, he (and, by extension, his teammates) can be so cool. He's not thinking, "Oh my God, we're running out time! Do we spike it here or do we run a play? Oh, man, I hope I don't mess up." He has the ability to just keep playing football, the way he knows how to play it, no matter what's going on around him.
"He makes it simple and he has the confidence in us," Giants receiver
Hakeem Nicks
said this week. "We are to the point in our offense where we know what we're doing, and he knows that we know what we're doing. It's more confidence now, and he's putting the ball out there and letting us go get it."
The next assignment is the Redskins, a division rival who beat the Giants in Week 1 and got their season off to an ugly start. The Giants could be thinking about revenge. They could be letting down after a brutal schedule stretch. They could be anywhere on the emotional spectrum between those two poles, and there are players in their locker room who are and who will spend the week swinging between them. But no matter what happens, no matter how they play on defense and no matter what the Redskins throw at them Sunday, the most important thing that's the same for the Giants this week is the guy playing quarterback. And they know, if the game is within reach in the fourth quarter, they like their chances with Eli Manning throwing the ball.
December, 14, 2011
12/14/11
2:38
PM ET
A battle of logic has broken out before a football game.

On Tuesday, Giants safety Antrel Rolle said on his weekly spot on WFAN that the Giants would win 99 out of 100 games against the Redskins. He upped the total from September, when he said following a Giants loss to Washington that they would win 95 times out of 100.

On Wednesday, Redskins quarterback Rex Grossman responded and not surprisingly found some flaws in Rolle's proclamation.

"It is the NFL and nobody is going to beat anyone 99 out of 100 times," Grossman said on a conference call. "I am confident about where we are. We haven't finished games lately and we need to finish and everything should take care of itself. I understand that there is a lot of pride in the NFL and a lot of people go about their business with a lot of pride and ego and we do the same thing."

Grossman will get his chance to prove Rolle wrong on Sunday as he and the Redskins will go for the season sweep of the Giants when the two teams meet at 1 p.m. Grossman threw for 305 yards and two touchdowns in a 28-14 Washington win.

"I don't care about playing the role of spoilers," Grossman said. "I play this game to win. You put so much energy and effort into each week that winning the game and feeling good after the game each Sunday and being proud of what you accomplished, that is plenty of motivation. You are playing for pride and going out there and trying to win and that's really all the motivation you need as far as I'm concerned. If we are spoilers in the process, it doesn't give you any gratification. It is good to go win.'

In what has been an up and down season for Grossman, who even lost his starting job during the middle of the year, one his brightest spots came against the Giants. Grossman completed 21-of-34 passes (just one of four times this season he completed more than 60 percent of his passes) and posted a 110.5 quarterback rating, his highest of the season.

This time around, the Redskins bring a much different offense into town on Sunday as they try to make Rolle eat his words. Roy Helu is now the starting running back, instead of Tim Hightower, who was placed on IR, and the team is without the services of tight end Fred Davis, who is suspended. Davis torched the Giants for a season-high 105 yards on five catches in the first meeting. The offensive line has also been saddled with injuries.

That doesn't mean the Redskins are going to go down with a fight, though.

"We just need to continue to establish our identity and what this offense, defense and special teams are trying to become," Grossman said of his team's up-and-down season. "We have played well but playing well in the NFL is only going to allow you to be competitive. We need to finish games and it at all possible to dominate some games to get where we need to be."
November, 25, 2011
11/25/11
1:42
PM ET
»
NFC Final Word
:
East
|
West
|
North
|
South
»
AFC
:
East
|
West
|
North
|
South
Five nuggets of knowledge about Week 12:
Redskins will have to (gulp) throw.
The
Seattle Seahawks
are allowing 100 rushing yards a game (the eighth-lowest figure in the league) and only 3.5 yards a carry (the fourth-best figure in the league). Meanwhile, the
Washington Redskins
, for whom the running game was such a big key in their early-season success, have become one of the worst rushing teams in the league. Their 83 rushing yards a game ranks better than only two teams -- the
New York Giants
and the
Tennessee Titans
-- and their 3.7 yards a carry ranks 27th. They're also not committing to the run the way they intended to, as only two teams in the league -- the Colts and the Buccaneers -- have had fewer rushing attempts. This is clearly not the week for the Redskins to get their run game back on track, which means the passing game and
Rex Grossman
. The good news there is that, according to ESPN Stats & Information, the Redskins are averaging 10.6 more pass yards per game and 8.1 more points per game with Grossman as the quarterback than they were when
John Beck
was the quarterback.
Weird, likely irrelevant historical note.
The game between the
Philadelphia Eagles
and the
New England Patriots
is the 13th matchup this season between teams that have played each other in the Super Bowl. That bodes ill for the Eagles, who lost to the Patriots in Super Bowl XXXIX, because only three of the previous 12 rematches have gone to the team that lost the Super Bowl matchup. The Packers beat the Broncos this year, and the Bills and Dolphins both beat the Redskins, though the Dolphins-Redskins game gets an asterisk because they met in two Super Bowls and split them. Either way, if you're the Eagles,
Terrell Owens
isn't walking through that door. And
Tom Brady
is.
[+] Enlarge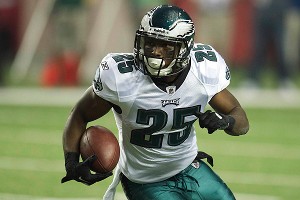 Dale Zanine/US PresswireLeSean McCoy's 3.61 rush yards per attempt before contact is the third-best figure in the league this season among runners with at least 50 attempts.
Eagles should get some push.
Eagles running back
LeSean McCoy
is thriving with the help of one of the best run-blocking offensive lines in the league this season. ESPN Stats & Info says McCoy's 3.61 rush yards per attempt before contact is the third-best figure in the league this season among runners with at least 50 attempts. The good news this week is that the Patriots give up 2.74 yards per contact to opposing runners, which is the sixth-highest number in the league. So if the Eagles commit to the run, they have a chance against Brady and the Pats. Of course, that's a fairly big "if"...
Jacobs not toughing it out.
I've said many times here, and still believe, that the Giants' run-game problems are thanks to the poor performance of their offensive line and that people have been too hard on
Brandon Jacobs
and the running backs. However, there is some proof, courtesy of ESPN Stats & Info, that Jacobs could be doing more to help his own cause. Jacobs is averaging just 1.61 rushing yards per carry after contact, which is the fourth-lowest figure in the league among running backs with at least 90 carries. Each of the three backs behind him on that list --
Cedric Benson
,
Rashard Mendenhall
and
Chris Johnson
-- weighs at least 37 pounds less than Jacobs, whose size used to be among his greatest assets as a running back. It's possible he has slowed down as he's gotten older. It's possible that he is so discouraged by the lack of running room that he doesn't push through first contact the way he used to. It'd be understandable, given that no one likes to get hit. But it also would feed into the perceptions about him that the booing home fans have developed.
Eli against the blitz.
The Saints love to blitz, and Giants quarterback
Eli Manning
surely will face extra pass-rushers on Monday night. But in spite of the injury to running back
Ahmad Bradshaw
, who's one of the best backs in the league at picking up the blitz, Manning has fared well this season against five or more rushers. In fact, over the past two years, Manning ranks among the best quarterbacks in the league when teams send five or more pass-rushers. His 74.6 Total QBR in those situations is fifth-best; his 8.4 yards per attempt and his touchdown-to-interception ratio of plus-16 are third-best; and only
Aaron Rodgers
has thrown more touchdown passes than the 26 Manning has thrown over the past two years when teams send five or more.
November, 22, 2011
11/22/11
1:00
PM ET
»
NFC Stock Watch
:
East
|
West
|
North
|
South
»
AFC
:
East
|
West
|
North
|
South
FALLING
1. Giants' offensive line.
It hasn't really been any good all year, but now it has begun to cost them games. The Giants were absolutely manhandled up front by the Eagles' defense Sunday night, unable to find anything at all in the run game or give
Eli Manning
enough time to throw.
Brandon Jacobs
is getting booed by the home fans, but he can't make the holes himself. The Giants look like a team that will continue to be in every game they play, including the tough ones, but it's going to be difficult for them to put together a winning streak against their schedule if they can't win those physical battles in the trenches.
2. Cowboys' secondary.
They hung on to beat Washington, but
Rex Grossman
had a pretty good day against them. They miss cornerback
Mike Jenkins
, and if the injury to safety
Gerald Sensabaugh
is serious enough to linger, they'll have a tough time patching it together in time for Thursday's game. The good news for Dallas is that its offense is good enough to outscore teams, and its next two opponents aren't big-time passing teams. But the Cowboys' defense did show some cracks Sunday, especially on the back end.
3. Redskins' running game clarity
. Actually, it seems kind of clear to all involved that rookie
Roy Helu
is the team's best back. But Mike Shanahan keeps giving
Ryan Torain
the starts and bringing in Helu later. Shanahan said this week that part of the reason for that is not wanting to give the rookie too much too soon -- a strategy that speaks to where Shanahan and the Redskins are right now as a franchise. They're thinking long-term, and they don't want to overload Helu mentally or beat him up physically if he's part of the long-term plans. So while it may feel frustrating right now, it's all designed to make things better in the long run.
RISING
[+] Enlarge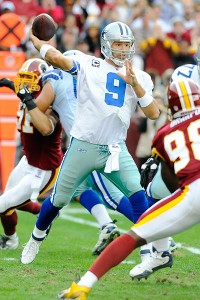 Brad Mills/US PresswireTony Romo is playing consistent football through 11 weeks.
1. Tony Romo, Cowboys quarterback.
This was a game in which a number of things that had been going right for the Cowboys did not. They didn't dominate physically in the run game as they have been lately. They didn't make the stops they needed to make on defense. And yet, rather than forcing things the way he was when he was making so many costly mistakes earlier in the season, Romo was smart and efficient and deliberate and made all of the throws he needed to make to deliver a division win. He's in the middle of an excellent season.
2. Vince Young, Eagles quarterback.
Man, did he look shaky for the first three quarters. He even looked shaky at times on that game-winning drive. But he made the plays he needed to make to deliver a win. And even if
Michael Vick
comes back healthy this week and Young doesn't start another game all year, he showed teams he added a win to his record as an NFL quarterback, which now stands at 31-17. That's Young's biggest selling point -- not the relative prettiness of his passes -- and if he wants to go find a starting job somewhere next year, that win is one more thing he can try to sell.
3. Eagles' and Cowboys' offensive lines.
Maligned for much of the season as a weak spot, the Eagles' line has actually consistently ranked among the best run-blocking lines in the league. On Sunday night, it also gave Young the time he needed to make plays. Their playoff chances are, at best, on life support, but their physicality up front on both sides of the ball is going to make them a tough team to play the rest of the way. As for Dallas, it is still shaky at center, and
Doug Free
isn't having a very good year. But the return of
Montrae Holland
to play left guard has really helped solidify things for them in the middle, and there's reason to think they'll continue to improve as the year progresses.
November, 18, 2011
11/18/11
1:46
PM ET
»
NFC Final Word
:
East
|
West
|
North
|
South
»
AFC
:
East
|
West
|
North
|
South
Five nuggets of knowledge about Week 11:
Cowboys going conservative?
According to ESPN Stats & Information,
Dallas Cowboys
quarterback
Tony Romo
is throwing downfield with much less frequency over his past four games. In the Cowboys' first five games of the season, Romo averaged 6.6 passes of 15 or more yards downfield per game and had a completion percentage of 48.5 with three touchdowns and two interceptions on those throws. But in the past four games, he's averaging only 4.5 such attempts per game and completing 61.1 percent of them with five touchdowns and just one interception. So while he's still taking his shots downfield, Romo seems to be doing so more judiciously and with greater effectiveness.
[+] Enlarge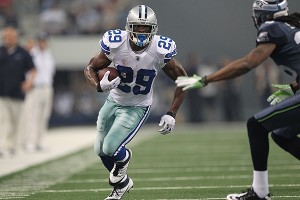 Matthew Emmons/US PresswireDallas running back DeMarco Murray has 601 rushing yards over the past four games.
Run game a team effort
: A big part of the reason Romo hasn't had to go downfield as much is the emergence of rookie running back
DeMarco Murray
, who has 601 rushing yards over the past four games. But it looks as though improvements on the offensive line have had more than a little bit to do with Murray's success. Stats & Info says Murray's 3.3 yards per carry after contact on runs between the tackles is the best such average in the NFL this season, and his 4.0 yards per carry
before
contact on runs between the tackles is also the best. So he's hard to bring down, sure, but they're also opening up nice holes for him.
Bag the blitz:
The Cowboys ought to be able to pressure
Washington Redskins
quarterback
Rex Grossman
into mistakes out of their base 3-4 defense. Of Grossman's 11 interceptions this season, nine have come in situations when the opposing defense sends four or fewer rushers. The Cowboys have nine interceptions as a team this season when rushing four or fewer, which is the fourth-best figure in the NFL. With
DeMarcus Ware
coming off the edge, they don't need much help getting to the quarterback. And it appears Grossman is the kind of quarterback who will force a throw and make a mistake even when faced with minimal pressure.
Home away from home:
Counting playoff games, the
Philadelphia Eagles
have won four straight road games against the
New York Giants
. That's their longest road winning streak against the Giants since they rattled off eight in a row from 1974 to 1981. Eagles fans and Giants fans alike will remember the last time these teams met in the Meadowlands as the game in which the Giants blew that huge second-half lead and
DeSean Jackson
ran a punt back with no time left on the clock, delivering a victory that propelled the Eagles to the division title and helped dash the Giants' playoff hopes. This season, though, it's the Eagles who blow the fourth-quarter leads (in five of their six losses), and Jackson has been a non-factor in the return game as well as the passing game.
Two-minute Manning:
Giants quarterback
Eli Manning
has four touchdown passes so far this season in the final two minutes of either the first or second half of a game. ESPN Stats & Information says that's tied with New England's
Tom Brady
for the most such touchdown passes in this league this season, and that since the start of 2008, no quarterback in the league has more touchdown passes in the final two minutes of halves than Manning, who has 20. That puts him ahead of his big brother,
Peyton Manning
, who has 19 -- two ahead of the Saints'
Drew Brees
and four ahead of Romo and the Bears'
Jay Cutler
. Interesting list.
October, 28, 2011
10/28/11
1:30
PM ET
»
NFC Final Word
:
East
|
West
|
North
|
South
»
AFC
:
East
|
West
|
North
|
South
Five nuggets of knowledge about Week 8:
Trouble getting started:
According to the ESPN Stats & Information Group, a big part of the
New York Giants
' problems running the ball this year have had to do with what happens before their running backs ever get hit. SIG's "next level" stats show that the Giants, who are averaging 3.3 yards per carry this season after averaging 4.6 yards per carry over the previous three seasons, are only gaining 1.6 yards per rush before initial contact. The league average of yards per carry before contact is 2.4, and only the
Cleveland Browns
(1.3) have a lower number in this category than the Giants do in 2011. Makes you think that maybe
Ahmad Bradshaw
's complaints about the offensive line weren't far off.
When is home not really home?:
The
Buffalo Bills
have a 3-0 record at home this season, but this week's game against the
Washington Redskins
is in Toronto. It's the fourth year in a row the Bills have played a home game in Toronto, and they're 0-3 in the games so far. This is good news for the Redskins, who have lost five straight to the Bills since beating them in Super Bowl XXVI and who haven't won in Buffalo since 1987.
[+] Enlarge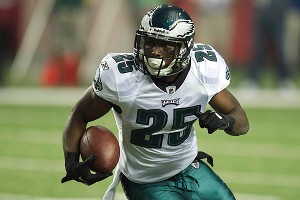 Dale Zanine/US PresswireEagles running back LeSean McCoy is off to a hot start, but faces a Dallas defense ranked No. 1 against the run.
Irresistible force, immovable object:
The
Philadelphia Eagles
rank first in the NFL with 170 rush yards per game, which SIG says would be their highest total for a season since 1950. Star running back
LeSean McCoy
ranks seventh in the league with 569 rush yards, and quarterback
Michael Vick
ranks 21st with 372. However, the
Dallas Cowboys
rank first in the NFL at stopping the run. Dallas allows just 69.7 yards per game on the ground and just 3.3 yards per carry. So it will be interesting to see which side wins out -- and especially interesting to see whether the Eagles stay committed to the run if they're not having success with it early.
Keep it safe, Tony:
Cowboys quarterback
Tony Romo
did not throw an interception last week against the Rams, breaking a streak of three straight games in which he'd thrown at least one. Since Romo became the Cowboys' starting quarterback, the team is 17-6 in games in which he does not throw an interception, and 25-19 when he throws at least one. The Eagles have intercepted seven passes in their first six games, but four of those seven came in their most recent game, two weeks ago against
Rex Grossman
and the Redskins.
Touchdown Shady:
McCoy has scored a touchdown in each of the Eagles' first six games this season. He's the first Eagle ever to do that and the first player on any NFL team to do it since 2007, when both
Plaxico Burress
and
T.J. Houshmandzadeh
did it, according to ESPN Stats & Info. The only other running backs in the past 15 years to score touchdowns in each of their team's first six games of a season were
LaDanian Tomlinson
of the Chargers in 2005,
Emmitt Smith
of the Cowboys in 1999 and
Robert Edwards
of the Patriots in 1998. Smith did them all one better, scoring in each of the Cowboys' first seven games that season.
October, 14, 2011
10/14/11
4:16
PM ET
Calvin Watkins has an item on
ESPNDallas.com
that says the Cowboys could look to trade either running back
Tashard Choice
or tight end
Martellus Bennett
in advance of Tuesday's trade deadline. Both are high-talent guys who haven't panned out and now seem extraneous in Dallas, so it makes some sense to see about getting a good draft pick for one of them. Watkins talked to Choice, who said he'd like to stay in Dallas but whatever, and he seems to think they have reason to keep Bennett around. Choice has shown a flash or two here and there, so a running back-needy team could take a chance, you never know.
Of course, the two biggest names being thrown around on the trade market today are those of
Denver Broncos
receiver
Brandon Lloyd
and
Indianapolis Colts
receiver
Reggie Wayne
. And those are big enough names to catch anyone's attention. It's hard to imagine the Giants, Eagles or Cowboys making a trade to get a big-time receiver, since all three of those teams seem fine with what they have at receiver right now and the price for guys like Lloyd and Wayne is likely to be high. I guess Wayne would be the second-best receiver on the Giants if they got him, but that doesn't feel like a move the Giants would make.
People will connect these names to the Redskins, since Washington's wide receiver corps has plenty of numbers but no real big names. A field-stretching guy would be a nice complement to the precision, route-running possession guys the Redskins have, but prior negative experience with Lloyd (with the Redskins and with Redskins coach Mike Shanahan while both were in Denver) almost certainly makes Lloyd a no-go. And since the Redskins' plan all offseason seemed to be to conserve resources to continue their rebuilding project next spring and summer, I'd be surprised to see them make a big move for a guy like Wayne. Sure, if they win this week and get to 4-1 the temptation will be to "go for it." And they should. But the Redskins are more likely to "go for it" by sticking with the plan that got them to where they are this season -- good defense and an uncomplicated offense designed to minimize the chance for mistakes. I don't think asking
Rex Grossman
to throw downfield more, no matter who they bring in for him to throw to, is in the plan.
But I could be wrong, and we'll surely talk plenty more about this stuff between now and Tuesday.
September, 23, 2011
9/23/11
12:05
PM ET

Just two games this week in the NFC East, but they're both big divisional matchups. I'll be at both games, and here are my predictions for the way they'll turn out. Click the video above to hear my explanations:

Eagles 27, Giants 13
Redskins 14, Cowboys 13