New York Giants:

Ronde Barber
September, 12, 2012
9/12/12
6:50
PM ET
EAST RUTHERFORD, N.J. -- The question had to be asked.
With the Giants facing the Buccaneers this coming Sunday, Giants beat writers were given the opportunity to speak with one Buccaneers player via conference call on Wednesday.
That player was
Ronde Barber
-- the five-time Pro Bowl defensive back, and twin brother of former Giant
Tiki Barber
.
Tiki is the Giants' all-time leading rusher. But he retired suddenly at the age of 31 in 2006, off one of his best seasons, and is now unpopular with many Giants fans -- in part because of critical comments he made about Giants quarterback
Eli Manning
while serving as a member of the media.
Ronde, naturally, was asked about his brother's fractured relationship with the Giants:
"That's between Tiki and the Giants," Ronde said. "I, fortunately, don't have anything to do about that. There's no doubt that he was a great player for them and he'll always be. Those records will never go away, so it is what it is. He'll bounce back into there hopefully, hopefully on the good side of that relationship sooner or later."
As for Ronde, he is now in his 16th NFL season -- and was just named the NFC Defensive Player of the Week for his performance in the Bucs' 16-10 over the Panthers last weekend, when he recorded both a sack and an interception.
"I'm definitely a football player," Ronde said Wednesday. "I love what I do. I like coming in the building, I like going to work."
September, 12, 2012
9/12/12
6:47
PM ET
EAST RUTHERFORD, N.J. -- It didn't take Greg Schiano long to make his return to the Garden State.
After spending 11 years as the head coach at Rutgers University, the New Jersey native was hired to be the coach of the
Tampa Bay Buccaneers
this past January. And this weekend, he'll bring his new team north to his old home, to face the
New York Giants
in just his second game as an NFL head coach.
"We're coming home to play the defending Super Bowl champions who are not in a real good mood right now," Schiano said on a conference call with Giants reporters Wednesday. "So we need to bring our best game just to have a chance to win."
He's right. The Giants are chomping at the bit after losing their regular season opener to the Cowboys one week ago. The Buccaneers, on the other hand, defeated the
Carolina Panthers
16-10 in Tampa Bay.
[+] Enlarge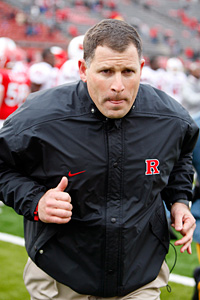 AP Photo/Tim LarsenEx-Rutgers coach Greg Schiano is no stranger to New Jersey.
Schiano is approaching this weekend as strictly business. "It is going home and all that stuff, but at the end of the day, it's a 24-hour trip that is one-sixteenth of your season, so I don't have time to get real sentimental," Schiano said. "The nice thing is that I'm familiar with the area and familiar with the stadium, the hotel, all that stuff. At least that makes it better."
The 46-year-old is trying to make the leap from college head coach to winning NFL head coach -- no easy feat, as recent history suggests. One man who has been able to do it is his counterpart this coming Sunday, Giants coach Tom Coughlin.
Coughlin spent three seasons as the head coach at Boston College in the early 1990s, before being hired to coach the expansion
Jacksonville Jaguars
, and eventually the Giants.
"I know him cordially," Schiano said of Coughlin. "We're not real close, but I respect the heck out of him. I studied things that he's done. He made the jump from a program that he kind of put back in order and went to the NFL. There are some things that I've studied about how he's done it.
"I really look up to his attention to detail and the way he prepares his football teams in every aspect. I hope that I can just do a similar job. I don't think I'm anywhere near the point where I can do what he does right now, but certainly trying to get there."
Schiano hasn't just studied up on Coughlin -- he hired two men who served under Coughlin as his offensive and defensive coordinators. Mike Sullivan, Schiano's new OC, spent the past eight seasons with the Giants -- the first six as wide receivers coach, the past two as quarterbacks coach. Bill Sheridan, his new DC, was the Giants' linebackers coach from 2005-08, and defensive coordinator in 2009.
"Well, it's been very helpful," said Schiano. "I can tell you there's a lot of Giant imprint on our program, and a lot of Coach Coughlin imprint on our program because as you go through the process and you set up all your schedules, you know it's different schedules than college. I have several NFL coaches on our staff, I have everybody's schedules from all the years they've coached, and I kept looking at Coach Coughlin's way of doing things and there are a lot of things that we mimic from a scheduling point and training camp standpoint, and all those things."
Schiano received a big vote of confidence from one of his veteran stars on Wednesday. Defensive back
Ronde Barber
, a five-time Pro Bowler in his 16th NFL season, spoke to Giants reporters in a separate conference call Wednesday, and was asked about his new coach.
"Whatever he's doing, it's working," Barber said. "He's very specific and very detail-oriented. You can call it whatever you want to, but we are a very attention-to-detail organization all the way down to the players. It's working for us."
A win on the road against the defending Super Bowl champs would give Schiano even more credibility -- with his own players and the rest of the league.
"I don't know," said Schiano, when asked if he will have butterflies on Sunday. "I always tell the story; I remember when the first Giants Stadium was built. We used to drive past it on the way to my grandma's every week. She lived in Rutherford, so I watched that thing come out of the ground.
"Now to be playing in MetLife Stadium in the Meadowlands, and to actually be coaching an NFL team, I probably won't be thinking of it very much, but it is fun. I enjoy every game day, like I told you guys before; game day is the best day of the week. Doing it back there will be especially good, but if we don't play well, then it won't."