New York Giants:

russell wilson
December, 15, 2013
12/15/13
2:40
PM ET
EAST RUTHERFORD, N.J. -- The
New York Giants
' defense looked early on as though it had come to play. Led by linebacker
Jon Beason
, it spent the first quarter and much of the second flying to the ball, making
Seattle Seahawks
quarterback
Russell Wilson
move his feet, and even doing a decent job limiting the damage done by apparently indestructible Seahawks running back
Marshawn Lynch
.

But even as that was going on, it was apparent the Seahawks were the team on the MetLife Stadium field with the superior personnel. Too often, when they flushed Wilson out of the pocket, he made an incredible play with his arm and/or his feet to get out of trouble. And even when they managed to hit Lynch four times inside the 2-yard line on one play, he bulled his way into the end zone for a touchdown. They remained game and determined, as
Linval Joseph
's sack of Wilson in the final 30 seconds of the half showed, but it does appear as though the Seahawks are wearing them down, which is what the Seahawks do.
And besides, there's not a lot a defense can do when the offense is totally broken.
Giants quarterback
Eli Manning
threw three interceptions in the first half, at least temporarily wresting the league lead from the Jets'
Geno Smith
, who plays later today. The first two were inexcusable, as they were fired directly at receivers who were completely blanketed in coverage by Seattle defensive backs -- first
Byron Maxwell
and second
Richard Sherman
. The third was on a vain Hail Mary on the final play of the half, as the Giants took a worthwhile shot from their own 40 with three seconds to go. Manning now has 23 interceptions for the season. His career high is 25, set in 2010.
Anemic all season, the Giants' passing game today has been nonexistent. Manning is 7-for-13 for 47 yards and the three picks. They're also doing nothing on the ground, where
Andre Brown
has 15 rushing yards on seven carries. They had the ball for only 11:34 of the first half, so it's not as though there's been much of a chance to do anything, but a big part of the reason they've struggled with time of possession has of course been the fact that they're giving the ball away so freely. The Giants get the ball back to start the second half, but at this point it's hard to see how that could qualify as good news for them.
I don't know anyone who expected the Giants to beat the 11-2 Seahawks here today. Sure, they still might. It's only 13-0 at halftime, after all. But to this point, this game has been the ultimate anticlimax in a season filled with them. The Giants right now don't belong on the field with this team, and it's their own field.
December, 13, 2013
12/13/13
8:00
AM ET
Your daily morning check-in on news and notes about and of interest to the New York Giants.
The news of the day:
The good news for the Giants' wide receivers is that they're likely to see single coverage against the Seahawks' secondary on Sunday. The bad news, offensive coordinator Kevin Gilbride says, is that coverage is going to be
incredibly physical
. Gilbride said the Seahawks have "mastered the art" of physical coverage in the secondary, and he's warning his receivers not to expect to get as many calls as they think they should get.
Behind enemy lines:
Seahawks quarterback Russell Wilson was drafted by the Texas Rangers this week in Major League Baseball's Rule 5 draft. And Wilson said he'll happily go
visit the Rangers
in spring training, though he has no plans to take up baseball instead of, or in addition to, football.
Around the division:
At the top of the NFC East, things are really breaking the Philadelphia Eagles' way these days. Sure, they're playing better than the Cowboys are, but while Dallas may have to contend with the return from injury of Packers quarterback Aaron Rodgers this week, Philly is looking at playing the Vikings without Adrian Peterson
or his backup
.
Around the league:
I'll go around the league with Chris Mortensen and Bill Polian Friday at 3 p.m. ET on "NFL Insiders" on ESPN. I do hope you'll tune in.
December, 12, 2013
12/12/13
10:00
AM ET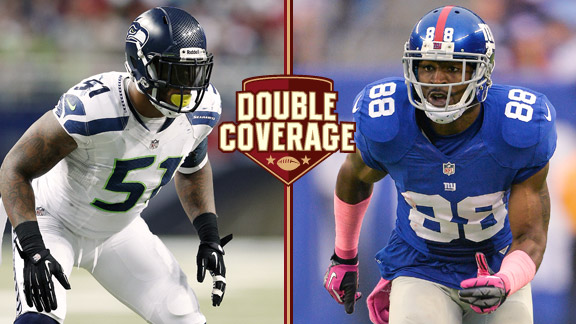 AP PhotoBruce Irvin and the Seahawks are beatable on the road. Can Hakeem Nicks and the Giants win?
The 11-2
Seattle Seahawks
have had their playoff spot wrapped up for a couple of weeks already and have their eyes on the top seed in the NFC. The 5-8
New York Giants
were eliminated from playoff contention Sunday and openly admit that they're playing for pride from this point forward. These two teams meet Sunday at MetLife Stadium -- a place the Seahawks hope to return to in early February for the Super Bowl.
ESPN.com Seahawks reporter Terry Blount and Giants reporter Dan Graziano break down the matchup between the league's best team and one of its most disappointing teams.
Graziano:
Terry, let's start with Seattle's exciting young quarterback. The Giants this year have seen
Terrelle Pryor
,
Cam Newton
and
Robert Griffin III
, who are the only quarterbacks with more rushing yards than
Russell Wilson
has. From your standpoint, what sets Wilson apart from those other mobile quarterbacks?
Blount:
Dan, there are so many intangibles about him that defy description. Some obvious ones are his character, his attention to every detail in his preparation and his underrated skills as a passer. But more than anything else, Wilson has the unusual ability to perform at his best when things appear to be at their worst. I've never seen him rattled, and he rarely makes a careless mistake. He has led the team to nine game-winning drives in his short career, and he almost did it again Sunday at San Francisco. As for his mobility, one thing that clearly sets him apart is his ability to make accurate throws downfield while he's running in either direction.
Speaking of quarterbacks,
Eli Manning
got off to a really rough start this season. What happened, and where is he now compared with seasons past when he was playing at a Pro Bowl level?
Graziano:
Manning's biggest problem at the start of the season was his protection. The offensive line, never great to begin with, was hit with injuries to key starters and never got the kind of blocking help it received in past years from supplemental positions like running back and tight end. Manning has already taken more sacks (33) than he has ever taken in a full season, and there are three games to go. He also had no running game whatsoever for the first half of the season until
Andre Brown
got healthy. And top wide receiver
Hakeem Nicks
has had an awful season in the final year of his contract. Manning obviously could play better, and he'd admit he has missed his share of throws. But I think he's a quarterback who really needs to be comfortable with his surroundings, and this year that hasn't been possible for him.
The Seahawks are so dominant at home, but while they've been good on the road they are clearly not
as
good. We know about the home crowd and the advantage it gives them, but are there on-field things they don't do as well on the road?
Blount:
One noticeable difference in the past three road games is that Wilson hasn't run much because defenses are trying to keep him in the pocket. Wilson had one carry for 2 yards last week at San Francisco, and only 38 yards on seven carries in the past three road games combined. They won two of those three games, however. Still, after Wilson ran for 102 yards at Indianapolis in Week 5 (ironically, one of Seattle's two road losses) teams have focused on not allowing him to beat them with his feet. He's running well at home (he rushed for 47 yards against New Orleans two weeks ago) but not so much on the road.
If the Giants pull off the upset Sunday, they'd send a message that despite a disappointing season, they still have the ability to get it done against the best of the best. Do you get the sense that they'll have a little added fire against a team that many people believe is Super Bowl-bound?
Graziano:
I do. A few of the Giants have already talked about that in the wake of the loss Sunday that eliminated them from postseason contention. There's a lot of talk around East Rutherford about "playing for pride," and that's not hollow with this group. They held together after the 0-6 start and have been professional in their play and their preparation since. This isn't a team that has or will quit on its season. It's just a team that's not very good. I don't think they have the personnel to hang with the Seahawks on Sunday, but if they lose it won't be for a lack of effort.
They do have a tendency to seek and drum up external motivation, and Seattle's excellent record will provide some of that. Tom Coughlin said Monday that they looked forward to measuring themselves against a team like this. The only dissenter so far is wide receiver
Victor Cruz
, who said he'd be "even more disappointed" if the Giants won this game, since it would tell him they had the capability to play with top teams all year and just didn't.
San Francisco had a strong game on the ground Sunday, and the Giants' run game has been considerably better in the second half. Is it possible to run on the Seahawks, or was that a one-game fluke by
Frank Gore
?
Blount:
Some Seattle fans might say it was a one-play fluke, the 51-yard run by Gore on the final drive that set up the game-wining field goal. Take that off the table and the Seahawks did OK against the 49ers' rushing game. However, one stat is a little scary. Of San Francisco's 163 yards on the ground, 137 were before contact, including Gore's big run. The Seahawks have been up and down on this all season. They held
Adrian Peterson
to 65 yards and allowed only 30 yards rushing at Arizona, but also had back-to-back games in which they allowed 200 yards rushing. Now they have to get it done without linebacker
K.J. Wright
, who had 80 tackles this season. He's out with a broken foot. It's hard to predict, but the Seahawks are so focused on the pass rush that they can get burned sometimes on the ground.
The Giants have struggled to stop the run, and
Marshawn Lynch
is one of the best backs in the league. I'm guessing the Seahawks are going to give him the ball early and often, especially if the weather is bad. Will the Giants load the box to try to stop Lynch?
Graziano:
Actually, stopping the run is one of the few things the Giants have done well. They've held down some top backs, such as Peterson,
LeSean McCoy
,
Alfred Morris
and
Eddie Lacy
. Until the Chargers got 144 yards on 40 carries against them Sunday, this had been a fairly consistent strength. So they'll be keyed on Lynch for sure.
Before the Packers game a few weeks ago, I asked
Justin Tuck
if Lacy reminded him of anyone. He said, "a bigger Marshawn Lynch," and then complained that they had to deal with Lynch again a few weeks later. They stacked the box against Lacy that day, but they weren't scared of
Scott Tolzien
's ability to beat them downfield even if they used single coverage on his receivers. Wilson is likely to make them think twice about committing as much to the run as they did that day, and they'll likely rely on the guys in their strong defensive-tackle rotation to get off of blocks better than they did in San Diego.
December, 10, 2013
12/10/13
8:00
AM ET
Your daily morning check-in on news and notes about and of interest to the New York Giants
The news of the day
: With the Giants eliminated from playoff contention, everybody wants to know whether they'll take a look at some of the younger, untested guys on their roster in their remaining three games. Thinking guys like
Damontre Moore
,
Adrien Robinson
, maybe
Brandon Mosley
... I don't know. Might be worth finding out what they have in some of those guys so they have as much information as possible when it's time to make their offseason plan. Coach Tom Coughlin said, "We may be able to do some things in terms of maneuvering some numbers of plays or perhaps even getting someone a suit that hasn't had one. But we're going to try as hard as we can to win football games and the guys who deserve to play are going to play." So while they may get a look at some newer guys, that's not going to be the focus of the final three games. The Giants believe the right thing to do, as long as people are still paying for tickets and parking and they're still getting their paychecks every week, is to give an honest effort to try and win the games. That's what they call
playing for pride
.
Behind enemy lines:
The opponent this week is as tough as it gets. The
Seattle Seahawks
are 11-2, which ties them with the Broncos for the best record in the league. They are led by dynamic young quarterback
Russell Wilson
and bruising running back
Marshawn Lynch
on offense and a deep, tough bunch of very large players on defense. They rotate defensive linemen as effectively as any team in the league, keeping their big guys fresh for late in the game. Their defensive backs are large and physical, led by cornerback
Richard Sherman
. They are likely the best team the Giants have faced this year, because they're likely the
best team anyone in the league has faced
this year.
Around the division
: Things have turned very ugly in Washington. Redskins coach Mike Shanahan now says he's considering sitting quarterback
Robert Griffin
III down
for the rest of the year
because Griffin is getting hit too much and it's important for him to be healthy next spring so he can have the full offseason program he didn't have this year. Of course, the larger question around Washington right now is about whether Shanahan will still be the coach next spring. Lots to be sorted out there, for sure.
Around the league
: Officiating continues to be a weekly source of gripes in the NFL, and the situation isn't getting better. Mike Sando thinks the league needs to train former players to be officials,
cultivating officiating crews
who don't operate out of fear of criticism or reprisal. Not a bad thought. They have broadcast "boot camp" for players either on the verge of or just starting retirement. Why not an officiating boot camp?
September, 12, 2013
9/12/13
8:00
AM ET
Your daily morning check-in on news and notes about and of interest to the New York Giants:
The news of the day:
I wrote
this
on the
Eli Manning
-
Peyton Manning
matchup, which is something I just find totally fascinating. Maybe it's because I have two younger brothers and two sons, but the brother relationship is of great interest to me, and I think people have grown too blasÚ about just how wild it is that two brothers from the same family could grow up to be top NFL quarterbacks and play against each other three times. As someone with a TV camera said to Eli on Wednesday, you'd have a better chance of being struck by lightning.
To his credit, Eli said he understands that. "Obviously there are 32 starting quarterbacks in the NFL right now and one of the other ones happens to be my brother," Eli said. "I understand that is rare. I don't know how it quite happened. I don't think my parents know how it quite happened. It just worked out that way, but I do feel blessed that I get to play this sport and I know Peyton feels the same way."
Other Giants news includes
Da'Rel Scott
's knee injury, which
cropped up Wednesday
and leaves them potentially thin again at running back against Denver, even after the signing of
Brandon Jacobs
on Tuesday. We'll check in on that Thursday at practice, and we'll also check in on starting cornerback
Prince Amukamara
, who sat out Wednesday as he continued to deal with the concussion he suffered in Sunday's game.
Behind enemy lines:
The Broncos would like to have their secondary at full strength Sunday against a Giants team that had three wide receivers go over 100 yards in the opener in Dallas. But while top cornerback
Champ Bailey
is getting closer to returning from his foot injury, he
didn't practice Wednesday
and his status for the game remains in doubt.
Around the division:
We dispatched our nationwide team of NFL reporters to ask players around the league the question of the week: Do you think Chip Kelly's
Philadelphia Eagles
offense is sustainable?
Here's the result of the collaboration
(the sort of thing you can expect more of as the season goes on).
And
here's what I wrote
from the Giants' end of things about the radically changed division rivals down I-95.
Around the league:
Pretty
cool read here
from Jeff Chadiha on the NFL's young quarterbacks. He polled folks around the league and had them rank
Andrew Luck
,
Robert Griffin III
,
Russell Wilson
,
Colin Kaepernick
and
Cam Newton
on a variety of factors, including intelligence, accuracy and durability. I guess I'm not too surprised, because I always feel like memories in this league don't go back any further than six days, but it seems wrong that Newton ranks last so many times. He's got a year on all of these guys and has put up two monster seasons. I guess the beauty of it is, we'll all find out together.