New York Giants:

Steve Tisch
February, 10, 2014
Feb 10
2:45
PM ET
One of the major questions in the wake of Missouri defensive lineman
Michael Sam
's announcement he is gay is how NFL teams will react. With the draft less than three months away and the scouting combine next week, the focus will be on how and whether Sam's coming out will affect his draft stock. To hear the owners of the
New York Giants
tell it, it shouldn't affect it at all.
"I would just echo what the league and
Zak DeOssie
, one of our captains, have said in welcoming Michael into our league and supporting him as he attempts to achieve his dream of playing in the NFL," John Mara said Monday in a statement released by the team. "Our sport, our game, is the ultimate meritocracy. You earn your way with your ability. As Patrick Burke and Wade Davis constantly remind all of us, regardless of who you are, what your background is and what your personal or sexual orientation is, if you can play, you can play. Michael's announcement will not affect his position on our draft board."
"As I said last night, Michael Sam is a gifted athlete and a courageous man," Steve Tisch said in his own statement released by the team. "I hope any NFL team would not hesitate to draft Michael if he is right for their team. Our game is the ultimate team game, and we often talk about how a team is a family. Regardless of where you are from, what your religious beliefs are, what your sexual orientation is, if you are good enough to be on the team, you are part of the family. How the University of Missouri and its football program embraced and supported Michael is a tremendous blueprint for all of us, but frankly, I think the lessons of our game also provide the same positive example."
I'll echo what
I wrote this morning
, which is that the Giants likely would be a welcoming environment for Sam due to their strong leadership. The question in the Giants' draft room will be whether Sam represents good value at the mid-round pick with which he'd be available to them. The Giants run a 4-3 defense, but while Sam played 4-3 defensive end in college, there is concern that his lack of prototypical size would inhibit his ability to do so in the NFL. That doesn't mean the Giants won't take him if they think he's a good enough player to help them on special teams and in certain roles, but it's hard to see him as the kind of player they have to have.
May, 21, 2013
5/21/13
10:15
AM ET
By
Mike Rodak | ESPNBoston.com
BOSTON -- With a little more than eight months until the New York City area hosts the NFL's first cold-weather Super Bowl,
New York Giants
co-owner Steve Tisch discussed the region's preparations at the NFL spring meetings on Tuesday.
"I would like a cold, blue sky, great, sort of beautiful New York/New Jersey evening," Tisch said. "I think it could be great."
Yet that sort of weather is far from a sure bet in February, and Tisch noted that other owners with teams in cold-weather cities will be closely watching how New York handles Super Bowl XLVIII.
"I think we're going to be ready for any contingency," Tisch said. "The one thing that I think would hurt us is a serious midweek blizzard."
One of the hurdles facing the league is planning for the game with an outgoing New York City mayor, Michael Bloomberg, who will be replaced in office by February.
"The challenge of an outgoing mayor in New York is something we have to deal with and work with," Tisch said. "Bloomberg won't be mayor Super Bowl week. So we have been talking to the potential mayoral candidates, bringing them up to date."
Beyond needing to play the field in the mayoral election, Tisch noted the NFL also has to coordinate the event between two states and numerous agencies.
"Both states are cooperating. There's a lot to organize, a lot of coordination. State agencies and city agencies have to agree to agree," Tisch said. "The city is going to be ready. I think the fans are going to be into it. I think it's going to build even more towards the kickoff and really the first cold-weather Super Bowl ever."
Tisch spoke Tuesday against a backdrop of heavy fog on Boston Harbor, a reminder that weather in the Northeast does not always cooperate, even in late spring.
"It's tough to predict the weather in May," Tisch joked. "But [February's weather] is going to become a preoccupation once we get into the football season."
May, 13, 2013
5/13/13
1:27
PM ET
New York Giants
co-owner Steve Tisch says
Tim Tebow
would have been better off playing anywhere but with the
New York Jets
.
Tisch told TMZ he thinks Tebow, who was released last month, might still be playing if the Jets had not traded for him in March 2012.
[+] Enlarge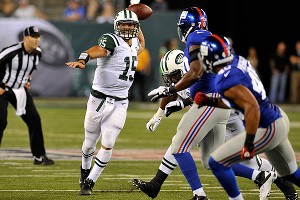 AP Photo/Bill KostrounTim Tebow threw 14 passes in a preseason game against the Giants, but he attempted just eight passes during the regular season.
"I feel badly for the guy," Tisch said Sunday night in Los Angeles when stopped by TMZ as he was getting into his car. "Had another team picked him up after the Broncos, maybe he'd have a career. I think him going from the Broncos to the Jets was not in anybody's best interest."
Tebow attempted a total of eight passes and played sparingly with the Jets last season. The Jets never seemed to know how to use Tebow, who managed to consistently make headlines and back pages.
The Giants -- players and owners -- were amused with how Tebow garnered so much of the media attention in training camp last year while the Giants were the defending Super Bowl champions.
Less than a year later, Tebow is looking to get back in the NFL.
"I do feel badly for him," Tisch said. "I hope he plays football. I think he's got talent and I think he is probably a decent guy and not a bad quarterback. I sincerely wish him all the best."
A game-changer:
Tisch said he also likes the Giants' recent addition of linebacker
Aaron Curry
. Tisch thinks the fourth overall pick in the 2009 draft can reach his potential with the Giants.
"He's got such an athletic talent," Tisch said. "I think he is going to do a really good job. I know he is going to be very focused in these [OTAs] through training camp. I'm glad we got him. I think he can be a real game-changer."
Tisch also is thrilled with the Giants' draft.
"I'm very happy with the draft," Tisch said. "We don't draft sexy but we draft for the positions we feel that we need players. [Tom] Coughlin is a great coach and Jerry Reese is a great GM, so I am very happy. It all comes out in training camp."
March, 17, 2013
3/17/13
7:38
PM ET
The Giants are concerned about a team making an offer for restricted free agent wide receiver
Victor Cruz
, but the team isn't the Colts.
Colts owner Jim Irsay, who made cryptic tweets this weekend saying they were "very, very close" to making a deal for a wide receiver, told reporters Sunday night at the NFL meetings that Cruz isn't the target.
"It's not Cruz, no," Irsay said.
A little earlier, Giants co-owner Steve Tisch said it was "probable" that another team would make a run at Cruz. He didn't say which team, but he said he's "anxious."
Irsay's tweets from late Saturday night put Giants fans on edge, fearing the Colts might be plotting a deal for Cruz. Giants officials have said they want the popular Cruz, a restricted free agent, to spend his entire career in New York. They gave him the first-round tender ($2.86 million), admittedly taking a "risk," as Giants co-owner John Mara recently termed it.
Mara said they made a "significant" offer to Cruz for a long-term deal. Slot receivers such as Wes Welker and Danny Amendola landed $6 million-a-year contracts in free agency, but Tisch told reporters he expects the potential Cruz offer to be north of $6 million per year.
Here were those earlier tweets from Irsay:
ColtFans,we already past the cap cash wise/ we're workin on a deal,1 we've been workin on for 5 days/ we're very,very close 2 making it work

— Jim Irsay (@JimIrsay) March 17, 2013
Colt Fans,hint------ it's a Wide Receiver!!

— Jim Irsay (@JimIrsay) March 17, 2013
And from later on Sunday:
We r still in fight for WR n others...we've landed everyone we've targeted...my gut feeling--- we're not through..it's hour to hour-EXCITING

— Jim Irsay (@JimIrsay) March 17, 2013
January, 13, 2012
1/13/12
3:19
PM ET
By
Mike Mazzeo
| ESPNNewYork.com
Giants co-owner Steve Tisch believes a 29-14 victory over the Jets in Week 16 galvanized his team and changed the course of the season.

"It was kind of like a mini Super Bowl and it was a very important game," Tisch told reporters Friday. "There was a lot more at stake than just a regular-season game against the Jets. New York City, pride, Jets fans, Giants fans, two different cultures, two different mythologies.

"It was their home game so it added just an extra level of 'We did it, we're good, we're moving on, let's go.'"

The Giants had lost five of their previous six heading into that game, but will take a three-game winning streak into their NFC divisional playoff matchup with the 15-1 Packers on Sunday in Green Bay.

Tisch wasn't about to revel in the fact that the Jets missed out on the postseason.

"No, the Jets aren't the enemy," Tisch said. "We're partners in this stadium, we are co-hosting a Super Bowl in 2014, we both have great football teams, great coaching, great players. A fan base that is divided amongst Jets fans and Giants fans. They're our partners, not our enemies.

"I'm thrilled where we are right now, where we find ourselves on the eve of traveling to Green Bay. The other seven teams that are in the playoffs this weekend, I'm very happy for. It's going to be great. This is a great weekend for football fans and for football players and for the eight teams at this stage of the playoffs. And I'm thrilled for those of us that get to play this weekend."

Tisch sees a lot of similarities in this team and the one that shocked the world and won the franchise's third Super Bowl title in 2007.

"I do because it's the same leadership," he said. "I think coach [Tom] Coughlin has prepared this team for the Packers game. I can't talk about [it] beyond the Packers because I just don't want to go there, but I think we're ready for Green Bay Sunday afternoon and this is a very well-coached, well-prepared, very focused, extremely united team."

He didn't forget about quarterback Eli Manning, who broke the NFL record for fourth-quarter touchdown passes (15) and threw for the sixth-most yards in league history (4,933) during the regular season. He also has a Super Bowl MVP on his résumé, which doesn't hurt.

"I have tremendous confidence in Eli, week in, week out," Tisch said. "Preseason, regular season, postseason. Knowing Eli does have the experience and that Eli has a great capacity to not get frustrated and to not get flustered, and we've seen that for the last couple seasons. How focused he is.

"He's finding his receivers and he's playing with a tremendous level of confidence. I'm thrilled that he's our guy and that he's our quarterback and he's taken us into the playoffs this weekend, and hopefully beyond."
November, 4, 2011
11/04/11
10:08
AM ET
By
Ian Begley
| ESPNNewYork.com
Forbes magazine
ranks
John Mara
and
Steve Tisch
as the top owners in the NFL.
According to Forbes writer
Brian Solomon
's valuation, the Giants owners "have presided over 33 percent growth in the value of their team – best in the NFL. The 2010 opening of MetLife Stadium helped them rack up a 21 percent bump in revenue last year, the latest achievement for an ownership duo that also lifted the Lombardi Trophy in 2007 for the organization's third Super Bowl victory."
Forbes based its rankings on the change in the franchise's value its winning percentage over the last five years.
During Mara and Tisch's five-year tenure, franchise value has increased by 33% and the Giants have won at a 60% clip.
John Mara and Steve Tisch took over the team when their fathers,
Wellington Mara
and
Bob Tisch
, died in 2005.
No. 2 on Forbes' list is Patriots owner
Bob Kraft
, whose team has compiled the highest winning percentage in the NFL over the last five years. New England's value has increased 17% since 2005, according to the magazine.
So it will be a battle between Forbes' No. 1 and No. 2 on Sunday at Gillette Stadium.
Jets' owner
Woody Johnson
is No. 6 on Forbes' list. The Jets' franchise value has increased 26% over the last five years. Gang Green has won 54% of its games in that span.
The worst owner, according to the magazine, is Lions owner
William Clay Ford Sr.
Detroit may be enjoying one of its best seasons in years, but that doesn't overshadow the fact that they've lost 3% in value over the last five years and dropped 77% of their games.
August, 23, 2011
8/23/11
4:58
PM ET
The new 10-year CBA in the NFL doesn't allow for an 18-game season, which would shorten the preseason by two games, but that doesn't mean that it's still not on the mind of the owners in the league.

Giants co-owner Steve Tisch said Tuesday at the naming of the New Meadowlands Stadium as MetLife Stadium that he thinks an 18-game season is an issue that the owners and the league should continue talking about and discussing.

"It's something the NFL did focus on before the final version of the CBA and it's an issue that the players know the owners are talking about and the NFL is talking about, so I don't think it's one of the most controversial issues ever discussed by owners," Tisch said. "I think the fans have kind of spoken also of how they feel about the preseason."

Tisch started talking about the 18-game season while discussing the injuries that victimized the Giants Monday night, as they lost cornerbacks Terrell Thomas and Brian Witherspoon for the season with ACL injuries. With injuries in preseason popping up to other teams as well, Tisch said he thinks that's one reason that owners and the players associations will look at the preseason structure in the next round of owners meetings.

The Giants co-owner said the owners can talk internally about the issues and then see if there is any type of proposal the owners would like to make to the players in the upcoming years, the owners are not prohibited from doing so. He wouldn't say the push for an 18-game season is alive, but as they go forward, he said it will be an issue that appears once again.

"I don't know when, I don't know under what circumstances, I don't know if it is going to be spring 12' or fall 13', but it's an issue that I think the owners have paid a lot of attention to and will continue to," Tisch said.
March, 12, 2011
3/12/11
4:22
PM ET


Giants ownership sent a letter to season-ticket holders on Saturday, the first day of the NFL lockout. Here is the message from John Mara, the team president and CEO, and Steve Tisch, chairman and executive vice president:

Dear Giants Fans:

We are as disappointed as you are in the developments of the past week and the current state of negotiations for a new collective bargaining agreement.

For there to be no CBA in place today is extremely disappointing, given the amount of time and hard work and the numerous conversations devoted to achieving an agreement, not just in the last two weeks but over the last two years. We are not happy about that and we certainly understand and appreciate your unhappiness and frustration.

Where we are today serves no positive purpose for you, for our players and for the National Football League. Although we had hoped and expected to have an agreement by now and are disappointed that we do not, we remain as committed as ever to returning this process where it belongs, which is the negotiating table. We are convinced that what we have stated many times remains true, that there will be a new agreement and there will be a 2011 NFL season. It is just a matter of when we are able to reach an accord on the current issues.

The impatience and the displeasure we know you are feeling is completely understandable. We can only assure you that the point of the entire process is to make our game as strong as it can possibly be and to enable it to continue to grow for the good of everybody -- the league, the players and the fans.

The last thing we wanted is for the business end of our sport to play out this way. We know people frankly don't care how owners and players manage their business. These negotiations distract and detract from what is most important to all of us: the game.

We are doing all we can to return the focus as quickly as possible to where it belongs, the field of play.