New York Giants:

Stock Watch
December, 9, 2012
12/09/12
12:00
PM ET
Before we get to see if
the Giants can finally solve Drew Brees
, let's take a look at this week's Stock Watch.
In honor of
Antrel Rolle
's plea for the Giants to bring back that dog mentality, we're going with
DMX
for this week's musical selection. Arf! Arf!
"RUFF RYDERS' ANTHEM"
(streaking)
The Fresh Prince:
Prince Amukamara
has been
very solid this season
. His name rarely comes up and that is a good thing for a cornerback.
Ahmad Bradshaw:
Bradshaw produced his third 100-yard rushing game of the season with 103 yards on 24 attempts last week. They'll need him against the Saints' last-place run defense. The Giants may want to start reducing his workload though to keep his feet and ankles rested.
The Black Unicorn:
The Giants finally got
Martellus Bennett
more involved and took advantage of a matchup. Bennett had five catches for 82 yards and got back into the end zone for a score.
Eli Manning
and Bennett aren't always on the same page but it was good to see them connect more against the Redskins.
"GET AT ME DOG"
(slumping)
The Giants' defense:
The Giants did a good job of holding the Redskins to 17 points. But when they needed one big stop at the end, they couldn't come up with the goods as
Robert Griffin
III and
Alfred Morris
milked the final 3:51 away as Manning could only watch from the sideline.
Kenny Phillips:
Props to Phillips for trying to play through his MCL injury against the Redskins on Monday night. But he looked like he was laboring a bit and he only played 20 snaps. He may need more time to heal.
David Wilson:
We're still waiting for the coaches to give him some carries. He saw just seven snaps and only four carries. He did hang onto the ball after taking a huge hit on one of the carries.
December, 3, 2012
12/03/12
12:00
PM ET
Before we get to Redskins-Giants II, let's take a look at who's up and who's down for the Giants with this week's Stock Watch.
As we do every week, the streaking and slumping categories are named after songs. This week's musical choice is
Alicia Keys
, who just released her new album.
"IF I AIN'T GOT YOU"
(streaking)
Three safeties:
With
Kenny Phillips
back on the field last Sunday night, Perry Fewell brought back the three-safety look and it looked good.
With Phillips and Brown mostly playing deep and
Antrel Rolle
moving up to play closer to the line of scrimmage and covering the slot, the Giants defense smothered
Aaron Rodgers
and Green Bay.
The Giants hope Phillips will play against Washington on Monday night.
David Wilson:
It's not the way he would have liked it to come but Wilson is expected to get his first major opportunity at playing time with Andre Brown's injury.
The rookie says he is
ready to show what he can do
and that he can pass protect and pick up the blitz. We'll see how the coaching staff uses him behind
Ahmad Bradshaw
and if they will use
Ryan Torain
or
Kregg Lumpkin
.
Mathias Kiwanuka:
With Fewell using him up on the defensive line, the hybrid linebacker/defensive end had his best game of the season with two sacks, six tackles and three quarterback hits against Green Bay.
When
Jacquian Williams
gets healthy, that could allow Fewell to use Kiwanuka up front even more.
"TRY SLEEPING WITH A BROKEN HEART"
(slumping)
Corey Webster:
The Giants' top defensive back did get some redemption with an interception against Rodgers. But the 61-yard touchdown that he gave up to
Jordy Nelson
shows that he's still scuffling a bit and not all the way back to the level he normally plays at.
Prince Amukamara's solid play has helped the Giants' secondary.
Rueben Randle, punt returner:
Randle may be emerging as the third receiver the Giants sorely need to step up. But at punt returner, the normally reliable Randle muffed two punts. On his second muff, though, the Packers were called for a fair catch interference penalty.
This, though, feels much more like an aberration.
Andre Brown:
Sadly, Brown's season came to an end when he broke his fibula last Sunday night against the Packers.
He was having the best season of his career with 385 yards and eight touchdowns on the ground and 12 catches for 86 yards. If the Giants make the Super Bowl, there's an outside chance Brown could be back since the team placed him on its IR/designated to return spot.
With Brown out, the Giants will have to rely on Bradshaw in goal line situations unless Torain emerges as a power option in jumbo packages.
October, 28, 2012
10/28/12
12:27
PM ET
DALLAS -- Before the Giants and Cowboys renew acquaintances, let's take a look at the Stock Watch and which Giants are streaking and slumping heading into this NFC East rematch.
In honor of
Tony Romo
, this week's musical selection is from Jessica Simpson (for streaking) and Carrie Underwood (for slumping).
"IRRESISTIBLE"
(Streaking)
The Rocket Scientist:
DeAngelo Hall
may not be giving credit to
Eli Manning
, but there's nothing quite like a 77-yard game-winning salsa. Manning struggled during most of last week's game against the Redskins, but he finished it with a Jordanesque game-winning shot down the field.
Gangnam Style:
Are you down with Gangnam Style? JPP is.
Jason Pierre-Paul
celebrated his sack against the Redskins and a forced fumble on
Robert Griffin
III by doing the Gangnam Style dance from the international hit by Korean pop star Psy.
Honorable mention goes to the
Justin Tuck
bow, which made its season debut against the Redskins. The Thai population was getting restless, but Tuck finally delivered in Week 7. Will there be another bow in Dallas?
The middle linebacker:
Chase Blackburn
forced two fumbles last week, including the game-sealing fumble on Moss at the end of the game. He has recorded 10 tackles twice in the past four games, plus an interception.
"JESUS, TAKE THE WHEEL"
(Slumping)
Ahmad Bradshaw's emotion:
Stock Watch is a big fan of Bradshaw's emotion, and believes it is something the Giants need every week.
But against the Redskins, Bradshaw got a tad too emotional and took it out on Tom Coughlin during a sideline outburst, which saw Coughlin yelling back at his running back. And Bradshaw also slapped
Victor Cruz
upside the head on his helmet when he got a little upset with Cruz's blocking.
Again, the Giants will need Bradshaw's emotion 98 percent of the time, and they did end up with a win when all was said and done. But if it was a loss, this issue probably would have been blown up even more.
Secondary allowing big plays:
Santana Moss
scored twice on the Giants last week, once on a short screen and another time that could have been the game-winner on
Jayron Hosley
, from a perfect pass from RG3.
The Giants have given up seven passing plays of 26 yards or more for touchdowns this season.
The run defense:
The Giants surrendered 248 yards on the ground to the Redskins, and could not stop
Alfred Morris
at times. If Morris was a more explosive back, the Giants would have given up a lot more yards.
Three times this season, the Giants have allowed 140 or more rushing yards to opponents. One of those teams was the Cowboys, who rushed for 143 yards in the regular season opener.
Tell us who you think is playing well and who needs to play better below.
October, 13, 2012
10/13/12
6:00
PM ET
SAN FRANCISCO –- Before we get to the NFC title game rematch, let's take a look at who's streaking and who's slumping a bit heading into the game.
As you guys know, I'm an old-school music fan and name my categories after songs.
In honor of being back in California, we'll go with some West Coast rap for this week -- Ice Cube for streaking and Tupac for slumping.
"IT WAS A GOOD DAY"
(streaking)
Ahmad Bradshaw:
Bradshaw tops the list with a career-high 200 yards rushing against Cleveland. He won't find the same room against San Francisco's defense. But he is running hard and even 70-80 yards would be beneficial for the Giants on Sunday.
Offensive line:
The line not only opened huge holes for Bradshaw -- rookie
David Wilson
also scored his first career touchdown on a 40-yard run. And the Giants' line protected
Eli Manning
yet again. Manning has only been sacked once since going down three times against Dallas in the season opener.
David Diehl
likely will be available on Sunday since he made the trip to SF.
Victor Cruz:
Three salsas in one game means Cruz is on fire. And now he faces
Carlos Rogers
and the Niners. Cruz had 10 receptions for 142 yards in the NFC Championship Game against Rogers. By halftime, Cruz had eight catches for 125 yards.
"I AIN'T MAD AT CHA"
(slumping)
Pass rush:
Osi Umenyiora
,
Justin Tuck
and
Jason Pierre-Paul
have a combined one sack in the last two games. Sunday in Candlestick would be a perfect time to unleash the Tuck sack bow.
Slow starts:
Five minutes hadn't even passed last Sunday and the Giants found themselves down 14-0 to Cleveland. Make no mistake, the Giants can't spot a two touchdown lead to the Niners or else it will be a long plane ride home.
Secondary:
The Giants still have some issues to work out in coverage as they gave up a big play against Cleveland when
Brandon Weeden
hit
Josh Gordon
for a 62-yard touchdown pass. The Giants have to clean up some of the big plays allowed in the passing game on defense.
The Giants are without
Kenny Phillips
and
Corey Webster
has been dealing with a broken bone in his hand and a hamstring issue.
Prince Amukamara
has been solid and
Jayron Hosley
will be back on Sunday from a hamstring injury.
Tell us who you are happy and frustrated with below.
October, 3, 2012
10/03/12
8:00
AM ET
Welcome to this week's Stock Watch following the Eagles-Giants game.
As many of you know, I'm a music fan and normally name my streaking section after "Smooth Operator" by Big Daddy Kane and my slumping section after "The Gas Face" by 3rd Bass.
This week's Stock Watch is Jay-Z themed with the rapper holding a series of concerts in Brooklyn.
Victor Cruz
will certainly approve since he threw up the Jay-Z Roc diamond hand sign after celebrating with a salsa touchdown dance against Philadelphia on Sunday night.
"SWAGGA LIKE US"
(streaking)
RB David Wilson –-
He may be getting scarce touches on offense but he's certainly making an impact as the kick returner. He had returns of 36, 48, 45, 53, 23 and 37 yards (the 48-yard return was brought back for holding) against the Eagles and
has caught Tom Coughlin's attention
now.
WR Domenik Hixon –-
Returning after missing a game due to concussion, Hixon had six receptions for 114 yards with
Hakeem Nicks
out.
Eli Manning
trusts Hixon and often throws his way to give the receiver a chance to make a play. Manning targeted Hixon 11 times, second only to Cruz's 13 targets.
CB Prince Amukamara/S Stevie Brown –-
In his first start, the Prince did a solid job. He had one knock down and helped hold
Jeremy Maclin
to just one catch. The Giants need the Prince to be big with so many injuries in the secondary.
Brown did a nice job starting in place of the injured
Kenny Phillips
. He had seven tackles, two for losses.
Tyler Sash
is back this week but Brown has earned a role
"HARD KNOCK LIFE"
(slumping)
Hakeem Nicks' health –-
Nicks is a beast when healthy. And that has been the problem. He has missed two straight games due to either his surgically repaired foot or swelling in his knee. Coughlin says he's not sure about Nicks' status and said that Nicks' knee did not improve over the weekend. Stay tuned for updates on Nicks as the week progresses.
The running game -–
Ahmad Bradshaw
returned but the Giants were only able to rush for 57 yards. Bradshaw played on 58 out of 85 offensive snaps but
Andre Brown
only saw nine snaps. Bradshaw finished with 39 yards on 13 carries and Brown gained 14 yards on just five carries.
The Tuck Bow -–
We're still waiting for
Justin Tuck
to get his first sack of the season and deliver his sack celebration bow. Could this be the week against Cleveland?
September, 23, 2012
9/23/12
10:00
AM ET
After two games in one week, here's the Giants' Stock Watch: three things that are on the way up, and three that are headed downhill at the moment.
As some of you may know, I am a big old-school rap fan, so I've named my "streaking" and "slumping" categories after two old-school classics: "Smooth Operator" by Big Daddy Kane, and "The Gas Face" by 3rd Bass.
SMOOTH OPERATOR
Andre Brown/offensive line:
Brown excelled in place of
Ahmad Bradshaw
, rushing for a total of 184 yards in the last two games. He has ignited the running game, running hard and being patient for holes to open. He has secured a role even when Bradshaw returns.
[+] Enlarge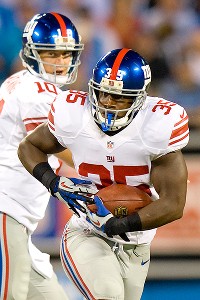 Anthony J. Causi/Icon SMIAndre Brown revived the Giants' dormant running game with 113 yards on Thursday night.
The offensive line has survived the loss of
David Diehl
and given up just one sack in the last two games while getting the running game going.
Will Beatty
and
Sean Locklear
are getting the job done at the tackle positions.
Jayron Hosley:
The third-round pick has been impressive, holding his own in the last two starts. He also had a nice interception off
Cam Newton
and has handled the duties of starting on the outside while moving to the inside to cover slot receivers. Hopefully his hamstring injury isn't serious.
The Black Unicorn:
Martellus Bennett
has scored in every game as a Giant so far and he can only get better. He still is learning about
Eli Manning
and the offense. There have been moments when Bennett stopped short on a route or dropped a pass. And that tells us he should only get better, which is a bit scary considering he has had five catches for 72 yards or more in each of the last two games.
Honorable mention:
GM Jerry Reese, who deserves credit for emergence of Andre Brown and
Ramses Barden
. Reese and Tom Coughlin kept Brown over
D.J. Ware
and have remained patient with Barden through injuries.
THE GAS FACE
Injuries:
The Giants have been hit hard by the injury bug already. WR
Hakeem Nicks
(foot), RB Bradshaw (neck), OL Diehl (knee) and WR
Domenik Hixon
(concussion) did not play on Thursday. They will have two weeks of rest since last playing against Tampa on Sunday.
The doghouse:
Gas Face to the doghouse.
David Wilson
has had a total of 10 offensive snaps in the last two games. My guess is it is a combination of him being a rookie and having to learn the offense, while also still having to earn the trust of the coaching staff after losing that fumble in the season opener.
No matter what it is, it still would be nice to see Wilson on the field a bit more and get a few more touches, because I still think the Giants can use his speed and playmaking ability down the road. Would have been nice to see Wilson get some carries at the end of the Carolina blowout.
The kneel-down:
Gas Face to the kneel-down controversy over Greg Schiano calling for the Code Red and ordering his troops to rush through the Giants' line as Eli was taking a knee.
I understand the arguments for both sides as to why and why not to do what Tampa did. Frankly, I don't care anymore and am ready to turn the page.
Give me your Smooth Operators and what you are giving The Gas Face to below in the comments list. Thanks!