New York Giants:

Tampa Bay Buccaneers
September, 17, 2012
9/17/12
11:18
AM ET
The NFL has no plans to impose any discipline for what took place on the final play between the
New York Giants
and the
Tampa Bay Buccaneers
on Sunday.
The Giants were attempting to kneel down to end their 41-34 win when the Buccaneers tried to charge through the line. The Giants' offensive line was knocked backward into
Eli Manning
, who was knocked down. Tom Coughlin was irate and
let Tampa head coach Greg Schiano hear it
at the postgame handshake.
Coughlin was worried someone could have been injured. In his Monday morning conference call with reporters, Coughlin said he did not know yet if anyone was hurt on that play, with players coming in for treatment late in the morning.
The NFL, though, saw enough and decided that no punishment was needed.
"There is nothing further on the incident at the end of the game," an NFL spokesperson said. "There were no violations on the play or afterwards that would require follow up from our office."
Coughlin stands by his belief that teams should never do what Tampa did at the end of the game.
"It's up to the NFL," he said when told there was no discipline. "I said what I said and I believe it to be accurate with regard to the number of years I have been in this league. I have said my peace about it."
September, 16, 2012
9/16/12
7:24
PM ET
EAST RUTHERFORD, N.J. --
Andre Brown
carried the ball just two times in his first three NFL seasons.
Yet on Sunday, he carried the
New York Giants
to a much-needed victory.
The 25-year-old running back emerged off the bench to rush 13 times for 71 yards against the
Tampa Bay Buccaneers
, capped off by a 2-yarder for the game-winning touchdown in the Giants' wild 41-34 win.
[+] Enlarge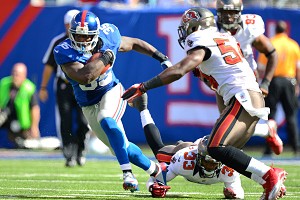 Rich Kane/Icon SMIThe Giants needed Andre Brown, who answered the call with 71 rushing yards and a touchdown.
"My role today? I was just thinking of going out there and making a play on special teams," Brown said. "And [coach Tom Coughlin] just came to me and said, 'Hey, you're up. So just go ahead and make this happen.' And I took advantage of the opportunity."
The call came about midway through the second quarter, when starter
Ahmad Bradshaw
headed to the locker room for an X-ray on his neck. (Bradshaw did not return to the game and the Giants provided no update on his status afterward.)
Instead of turning to rookie first-round pick
David Wilson
, who fumbled on just his second NFL carry in Week 1 against the Cowboys, Coughlin put the ball in Brown's hands.
His first carry didn't go so well -- behind the left guard for minus-1 yards. But the next time he took a handoff, he burst up the middle for a gain of 23.
"He ran hard," right guard
Chris Snee
said. "He found a hole, and he hit it. There was no dancing. Just an opportunity for a guy who normally wouldn't get the carries, and ... he took full advantage of it."
Brown's biggest plays came during the Giants' dramatic fourth-quarter comeback. First there was the two-point conversion run that tied the score at 27 with 6:59 left. Then there was the TD run that put the Giants on top with 34 seconds remaining -- which was preceded by Brown falling down on his own at the 2-yard line on the previous play, so the Giants could milk some more time off the clock.
"I heard
Eli (Manning)
say, 'Get down!' And I was like, all right, I've gotta get down," Brown said. "And then he was like, 'You can go ahead and score the next play.'"
"He did very well," Coughlin said of Brown. "I don't know what it exactly looks like from a pass-protection standpoint, but he did catch the ball well and run with the ball and protect the ball, (and) he's the one who knelt down there and didn't score."
Brown was in danger of being cut just over two weeks ago, when the Giants pared down their roster at the end of the preseason. Instead, the Giants jettisoned veteran running back
D.J. Ware
, who had spent the past five seasons with the team.
They held on to Brown, originally the team's fourth-round draft choice in 2009 out of NC State, who has been waived eight times by five different teams and spent last season on the Giants' practice squad. And he rewarded them in short order.
"It feels awesome," said Brown, who needed to be hooked up to an IV after the game to replenish his fluids. "I can't wait to go home and watch the game. I haven't even looked at my phone yet. My mom has probably left 18 messages. I'm just really looking forward to going and looking at the tape, and looking at what I can improve, and getting ready for next week."
Next week comes quickly -- the Giants face the
Carolina Panthers
on Thursday night.
And with Bradshaw's injury, Brown better prepare for an encore performance.
September, 16, 2012
9/16/12
5:29
PM ET
By
ESPN Stats & Information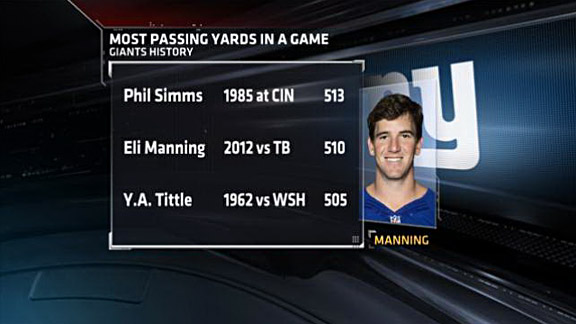 Once again,
New York Giants
quarterback
Eli Manning
brought his best to the end of an improbable victory.
Let's run through our best notes, stats and trends related to his performance in the Giants' late comeback win over the
Tampa Bay Buccaneers
.
An all-time performance
Manning's 510 yards passing rank as the second-most in a game in Giants history, and tied with
Drew Brees
for the eighth-most in any game all-time. The only Giants quarterback with more passing yards in a game was
Phil Simms
in 1985.
Fourth-quarter magic
Manning's 243 passing yards in the fourth quarter are the second-most by any quarterback
in a win
over the last 10 seasons.
Michael Vick
had 245 yards in a win two seasons ago.
Manning now has 18 passing touchdowns and 1,938 pass yards in the fourth quarter since the start of last season, both of which are the most in the NFL in that span (led NFL in fourth-quarter yards and touchdowns last year).
This is the seventh game-winning drive in the fourth quarter or overtime for Manning since the start of 2011 season, the most in the NFL (he led the NFL with six last year).
The receiving corps comes through
The Elias Sports Bureau tells us that this is the first time in Giants franchise history that they've had two players (
Hakeem Nicks
and
Victor Cruz
) with 150-plus receiving yards in the same game.
The last time any team did that was the
Arizona Cardinals
(
Larry Fitzgerald
and
Anquan Boldin
) in 2008.
Cruz had a career-high 11 receptions and a career-high 179 receiving yards. He's the first Giants player to hit both of those benchmarks in 50 years. The last was Del Shofner in 1962.
Cruz had 17 targets, matching the most by any Giants receiver in a game since 2008. Nicks had 17 in Week 5 of 2010.
Looking long
Manning was 6-for-13 for 250 yards, three touchdowns and an interception on throws of at least 15 yards downfield. He was 2-for-6 for 65 yards in last week's loss to the
Dallas Cowboys
.
That included going 4-for-6 for 187 yards on those throws in the fourth quarter.
Manning also shredded the Buccaneers' blitz. He was 9-for-14 for 228 yards and two touchdowns when the Buccaneers sent a defensive back on the pass rush. Of those 228 yards, 164 came in the fourth quarter.
Nicks was the primary outlet on the blitz, netting seven catches on for 143 yards on the 11 times when Manning targeted him on blitzes.
But if one thing needed improvement ...
Manning was 10-for-20 for 61 yards with two interceptions on throws that traveled five yards or fewer downfield. Since the start of last season, Manning had completed 71 percent of his passes on throws of that length.
September, 16, 2012
9/16/12
3:05
PM ET
EAST RUTHERFORD, N.J. — The Giants were booed by the MetLife crowd at halftime after
Eli Manning
threw three interceptions and the Giants trailed Tampa Bay 24-13.
The Giants spent the first half making adjustments after three starters left the game with injuries.


David Diehl
's knee was injured in a first-quarter goal-line drive and the team quickly announced the right tackle would not return. WR
Domenik Hixon
was injured on that same drive after a 12-yard catch and a late hit to his head from
Mason Foster
. Foster got a personal foul. Hixon has a concussion.
Later, running back
Ahmad Bradshaw
left the game to get a neck X-ray. It was later announced he would not return, although there was no more information given about his condition.
Those injuries couldn't account for the Giants' stuggles on the field. Manning (17-for-27 for 215 yards, 1 TD) threw three interceptions in the first half. The first was caught by Foster and intended for
Martellus Bennett
.
Tampa Bay CB
Brandon McDonald
intercepted Manning on a pass intended for
Victor Cruz
, and the only thing that stood between McDonald and a touchdown was a horse-collar tackle by RB
Andre Brown
.
But it didn't matter, the Bucs scored on an 8-yard run by
Doug Martin
and led 17-6.
The Giants nearly made it out of the half down only four points after
Hakeem Nicks
scored on a 23-yard pass, but
Eric Wright
picked Manning for the third time and scored on a 60-yard run with eight seconds left on the clock.
September, 16, 2012
9/16/12
11:49
AM ET
EAST RUTHERFORD, N.J. –- The
New York Giants
will start rookie cornerback
Jayron Hosley
in place of the injured
Prince Amukamara
against Tampa Bay.
Amukamara, sidelined since Aug. 24 with a high ankle sprain, was ruled inactive prior to the game. He had hoped to return for today's game but will need at least another week to recover.


Amukamara practiced on a limited basis and it remains to be seen if he will be able to play against Carolina on Thursday night. If he misses that game, he will have another week-and-a-half for his ankle to recover.
Cornerback
Michael Coe
(hamstring) is active will not start, as he did in Week 1.
Linebacker
Keith Rivers
, who started against Dallas in the season opener, is also out with a hamstring injury.
Michael Boley
should move back into his old starting job.
Wide receiver
Jerrel Jernigan
, running back
Da'Rel Scott
, defensive end
Adewale Ojomo
, offensive tackle
James Brewer
and tight end
Adrien Robinson
are inactive for the Giants.
September, 14, 2012
9/14/12
8:00
AM ET
It feels like a month since the Giants dropped their season opener to Dallas in disappointing fashion. The champs have had plenty of time to stew. Time to redeem themselves against Tampa Bay at MetLife Stadium at 1 p.m. Sunday.
Here's your What To Watch For on Sunday:


Hip Hop Hooray:
Justin Tuck
had said prior to the season opener that the Giants' pass rush always enjoyed playing Dallas and it often was "almost in a way kind of a 'Hip Hop Hooray' party for us."
That was before
Tony Romo
crashed the party. On Sunday, the Giants' pass rush has to get its Naughty (by) Nature going again against Tampa Bay or the championship defense will be in serious trouble. The Giants must get to
Josh Freeman
. Tuck said it was
"alarming"
that neither he,
Jason Pierre-Paul
nor
Osi Umenyiora
got a sack against Dallas. The Giants need a strong performance from their pass-rushing trio.
Hot corner:
Whether it is
Prince Amukamara
or
Michael Coe
, the Giants need better play at corner opposite
Corey Webster
. Webster has to play better than he did in the season opener, for that matter.
Amukamara hopes to return from a high ankle sprain and make his season debut Sunday. Coe has been battling a hamstring injury but says he is good to go. No matter who it is, the corners have to give the defensive line time to rush Freeman.
G.W.A.:
Victor Cruz
and
Hakeem Nicks
have T-shirts that show the Giants receivers under the letters "G.W.A." -– Giants With Attitude.
Last week against Dallas, though, the Giants receivers were almost M.I.A. Cruz and Nicks were shut out of the end zone and Cruz dropped three passes. It's been a tough week for Cruz, who lost his grandmother on Monday. He credits Lucy Molina with helping to raise him and
teaching him how to salsa
. He hopes to score on Sunday and have an emotional salsa touchdown celebration.
Nicks is still playing through some pain lingering from offseason foot surgery, but he hopes to move closer to his old form this weekend. Both Nicks and Cruz have to be the playmakers that they are for
Eli Manning
.
Push it:
Tom Coughlin wants to see his offensive line get better push up front to jump start the running game.
The Giants rushed for 82 yards against Dallas, but 33 of those yards came on one
Ahmad Bradshaw
run. Rushing against Tampa Bay could be difficult since Greg Schiano's defense held Carolina to 10 yards of net rushing last Sunday.
Rookie
David Wilson
hopes to get a shot at redemption after fumbling last week.
Must win?
After dropping the season opener, the Giants cannot afford to start 0-2. With the toughest schedule in the NFL, one that is downright brutal in the second half, the Giants have to take care of business and win as many home games as possible.
Tampa Bay may be 1-0 but it is still rebuilding. The Giants pretty much have to win this one, with a quick turnaround before Thursday night's game against Carolina.
Michael Vick
and the Eagles await after that.
September, 13, 2012
9/13/12
6:24
PM ET
EAST RUTHERFORD, N.J. --
Justin Tuck
predicts you'll see a very different
New York Giants
team on Sunday against the
Tampa Bay Buccaneers
.
"The energy in practice is I think double what it was last week," Tuck said Thursday. "Guys seem to be a little bit more excited about playing football. I think last week we were a little sluggish."
The Giants lost their regular-season opener at home against the
Dallas Cowboys
, 24-17.
[+] Enlarge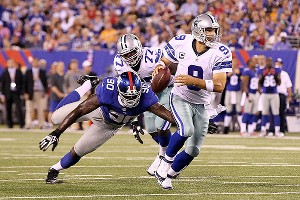 Jim McIsaac/Getty ImagesJason Pierre-Paul and the Giants couldn't get to Tony Romo last week.
When asked how the defending Super Bowl champions could be sluggish in Week 1, Tuck said, "You're asking the million dollar question. I don't know."
"Sure it's a fair question, and I wish I could give you the correct answer," he added. "Some things are unexplainable."
Giants coach Tom Coughlin, who admitted being unhappy with his team's practices prior to the Cowboys game, agreed that the team has looked better this week.
"Yesterday, the effort was very good," Coughlin said. "Today was, for the most part, pretty good -- I didn't think the last period was good. The effort, again, and the focus was better."
One of the most startling aspects of the Giants' loss to the Cowboys was the team's lack of a pass rush. The Giants recorded 48 sacks last season -- tied for third in the NFL -- and feature three of the most feared sack artists in the league in defensive ends
Jason Pierre-Paul
,
Osi Umenyiora
and Tuck.
But last Wednesday night against Dallas, that trio didn't record a single sack. In fact, they didn't even record a quarterback hit.
"That's alarming," Tuck said. "That's not how we play football."
The Giants gave the Cowboys some credit on Thursday. "They played well," Tuck said. "Their offensive line played great."
But they also gave you the impression they tried to do too much against Dallas -- going for the big play individually, instead of doing what's ultimately best for the team collectively.
"We've just got to go out there and not try to do nothing extra," Pierre-Paul said. "Don't try to hit the home run. Don't try to get a sack going inside. Handle your responsibility and do your techniques."
"In this past game, they were getting the ball out quick, and we knew that," Umenyiora said. "So we should have done a better job of getting our hands up. We weren't gonna be able to get to the quarterback in a lot of those situations, so we should have got our hands up and try to knock the ball down."
"I think we pressed, trying to make plays," Tuck said.
Their defensive coordinator, Perry Fewell, said Thursday that he hasn't had to remind his three star defensive ends about their failure to produce in Week 1.
"That's the great thing about those guys," Fewell said. "The pride that they take in hits on the quarterback, sacks and doing what they do."
This Sunday they'll be chasing Tampa Bay QB
Josh Freeman
, who piloted the Bucs to a 16-10 over the
Carolina Panthers
to open the regular season. Freeman, 24, is dangerous on his feet -- fifth among NFL QBs in rushing yards in 2011 (238 yards), and second in 2010 (364). He also had four rushing touchdowns last season.
The Giants expect to give Freeman a lot more problems than they did
Tony Romo
one week ago. The stakes are high -- according to ESPN Stats & Information, just 12 percent of teams starting a season 0-2 (22-184) have made the postseason since the playoffs expanded to 12 teams in 1990.
"We know we're a better defense than the way we went out there and played," Umenyiora said. "We didn't execute. We're coached better than that, and we're gonna play better than that on Sunday."
September, 13, 2012
9/13/12
12:21
PM ET
The
New York Giants
have asked Eric LeGrand to participate in Sunday's coin toss before their game against the
Tampa Bay Buccaneers
.
LeGrand -- the former Rutgers player who was paralyzed during a game against Army in 2010 at MetLife Stadium -- is an honorary member of the Buccaneers, who are coached by his former college coach, Greg Schiano.
[+] Enlarge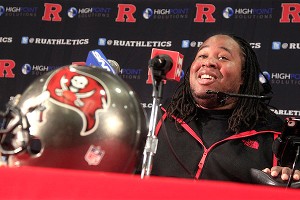 AP Photo/Mel EvansIn a symbolic gesture, the Buccaneers signed
Eric LeGrand in early May.
LeGrand told USA Today that he will try to find the spot where he was injured on the field on a kickoff return.
"I don't even know which 25-yard line I got hurt on, because it looks like a big circle to me. It all looks the same," he told USA Today. "Every time I go there, I try to figure out which one I went down on, and I cannot figure out which one it is. And I'm trying. Hopefully, I can figure it out this time or someone can tell me which one."
LeGrand, who will attend the game with his mother, has become an inspirational figure. He has made some progress and has had twitches and contractions throughout his body since his injury. He also has formed a friendship with Giants defensive end
Justin Tuck
.
"The Giants were very gracious," said IMG's Sandy Montag, LeGrand's adviser. "This is a good thing for everybody, it's an emotional thing, it's the field he was injured on, he is a New Jersey native."
"He's really excited and happy about it," Montag added.
Schiano said LeGrand's mother, Karen, has not been back to MetLife Stadium since the injury. Schiano has been back as a spectator, but this will be his first time coaching in the stadium since LeGrand's injury.
"This week, I know the Giants have helped out, and the Giants have provided a place for he and his family to watch the game, which I think is awesome of them," the Tampa coach said on a conference call with reporters. "Just that he can be there and watch with all the familiarity with both teams and all that. It's just a good New Jersey thing, and a good thing overall for football."
And if LeGrand is able to find the spot where he was injured, he'll know exactly what to do.
"I might have to do a few doughnuts in my wheelchair around the spot," LeGrand told USA Tody. "And have fun."
February, 10, 2012
2/10/12
8:40
PM ET
The New York Giants will need a new quarterbacks coach for
Eli Manning
.
Mike Sullivan
has been hired by the Tampa Bay Buccaneers for their offensive coordinator job,
league sources told ESPN NFL Insider Adam Schefter
.
Sullivan just finished his second season as quarterbacks coach after serving as the Giants wide receivers coach for six seasons. This past season, Manning enjoyed the finest season of his career. He earned his second Super Bowl MVP and passed for a career-high 4,933 yards during the regular season.
He had 29 touchdowns and 16 interceptions, down from the 25 interceptions he had in 2010. Entering the season, Manning said he wasn't a 25-interception quarterback and he was able to cut that number down with Sullivan's help.
During 2010, Manning did set a career-high in interceptions but he threw for 4,002 yards and a career-high 31 touchdowns in Sullivan's first season as quarterbacks coach.
Sullivan joins former Rutgers head coach
Greg Schiano
, now the head coach, in Tampa Bay.
Sullivan may not be the only assistant leaving after the Super Bowl.
Jack Bicknell Jr.
, the offensive line assistant coach who works with offensive line coach
Pat Flaherty
, interviewed with the Kansas City Chiefs for their offensive line coach opening, according to the Newark Star-Ledger.