New York Giants:

Tiki Barber
July, 18, 2013
7/18/13
12:06
PM ET
June, 26, 2013
6/26/13
2:33
PM ET
Tiki Barber
has been following
David Wilson
since the speedy back was at Virginia Tech.
And the most productive running back to wear a Giants uniform thinks Wilson could be really special.
"He is as dynamic a player at that position that the Giants have ever had," Barber said this week at the Big Daddy Celebrity Golf Classic. "So it is just a matter of him learning those little intricacies of what it takes to be great."
That's high praise coming from Barber, who is the franchise's all-time leading rusher (10,449 yards), is second in all-time receptions (586) and scored 55 touchdowns.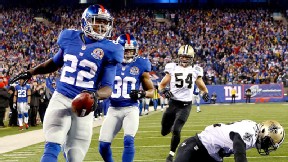 Elsa/Getty ImagesTiki Barber says running back David Wilson has incredible potential.
Barber was dangerous on the field as a running and receiving threat. But the three-time Pro Bowler thinks Wilson is even more dynamic.
"Oh yeah," Barber said. "I wasn't fast. I was quick, I was elusive, I had good vision but I didn't have breakaway speed like he does. I wasn't the athlete like he is. I worked hard to get where I was. As long as he doesn't take that for granted and works hard on top of it, he can be fantastic."
Running backs coach Jerald Ingram has preached about how he wants Wilson and
Andre Brown
to develop into complete backs. Wilson has tried improving his pass-protection skills and ball security -- two things Barber worked hard at during his career.
If anybody understands what the 5-foot-9, 205-pound Wilson will have to do in pass protection, it's Barber. Barber may be more muscular than the still-maturing Wilson but he's similar in size at 5-10 and was listed at 205 pounds when he played.
Barber said he was "horrible" at pass protection as a rookie and he explains why blocking for a young running back can be so difficult.
"There's two reasons why," Barber said. "You don't know how to do it and you are scared to do it. Unlike in college where you have smaller linebackers who are really designed to drop in the zone and cover wide receivers in the slot, in the NFL you get these linebackers who are 250 pounds and can do those things, as well.
"

I wasn't fast. I was quick, I was elusive, I had good vision but I didn't have breakaway speed like he does. I wasn't the athlete like he is. I worked hard to get where I was. As long as he doesn't take that for granted and works hard on top of it, he can be fantastic.

"

-- Tiki Barber
"It is intimidating when you give up 50 pounds to a guy," Barber continued. "And [you have to] know how to hit them and be brave enough to do it. So it took some practice."
Barber said he did alternative types of training such as boxing, wrestling and MMA-type fighting during the offseason to improve his body control and mindset about blocking.
The Giants played Wilson sparingly for most of the season after the first-round pick fumbled in the season opener against Dallas. Wilson showed how explosive he can be late in the season, rushing for 100, 55 and 75 yards in three of the final four games.
With
Ahmad Bradshaw
gone, Wilson and Brown will share carries in what Ingram hopes will be another "Thunder and Lightning" combo.
Barber thinks the duo can be the second coming of "Thunder and Lightning." Barber loves Brown's work ethic and wants to see Brown remain healthy. And so far, he likes what he has seen from Wilson but wants to see Wilson make strides in his second year.
"The one thing he needs to work on to be that complete player [that the Giants expect] is holding onto the ball, being able to recognize defenses and be like a second set of eyes for Eli [Manning]," Barber said. "Because you are the only one who has the perspective like a quarterback does.
"And be willing and able to protect him in the way of a 250-pounder and put your head under his chin and slow him down," Barber added. "He may knock you over. ... I got bowled over plenty of times. But protecting your quarterback is the most important thing."
June, 24, 2013
6/24/13
4:32
PM ET
HUNTINGTON, N.Y. -- Tiki Barber thinks Warren Sapp is "an idiot" for saying Simeon Rice was twice as good as Michael Strahan.
"Warren's an idiot," Barber said at the Big Daddy Celebrity Golf Classic at Oheka Castle on Monday. "He just wants to say things to be idiotic. I played with Stray for my whole career. He is the greatest of the great. He is a great teammate, he kept things light, but on game day he was as serious as a heart attack and it showed in his play."
Sapp, who has been critical of Strahan in the past, said last week that Rice, his former Tampa Bay teammate,
was definitely better than Strahan
, whose 141.5 career sacks rank him fifth on the NFL's all-time list.
"Nobody ever talks about Simeon," Sapp told the Tampa Tribune. "Simeon was a better rusher than Michael Strahan any day of the week and twice on Sunday."
"[Rice] didn't rush the worst lineman," Sapp continued. "You know the right tackle is the worst of the five. Strahan played right end his first four years. When they were putting the label on him as a bust, they put 'B-U-S ... OK, let's transition him on the other side and see if he can play in his fourth year.'"
Sapp added: "They put him at right end and he couldn't do it, so they moved him to the weak guy. One-on-one with the Jon Runyans for eight quarters every year."
Barber, whose twin brother Ronde played with Sapp in Tampa Bay from 1997-2003, said Sapp's criticism is unfounded.
"Warren doesn't know, never played with him," Barber said. "I don't put any credence in his opinion."
"I hope Stray doesn't let it bother him," Barber added. "I don't think it does."
September, 12, 2012
9/12/12
6:50
PM ET
EAST RUTHERFORD, N.J. -- The question had to be asked.
With the Giants facing the Buccaneers this coming Sunday, Giants beat writers were given the opportunity to speak with one Buccaneers player via conference call on Wednesday.
That player was
Ronde Barber
-- the five-time Pro Bowl defensive back, and twin brother of former Giant
Tiki Barber
.
Tiki is the Giants' all-time leading rusher. But he retired suddenly at the age of 31 in 2006, off one of his best seasons, and is now unpopular with many Giants fans -- in part because of critical comments he made about Giants quarterback
Eli Manning
while serving as a member of the media.
Ronde, naturally, was asked about his brother's fractured relationship with the Giants:
"That's between Tiki and the Giants," Ronde said. "I, fortunately, don't have anything to do about that. There's no doubt that he was a great player for them and he'll always be. Those records will never go away, so it is what it is. He'll bounce back into there hopefully, hopefully on the good side of that relationship sooner or later."
As for Ronde, he is now in his 16th NFL season -- and was just named the NFC Defensive Player of the Week for his performance in the Bucs' 16-10 over the Panthers last weekend, when he recorded both a sack and an interception.
"I'm definitely a football player," Ronde said Wednesday. "I love what I do. I like coming in the building, I like going to work."
September, 3, 2012
9/03/12
2:59
PM ET
By
Ian Begley
| ESPNNewYork.com
Tiki Barber
said on Friday that he has some questions about the 2012 Giants.
But are they legitimate ones?
Barber, the former Giants running back, made an appearance Friday on the "Mike & Mike" show on ESPN Radio and talked about some issues he sees surrounding the Giants on the eve of the regular season.
"I get some fears about some of the things that I've seen so far in the preseason," Barber said.
Specifically, he mentioned the Giants' low preseason third-down conversion rate and the issues on the offensive line.
"Some of those guys have gotten old," Barber said, in reference to the Giants' offensive line.
It's worth noting that the Giants' offense -- and QB
Eli Manning
in particular -- struggled in the preseason last year. And the offensive line was beset by injuries. But things seemed to turn out pretty well. So it'd be wise to take Barber's critique with a grain of salt.
Barber has also been an outspoken critic of the Giants since he retired (for the first time) prior to the 2007 season. He questioned the leadership skills of Eli Manning and routinely criticized coach Tom Coughlin both during his playing days and in retirement.
On Friday, he said that there are "questions" surrounding the Giants but admitted that the defending Super Bowl champs have to be "at the top of the list simply because of the experience of the quarterback, the coaching ability and the ... fate of this team over the last four or five years."
September, 15, 2011
9/15/11
5:22
PM ET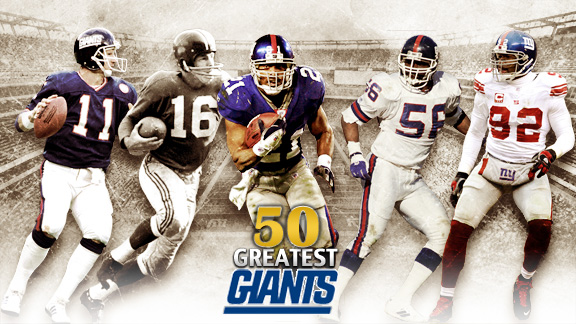 ESPN.com illustration
The list: 50 Greatest Giants

Rank 'Em: Your top 20 »
As the G-Men get ready to play the St. Louis Rams on the next edition of "Monday Night Football," ESPNNewYork.com is proud to announce its list of the 50 Greatest Giants.
Putting this list together was a tall order, considering Big Blue's long and storied history, which includes three Super Bowl wins.
There is plenty of room for debate -- in terms of who we selected, and in terms of what order we placed them in. And we welcome your feedback! Feel free to use the comment feature below.
We wanted to include a wide range, in terms of positions. And we certainly could have included at least a couple more current Giants -- in fact, two of them just missed the cut. But they've got some time left in their careers, and will likely make this list when it's all said and done.
Who are they? We'll, why don't you take a guess?
With that said, let 'er rip! Enjoy the photo gallery, and use our list ranker to assemble your very own top 20.