New York Giants:

Training camp 2012
July, 26, 2012
7/26/12
4:30
PM ET
ALBANY, N.Y. --
Victor Cruz
may be entering the final year of his contract, but he says he has more motivation than just playing for a new deal.
"I don't need a contract to stay motivated," said Cruz, who put up a franchise-record 1,536 receiving yard last season. "Just the thrill of winning with my team, at home in New York, a place I grew up, that's all the motivation I need to play football. I don't think a contract is something that's gonna motivate me."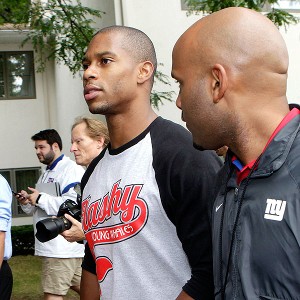 Tim Farrell/The Star-Ledger/US PresswireVictor Cruz reported to training camp Thursday.
Cruz, 25, has said he wants a new deal but will not hold out or make a stink about one. He is set to make $540,000 this season.
Returning to Albany is another reminder of just how far Cruz has come. When the Giants were last here two summers ago, Cruz was an undrafted free agent trying to make the team.
Now he returns after a record-breaking season and is motivated to prove that he is a legitimate star receiver.
"I'm excited to see the fields again, excited to see some of the areas where I was making plays," Cruz said. "I'm just glad to be back out there. It's definitely nostalgic being up here with the guys."
"I'm not as nervous as I was the first time, not knowing if I was gonna make the team and what was gonna happen," he added. "You just never know what's gonna happen when you come up as a rookie free agent. This year it's a little bit more calm, just continue to try to fine-tune my skills."
July, 26, 2012
7/26/12
3:45
PM ET
ALBANY, N.Y. -- The Giants reported to training camp today and the defending Super Bowl champs packed something heavy to go along with their luggage.
Victor Cruz
says the Giants definitely have a chip on their shoulder.
"Coming into this season nobody's picking us to win, everybody's picking us to be last in the division and things of that nature," Cruz said. "Naturally, that puts a chip on our shoulder and we want to come out and prove people wrong, like we essentially have to do every year."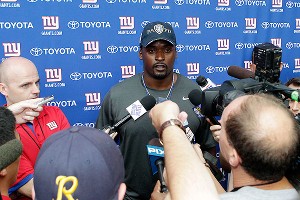 Tim Farrell/The Star-Ledger/US PresswireWill the Giants be underestimated? Not by their opponents, Mathias Kiwanuka says.
The Giants have noticed people talking more about the Eagles and the Cowboys. And that is just fine by them, since the Giants take great joy in finding motivation from doubters.
But
Mathias Kiwanuka
knows opponents will set their sights on the Giants.
"Until you lose, you have to be called the best, right?" Kiwanuka said. "It's a new year, it's a new season, but we have the crown and that target on our back and we know it. That's why we're going to look at it that way, not to put ourselves above anybody but just to remember that when we play a team we're going to get their best game, their best shot."
DYNASTY TALK:
Justin Tuck
mentioned the "D" word long before
Michael Vick
, did when Tuck said he wanted the Giants to become a dynasty earlier this offseason.
So what does he think of Vick saying the Eagles have the makings of becoming a dynasty of their own?
"I understand what Michael is saying," Tuck said. "Obviously it's gonna get blown out of proportion. I think he was just talking about the belief in his football team. I don't see anything wrong with that."
"It wasn't a slight to any team that's won a championship or anything like that," he added. "He believes in his football team, why shouldn't he say it?"
Is there enough room for two dynasties in the NFC East, though?
"We're not a dynasty yet," Tuck said. "We still got some work to do ourselves. [But] no, there's not [enough room for two dynasties]. Right now there's not one in here yet, hopefully we can become that first dynasty."
GIANTS MOVES:
The Giants announced that Ken Sternfeld is the team's new director of pro personnel after spending 10 seasons as the assistant director.
Dave Gettleman, previously the director since 1999, is now senior pro personnel analyst.
Sternfeld, along with pro scouts Matt Shauger and Patrick Hanscomb and department assistant Andrea Wagner, will scout opponents. Gettleman's focus is on individual NFL players.
"Dave has been a great mentor for myself and Kenny," GM Jerry Reese said in a news release. "He is a true professional that knows the business and he has the Super Bowl rings to back it up.
"Kenny is well-rounded, a tireless worker and well-prepared to take over as Director of Pro Personal."
Sternfeld has more than 20 years of pro and college scouting experience and spent 21 years with the New England Patriots, primarily in scouting. He joined the Giants in May 2002.
July, 26, 2012
7/26/12
3:04
PM ET
ALBANY, N.Y. --
Justin Tuck
went into training camp feeling healthy last year, but he suffered a shoulder/neck injury against the Jets in the preseason that lingered.
There would be other painful, nagging injuries (groin and toe) that would plague him as the season went on. Meanwhile, off the field, Tuck endured even more pain with the loss of his grandfather and two uncles.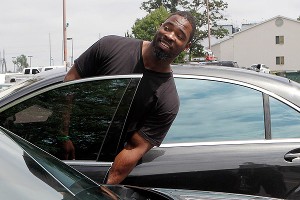 Tim Farrell/US PresswireJustin Tuck, the Giants' defensive captain, had a smile ready when he arrived at training camp.
This year, Tuck returns to camp feeling healthy again and things off the field are better.
"I came into camp last year pretty healthy, too," Tuck said Thursday, upon reporting to camp. "That damn Jet preseason game.
"More than anything, my mind is in the right place this year. I haven't had a lot of personal problems as I did last year, God bless. Hopefully that stays the same and I can continue to just focus on football."
Tuck recently
told ESPN's Jeffri Chadiha for "E:60"
that he didn't work as hard last offseason as he normally does, due in part to the lockout. This year, he is motivated to regain the form that made him one of the best pass rushers in the NFL.
But his main focus is adding another Super Bowl ring to his collection as opposed to statistics or making another Pro Bowl.
"In my old age, I'm less concerned about me personally, as far as stats, than I am about what we do as a team," said Tuck, 29. "It's important for me to win football games. Yes, I would love to be a Pro Bowler, love to be All Pro and all those things, that's icing on the cake. (But) I'll take last year's stats with a Super Bowl any year."
Tuck played in 12 regular season games last year, finishing with just five sacks. However, he had a combined 3.5 sacks in the NFC Championship Game and Super Bowl.
Tuck knows that if he,
Jason Pierre-Paul
and
Osi Umenyiora
can stay healthy, the Giants will get their fair share of sacks this season.
"If we all are healthy at the same time and get the opportunity to be on the football field together, that trio is going to be tough to handle," Tuck said. "It's gonna be tough for offensive lines to block us. They'll have to pick and choose; they can't double-team all of us. We feel we can win the one-on-ones. That's gonna be our strength this year, if we're healthy."