New York Giants:

Trent Richardson
November, 1, 2013
11/01/13
8:00
AM ET
Your daily morning check-in on news and notes about to the New York Giants
The news of the day:
Linebackers coach Jim Hermann feels his group has improved since the start of the season. The addition of Jon Beason at middle linebacker is
the clearest and biggest reason
for this, but Hermann is also happy with what he's seen lately from Spencer Paysinger and Jacquian Williams. ... The biggest problem area on the team has been and remains the offensive line, which coach Pat Flaherty acknowledges
has been a challenge
to juggle. ... And in case you missed it Thursday,
I wrote this
on the contrast between a typical NFL sideline rant and the manner in which the Giants' defensive players took their complaints and concerns to their coach some weeks ago.
Behind enemy lines:
They still have to get through a Sunday game against the Eagles before they get the rested Giants in Week 10, but the Raiders have obviously been having some problems of their own,
even in their victories
.
Around the division:
Will the Raiders team the Giants face on Nov. 10 be coming off a win or a loss? That likely depends on the performance of one Mr. Nick Foles, who is the quarterback of choice (
or, more likely, of necessity
) for the reeling Philadelphia Eagles this week.
Around the league:
With the trade deadline over and a lot of fans unhappy their team didn't do anything, Jeff Chadiha looks at the biggest move of the trade season and writes that the Colts
don't appear to have acquired
the difference-making running back they thought they were getting in Trent Richardson.
October, 30, 2013
10/30/13
8:00
AM ET
Your daily morning check-in on news and notes about and of interest to the New York Giants.
The news of the day:
Giants GM Jerry Reese and all of the team's position coaches spoke to the media Tuesday for the only time all season. As I was in Bristol for "NFL Insiders," Matt Ehalt and Kieran Darcy handled the coverage in East Rutherford and have plenty of interesting stuff. Reese credits coach Tom Coughlin for holding the team together through the 0-6 start and thinks the Giants
can still make the playoffs
. (I agree with one of those two things.) Wide receivers coach Kevin M. Gilbride thinks Hakeem Nicks is
on the verge of a breakout
. (Not sure about this one, as I think Nicks' legs aren't what they used to be and that he might at least subconsciously be trying to make sure he doesn't get hurt in his contract year.) And the Giants expect that running back Andre Brown will return to game action
as soon as he's eligible
in the first game after this week's bye. Will be interesting to see what move, if any, they make at running back. Wouldn't be surprised if David Wilson ends up on season-ending injured reserve before this is all over.
Around the division
: The folks at ESPNDallas.com have come up with
a gallery of 21 Cowboys losses
since 2005 that fit into the fun category of "crazy Cowboys losses," inspired by Sunday's loss to the Lions in which they won the turnover battle by four and still managed not to win. A little schadenfreude for Giants fans on the bye week.
Around the league:
Nicks wasn't traded, of course, as the NFL's trade deadline passed Tuesday. Neither was Minnesota's Jared Allen or Cleveland's Josh Gordon or anyone else but Isaac Sopoaga, who was dealt from Philadelphia to New England. There were some interesting deals made earlier in the year, including the one that sent Trent Richardson to the Colts and the one that sent Jon Beason to the Giants. But the NFL trade deadline is not a deadline that tends to spur action. Little was expected Tuesday, and very little occurred. I think the Giants did well in the trade season, not just in acquiring Beason, who's changed their defense for the better, but in holding onto Nicks, who may still be a long-term piece of their offense and might not cost what he and they used to think he might in free agency.
September, 21, 2013
9/21/13
10:41
AM ET
September, 20, 2013
9/20/13
8:00
AM ET
Your daily morning check-in on news and notes about and of interest to the New York Giants
The news of the day:
The Giants' pass defense doesn't need a fresh challenge a week after failing to sack
Peyton Manning
, but
Cam Newton
of the
Carolina Panthers
presents one anyway as a quarterback who can beat them with his legs as well as his arm. The Giants say they've been
prepping for running quarterbacks
all offseason. Of some concern is the fact that cornerback
Corey Webster
missed practice Thursday with a
hip injury
. We'll certainly monitor that today, though it's not unusual for Webster to miss a day of practice here or there. He generally doesn't miss games.
Behind enemy lines:
An 0-2 start for the Giants is upsetting, and their first 0-3 start since 1996 would be considerably more so. But sometimes it's easy to forget what these things mean elsewhere. Tom Coughlin's going to coach the Giants for as long as he wants to coach them. Ron Rivera, the Panthers' coach,
may need to win a game soon
if he wants to keep his job.
Around the division:
Following the Eagles' utterly heinous six-turnover loss to the Chiefs on Thursday night, the combined record of the NFC East is now 2-7, including an 0-2 mark against the Chiefs. The whole Eagles thing sure did look fun in Week 1 when the Redskins showed up apparently without having watched tape of one single Oregon play from the past six years. But a fun new scheme can only go as far as your personnel can take it. And we've not met the scheme yet that can succeed if you turn it over six times.
Around the league
: Giants fans were hoping last week that the team might sign former Broncos running back
Willis McGahee
, who was in for a workout. They signed
Brandon Jacobs
instead. McGahee hooked on Thursday with the Browns, who'd just traded
Trent Richardson
to the Colts the day before. So I guess Giants fans will get to find out what they missed, though I have to believe McGahee is nothing more than a stopgap body for a depleted run game in Cleveland. If he'd shown anything exciting as a ballcarrier, he surely could have made this year's Giants.
September, 19, 2013
9/19/13
8:00
AM ET
Your daily morning check-in on news and notes about and of interest to the New York Giants.
The news of the day:
Lots of talk around the Giants on Wednesday about the pass rush, and what can be done to jump-start a unit that's come up with only five sacks in its past seven games.
I personally think
it's only going to get back to where it needs to be if and when
Jason Pierre-Paul
is back to full strength. And the guy did just have back surgery. It's at least possible that he's never the same again, right? Ohm also checks in on the
"terrible" run game
.
Behind enemy lines:
Cam Newton
struck me as extraordinarily upbeat and positive on the conference call with Giants writers Wednesday. He apparently
struck the Panthers writers that way, too
. Newton appears to be making an effort to be more of an outward leader, which is something the 0-2 Panthers likely could use. The Giants were able to contain Newton when they clobbered Carolina last season, but he presents a dual challenge as a passer and a runner for a team that's struggling even to get to stationary quarterbacks.
Around the division:
The Giants aren't the only NFC East team struggling to run the ball. The
Dallas Cowboys
have struggled to get their run game going behind
DeMarco Murray
, even though Murray seems healthy for a change. They're hoping the Rams, against whom
Murray had his breakout game in 2011
, provide some relief. But the Rams are a bit tougher up front than they were that year.
Around the league:
The stunning NFL news of the day was the
Cleveland Browns
'
trade
of 2012 first-round pick
Trent Richardson
to the Colts for a 2014 first-rounder. Gives the Browns two first-rounders next year, which I assume they'll use to try to secure a franchise quarterback. But what's amazing about that is that they had two first-rounders just last year and used them to get Richardson and quarterback
Brandon Weeden
. With the new coaching staff apparently (and understandably) dissatisfied with Weeden, they end up basically taking a do-over with the Richardson pick. Which is fine, but hard not to feel like two years got wasted in the meantime, right? Anyway, I'm back on "NFL Insiders" today at 3 p.m. ET on ESPN to discuss this and many other topics. Please tune in.
October, 7, 2012
10/07/12
6:24
PM ET
EAST RUTHERFORD, N.J. -- Perhaps
Trent Richardson
got his candy, as Giants defensive end
Osi Umenyiora
would say.
After talking about potentially having success on the edges against the Giants, the Browns' rookie running back finished with 81 yards and a touchdown Sunday afternoon -- a fine effort, for sure.
To Giants linebacker
Mathias Kiwanuka
, though, that didn't matter much in the end.
[+] Enlarge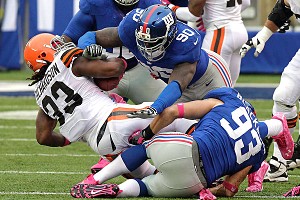 Tim Farrell/The Star-Ledger/US PresswireTrent Richardson
"We won the game," Kiwanuka said. "End of story."
Richardson finished with 128 total yards against the Giants, and averaged a healthy 4.8 yards per carry. But the Giants contained him enough to come away with a comfortable win.
Richardson's comments leading up the game inspired Umenyiora to tell the rookie to try and get his "candy" on the edge, while Kiwanuka told the Newark Star-Leger he would shake the rookie's hand and give him a pat on the butt if he proved it Sunday.
That handshake never came. "He's got to beat us to get that," Kiwanuka said.
Richardson started the talk by saying on a conference call that if the Browns covered the edges and ran hard, he believed they could have success in the running game. The Giants, to Richardson's credit, had been allowing 118.3 yards per game entering the contest.
His comments led to Umenyiora's and Kiwanuka's responses, which gave some bite to Sunday's game. The rookie threw the first punch Sunday by scoring on Cleveland's second offensive play of the game, as he rushed for 15 yards up the middle to give the Browns a 7-0 lead.
Richardson finished with 13 carries for 67 yards in the first half, but his second half didn't nearly match the first 30 minutes. With the Giants opening up a two-score lead, Cleveland had to turn to the passing game. Richardson rushed the ball just four times for 14 yards in the second half.
Instead, the running back became more of a threat out of the backfield during the second half, as he finished up with five catches for 47 yards. Kiwanuka said the team made minor adjustments to correct the problems that had plagued the run defense early on.
While Richardson didn't get the win, Kiwanuka complimented him, saying he played well. Umenyiora was not available after the game because his son had an asthma attack.
"He's a solid player," Kiwanuka said. "No doubt about that. As long as he stays healthy he'll have a long, prosperous career. There's a lot of things that go into being a player in this league and knowing when to say something and when not to is part of it."
Kiwanuka said he did not talk to Richardson after the game, and called the whole thing a "side story." While he had no problems with what the running back said, he gave a reminder that the final outcome of the game is ultimately what means the most.
"You can say whatever you want coming in," Kiwanuka said. "Just make sure you come out with a win if you do."