New York Giants:

Vernon Davis
October, 13, 2012
10/13/12
3:00
PM ET
EAST RUTHERFORD, N.J. -- Giants defensive coordinator Perry Fewell said Thursday he likes linebacker Jacquain Williams' ability to match up with
San Francisco 49ers
elite tight end
Vernon Davis
.
But when asked about covering Davis on Friday, Williams responded, "that's not my role."
Regardless, the key to a Giants' victory this Sunday in San Francisco will likely be containing (since you can't stop) Davis -- and it's up to Fewell to figure out how to do so.
In last season's NFC title game, Davis torched the Giants for 112 yards and two touchdowns, but Big Blue was still able to prevail. The 28-year-old is coming off a season-high 106-yard receiving effort against the
Buffalo Bills
last week.
The Giants have had success covering tight ends in 2012. Only Carolina's
Greg Olsen
has gone off -- snagging seven passes for 98 yards in Week 3.
Looking at New York's roster, putting Williams on Davis seems to make the most sense. Williams covered the 49ers tight end in last season's regular-season game, but not in the playoffs. Williams certainly has the speed to keep up with Davis.
But maybe Fewell will decide to put one of his other linebackers on Davis with safety help from
Antrel Rolle
or Stevie Johnson over the top. Maybe he'll go with Rolle. Maybe he'll go with a mix of defenders, since the 49ers like to put Davis all over the field in different formations.
It's going to be intriguing to see just how exactly Fewell schemes against Davis.
January, 18, 2012
1/18/12
3:22
PM ET


It's the gauntlet of tight ends.

The Giants have faced elite tight ends in both of their playoff wins, and that will continue Sunday when they take on San Francisco and Vernon Davis. Davis, a former first-round pick, was the hero of the 49ers' win over the Saints with 180 yards and two touchdowns, including the game-winning score.

"He's an NFL tight end and he is good at what he does," Giants safety Antrel Rolle said. "He is very explosive, a deep threat, he can get upfield, he can make defenders miss. That is what makes him pretty special."

Once perceived to be a problematic area for the Giants, Big Blue has excelled in shutting down elite tight ends in the playoffs. In the 24-2 win over Atlanta, the Giants held veteran tight end Tony Gonzalez to just four catches for 44 yards. Gonzalez finished fifth among tight ends in receiving yards this season.

Last week, the Giants put an emphasis on shutting down Jermichael Finley, who torched them for six catches and 87 yards as well as a touchdown in their meeting on Dec. 4. On Sunday, the Giants held Finley to just four catches for 37 yards despite being targeted nine times in the game. Finley was third among all tight ends in touchdowns this year.

"Keep giving them different looks," linebacker Michael Boley said of how the Giants have slowed down two top tight ends in the last two weeks. "Don't give them something to key on. Keep giving them different looks. Keep them off their game. Keep them off balance."

Now the Giants turn their attention to Davis, who has come on strong in his last two games. After posting just one 100-yard outing in the first 15 games, Davis has rebounded to top 100 yards in each of his last two games.

In Sunday's win, he had a huge catch that helped give the 49ers prime field position on their game-winning drive and later collected the decisive score. His 180-yard day was his season-high showing.

"Vernon Davis is a very good football player," defensive tackle Chris Canty said. "He presents a lot of challenges for each level of the defense, from defensive line from a blocking standpoint to the linebackers and secondary and coverage. So he's a tremendous weapon for them, he's a team leader for them. We have to be prepared for that."

When the Giants faced Davis in the teams' first meeting on Nov. 13, he had three catches for 40 yards and registered a 31-yard touchdown on a play in which the Giants' had a busted coverage. A few Giants mentioned how Davis' speed is what makes him so tough to defend.

"I think he is a lot faster than pretty much every tight end you are going to face in this league," Rolle said. "I think he is definitely among the fastest, if not the fastest. That is what puts him over the edge."
January, 18, 2012
1/18/12
12:12
PM ET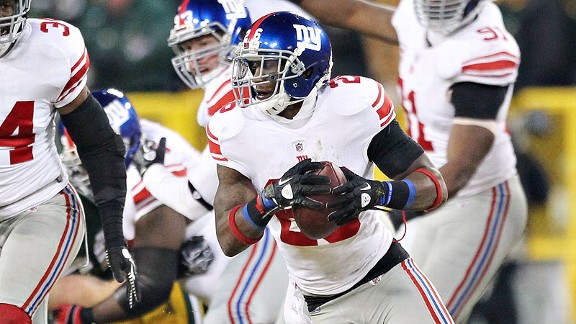 Matthew Emmons/US PresswireSafety Antrel Rolle has emerged late this season as one of the leaders in the Giants' locker room.
The wind blows, fish swim and
New York Giants
safety
Antrel Rolle
talks. Rolle is a very good football player, but talking is the activity for which he is best known. At a time when pro athletes are looking for ways not to talk the media -- specifying only one day per week on which they'll do interviews, for example -- Rolle is a nonstop talking machine.
He talks on Mondays, when players are still weary from the game and the flight home. He talks on Wednesdays and Thursday and Fridays, when the locker room fills with reporters looking for colorful quotes and insight. He talks after games, win or lose, happy or angry. Heck, he even talks on Tuesdays, which is the players' day off. He does a weekly radio appearance on Tuesdays that's appointment listening for everyone who covers the team because it almost always generates news.
"Trel likes to talk, but he's a guy you listen to," Giants linebacker
Mathias Kiwanuka
said Sunday, after Rolle turned in his best game as a Giant in the playoff victory over the Packers at Lambeau Field. "When he says something, he usually has a reason why he said it."
Of this season's Giant developments, the emergence of Rolle as a voice of locker-room reason had to be among the least likely. This is his second year in New York; he signed as a free agent from Arizona before the 2010 season. A year ago, he was complaining about Tom Coughlin and saying the playoff-bound Jets had better team chemistry. A month ago, after the loss to the Redskins that dropped the Giants to 7-7, Rolle stood at his locker and talked about how guys needed to stop sitting out practice with minor injuries.
This is stuff you're not supposed to say to the media -- stuff that stirs controversy and can injure that aforementioned team chemistry. And with the Giants' secondary playing as poorly as it was at the time, the immediate reaction was to proclaim Rolle a malcontent. Columns were written in New York suggesting that all Rolle did was talk -- first guy to the microphone, last guy to the ball, stuff like that. Outside the Giants' locker room, the first reaction to Rolle's words was concern that the team could be on the verge of a meltdown.
But inside the locker room, the reaction was much different. Rolle's words in the wake of the Redskins loss hit home with defensive end
Justin Tuck
, who had been sitting out practices with nagging injuries but playing on Sundays. Never mind that Rolle went out of his way, that day and in his radio spot two days later, to say specifically that he wasn't calling out Tuck. Tuck, a tenured Giant with a Super Bowl ring who could either have easily brushed off Rolle's perceived swipe or angrily fired back, took the words to heart. In Tuck's own words, what Rolle said "struck a chord." After that, and a conversation with Coughlin, Tuck was back on the practice field that week along with
Ahmad Bradshaw
and several other teammates whose nicks and bruises had been keeping them on the exercise bikes.
"I can't take credit for that," Rolle said Tuesday on that weekly radio appearance on WFAN in New York City. "Guys have turned things around on their own and for the betterment of this team. We have one goal in mind, and that's to compete and win a championship."
In that same interview, Rolle was asked about 49ers tight end
Vernon Davis
, who'd said a few days earlier that he'd "prayed" for the Giants to beat the Packers. Rolle's answer was this:
"If he said that, I can only hope that he was saying it just because they wanted to get a home game. You know, they'd better be careful what they ask for, because their wish has been granted and we will see those boys come Sunday."
The second part of the quote is the one being played up, because that's the way things work in this league and this business these days. But the fact is, Davis was clearly, and as he himself explained, only saying what he said because the 49ers preferred to play the NFC Championship Game at home. By now, Rolle surely knows that, and although it's possible this "Rolle vs. Davis" storyline will be kept alive this week, you can be certain Rolle won't be the one responsible for doing so. He talks, yes, but he doesn't appear to suffer nonsense. Rolle's talking has a purpose.
He may come off as a blustery yapper, but what Rolle has done over the past few weeks defies the modern sports establishments' attempts at easy categorization. This is a guy who talks -- all the time, yes -- but also backs it up. His individual performance against the Packers, which included occasional one-on-one coverage of
Greg Jennings
and
Jermichael Finley
in addition to his usual safety role, was one of the main reasons the Giants' secondary held up against Green Bay's aerial attack. Earlier this year, while they were waiting for top draft pick
Prince Amukamara
to return from injury, Rolle served as the nickel cornerback. For all of his talk, he has been an obvious and willing team player since arriving in New York. And upon further examination, all of Rolle's talk seems to have real, team-oriented purpose behind it.
Rolle's not out there bellowing about how great he is. He's not getting in the opposing coach's face and yelling, "Time to shut up, fat boy!" as a teammate of his did. He's not planting deleterious information about teammates in off-the-record interviews. Rolle is out there, playing hard, and the talking he does is intended for the good of the team. Although his personality might not appear to fit the traditional Big Blue profile, Rolle has emerged late this season as one of the leaders in the Giants' locker room.
He's doing it his own way, sure, and it's doubtful anyone saw Rolle-as-leader coming. But when he talks, even the veterans in that room listen. And leaders are judged, in the end, on results.