New York Giants:

zack bowman
August, 14, 2014
Aug 14
8:00
PM ET
EAST RUTHERFORD, N.J. -- A daily review of the hot topics coming out of
New York Giants
training camp:
OK, so now I think the Giants' offense is just trolling us. There was a play Thursday when Eli Manning looked right, Rueben Randle cut up the field but Manning threw short and cornerback Zack Bowman intercepted the pass and ran it back into the end zone. Which is the exact same thing that happened in the Giants' loss to the Bears in Chicago last October -- right down to Bowman, who was playing corner for the Bears that night! That had to be staged, right? Like some kind of obscure Civil War battle re-enactment? Maybe they're just messing with us and they're going to be the 2013 Eagles offense when the curtain goes up next month. Think about it.
Tom Coughlin said Curtis Painter would be the No. 2 quarterback behind Manning on Saturday night in Indianapolis, which is a change from the first two preseason games, in which Ryan Nassib was. And it's not a coincidence -- it's because Painter is playing better. Asked whether this was the plan all along or whether that's just where things stand right now, Coughlin said the latter.
Wide receiver Victor Cruz had a strong practice, beating slot cornerback Walter Thurmond for one of the few times this camp and scoring on an Eli Manning pass up the seam.
Rookie Odell Beckham Jr. continues to do more and more, and his hamstring is feeling better to an extent that he's able to be a bit less careful out there. He caught a pass from Nassib with Ross Weaver in coverage and fell to the ground with Weaver tumbling on top of him. He got up without issue and walked back to the sideline. Beckham won't play Saturday, but Coughlin said they believe he'll play in next week's preseason game against the Jets.
The Giants are lining up fullback Henry Hynoski all over the field, and had him split out wide on one play in practice Thursday, though Coughlin said the idea of lining Hynoski up at the line is far fetched. "Up position, wing position, all over the backfield," Coughlin said. Hynoski's versatility could be important for a team struggling to find answers at tight end.
Tight end Daniel Fells continues to miss practice with a knee injury. Return man Trindon Holliday continues to miss practice with a hamstring injury. Defensive tackle Mike Patterson (shoulder) was back at practice Thursday.
Coughlin, GM Jerry Reese and Eli Manning all took the ice bucket challenge for ALS after practice.
Though they will continue to practice in the same place and at the same times next week as they have been for the past three, Thursday was the last official day of Giants "training camp." So no more practices open to the public. The team is off Friday and will travel to Indianapolis for Saturday night's preseason game against the Colts.
August, 9, 2014
Aug 9
12:00
PM ET
EAST RUTHERFORD, N.J. -- The
New York Giants
(1-0) take on the
Pittsburgh Steelers
(0-0) in their second game of the preseason Saturday night at MetLife Stadium.
1. The pass rush:
Damontre Moore
looked good against a rookie backup tackle Sunday night in Canton, but I was expecting more than I saw from Jason Pierre-Paul in the short time the first team was on the field. Steelers quarterback
Ben Roethlisberger
(assuming he plays) poses a tough test for a pass rush because of his mobility in and outside of the pocket. But it'll be interesting to see whether the Giants' defensive ends can get into the backfield and help dictate the action. They only had 33 sacks last year.
Justin Tuck
, who had 11 of them, is no longer on the team. Pierre-Paul must deliver at a high level this year, and it would help the Giants' optimism about this critical aspect of their defense to see him wreak havoc against a real opponent, even in a meaningless game.
2. The passing offense:
The Giants' first-team offense only looked effective Sunday when it was running the ball -- and against a backup defensive line, at that. They definitely want to lean on the run, but they'd also like to get their short, quick passing game going at some point this preseason. They still don't have first-round wide receiver
Odell Beckham Jr
. (hamstring) on the field, but that means more opportunity for guys like
Marcus Harris
,
Corey Washington
and
Preston Parker
, who are trying to earn roster spots. Can
Victor Cruz
get open in the slot and show an ability to turn a short pass into a long gain? His position in your next fantasy draft could depend on it.
3. The secondary:
This looks like the star unit of the team on either side of the ball, but defensive coordinator Perry Fewell said this week that the question was "Can we get them to play together?" I have other questions. Is Dominique Rodgers-Cromartie really a lock-down corner who can play the opposing team's No. 1 receiver every week? (And which superhero cleats will he wear?) Will
Prince Amukamara
's determination to increase his interception total pay off? Will
Walter Thurmond
continue to dominate other team's slot receivers the way he's been handling Victor Cruz in practice every day? Does
Zack Bowman
continue to force his way into the mix with his physical style? And speaking of physical style, will this group get called for fewer downfield penalties in this game than it did Sunday?
August, 7, 2014
Aug 7
8:10
PM ET
EAST RUTHERFORD, N.J. -- A daily review of the hot topics coming out of
New York Giants
training camp:
Let's get the nightly interception rundown out of the way first. Zack Bowman intercepted Curtis Painter, Charles James intercepted Eli Manning and Bowman intercepted Ryan Nassib in the end zone. Chandler Fenner almost got a pick for the second night in a row, but Corey Washington turned into a defensive back and knocked it away from him at the last second. The secondary is ahead of the offense, is the basic point here.
The star of the secondary is Walter Thurmond, though. He came on a corner blitz and got to Andre Williams in the backfield on one play. And while they love him as the nickel corner, Thurmond got a lot of work on the outside Thursday night as well, staying on the field with the first-team base defense while Prince Amukamara or Dominique Rodgers-Cromartie took a break.
Left guard Geoff Schwartz returned to practice, but his left knee is obviously bugging him and he didn't take many reps. Weston Richburg got most of the snaps at first-team left guard. Charles Brown took most of the first-team left tackle snaps, but not because of any fresh injury to Will Beatty. It's just that Beatty isn't playing Saturday and Brown is.
I watched running back pass-catching drills. The most natural pass-catchers in the group are Rashad Jennings and fullback Henry Hynoski. Rookie Andre Williams seems to be doing a bit better job catching the ball in his hands (as opposed to against his body), but it's a work in progress.
The tight ends still look bad catching the ball, other than Larry Donnell. Adrien Robinson had a bad drop. Kellen Davis caught a ball awkwardly near the sideline and stepped right out of bounds even though there was no one near him. Some of the players not in on that play groaned a bit.
Marcus Harris made two nice catches, including one jumping at the goal line to corral a touchdown pass from Nassib.
I'm always fascinated to see who stays after practice for extra work. Charles James, Preston Parker, Harris and Jayron Hosley stayed to work on punt returns a bit more. Cooper Taylor was off to the side with a blocking sled, presumably honing that punt-protection technique. Amukamara and Rodgers-Cromartie stayed late for the third night in a row so Amukamara could work on jumping for interceptions. And all three quarterbacks, including Manning, stuck around to practice taking shotgun snaps from all three centers.
The Jets were playing a home preseason game across the parking lot at MetLife Stadium that kicked off about an hour and 20 minutes into Giants practice. During Giants practice, some (presumably Jets) fans kept driving by on Paterson Plank Road and hollering insults at the Giants. None were printable, sorry.
The Giants are off Friday in advance of Saturday night's preseason game against the Steelers at MetLife Stadium.
August, 6, 2014
Aug 6
10:00
AM ET
EAST RUTHERFORD, N.J. --
New York Giants
players have to watch where they're going if they're carrying something in this training camp. New cornerback
Zack Bowman
, formerly of the
Chicago Bears
, has convinced the Giants' defensive backs that it's a good idea to knock things out of teammates' hands. Pencils, books, footballs, water bottles ... nothing is safe. If you're walking past a Giants defensive back, there's a good chance he's going to try to knock something out of your hands.
"Bowman has brought that mentality from Chicago," Giants cornerbacks coach Peter Giunta said Tuesday. "They used to knock the playbook out of each other's hands walking to meetings. I think with the iPads now, we don't want to do that."
[+] Enlarge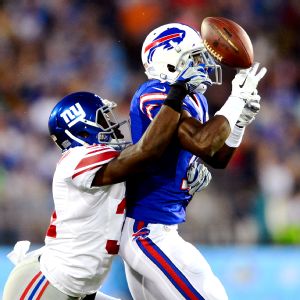 Andrew Weber/USA TODAY SportsNew Giants cornerback Zack Bowman is trying to instill a turnover mentality.
No, probably not, but you get the idea. The Bears have been known in recent years as a defense built on takeaways. They preach and coach and practice forcing turnovers. By bringing in someone who played on that defense, the Giants (who had a middle-of-the-pack 17 interceptions and 12 fumble recoveries last year) hope their defense starts to feel more strongly the importance of getting turnovers.
"It's just having a mindset," said Bowman, who intercepted a pass in the end zone in Sunday night's preseason victory over Buffalo. "That's what they instilled in us in Chicago, just having a mindset of, 'Hunt the ball. It's all about the football.' So that's what I try to tell
Prince Amukamara
and the rest of our guys -- what you do in practice is going to carry over into the game. If you make plays in practice, it creates habit, so when you get into the game, you're used to doing it. I'm trying to bring that same mentality and that same attitude here."
Amukamara's on board. With only three interceptions so far in his three-year NFL career, collecting more turnovers has become a point of emphasis for him this year. He learned to juggle in the offseason to work on his hand-eye coordination. He was beating himself up so much about a deep ball he thought he should have intercepted Sunday night against the Bills that he stayed late after Tuesday night's practice and had
Dominique Rodgers-Cromartie
throw him deep passes so he could practice going up high to catch the ball.
"I think guys can learn to have ball skills, and I think some guys are born with it," Amukamara said. "I played offense in high school, and I played basketball. So I think I'm pretty coordinated with the ball. I think some guys are born with it and some aren't, but I think it's something that can be worked on."
Giants coaches told Amukamara prior to last season that his goal was to play all 16 games for the first time. He did that, and proved himself a solid technician in coverage. But he has yet to establish himself as the kind of cornerback who can make the big, game-changing play, and he's determined to do so.
"It's huge for him to be able to go out and play the ball in the air better, not wait for it to come down," Giunta said. "So he'll work on that in practice. But I think it's just confidence -- seeing it and doing it, seeing himself on tape, what position he's in, where the receiver was in relation to the sideline. He'll be able to do those things, go up and get it."
If he does, that will greatly enhance the ability of the Giants as a team to create turnovers. And once they get better at that, look out. Nobody will be able to carry anything around this building anymore.
August, 5, 2014
Aug 5
4:16
PM ET
EAST RUTHERFORD, N.J. -- The first preseason game of the year is a test for everyone and everything it involves, including changes to the NFL's rules and officiating guidelines. This year, two of the officials "points of emphasis" will involve downfield contact by defensive backs against wide receivers. Four different
New York Giants
cornerbacks were called for penalties in Sunday's game, and that's absolutely a point the coaches are stressing in meetings this week.
"We've just got to continue to compete downfield and know what they're going to call," Giants cornerbacks coach Peter Giunta said Tuesday. "We've just got to be a little less aggressive with our hands downfield. You want to hand-fight the guys and not let them push us off, but we have to realize what the rules are and the emphasis this year, especially the tugs on the jersey. We've got to eliminate that from our play."
In their visits to training camps this year, NFL officials are speaking to players (and the media -- thanks, guys!) about the new rules and points of emphasis. The two that pertain in this case are as follows:
The prohibition against grabbing of receivers by defensive backs, including grabbing the jersey, will be enforced more strictly, including within five yards of the line of scrimmage.
The rule prohibiting a defender from initiating contact with a wide receiver more than five yards beyond the line of scrimmage will be enforced more strictly.
"They told us there's not going to be a 'healthy five,'" Giants cornerback
Prince Amukamara
said. "And a 'healthy five' is when, maybe at six [yards from the line of scrimmage] they would have let you get away with it. But now it's going to be a straight five. So we knew they were going to be strict and very adamant and direct and setting the standard that way. So I guess we are going to have to evolve with them. But our coaches still want us to be aggressive."
Giunta said Giants coaches have been evaluating practice tape and showing their defensive backs plays that would have been called penalties in games. The tape from Sunday night is easier. Amukamara was flagged for a five-yard illegal contact call one play before Dominique Rodgers-Cromartie was flagged for defensive holding. Later,
Zack Bowman
was hit with a 14-yard pass interference penalty and
Jayron Hosley
was called for holding. So everybody seems to have something to work on with regard to this.
"You've just got to correct them in practice and get them to develop their habits in practice, keeping their hands off the receiver after five yards and just get a feel for what the five yards is," Giunta said. "It's hard. And you've got to get a feel for the officiating crew, too, because some of the guys will let you go six or seven and other guys will give you a strict five. They're trying to make it more of a strict five this year."
July, 16, 2014
Jul 16
12:00
PM ET
During the week of June 30, we took a position-by-position look at the New York Giants' offense as it heads into training camp. This week, we've been doing the same with the defense -- one position group per day. Today, it's the cornerbacks' turn. And what a group it is.
McBride
Projected starters:
Prince Amukamara
,
Dominique Rodgers-Cromartie
Projected backups:
Walter Thurmond
,
Zack Bowman
,
Trumaine McBride
,
Jayron Hosley
(susp.)
Others competing for spots:
Charles James
,
Bennett Jackson
,
Ross Weaver
,
Travis Howard
James and sixth-round pick Jackson look like strong special teams contributors, but where do they fit? With Hosley suspended for the first four games, there is a spot if the team can manage to carry six corners, but it doesn't look as though there are two spots for James and Jackson. Could one of them surpass McBride, who performed well as a starter in several spots last season? Hard to imagine, and if they carry seven corners, that leaves them short elsewhere (i.e., offensive line).
Thurmond is a sure thing, and practically a starter as the projected nickel corner. And Bowman is a special teams whiz who looked great on defense in minicamp. So those spots seem set, as do those of Rodgers-Cromartie, who is going to draw the assignment of covering the opponent's best receiver each week, and Amukamara, the 2011 first-rounder who says he is ready to make the leap as a playmaker this season. But down the depth chart live some pretty good battles for roster spots among some pretty good players. Other teams are likely to be scouting the Giants' corners in preseason in the hopes that one or two they like get cut loose.
June, 27, 2014
Jun 27
9:30
AM ET
Cornerback is the deepest and most crowded position group on the New York Giants' roster heading into training camp, and it's going to force some difficult decisions when it comes time to make roster cuts in late August.
Conor Orr of NJ.com has broken it down
like this:
Based on what we've seen in camp, if we had to rank the position based on how much playing time they'll get, this is what we came up with:

1. Dominique Rodgers-Cromartie
2. Prince Amukamara
3. Walter Thurmond
4. Zack Bowman
5. Trumaine McBride
6. Charles James
7. Jayron Hosley
8. Bennett Jackson
9. Ross Weaver
10. Travis Howard

But obviously, you don't keep 10 players. The Giants finished with five cornerbacks on the active roster and two on injured reserve last year. It's safe to say at least three, but probably four of these players won't make it out of camp, especially with the need to carry four at the safety spot.
I can't quibble too much with Orr's rankings. I might put McBride ahead of Bowman based on the way he played last year, and Hosley would surely be ahead of James if Hosley weren't suspended for the first four games of the season. But that suspension makes Hosley, who was likely on the roster bubble to begin with, a tough call. Jackson is a draft pick they'd surely like to keep if possible, and he and James have shown an ability to contribute on kick coverage teams, as has Bowman.
My guess is the top five on Orr's list are safe, but that there's likely only room for one more guy, either James or Jackson until Hosley comes back. And when Hosley does come back from suspension, there's likely to be a tough choice between him and whoever made it between James and Jackson.
There's always a possibility that an injury opens up a spot, but if everyone stays healthy, the Giants are going to end up cutting a couple of players of whom they think very highly here.
June, 24, 2014
Jun 24
3:45
PM ET
Bowman
Newly signed former
Chicago Bears
cornerback
Zack Bowman
was one of the standout stars of OTA and minicamp practices for the
New York Giants
this offseason. He will have to fight for playing time, as he sits on the depth chart behind projected starters
Prince Amukamara
and
Dominique Rodgers-Cromartie
and slot corner
Walter Thurmond
. Bowman's signing felt like a bit of a surprise after the Giants had signed Rodgers-Cromartie and Thurmond and re-signed
Trumaine McBride
. But there is a reason they signed Bowman that goes deeper than the fact that he is a cornerback.
Bowman has also been a big contributor on special teams throughout his career. The Giants allowed a league-leading 655 yards on punt returns last season, and their 13.6 return yards allowed per punt was third-worst in the league. We
talked here Monday about the help they needed on returns
, but the Giants also needed some help covering punts better.
To that end, special teams coach Tom Quinn last week mentioned Bowman, sixth-round pick
Bennett Jackson
and returning cornerback
Charles James
as guys who have looked good in punt return drills this spring, and had particular praise for the addition of Bowman to the group.
"He does have the experience, and that's something you can't replace," Quinn said. "And he has the speed, so you combine those two, and he has good size for a corner, so he can go ahead and challenge the two guys that are trying to blow him up. That's one of the toughest things to do on special teams -- to beat two guys and get down the field to make the tackle. He's done it before in this league, done it at a high level, and we're excited to have him."
June, 19, 2014
Jun 19
9:30
AM ET
Good morning and welcome to the final day of the
New York Giants
' offseason program. Their three-day mandatory minicamp concludes with a practice this morning, and we'll get one more chance to talk to players and coaches before everyone heads off to vacation. After today, the Giants won't all be on the field together again until July 22, which should be their first training camp practice, so this is our last chance to see them in action.
Truth be told, having watched them the past two days, the offense looks downright ragged. That's not surprising or meant as a negative. There is a lot to learn under new coordinator Ben McAdoo, and the plan fact is the Giants aren't supposed to be ready now. They're not supposed to be ready a month from now. Heck, they're not supposed to be ready
two
months from now. They are all learning and making mistakes together, and if you showed up today to watch them practice you'd think the defense looked fantastic and the offense looked terrible.
They're trying a lot of new things. You see funky goal-line packages with multiple tight ends. You see plays where
Rueben Randle
works the slot and
Victor Cruz
plays on the outside. You see everyone from
Marcus Harris
to
Julian Talley
lining up in
Odell Beckham Jr
.'s would-be spot while Beckham works his way back from a hamstring injury. It's the very definition of a work in progress, and it's likely a good thing that they all get a few weeks off after today to think, study, decompress ... whatever they need to do before returning in late July to take up all of this learning and practicing again.
It's been hot this week, but the Giants got some good work in. The standouts have been guys like cornerback
Zack Bowman
, who intercepted an
Eli Manning
pass Wednesday. The cornerback corps looks deep and fun. Spirits are high and everything feels the way you'd expect it to feel this time of year in spite of all the change. That has a lot to do with Tom Coughlin and his coaching staff, who should have little trouble melding everything together. There's been no trouble keeping everybody on the same page in spite of the changes to the staff.
"That's never going to happen," Coughlin said Wednesday. "Everybody's going to be on the same page, which is just a tribute to the quality of the individuals and their understanding and belief in what we're doing."
Coughlin will make a big speech at the conclusion of today's practice about staying focused and out of trouble in the four or five weeks before the Giants reconvene. But he'll do so with the confidence of a veteran coach who understands how early his team still is in the process of coming together. And then they'll take that break, and come back refreshed next month and ready to start work again.
May, 22, 2014
May 22
10:00
AM ET
»
NFC Wrap:
East
|
West
|
North
|
South
»
AFC:
East
|
West
|
North
|
South
»
Grades

With free agency and the draft in the rearview mirror and training camp just a couple of months away, we assess the
New York Giants
' offseason moves.
[+] Enlarge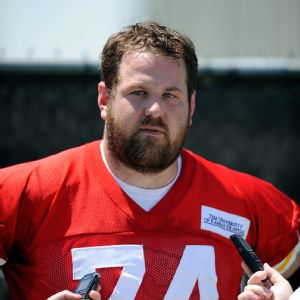 Denny Medley/USA TODAY SportsThe Giants knew they needed help on the offensive line, so signing Geoff Schwartz was a move in the right direction.
Best move:
Signed to start at left guard after a season in which the interior of the Giants' offensive line crumbled completely and decimated the offense, Geoff Schwartz will be an immediate upgrade at a key position and should help the run game as well as
Eli Manning
's protection in the passing game. The Giants needed to make the offensive line a priority, and signing Schwartz at the start of free agency showed that they understood that.
Riskiest move:
Letting defensive tackle
Linval Joseph
leave for Minnesota in free agency. Joseph is still just 25 years old -- younger than any free agent the Giants signed. He and
Justin Tuck
(who left and signed with the Raiders) were the Giants' two best defensive linemen in 2013. The Giants are hoping 2013 second-round pick
Johnathan Hankins
can fill Joseph's shoes, but letting him go risked leaving the Giants too thin on the defensive line -- a position of renowned strength during their last two Super Bowls.
Most surprising move:
Dominique Rodgers-Cromartie
, and in general the amount of free-agent attention the Giants paid to cornerback. They spent big to acquire Rodgers-Cromartie and also signed
Walter Thurmond
,
Zack Bowman
at
Trumaine McBride
. They obviously needed to replace
Corey Webster
(who they should have replaced last offseason), but the extent to which they beefed up at the position was surprising for a team that appeared to need more help on offense than on defense.
Draft pick impact:
First-round pick Odell Beckham Jr. has a chance to make a rookie-year contribution as
Hakeem Nicks
' replacement at wide receiver if he can learn the offense quickly. Ditto second-round pick
Weston Richburg
, who has a chance to beat out
J.D. Walton
for the starting center job. And fourth-round pick
Andre Williams
, who led all of college football in rushing yards last year at Boston College, could get into the mix early at running back. The Giants are counting on their draft picks to help fill holes on the offensive side.
April, 12, 2014
Apr 12
10:48
AM ET
Herewith, our weekly presentation of the four best
New York Giants
Twitter questions I got this week using the
#nygmail
hashtag. Enjoy.
April, 1, 2014
Apr 1
9:30
AM ET
Good morning. According to the latest figures from ESPN Stats & Information, the
New York Giants
right now are $4,438,375 under the 2014 salary cap. I don't think that counts the two signings -- cornerback
Zack Bowman
and defensive tackle
Mike Patterson
-- they announced Monday. But I also don't think those signings will affect the number much one way or the other, since they likely just replace some top-51 guys anyway at similar salary levels.
That figure also does not count the additional $5 million in cap space the Giants will acquire June 2 as a result of designating center
David Baas
a post-June 1 cut. So if you were thinking that first number was being set aside to sign draft picks, know that it's not necessarily needed for that. The Baas savings likely will cover draft picks, which means if there's another free agent out there right now the Giants like, they could get him under the cap.
Who would it be? Well, the pickings at wide receiver are pretty thin unless they want to take a flyer on an oft-injured
Sidney Rice
. There are still some tight ends on the market, though the top ones (
Jermichael Finley
,
Fred Davis
) come with big health concerns. Former Saints center Brian de la Puente is still a free agent, though the Giants seem to like
J.D. Walton
for that spot. They could look at
Robert Ayers
for the pass rush if they wanted to. But anyone else who might cost anything is either over 30 (and they don't want guys over 30) or doesn't look like a clear upgrade over what they have. So I would think the Giants' big-big spending is over for this year and that, if there is leftover cap room, they would roll it over into 2015.
We shall see, and there are still holes to fill. The Giants have some flexibility if they want to go after a veteran who's yet to be released once he is. But they're sitting on the sidelines for now in the
DeSean Jackson
sweepstakes, and I would not expect them to do much more big-game hunting this offseason. Focus is turning to the draft.
March, 31, 2014
Mar 31
2:20
PM ET
Our man Adam Caplan says the
New York Giants
have agreed to a one-year contract with free-agent cornerback
Zack Bowman
. That makes 20 free-agent signings for the Giants so far this offseason, four of whom play cornerback.
Bowman, 29, is known as a strong special teams player. So even if he can't find a way into the suddenly crowded mix at defensive back, he's likely to make a contribution on the kick and punt coverage units. But he did start seven games for the Bears last year and had two interceptions during that stretch.
The Giants this offseason already re-signed cornerback
Trumaine McBride
and signed veteran cornerbacks
Dominique Rodgers-Cromartie
and
Walter Thurmond
from the Broncos and Seahawks, respectively. Rodgers-Cromartie and
Prince Amukamara
project as starters, with Thurmond apparently ticketed for the slot corner role. But with Thurmond, McBride and now Bowman on the roster, all of whom have experience as starters on the outside, the Giants count the cornerback position as the deepest on their roster.