New York High School:

Elijah Shumate
February, 1, 2012
2/01/12
12:12
PM ET
By
Rob Abruzzese
| ESPNNewYork.com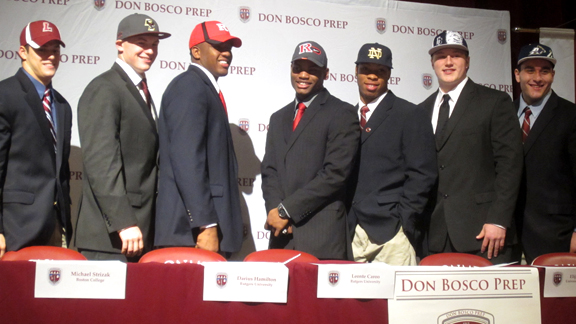 Rob Abruzzese
Pictured from left to right are Kyle Sakowski, Mike Strizak, Leonte Carroo, Darius Hamilton, Elijah Shumate, Tyler Samra and Mike Casimos.
Signing day is always a busy day at Don Bosco and this year was no different as the New Jersey football powerhouse had seven seniors signing in its auditorium on Wednesday morning. All seven players have faxed in their commitments as well.
"Great class, great bunch of kids," said proud head coach
Greg Toal
. "Obviously they exerted great leadership throughout the year. It's a special group that I'm sure are going to make a lot of people proud in college. Coaches are going to be happy to get these guys."
The biggest name to sign Wednesday was five-star recruit and defensive end
Darius Hamilton
, who is headed to Rutgers University along with his four-star teammate, wide receiver
Leonte Carroo
.
Hamilton, the No. 3 prospect in New Jersey according to ESPNU, committed to the Scarlet Knights on Tuesday night and is the son of former Giants defensive tackle,
Keith Hamilton.
The pair are headed there despite the fact that Rutgers just recently had to replace head coach
Greg Schiano
with incoming coach
Kyle Flood
. Carroo had been committed to Rutgers before Schiano left but kept his word and stayed with the team.
"You don't go to school because of one coach," Hamilton explained. "At that time, it became real evident that this could happen anywhere. So you have to find a school where you want to be in case something like that did happen."
Added Carroo: "I can't wait, me and Darius are already talking about our room situation and starting football together. We can't wait to be in college."
Four-star recruit
Elijah Shumate
signed with Notre Dame, where he expects to play strong safety and will be involved in offense as part of the wildcat formation. The safety said he picked Notre Dame because it provided the best of both worlds, football and academics, but he is also excited about possibly getting the chance to play at Yankee Stadium if the Fighting Irish play in the Pinstripe Bowl.
"That's a big thing because not a lot of people get to play at Yankee Stadium," Shumate said.
Defensive lineman
Mike Strizak
signed with Boston College, where he expects to be moved to outside linebacker. Offensive lineman
Tyler Samra
signed with the University of Connecticut, where he will play either center or guard. Another lineman,
Mike Casimos
, signed with the University of Akron. Finally, safety
Kyle Sakowski
signed with Lafayette College.
Toal said there isn't a more proud day for a high school football coach than signing day.
"It's a special time," Toal said. "For these kids to get these type of opportunities is pretty special. It really makes all of our coaches feel special that we could help these kids get the opportunity that they have. It's just amazing getting a D-I scholarship, it's pretty exciting.
"This really is a culmination of everything we've done and one of the best days of the year."
Across the board, every player said that Wednesday was an exciting day and pointed to this as the reason they came to Don Bosco. The seniors leave the school with a 46-game win streak and as the mythical national champions after going wire to wire as the top team in the country.
"This is why we come here and it's amazing," Strizak said. "Coming in as freshmen, nobody knew where they were going to go. Everybody's aspirations are to go to a big college and now look, four years later there are seven guys up here."
Added Samra: "This is just the beginning of it, that's the great feeling about it."
December, 2, 2011
12/02/11
10:31
PM ET
By
Christopher Hunt
| ESPNNewYork.com
EAST RUTHERFORD, N.J. --
Jabrill Peppers
was on one corner of the field, doing backflips. A few of his teammates were at midfield, tearfully hugging. Don Bosco defensive back
Kyle Sakowski
held on to the championship trophy like it was a toddler's favorite toy on Christmas morning.
"I don't ever want to let it go," Sakowski said after the Ironmen won their sixth straight Non-Public Group IV championship.
Teammate
Darius Hamilton
came over and playfully snatched the trophy away from Sakowski. They should share anyway. The defense earned that much. Don Bosco used four interceptions and a blocked punt to put a stamp on its rivalry with Bergen Catholic, trouncing the Crusaders 42-14 at MetLife Stadium on Friday night for the state championship.
With the victory, Bosco is the mythical national champion for going wire to wire as the No. 1 team in the land.
Hamilton set the tone with the first of his three sacks on Bergen Catholic's
Jonathan Germano
on the third play of the game. Two snaps later, Sakowski snared his first of two interceptions. Bosco then marched down field and scored on a 1-yard keeper by quarterback
Mike Yanikovich
.
Senior running back
Elijah Shumate
did most of the scoring. After a quick three-and out on the Crusaders' ensuing drive, Shumate used two running plays to punch in Bosco's second score on a 5-yard run to make it 14-0 with 3:17 left in the first quarter. Shumate enjoyed two more running scores and a 20-yard interception return for a touchdown in the third quarter.
Don Bosco coach
Greg Toal
didn't hesitate this time to confirm that his team is the best in the country, and that his defensive line deserves the same title. Sakowski credited his team's front line.
"I was coming in here worried about how I was going to leave my legacy back here," the senior said. "That's what I was worried about the whole time. I just played 100 percent every play. I'm happy with the results."
Click here
for a photo gallery of the game.
December, 2, 2011
12/02/11
10:28
PM ET
By
Christopher Hunt
| ESPNNewYork.com
EAST RUTHERFORD, N.J. – It's not flashy and it is cliché. But defense does win games. Don Bosco proved that when it used four interceptions and a blocked punt to oust rival Bergen Catholic Friday night to win the Non-Public Group IV Championships, 42-14, at MetLife Stadium in East Rutherford, N.J. Bosco won the mythical national championship for finishing the season ranked as the No. 1 team in the ESPNHS POWERADE FAB 50 rankings.
HOW THE GAME WAS WON:
Don Bosco (11-0) jumped on Bergen Catholic (8-3) early, turning
Kyle Sakowski
's first of two interceptions into 1-yard touchdown run for quarterback
Mike Yanovich
. After a quick three-and-out by BC, the Ironmen, who won their 46
th
consecutive game, promptly went up two scores when
Elijah Shumate
rumbled in a 5-yard touchdown run.
Jabrill Peppers
also scored a 36-yard TD run that decided the scoring in the final two minutes.
Shumate scored the second of his four touchdowns, when he punched in a 1-yarder to put Don Bosco ahead 21-7 at the half.
TURNING POINT: Darius Hamilton
set the tone of the game straight from the third play from scrimmage. He crashed into the backfield and sacked
Jonathan Germano
for a six-yard loss. Two plays later Sakowski collected his first interception and the Ironmen defense kept rolling
STAR OF THE GAME:
Shumate made sure to do a little of everything. On top of his three scores on the ground, the picked off a pass from Germano that bounced off
John Tsimis
' fingertips and returned it 20 yards to give DBP a 28-7 lead two minutes into the second half.
But the real star is the Don Bosco defense that collected four interceptions. Hamilton had three sacks.
Razohnn Gross
and
Spencer Scannell
also had interceptions.
Click here
for a photo gallery of the game.
October, 7, 2011
10/07/11
1:00
PM ET
It's not exactly the most innovative nickname.

The Don Bosco running back trio of sophomore Jabrill Peppers, senior Elijah Shumate and senior John Wilkins is referred to as the "Three-headed monster."

Creative? No. Appropriate? Yes.

"I think they're big strong backs who we keep from wearing down and they're not easy to tackle which always makes it tough on the defense," Don Bosco head coach Greg Toal said. "Big strong guys don't go down easy."

Bosco's three running backs have been a key part to why the nation's top-ranked team is off to a 4-0 start. They have combined for 643 yards and 13 touchdowns heading into Saturday's showdown against No. 6 St. Edward (Ohio) at Coffey Field at Fordham University at 6 p.m.

"We all have different skill sets," Peppers said. "It's tough for defensive coordinators."

By using three running backs interchangeably, it allows Don Bosco to maintain its depth on both sides of the ball. While Wilkins is strictly an offensive player, Shumate plays free safety on defense and Peppers is a cornerback.

Wilkins has rushed for 149 yards and two scores, Shumate has 135 yards and five touchdowns and Peppers leads the way with 359 yards and six touchdowns.

With Bosco using an up-tempo style of offense to wear down its opponents, Toal recognizes that it would be difficult for players to play both ways, especially on offense as a running back. After chasing around wide receivers in the secondary, players like Peppers need a break from the action.

That's how the three running back system comes into play. By using three different running backs in their backfield, Bosco helps keep them fresh during the game. The players don't get overworked and it help keeps their efficiency up.

Toal said that there is no set way in which the runners are used, so any of them could bend up being the feature back on a given drive.

"We just kind of get a feel for it during the game," Toal said. "We see who's hot and who is tired, who has leg cramps. Who can go and who can't go, that's kind of the way we go about deciding who we will use."

It helps that the running backs can each provide a little something different to the rushing attack. Peppers said that Wilkins brings power to the unit, Shumate can bring power and speed and he brings power, speed and shiftiness.

Toal described Wilkins as a big strong back and a hard runner who can get downhill and brings size to the trio while he said Peppers has explosion and speed. The coach said Shumate can make some good cuts to elude defenders, is explosive, has outstanding speed and is a strong runner. Shumate scored three touchdowns in a win vs. Bergen Catholic last week.

"They're all at least 190 pounds or bigger, they're big boys," Toal added.

While some players might not prefer to be used in a three running back system, Peppers said that none of the running backs look at the system as a way of holding them back from individual stardom.

"We know what's best for the team," Peppers said. "We can focus on other things like defense. We're all close with each other too."

Saturday against St. Edward, another premier team on Bosco's schedule, will likely be the toughest team the Ironmen play the rest of the season. A good showing by the running backs could go a long way toward helping Bosco stay perfect.

"They're a heck of a football team for sure, very strong and physical," Toal said. "Ohio football is very good and they're probably the best team in Ohio this year. They will present a lot of challenges, that's for sure."
September, 11, 2011
9/11/11
12:11
AM ET


It shouldn't be this easy.

Yes, the Don Bosco football team is No. 1 in the country, but Saturday was supposed to be a test. No. 6 Mission Viejo (Calif.) was in town and presented a real threat to knocking Bosco off the mountain and snapping its 35-game win streak.

Like it has so many times in the past, though, Bosco made Saturday's matchup look like a complete mismatch, winning 35-7. It was that easy.

"We were watching film all week and film study and it's basically knowing our opposition, and we came out here and it was easy," senior defensive back Elijah Shumate said. "We knew our assignments and played hard and teams can't keep up with our pace."

Bosco got its season off to a rousing start with its demolition of Mission Viejo in their season opener in front of thousands of people at Granatell Stadium in Ramsey, N.J. The Ironmen dominated both sides of the ball and controlled the game as they registered their 36th straight win.

While he couldn't attend the game, Jets quarterback Mark Sanchez, a former Diablo, played a role in allowing this showdown to happen as he donated money to Mission Viejo to allow them to make the cross-country trek.

"It's preparation and hard work. Nobody works like us. To everybody else this is just high school football, but to us this is our life," sophomore running back Jabrill Peppers said. "We're out here every day, Sundays, it doesn't matter, we're out here every day preparing and we've been preparing since January."

While Bosco dominated both sides of the ball, its up-tempo offense proved to be the biggest key in the game. On the first two drives, the Ironmen ran a vanilla offensive package, not using their hurry-up offense. Head coach Greg Toal said this was a calculated maneuver to pace the Diablos defense.

On the third series, they introduced their up-tempo offense and Mission Viejo didn't stand a chance. The combination of power with senior John Wilkins and speed with Peppers gashed Mission Viejo for yard after yard on that drive, eventually culminating in a 1-yard touchdown run by Wilkins for a 7-0 lead.

Wilkins ran for 126 yards on 22 carries and two scores while Peppers had seven touches for 57 yards and two scores. Shumate also added a late touchdown on a 11-yard score to give the game its final score of 35-7. The fast pace just proved too much for Mission Viejo to keep up with on this night as Bosco led 28-0 before the Diablos ever scored.

"They tell us every day that nobody can play at our pace, there's nobody that conditions like us," Peppers said. "We knew that was going to happen, nobody can keep up."

Defensively, Bosco dominated at the line of scrimmage and its secondary had four interceptions. Mission Viejo could not create holes for its stud running back, Southern California recruit Jahleel Pinner, and the Diablos had to look to pass to try and move down the field.

That strategy didn't work. Don Bosco picked off quarterback Alex Bridgford four times in the game. Senior Kyle Sakowski had two interceptions while Yuri Wright and Alquaddin Muhammad each had one interception.

"Kyle's is a captain and a great leader and just a tough kids who makes plays," Toal said. "He's a great football player, he's the unsung hero, he doesn't get the credit he should and he's great football player who does so much for us."

For as good as Bosco played, here's the scary part for future opponents, such as Manatee, who they play Sept. 16: Bosco's coach and players all said they could have played better. Yes, they thought they could play better after a 28-point win against the No. 26 team in the country.

It's scary to think what that better team will look like.

"It was a little statement tonight but we didn't play to our potential, we can play a lot better than this," Peppers said. "In my opinion, we should have won by 40 points."
September, 11, 2011
9/11/11
12:08
AM ET
By
Rob Abruzzese
| ESPNNewYork.com
Don Bosco has a roster filled with defensive studs, but it was their running backs, senior John Wilkins and sophomore Jabrill Peppers, that put on a show in their home opener on Saturday as the pair combined for four touchdowns and 183 yards rushing.

The crazy thing about their performance was that Elijah Shumate, who was relatively quiet before a last minute touchdown run, barely factored in the game but is typically a big part of their offense.

"They call us the three-headed monster," Peppers explained. "Wilkins wears you down and then I come in and they are like, 'now I have to chase this guy around?' We didn't really utilize Shumate too much today because we want to keep him as our secret weapon."

It was indeed that combination of power and speed that was especially effective against Mission Viejo. When they needed somebody to power through Viejo's defensive line, Wilkins took the lead to power through. When it looked like Viejo became tired, Bosco sent in Peppers who made his opponents look like they were wearing cement shoes.

"When I got tired (Peppers) came in, when he needed a blow, I got in," Wilkins said. "We just started off well and fed off each other. We are in great shape and nobody can contain us. I am more of a power guy, he's a little bit more speed. It just works out."

In total Wilkins got most of the carries, 22, and rushed for 126 yards and two touchdowns. Peppers carried the ball just seven times, but made the most of it for 57 yards and two touchdowns. Shumate got just one carry, but it was an 11-yard touchdown run that put the finishing touches on a 35-7 victory over Mission Viejo.