New York High School:

Isayah Muller
November, 9, 2011
11/09/11
2:01
PM ET
An already difficult year for scholastic sports in New York City took an even sadder turn this weekend.

St. Edmund Prep sophomore Jose Rodriguez died after collapsing following a scrimmage during JV basketball tryouts on Saturday. The New York Post first reported the news.

According to St. Edmund Principal John Lorenzetti, Rodriguez, 15, was at the sink getting water during a break and one of the players behind him noticed he wasn't moving. The individual asked if Rodriguez was OK and there was no answer and Rodriguez fell over.

Coaches, including JV Coach Mike O'Brien, came over to Rodriguez, who was breathing at the time and they immediately called 911, who told them not to move him. Eventually, Rodriguez's breathing became labored and he stopped breathing at one point, according to O'Brien. They called 911 again and were told to perform CPR, which O'Brien did until EMS arrived.

Lorenzetti is not sure whether Rodriguez, who was not officially a member of the team, was still alive when he got to New York Community Hospital. He said that an autopsy was performed but the family has said it will not know the results for a week or two. The principal added that Rodriguez had been cleared for sports by the school in mid-September.

"He's a wonderful young man and very polite and obviously very well brought up," Lorenzetti said. "He was a gentleman. He was a good student and he was a credit to his family and St. Edmund Prep."

Monday, the school brought in grief counselors for all the students. The school offered mass for any student that wanted to attend and he said that more than 500 students attended, which is more than two-thirds of the student population.

The wake is planned for Thursday and Friday at Marine Park Funeral Home and the funeral is Saturday at 9:45 a.m. at St. Edmund's Church. Vigils have been held at Marine Park as well as the middle school on St. Edmund's campus.

"Right now, we're kind of in a lull," Lorenzetti said. "Things are far from normal but there is some feel of normalcy in the building but Monday was just an impossible day for all of us."

The five basketball teams at the school, consisting of both boys and girls teams, will now be dedicating their seasons to Rodriguez as well as honoring him on their jerseys with a small patch. The school is also going to dedicate a locker room to Rodriguez and alumni are looking into organizing a scholarship in his memory, Lorenzetti said.

O'Brien, who ran the tryout for the JV players, said that Rodriguez had tried out the year before but didn't make the team. About a minute or two before Rodriguez collapsed, he had written down the sophomore's name on a sheet of paper that listed the names of players who were going to make the team. The team had skipped practicing until Wednesday.

"I had a meeting with the team and we took the last few days off and it was a struggle about when do we get back," said O'Brien, who spoke glowingly of Rodriguez and described him as a polite and nice kid. "I spoke to them and I told them that my thought was we have to get back in the gym just to feel that sense of normalcy, get back into our everyday routines. To kind of help us all move along the way but never forgetting."

Rodriguez's death is another in a series of tragedies that have befallen New York City high school athletes since March as at least four have died and one was seriously wounded in a shooting. Murry Bergtraum girls basketball player Tayshana Murphy and Truman football player Isayah Muller were both killed, Beacon baseball player John Fernando fell to his death and Molloy soccer player Justin Thompson was recently shot and paralyzed.
June, 30, 2011
6/30/11
11:50
PM ET
By
Robert Abruzzese
| ESPNNewYork.com
Attorney Lawrence Fredella, who is representing Andre Muller, the father of slain Truman football star Isayah Muller, said Wednesday that the district attorney is still evaluating whether or not to bring up charges against the two parking lot attendants who were involved in the altercation that led to the fatal stabbing of Isayah.

"Obviously we are hoping that they will bring charges up against [the parking attendants]," Fredella said. "But as of right now the only thing we can do is what the district attorney told us to do, wait."

Andre Muller was charged on Wednesday with assault and criminal possession of a weapon stemming from the incident that led to his son's death on Tuesday night. He allegedly brandished a shovel that he used to attack the garage attendants, Ramon Hernandez, 51, and Joselin Encarnacion, 32, sending one of them to the hospital for 10 stitches, prosecutors said. The two attendants have not yet been charged, Fredella said .

In the altercation, Encarnacion allegedly stabbed Isayah Muller, according to Fredella. Isayah was rushed to a nearby clinic, but his wounds were too severe and he was transported to St. Barnabas Hospital, where he was pronounced dead at 5:56 p.m., according to a statement released on Wednesday by police.

The entire incident occurred in a parking lot near Lehman College on Jerome Avenue at 198th Street in the Bronx just hours after Isayah graduated from Truman High School. It stemmed from a fight that occurred after Andre Muller accused the attendants of stealing personal property, reported to be a $200 bottle of cologne by the New York Daily News.

Isayah Muller had gained notoriety as one of the top running backs in New York City after he rushed for 295 yards and two touchdowns in leading his team to a Public Schools Athletic League Bowl Division title against Beach Channel/Channel View this year. He planned to play football for Nassau Community College next fall.
June, 29, 2011
6/29/11
11:09
PM ET
By
Robert Abruzzese
| ESPNNewYork.com
NEW YORK--Wednesday was an extremely sad day for the friends and family of Isayah Muller, the high school football star from Truman high school who was stabbed to death and died in the Bronx Tuesday night. However, one of his neighbors couldn't help but smile as she remembered Muller.

"He was always so nice to me," a 10-year-old named Anaris said with a smile. "He used to pinch my cheeks. He would say, 'I love your fat little cheeks' and he would pinch them every time he saw me."

She wasn't the only one who spoke warmly of Muller. As family and friends walked in an out of his apartment building on East 115th street in Harlem on Wednesday, everyone one who stopped and spoke glowingly about Muller.

"He was an amazing person," said a neighbor who asked not to be named as Muller's mother asked friends not to speak with reporters. "He wasn't the type that hangs out on street corners or gets into trouble. He was a good kid who put all of his effort into school and sports."

Isayah Muller and his father, Andre Muller, were involved in an altercation with two parking lot attendants at a parking lot in the Bronx that led to the younger Muller's stabbing just hours after graduating from Truman Tuesday. Andre Muller, 40, was charged with assaulting one of the attendants. He entered a not guilty plea.

Isayah Muller was a phenomenal high school running back, rushing for 908 yards in 10 league games this year. His season was capped off with a city championship when he carried his team on his back while rushing for 295 yards and two touchdowns to beat Beach Channel/Channel View last fall.

"Isayah loved playing football," said a man who only identified himself as Muller's uncle. "He was the No. 1 player in the entire city. He was going to play in the NFL one day. No doubt about it."

Muller, who didn't get any Division-I offers because of his grades, planned on going to transferring to a bigger college with an eye on playing in the NFL one day.

"I have no doubt in my mind that two years from now he would have been playing in front of 75,000 people somewhere," Truman coach John-James Shepherd said. "Out of all of the players I've ever coached, he was the only one who really had a chance to make it that far."

Shepherd, who described himself as dumbfounded and sick to his stomach, said that it was the effort Muller put into staying out of trouble that made this all the more surprising.

"If you knew the dynamics of his neighborhood, it's amazing how great this kid was," Shepherd said. "He was a guy that never cliqued up, never was involved in gangs or anything. I never even had to go get him from the principal's office because he was fighting in school."
June, 29, 2011
6/29/11
9:42
PM ET
Isayah Muller had no idea what he had just accomplished.

Muller had just rushed for 295 yards in the Public Schools Athletic League Bowl Division title game, guiding Truman to the championship, but the Mustangs' star running back -- who was killed on Tuesday, a few hours after graduating -- didn't have the faintest clue about how many yards he had racked up.

"The newspapers were interviewing him and they told him he had 295 yards and he looked at me and he was just surprised," teammate Jose Taveras said. "He said it didn't feel like it was 295 and he was so amped up that he could have played another game."

As friends and family mourn the death of the 19-year-old Muller, who was fatally stabbed in an altercation at a parking garage in the Bronx, his teammates and coach reflected on his successful high school career, punctuated by his memorable championship performance. Muller was headed to Nassau Community College to play football next season.

"It was perfect, absolutely perfect, and how anyone would want to go off from their career," teammate Xavier Hamilton said. "To be at the top of the game and at their best and watch a whole bunch of doors open for the future. That game was the pinnacle of his career."

After guiding Truman to an 8-2 record in the regular season, Muller, who rushed for 908 yards and 12 touchdowns in the regular season, led the Mustangs to the final against Beach Channel/Channel View. Before the game, Muller told Taveras, one of his closest friends, that he wasn't focused on running for too many yards but just wanted to deliver a championship to the Bronx school.

Taveras, however, saw that as a sign of modesty.

"He was capable but he didn't want to show it," said Taveras, a quarterback and defensive back. "Deep down, he knew he was going to do it."

All it took for Muller to leave his imprint on the game was one down. On the very first play of the game against the top-seeded Dolphins, Muller scampered 80 yards for pay dirt. Truman kept feeding him the ball, 20 times total, and Muller rewarded his team's faith with an astounding performance, gaining nearly 300 yards.

Muller also added a 52-yard run in the first half that led to a touchdown, and an 82-yard touchdown run in the second half that give Truman a 23-14 lead. Truman held on for a 23-20 victory, winning the championship ring that many teammates wore to a vigil at Truman on Wednesday morning.

Both Hamilton and Taveras, as well as Truman coach John-James Shepherd, said that game sticks out the most to them when they reflect back on Muller's high school career.

"He was just determined to come down and do the best he could for his team, and everyone likes to receive accolades but he really took his role as a team member seriously," Shepherd said. "He jumped at every opportunity he had to help the team and I really think that was his motivation, to make this kind of dream come true for all of his teammates."

As Muller played the role of hero in the title game, his teammates and coaches weren't surprised by what they were watching. They had seen him do it before, in his junior season against Thomas Jefferson and the same Beach Channel/Channel View team. In the 14-13 win over the Dolphins, he rushed for 150 yards on 12 carries; in the 18-14 win over the Orange Wave, Muller rushed for 220 yards and two touchdowns on 18 carries.

Shepherd, who said Muller had the best vision of any high school running back he has ever seen, said that the higher the stakes, the better Muller would perform. Even during tough situations, Shepherd said Muller would be grinning from ear to ear, telling his teammates 'we have this' and his teammates would feed off that energy. Muller even played on both sides of the ball for the Mustangs.

"Pressure didn't mean anything to him," said Hamilton, a quarterback. "That final was obviously a pressure situation and he carried us. We gave the ball to him and he did his thing."

Taveras, one of Muller's closest friends, said he had plans to room with Muller next year at Nassau Community College. Taveras said he still felt shocked and hurt about Muller's death.

After watching Muller walk off the field one last time as a champion, he had been excited to see what the future held for his teammate.

"He could have gone Division I, but it was just his grades and he was starting to pull it together," Taveras said. "Just when you think everything is going right, a low blow like this comes."
November, 28, 2010
11/28/10
8:34
PM ET
By
Christopher Hunt
| ESPNNewYork.com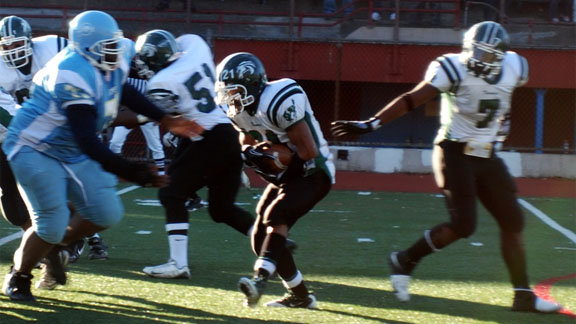 Chris Hunt/ESPNNewYork.com
Isayah Muller rushed for 295 yards in Truman's win over Beach Channel in the PSAL Bowl Division championship in November.
NEW YORK -- The most surprising part about
Isayah Muller
's astounding 295-yard rushing performance Sunday was that no one was surprised.
Granted, the Truman senior has done whatever he's wanted throughout the Public Schools Athletic League playoffs, but took it to another level Saturday as his one-man track meet at Midwood Athletic Field in Brooklyn led No. 2 Truman to the PSAL Bowl Division championship with a 23-20 win over top-seeded Beach Channel.
"We need a play, call Isayah's number and he'll get it for you," Truman quarterback
Xavier Hamilton
said. "It's amazing to have someone like that on your team.
That's exactly what happened. On Truman's (10-2) first offensive play of the game, coach
John-James Shepherd
called on Muller and he provided an 80-yard cutback run that set the tone for Truman's unstoppable running game. Muller another 82-yard touchdown run and a 53-yard gallop in the second half that highlighted his 295 rushing yards on the day on 20 attempts.
"He's everything that everybody said," Beach Channel coach
Victor Nazario
said of Muller. "There were no surprises in this game. It was about stopping No. 21 (Muller) and No. 7 (Hamilton) for them. No. 7 didn't really hurt us but No. 21 played a hell of a game."
Shepherd said all week he had been telling his assistant coaches that he knew Muller would have a big game. It wasn't just the fact that in Truman's last three wins he's posted games of 177, 162 and 166 yards either. Muller needed to carry an even bigger load this weekend since Hamilton had injured his throwing shoulder in last weeks' semifinal win against August Martin.
"To him, there's no such thing as pressure," Hamilton said. "You put the ball his hands and it's like he's in a zone. You look in his eyes and there's no reflection. He just gets the ball and does what he has to do."
Defensively, Beach Channel (10-2) couldn't find an answer for Muller but managed to absorb the blows and strike back quickly.
Dolphins' quarterback
Patrick Burello
hit junior wideout
Henry Adegunie
for a 29-yard strike late in the first quarter that ended with
Mahmamed Sidibe
punching in a 1-yard score that put Beach Channel ahead 8-7 after a two-point conversion. Burrello found Adegunie again in the second quarter for a 5-yard connection in the end zone that made it 14-7.
But Muller came right back. He ripped through another whole in the defensive line for a 53-yard gain with two minutes left in the first half that set-up a Hamilton nine-yard rushing TD. Muller gave Truman a 23-14 lead with an 82-yard run – the same play Truman used to start the game – with 6:59 left to play. However Muller would find some magic of is own, again finding Adegunie of a soaring touchdown catch to make it a one-score game with 3:43 remaining.
All Truman had to do though, was what they had done all afternoon – hand the ball to Muller. He ran the last five plays off the game for 33 yards and two first downs and while the clock ticked away he not only carried the ball, but also his entire team.
"I really wasn't tired," Muller said. "This is my last game of my high school career. I didn't want to take one step off that field. I'm still not tired. I could play the whole game all over again."
November, 17, 2010
11/17/10
2:11
PM ET
The Bowl Division playoffs begin this weekend. Let's look at the semifinals.

No. 1 Beach Channel/Channel View vs. No. 4 South Bronx (Sunday, noon): Beach Channel/Channel View has been the best team in the Bowl Division from start to finish. The Dolphins finished 9-1 and 57 points ahead of the rest of the pack, with its only blemish coming on the road at John Adams on Nov. 7. Quarterback Patrick Burrello passed for 1155 yards and 12 touchdowns.

South Bronx was able to sneak into the final spots in the playoffs despite a loss in its final game to Truman. The Phoenix beat out Tilden by 12 points for the final spot and had won five straight before its defeat to Truman. Arbely Soto has done it all this year for South Bronx, completing 27-of-65 passes for 642 yards and 10 touchdowns, rushing for 698 yards and nine touchdowns, and racking up 161 receiving yards.

The two teams met on Sept. 19, with Beach Channel/Channel View winning 36-6 on the road.

No. 2 Truman vs. No. 3 August Martin (Sunday noon): Truman won its final two games of the season to notch the second seed in the playoffs. The Mustangs only two losses on the season came to non-playoff teams, Tilden and Bayside, and they did not face Beach Channel/Channel View. Running back Isayah Muller is second in the division with 908 rushing yards.

August Martin ended the season on a four-game winning streak after losing to Beach Channel/Channel View on Oct. 16. The Falcons beat out South Bronx by 10 points to be the third seed.

The two teams met on Sept. 25 at August Martin, a 27-6 Truman win.

Ehalt's predictions: Go with the favorites. Beach Channel/Channel View is probably the best team in the division, and Truman already whooped August Marin. Expect a Beach Channel/Channel View vs. Truman final.